Formula 1's Australian Grand Prix Travel Guide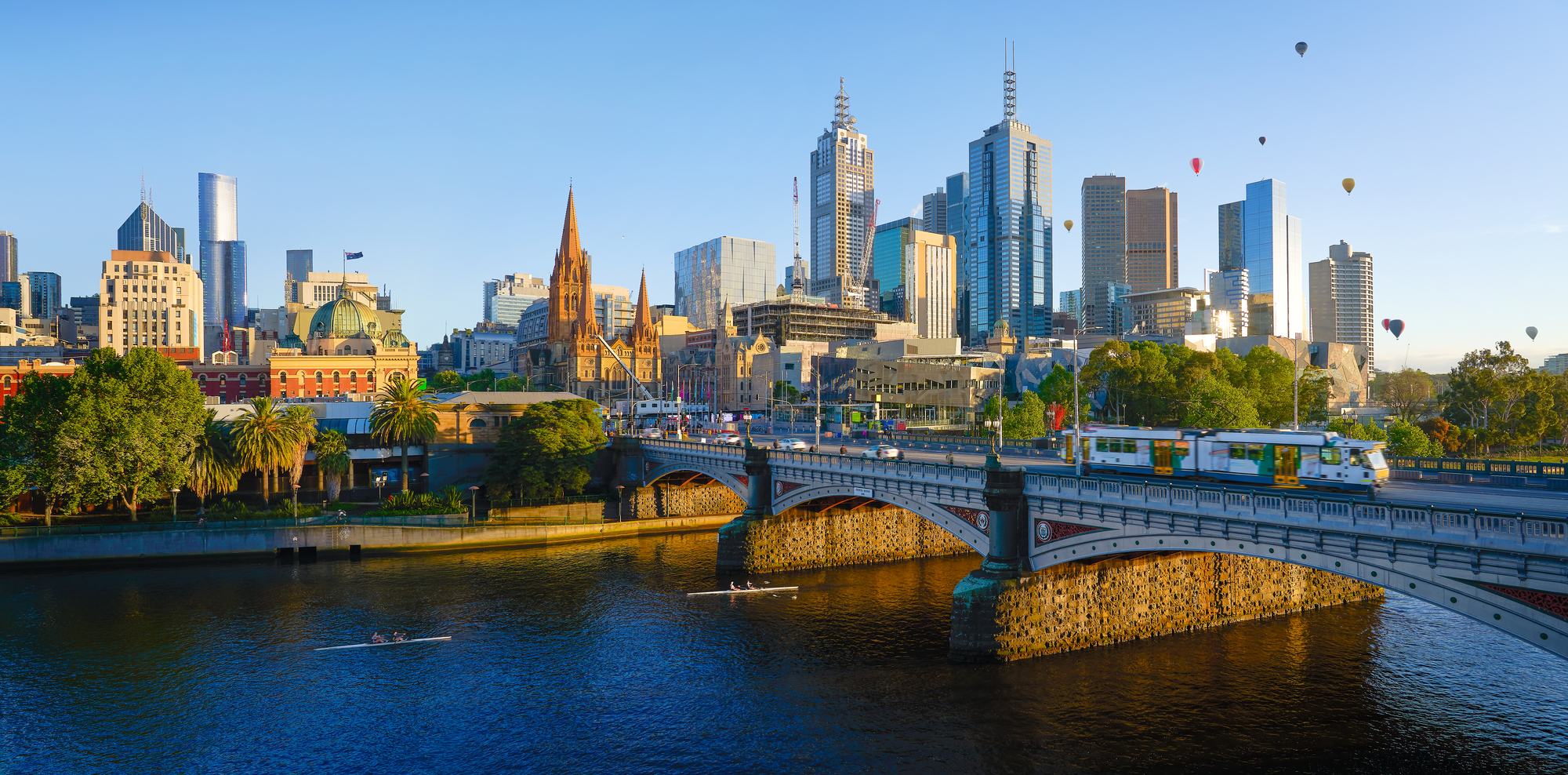 Every year Formula 1 visits Australia hosting their Grand Prix at the Albert Park Circuit in Melbourne. Fans from all over the world descend onto the city that welcomes them with open arms and a great deal of off-track activities to keep everyone entertained the entire weekend. Let us help you through your weekend and what to expect during your Formula 1 grand prix experience.
THE LAND DOWN UNDER
Australia isn't called the land down under for nothing whereas the big island is located in the southern hemisphere of the Indian ocean. Travel times will vary depending on where you are departing from and if you are heading over from North America or Europe, expect your flights to need at least an average of fifteen to twenty hours of air travel. We strongly suggest you land at the Melbourne International Airport, reducing any extra travel time if you were to land in Sydney.
HOW'S THE WEATHER
Once you step off the plane, you can expect temperatures to float around thirteen to 22 degrees in the spring months when the Grand Prix is held. This cooler weather period will allow you to enjoy your weekend more thoroughly without the worry of melting into your seats or sweating it out while sightseeing.
GET YOUR VISA
Please note to enter the country you have to acquire a travel visa, which you can easily do by clicking here: https://immi.homeaffairs.gov.au/visas/getting-a-visa/visa-finder/visit
WHERE TO STAY
The beauty of the Albert Park Circuit is its location which is not far from the core of Melbourne city and the coast of St.Kilda. When looking for your accommodations we suggest staying in St.Kilda, South Bank, South Yarra, and the Central Business District.
When you book with us, we can take care of this step, making planning much simpler. Booking in any of these locations you can rest assured there will be several bars and restaurants and sites to see during your stay.
OFF-TRACK ACTIVITIES
BIRDS EYE VIEW
Melbourne is considered the cultural city of Australia, offering numerous off-track locations to visit and see. Visiting the Eureka Skydeck will take you high above the city in Melbourne's tallest skyscraper where you can view the entirety of the city and the beautiful coast. The best thing is it will not be too time-consuming and is fairly inexpensive.
NGV
For the art lovers out there, we suggest visiting the National Gallery of Victoria, which has a permanent collection of over seventy thousand pieces and features new exhibitions every year. You can find works by Picasso, Monet, and Australia's aboriginals which can only further your understanding of the country. A bonus to all the great art is that it doesn't cost a thing to enter!
ROYAL BOTANIC GARDENS
Sometimes you just need a little peace and quiet, especially after hearing the roaring engines of Formula 1 cars for a couple of hours, and visiting the Royal Botanic Gardens is a great way to do it. The Gardens which is found on Birdwood Avenue in Melbourne offers a scenic park where you can enjoy taking guided tours and learning about plants, birds, and trees. This is a great way to unwind and take a breath of fresh air on their boat tours.
ARTVO
Posting pictures showing off your trip on Instagram is inevitable and if you visit ARTVO you'll be taking pictures to another level. ARTVO is an interactive exhibit that features large mural paintings which can become a part of the picture using clever positioning. There are over eighty pieces to see and play with and for adults, it costs 28 Australian dollars.
FEDERATION SQUARE
Found in the heart of Melbourne Federation Square can be the one-stop adventure that can keep you well-fed and satisfy your shopping needs while enjoying unique pop-up shows and exhibitions.
YARRA VALLEY
For those with discerning palates or those who simply love wine, visiting Yarra Valley will keep your needs satisfied. In the Valley, you can visit some beautiful vineyards that offer tours, spas, restaurants, and plenty of wine.
ST KILDA BEACH
After watching the world's best drivers pound the pavement head over to St Kilda to dip your toes into the soft white sand while taking a long walk along the gorgeous coast. St Kilda beach is home to many restaurants and bars where you can enjoy a bite and drink while watching the sunset. This picturesque location is a must-see.
SOUTH BANK
Southbank is yet another area of Melbourne brimming with cultural experiences that border the waterfront. You will find plenty of public artworks and if upscale shopping is on your menu you've come to the right place. If you are feeling like lady luck is on your side, you can also visit the Crown Casino Complex and take some chances on winning some extra spending money.
WHERE TO EAT
Melbourne will stun you with its wide variety of culinary experiences you enjoy throughout the city. Due to a large number of diverse cultures in the city, you can expect to find cuisines from Italy, France, India, and more.
BREAKFAST
Starting your day off with a hearty meal will give you a great deal of energy for cheering and enjoying your Grand Prix experience and here are a couple of locations that are sure to hit the spot.
THE KETTLE BLACK
A beautiful restaurant with a unique design and whose building architecture is sure to catch your eye serves breakfast dishes that match gorgeous exteriors. This restaurant takes traditional breakfast dishes and elevates them to gourmet standards worthy of your Instagram.
BOWERY TO WILLIAMSBURG
If you want an American-style breakfast, you absolutely need to try Bowery to Williamsburg, which emulates a New York Subway station. You can enjoy this American-style deli for breakfast, lunch, or supper, and caters to each meal with unique menu options.
LUNCH AND DINNER
ATTICA
After looking up multiple lists Attica is a name that comes up on everyone's must have restaurants in Melbourne. Attica offers Australian-inspired dishes using Australian-based ingredients. You can tell your friends you ate some Crocodile ribs or some green ants and pancakes.
Every dish is one of a kind and has received incredible reviews in terms of taste and presentation. Getting a reservation is not easy, so please book your spots at least three months before your trip.
GIMLET
Gimlet was named one of the best new restaurants in Melbourne in 2022 and will feel like you stepped into the 20s. This timepiece of a restaurant serves up a modern twist of French and American style cuisines. You can enjoy amazing combinations of grilled meats and seafood while enjoying a nice tall glass of Australian beer.
DI STASIO CITTA
You can never go wrong with Italian cuisine and Di Stasio Citta is the right restaurant to experience Italy in Melbourne. You will recognize the name of many Italian dishes and upon further inspection, you will realize that Di Stasio applies their own unique approaches to them.
NIGHTLIFE
The hardest thing to solve about Melbourne's nightlife is deciding where to go! It seems like every district has a slew of bars and clubs that offer a variety of styles and ambiances that can satisfy everyone's unique needs. Here is a quick list of some of Melbourne's hottest spots to get your drink on.
REVOLVER UPSTAIRS
If mixing amazing DJs playing house and techno music while drinking to your heart's content is your kind of night Revolver Upstairs is made for you. You can dress casually and enjoy special guest DJs or live bands depending on the weekend. One thing's sure you will not be walking out straight.
MS COLLINS
With twelve different rooms and seven bars, Ms. Collins is a gorgeous nightclub that allows you to experience two different vibes simply by walking from one area to another. Ms. Collins is not only a treat for your ears, it will also be a delight for your eyes. Cutting-edge light shows and décor will leave you speechless by the time you have your first drink.
SPICE MARKET
Spice Market is one of Melbourne's high-end clubs where patrons are treated like VIPS from the moment they arrive. The spice market offers three different party areas with each of them having a unique identity.
You can overlook the Bourke Street Mall on the terrace or dance like wild IN their lounge. Music varies from jazz to electronica, which can be enjoyed sipping on incredible cocktails that only mixologists can think up.
THINGS TO CONSIDER
Traveling to Australia to watch Formula 1 or for personal fun is always a great idea but would travelers always need to keep the following things in mind before going down under.
Be sure to pack the right electrical outlet adaptors. Australia uses Type 1 sockets that are 203volts at a 50hz frequency.
Australia is a gigantic landmass and if you're traveling for only Formula 1 weekend we strongly recommend staying in the Melbourne area to save on travel time. Plan a longer trip if you'd like to visit other cities like Sydney or Perth.
Change your currency for AUD dollars.
Australia's wildlife is extremely unique and diverse including some of the deadliest animals in the world. Best to play it on the safe side and skip trying to take that selfie with the kangaroo chilling by the side of the road.
Try to book your Formula 1 activities well in advance to avoid losing out on prime hotels and restaurant reservations.
English is the main language used in the country.
Wear plenty of sunscreens! The ozone layer over Australia does not provide the same protection it does in the northern hemisphere, so apply the cream regularly unless you are looking to pull off the red lobster look.