Australia's Formula 1 History of Race Tracks, Teams, and Drivers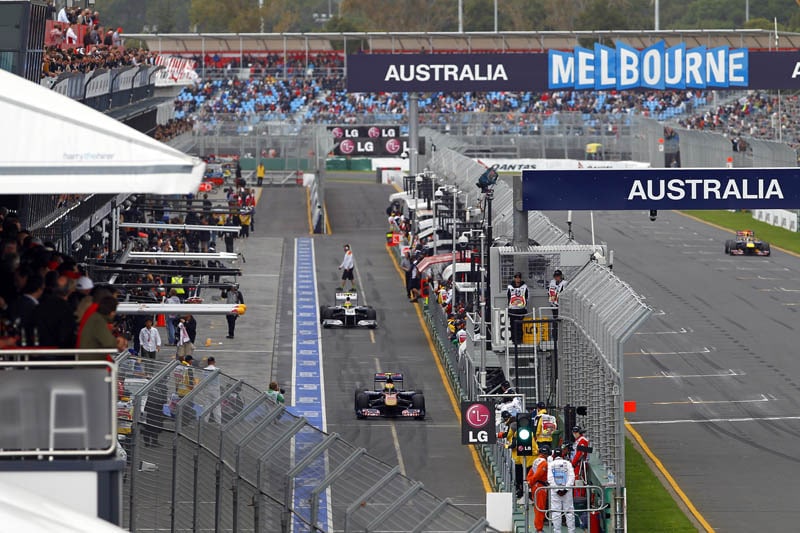 TABLE OF CONTENTS
Australia over the years has developed many reputations such as being wild and vast and outright dangerous. The Australian Grand Prix, like its country's reputation, has a vast history, has had plenty of dangerous and wild moments throughout its F1 tenure.
The race down under officially joined the Formula 1 Championship in 1985. From its inception, be it the racetrack In Adelaide or Melbourne, fans worldwide were always offered amazing races that in many cases were crucial to determining the final Championship standings.
The Australian Grand Prix which took place in Adelaide from 1985 to 1996 was scheduled as the last race of the season. Its position in the schedule would make the race one you cannot miss especially if your favorite driver or team had championship hopes on the line. From 1996 onward the Grand Prix kicked off the F1 season up until 2005 on a different track in Melbourne. This schedule change also added an allure to the track because it would immediately test teams and drivers in their first race of the season.
AUSTRALIA'S F1 GRAND PRIX TRACKS
QUICK JUMPS
BEFORE FORMULA 1
Despite Australia's late entry into Formula 1, it did not reflect Australia's love for racing and deep-rooted history in the sport. The Australian Grand Prix is one of the oldest races in the world and has taken place on numerous tracks dating back to 1928 way before officially joining F1.
The first official Australian Grand Prix took place on a small island off the southern tip of Australia in 1929. The track featured twelve corners that would have to be mastered for one hundred miles. The first winner was Arthur Waite and the last Australian Grand Prix took place on this track in 1935.
The Grand Prix jumped from Philips Island back to the mainland in Southern Australia in a small town called Victor Harbor. The 1937 grand Prix was a small street circuit that ran for 32 laps on a 12.55km course.
The Grand Prix continued moving throughout the country and in 1938 the race was held on the Panorama Circuit in Bathurst, New South Wales. The circuit was six kilometers long and 40 laps were needed to complete the scenic race.
Before World War 2 started there was one last race in 1939 that took place on the Lobethal Circuit, in South Australia. The race was only seventeen laps, but the length of the track was fourteen kilometers long, making it the longest in Australian Grand Prix History.
AFTER THE WAR
The hunger for racing continued in Australia after the world hit pause for nearly ten years. The Grand Prix returned to the Panorama Circuit in 1947 to reignite racing again in Australia. Like a traveling circus, the AGP continued to hop from racetrack to racetrack. Races would take place in Point Cook 1948, Leyburn 1949, and Nuriootpa 1950.
The Australian Grand Prix would not sit still on one racetrack until entering Formula 1 in 1985. Here is a list of the tracks and regions that hosted races before entering F1.
| | | |
| --- | --- | --- |
| YEAR | TRACK | CITY |
| 1951 | NARROGIN STREET COURSE | WESTERN AUSTRALIA |
| 1952, 1958 | MOUNT PANORAMA CIRCUIT | BATHURST |
| 1953,1958 | ALBERT PARK STREET CIRCUIT | VICTORIA |
| 1954 | SOUTHPORT ROAD CIRCUIT | QUEENSLAND |
| 1955 | PORT WAKEFIELD CIRCUIT | SOUTH AUSTRALIA |
| 1957, 1962 | CAVERSHAM CIRCUIT | WESTERN AUSTRALIA |
| 1959, 1965 | LONGFORD CIRCUIT | TASMANIA |
| 1960 | LOOWOOD | QUEENSLAND |
| 1961 | MALLALA MOTOR SPORT PARK | SOUTH AUSTRALIA |
| 1963, 1967,1970,1971 | WARWICK FARM RACEWAY | NEW SOUTH WALES |
| 1964, 1968, 1972, 1973, 1976, 1978 | SANDOWN INTERNATIONAL SPEEDWAY | MELBOURNE |
| 1966, 1969 | LAKESIDE INTERNATIONAL SPEEDWAY | QUEENSLAND |
| 1974, 1977 | ORAN PARK RACEWAY | SOUTH WALES |
| 1975 | SURFERS PARADISE INTERNATIONAL SPEEDWAY | QUEENSLAND |
| 1979 | WANNEROO RACEWAY | WESTERN AUSTRALIA |
| 1980, 1981, 1982, 1983, 1984 | CALDER PARK RACEWAY | MELBOURNE |
ADELAIDE STREET CIRCUIT
In 1985 the Australian Grand Prix would end its constant travels and races across the continent and settled down with Formula 1 in Adelaide. The Adelaide Street Circuit located in South Australia would become home to F1 for eleven years. As mentioned earlier, the race was placed last in the schedule making it a must-watch race.
The challenging course had sixteen turns over 3.780km of racetrack. Britain's Damon Hill holds the record for the fastest lap with a time of 1:15.381 driving with Williams powered by Renault.
Adelaide would feature many nail-biting moments and final races that involved multiple legends of Formula 1.
KEKE ROSBERG'S LAST WIN AND LAUDA BIDS ADIEU
The inaugural race in 1985 would have Finish driver Keke Rosberg and former World Champion his last win in Formula 1 in Adelaide. Keke Rosberg and Ayrton Senna provided an intense battle that would be the first of many to occur in the future. Three-time world champion Austrian Niki Lauda would end his stellar career bowing out of the race with technical issues but nonetheless pleased fans leading most of the race.
LEGENDARY BATTLES FROM LEGENDARY DRIVERS
For the remainder of the eighty's fans would be exposed to incredible battles with Alain Prost, Nigel Mansel, Nelson Piquet and Ayrton Senna. Every Australian Grand Prix would either have the championship on the line or at the very least the hunger to defeat their most staunch rivals. Prost and Senna would take center stage with their more than personal rivalry. Despite the hatred and bitterness that had brewed over the years, they would eventually end with the two greats hugging on the podium in Australia making their amends a public one.
GUILTY OR NOT GUILTY?
Drama and intrigue would reignite when Michael Schumacher and Damon Hill began a war of their own in 1994. Australia again would have to decide the winner of the championship and controversy was sure to follow. Schumacher was accused of taking out Damon Hill to secure his one-point lead and the driver's title. In the following year, Hill would take back the title himself.
ALBERT PARK CIRCUIT
In 1996 the Australian Grand Prix moved to Melbourne, Victoria with the race taking place at Albert Park. The race consists of sixteen turns over a 5.303km racetrack for 71 laps. Germany's Michael Schumacher has the fastest lap set with his Ferrari with a time of 1:24.125 in 2004. The racetrack combines both public roads and a dedicated racetrack. You can expect F1 cars to drive over 300km/h with many challenging corners for drivers to maneuver through.
HILL MAKES IT DOUBLE, MCLAREN BREAKS THE DROUGHT
Damon Hill won his second Australian Grand Prix in the opening race of the new track and the 1996 season. The race moved up the schedule from last to first and would remain that way for nearly a decade. The Grand Prix also ushered in the return of dominance with McLaren dominating the track until 1999 with David Coulthard and former two-time world champion Mika Hakkinen.
FERRARI RUNS WILD, SCHUMACHER CAN NOT BE STOPPED
From 1999 until 2003 Ferrari would own Albert Park in spectacular fashion. Schumacher claimed the podium 4 times and Eddie Irvine in 1999. Schumacher would smash the fastest time which still stands today in 2004.
AN UNFORTUNATE FATALITY
The Australian Grand Prix unlike many other race tracks would not suffer many fatalities in F1 except for Graham Beveridge who was struck by Villeneuve's tire which flew off his chassis during a crash.
THE NEXT GENERATION OF CHAMPIONS TAKE OVER
When Schumacher retired, Australia provided wins for multiple drivers, therein many of those same drivers would become world champions. Fernando Alonso, Lewis Hamilton, Kimi Raikkonen, Jenson Button, Nico Rosberg, Sebastien Vettel all won in Australia. The list is impressive, to say the least.
AUSTRALIA WAITS
The Australian Grand Prix has been put on hold due to Covid -19 skipping the 2020 and 2021 races. The race will return in 2022 and fans can rest assured the races will continue in Melbourne for at least until 2025.
AUSTRALIAN FORMULA 1 TEAMS
MCGUIRE WHO?
Throughout Australia's long history with racing there, unfortunately, has not been any fully Australian-founded team in Formula 1 other than an attempt by Brian McGuire with the team that bore his family name failed to qualify for the British Grand Prix in 1977. That would be their first and last attempt to join Formula 1.
BRABHAM MAKES HISTORY
However, John Brabham who worked with British Motor Racing Developments (known as MRD) would have success in Formula 1. They are not considered a full-blown Australian team but Australia's John Brabham's major influence on the team was one of the main reasons they were able to win.
Brabham built the motors that would make Brabham is the only driver and constructor to win a Drivers and Constructors championship in 1966. Brabham and MRD would also win the title in 1967 when driver Denny Hulme won the title for himself. For the sake of this article, I'll consider MDR and Brabham in part to be Australian even if it is not officially recognized as such. I will not dive further into the team due to this discrepancy.
AUSTRALIA'S FORMULA 1 DRIVERS
QUALITY OVER QUANTITY
The land down under is not known for producing a plethora of Formula 1 drivers since the series' inception in 1950. It has produced a few great drivers out of the seventeen total Australians who have ever started a race.
Australia can still be proud of its drivers who have won 4 Drivers Championships. There is currently one driver from Australia driving for McLaren in the 2021 season, a fellow I am sure you have heard of, Daniel Ricciardo. Let's dive a little deeper into the drivers who have represented Australia in F1.
QUICK JUMPS
JOHN BRABHAM
MORE THAN JUST A DRIVER
Sir John Brabham, who was born on April 2nd, 1926 in Huntsville, New South Wales, was more than simply a driver. John was part of the Royal Australian Airforce as a flight mechanic as a teenager, He also further developed his mechanic skills during his teenage years by studying mechanical engineering and taking night classes.
Brabham had a passion for building and repairing motorbikes and eventually would build "midget" racing cars and compete on dirt ovals in Australia. Brabham would continue to combine his mechanical and driving prowess throughout his entire career, which eventually led to him being the only Drivers Championship to win the title driving a car that he constructed.
BRABHAM JOINS F1
John made his debut in Formula 1 at the ripe young age of 29 in 1955 driving for the Cooper Team. For four years John would struggle qualifying or completing the few races he would make attempts to join in Formula 1. Always competing hard but always facing mechanical issues.
PUSHING HIS WAY TO VICTORY
In 1959 his luck would change, and his mechanical skills and Cooper's car parts finally worked in harmony when, in the very first race of the season in Monaco, John would get his first World Championship Victory. Throughout the 1959 season, Brabham would battle Britain's sterling Moss and Tony Brooks throughout the campaign for the drivers' championship which was decided in the final race. Brabham, in dramatic fashion, ran out of fuel on the last lap and was forced to push his car over the finish line, despite the near disaster landing him in fourth place, which gave him enough points to claim his first driver's championship title!
WHY STOP AT ONE
John continued to work with Cooper in the 1960 campaign and continued to have success. John's masterful engineering combined with the ever-improving Cooper parts would win five races out of the ten on the schedule. Cooper and Brabham would have their back-to-back Drivers and Constructors Championships built on John's hard work and skill behind the scenes in the garage.
REVERSAL OF FORTUNES
During the 1961 campaign, their fortunes would flip, netting only three points the entire season. In 1962 Brabham left Cooper and created his own racing team known as Brabham. The team used cars built by Motor Racing Developments and together they would struggle for multiple years. Eventually, the two would part and in 1966 Brabham would go it alone using parts for his car from multiple manufacturers.
AN UNMATCHED FEAT
At the age of forty, he would be the first man to win a race by driving a race car that bore his name and constructed himself. Despite his critics calling him old, he won four races and stood on the podium another two times, once in second and third place. This would be the only time a constructor driving his own car would win both a driver's and Constructors championship.
IN MY NAME
The following season John would not win but rather his teammate from New Zealand Denny Hulme exploited Brabham's brilliant car and won once again a driver's championship and Constructors title. John eventually retired in 1970 after an incredible career that was both unique and most likely will never be matched again.
F1 STATS
RACED FROM: 1955-1970
TEAMS: COOPER, BRABHAM
RACES: 126
CHAMPIONSHIPS: 3
WINS: 14
PODIUMS: 31
TOTAL POINTS: 253
POLE POSITIONS: 13
FASTEST LAPS: 12
ALAN JONES
FOLLOWING HIS FATHER'S FOOTSTEPS
Alan Jones was born on November 2nd, 1946 in Melbourne and is the last Australian who won a World Drivers Championship in 1980 driving with Williams. Alan's succession into Formula1 was a difficult one and he had to earn every step of the way towards his first championship.
Stan Jones, his father, was a racing legend in Australia who at one point during the fifties was asked to try out for Ferrari and BMR. He would decline the offer, choosing to stay home and care for family and business. Racing was in Alan's blood and he wanted to be a champion like his father before him.
DOING IT THE HARD WAY
Alan was successful in go-karting, winning his first championship at the age of fifteen. Alan continued racing and continued winning in the Mini and Cooper series. After his father's business went bankrupt, his primary funding to race went stagnant and Alan's career would be threatened. Unlike many drivers of today, Alan had to work and earn every dollar he made to fund his driving career.
Alan traveled to England where he created a hostel for travelers and with those profits if any, bought old racing cars and did his best with what he had. Alan would toil and scrap his way through Formula 3, Formula Ford, and Formula Atlantic. He never gave hope that eventually, he could drive in Formula 1, even if he had a terrible crash that left him with a broken leg.
GETS NOTICED, GETS AN OPPORTUNITY
Alan Jones did not quit and eventually, his persistence would finally pay off when former Formula 2/3 driver Harry Stiller decided to buy a Hesketh 308 and hired Alan as its driver for the 1975 Formula 1 Season. In his debut with Hesketh, Alan had a rough start getting zero points, and eventually, the team resigned from F1 which allowed Alan to be picked up by Graham Hill's team. Alan would have his best finish of the year at the Nürburgring finishing in fifth and netting two points.
FINDING THE RIGHT TEAM
Alan would continue to hop from team to team avoiding the pitfalls of being unemployed with either luck by his side and his determination that garnered much respect throughout F1. Alan would race for Team Surtees and Shadow after 1975.
In 1977, Alan driving in his Shadow, both driver and constructor would taste their first victory in Formula 1 during the Austrian Grand Prix. Alan would revisit the podium in second place in New York during the American Grand Prix, he finished the season with twenty-two points, making that season his best to date.
In life, some things are meant to be and that is truly the case for Jones deciding to go race for Williams. Williams in 1978 was a young struggling team driven by the high ambitions of legendary Frank Williams. Alan and Williams shared the common characteristics of determination and the hunger to win. Despite Williams' small budget, their cars and Jones would improve throughout the 1978 season and begin to be a threat in 1979.
WILLIAMS AND JONES ARE A PERFECT MARRIAGE
During the 1979 season, Alan would win his first race in two years in Germany and win another three towards the final stretch of the season. Alan Jones finished third in the Championship with 40 points. For over a decade Alan suffered and worked his way up to Formula 1 and during the 1980 season, all the glory would be his.
Allan and Williams' marriage finally bore fruit with five wins and adding another four visits to the podium. Alan clinched the World Drivers and Constructors Championship during the Canadian Grand Prix with a victory. He finally reached the pinnacle of the sport and proved hard work can go a long way.
HOMESICK
Alan continued to have relative success during the 1981 campaign, finishing third in the Driving Championship. In 1982 Alan felt his homeland calling him and decided to retire and head to Australia to be a farmer. It is probably the case that the lack of adrenaline from tilling fields and riding a tractor could not fill the gap left behind by formula 1.
Alan returned to formula 1 for another three seasons and never visited the podium again, his best finishes were fourth and sixth. Alan would retire once again from racing after a brilliant hard-fought career. Alan eventually became an F1 commentator in Australia for a time and also an F1 steward. Racing was always in his blood and always will be.
F1 STATS
RACED FROM: 1975-1981, 1983,1985-1986
TEAMS: Hesketh (Harry Siller), Hill, Surtees, Shadow, Williams, Arrows, Haas Lola
RACES: 116
CHAMPIONSHIPS: 1
WINS: 12
PODIUMS: 24
TOTAL POINTS: 199
POLE POSITIONS: 6
FASTEST LAPS: 13
TIM SCHENKEN
SOME POINTS MATTER
Timothy Theodore Schenken was on September 26th, 1943 in Gordon, Sydney, and claimed to be among the only five Aussies to claim a point in Formula 1 history. Tim's successes would come for the most part driving outside of Formula 1. Schenken competed at multiple levels of racing including Sports Car racing. Tim would win most of his races in Formula 3 and Formula Ford.
Tim began racing in F1 during the 1970 season for Williams and didn't finish any of the four races he competed in. In 1971 Tim would experience his best finish in F1 in Austria finishing in third place driving for Brabham (Motor Racing Developments). Tim would retire his car in all three of the remaining races of the season. In 1972 Schenken would get his final points of F1 career finishing 5th during the Argentina Grand Prix, giving him a total of seven for his career. Tim's career was short in Formula 1 but at least he could claim visiting the podium which is a feat not many race car drivers can claim.
F1 STATS
RACED FROM: 1970-1974
TEAMS: WILLIAMS, BRABHAM, SURTEES, TROJAN, LOTUS
RACES: 34
CHAMPIONSHIPS: 0
WINS: 0
PODIUMS: 1
TOTAL POINTS: 7
POLE POSITIONS: 0
FASTEST LAPS: 0
MARK WEBBER
SPARKS EXCITEMENT IN THE LAND DOWN UNDER
Mark Alan Webber was born on August 27th, 1976 in Queanbeyan, New South Wales, he began his racing career in karting at the age of twelve. It was clear he had a natural talent to drive, winning multiple karting titles at the age of fourteen and he would continue winning in the Kart series until he was sixteen. His talent was allowed to keep growing in the Australian Formula Ford Championships for multiple seasons, attaining strong results in most of his races. Eventually, Mark moved to London and continued to race in the European Formula Ford Championships and British Formula Ford Championship.
He would visit the podium multiple times, which surely turned the attention of talent scouts his way. In 1997 Webber won Rookie of the Year in the British Formula 3 Championship. Things were not always so simple because funding for his vehicles had to come from his own family and seeking out sponsorship from those who believed in him.
From 1998 to 2001, Mark competed in the Sports Car Racing and Formula 3000 driving for Mercedes where in which he would hone his skills even further. His path to F1 would involve Paul Stoddart who gave Mark an opportunity to drive in Formula 3000 where Webber driving for Arrows would Finish third in the Drivers' Championship.
From Arrows, he jumped to Benetton where in the following season would finish as runner-up in the Drivers Championship. During his time in Formula 3000, Webber had access to F1 cars constantly working on testing with the major teams, and eventually was given the title of reserve driver for Benetton.
MINARDI OPENS THE DOOR
Mark would achieve his dream of driving in an F1 race after fellow Aussie Stoddard who had purchased Minardi signed him as one of his drivers. Mark's first race was at the Australian Grand Prix and with a little chaos out front, he was able to please the home crowd with a fifth-place finish. The rest of his season would not go so well, never finishing better than eight and attaining a meager two points for the year.
AUSTRALIANS CANNOT SIT STILL
From Minardi Mark traded teams for Jaguar, which was led by Nikki Lauda where he had mixed success. During his stint with Jaguar, he struggled with the car in many races but still managed to have career performance highs, finishing in 10th in the Driver's Championship. Mark continued hopping from team to team in 2005 when he landed in Williams whose car struggled for the two years Webber was there. There is a silver lining of course because he would get his first podium at the Monaco Grand Prix 2005 finishing third.
Despite his love for Frank Williams, Mark would make another move, joining his final F1 team, Red Bull Racing in 2007. His start with the team was a rocky one because the Red Bull of today has come a long way from the Red Bull Mark was driving. Red Bull and Mark struggled to get anywhere near the podium or finish in the points.
RED BULL AND PODIUMS
In 2009, despite breaking a leg and racing under harsh physical conditions, Mark and Red Bull began to seriously compete for the Drivers Championship. Mark finally won his first race in one hundred and thirty starts at the German Grand Prix. He would make it on the podium five times and added on top that a Brazilian Grand Prix victory in the last race of the year. He finished fourth for the title.
WEBBER AND VETTEL DON'T GET ALONG
In 2010 the world would be privy to one of the great battles between F1 drivers which would have Mark vying for the title most notably against his own teammate Sebastien Vettel. Both drivers would have several clashes throughout the season which left Webber feeling Vettel was favored at Red Bull. Webber led the Championship at one point during the season only to fall short by the end of the season leaving him in third and fuming at Red Bull.
Despite the rocky relationship with Red Bull, Mark would remain with the team continuing his battles with Vettel. Mark continued to win some races and achieve podiums but ultimately failed to truly challenge the German to win more titles.
Mark retired from F1 after the 2013 season but continued to race in World Endurance Championship races. Mark continues to race until today in the series Superstar Racing Experience. Webber would race in over two hundred races in F1 earning him a spot in the FIA Hall of Fame and the respect of his peers.
F1 STATS
RACED FROM: 2002-2013
TEAMS: MINARDI, JAGUAR, WILLIAMS, RED BULL
RACES: 215
CHAMPIONSHIPS: 0
WINS: 9
PODIUMS: 42
TOTAL POINTS: 1047.5
POLE POSITIONS: 13
FASTEST LAPS: 19
DANIEL RICCIARDO
THE HONEY BADGER
Daniel Joseph Ricciardo was born on July 1st, 1989 in Perth, Western Australia, and is currently driving for the racing team McLaren in the 2021 season. Daniel began karting at the age of nine. He was a major fan of Nascar and legendary Dale Earnhardt.
Daniel, at sixteen years old, joined the Western Australian Formula Ford Championship and from there he would jump to Formula 3 in 2008. He continued to race in Formula 3 until making the move to the Formula Renault 3.5 Series in 2009 where he should promise battle throughout the season netting wins and podiums despite facing heavy adversity. Daniel would come so close to winning the Championship in his rookie year by two points.
TIME TO RACE THE BIG BOYS
Ricciardo got noticed and Red Bull welcomed him into their stable of drivers. Via testing, Daniel made it clear he was ready for than being a test or reserve driver. Red Bull loaned Daniel to Hispania Racing Team where Daniel would dip his toe for the first time in a Formula 1 race at the 2011 British Grand Prix. Daniel's 2011 season did not give him any points, but the lessons learned would prove to be valuable.
TORO ROSSO
Daniel would score his first points with Toro Rosso the following year on home soil at the 2012 Australian Grand Prix. Daniel, with an inferior car, continued to turn heads with his strong qualifying times and managed to finish in the points on many occasions. With the big team Red Bull watching it was only a matter of time for Ricciardo to make the big jump, which he would do in 2014. Driving the far superior Red Bull, Daniel could begin experiencing success more regularly.
RED BULL
Daniel would suffer in the first race of the campaign had him finish in second place only to be disqualified later at the Australian Grand Prix. Daniel tasted victory for the first time in his F1 career in Montreal at the Canadian Grand Prix but that would not be his last as he won races at the Hungarian Grand Prix and Belgian Grand Prix back-to-back! Ricciardo finished the Drivers' Championship in third place and became Red Bull's "lead" driver the following year with Vettel's departure.
WHAT'S A SHOEY?
For the following two years, Red Bull struggled against Mercedes and Ferrari leaving Daniel struggling to get on the podium in 2015. Fortunes would improve in 2016 and fans would be delighted when at the German Grand Prix after finishing in second place, Daniel performed his first "shoey".
Daniel removed his racing boot, filled it with champagne, and chugged it down, this would become a tradition for Daniel and anyone he could convince to take a sip too. Daniel had to wait until the Malaysian Grand Prix to win his first race in two seasons. Despite the lack of victories Daniel still finished in third the Drivers' Championship due to multiple podiums and solid finishes in 2016.
Red Bull Steadily improved throughout Daniel's tenure but unfortunately, Daniel won races sparingly and could not crack the top three drivers in the standings during the 2017-2018 seasons.
BETTING ON RENAULT
Daniel took a leap of faith hoping history would repeat itself when he joined the renaissance of Renault in F1 in 2019. His gamble would not pay off, especially in light of Red Bull beginning to surge as a contender for world titles. With Renault, Daniel only made it on the podium twice in two years when he finished third on both occasions. The lack of success at Renault would make it an easy decision to leave the team for McLaren in 2021.
FITTING IN AT MCLAREN
With McLaren, Daniel faced early struggles with the team due to adapting to the race's cars' particular setups and characteristics. Despite the struggles, early on in the season Daniel consistently finishes in the top ten which helps McLaren compete with their closest rival Ferrari. Ricciardo paid homage to his Italian roots when won the Italian Grand Prix alongside his teammate Lando Norris for a 1-2 finish of McLaren's.
Daniel finished fifth at the American Grand Prix in Austin, Texas, giving him a total of 105 points and eighth place with five races to go in the season. Daniel is loved and respected by fans worldwide, he has been given the moniker of Honey Badger due to his unassuming nature, but on the track, he is a real threat.
F1 STATS
RACED FROM: 2011-CURRENT SEASON
TEAMS: HISPANIA RACING TEAM, TORO ROSSO, RED BULL, RENAULT, MCLAREN
RACES: 205
CHAMPIONSHIPS: 0
WINS: 8
PODIUMS: 32
TOTAL POINTS: 1264
POLE POSITIONS: 3
FASTEST LAPS: 16
UP AND COMING DRIVERS
Making the jump to Formula 1 isn't an easy one, despite the difficult odds there are a few future hopefuls to follow in the footsteps of Daniel Ricciardo and other Australian F1 drivers.
QUICK JUMPS
OSCAR PIASTRI
Oscar Piastri was born on April 6th, 2001 in Melbourne and currently leads the Formula 2 Drivers Championship with 178 points and commanding lead of 36 points over his closest competitor. Oscar, like most race car drivers, began in Karting at a young age and eventually moved on to single seaters. In Formula 4 in 2017 he finished runner-up for the championship to Jamie Caroline.
In 2018, Oscar joined the Formula Renault Eurocup series and won the driving championship in 2019. Oscar continued his winning ways in Formula 3 driving for Prema Racing, claiming yet another Drivers Title in 2020. Renault has taken notice and has included Oscar into their racing academy. The question isn't if Oscar will make the jump but rather when.
F2 STATS
RACED FROM: 2021
TEAMS: PREMA RACING
RACES: 17
CHAMPIONSHIPS: 0
WINS: 3
PODIUMS: 327
TOTAL POINTS: 178
POLE POSITIONS: 3
FASTEST LAPS: 4
JACK DOOHAN
Jack Doohan was born on January 20th, 2003 in Gold Coast and is currently driving for Trident in the Formula 3 series. Jack got his first victory in F3 during the French Grand Prix in 2021. Doohan is part of the Red Bull Junior Team. During the current 2021 campaign, Jack finished the season in second place with 179 points in the drivers' standings. He proves to be a very consistent driver and shows much promise for a young eighteen-year-old.
F3 STATS
RACED FROM: 2021
TEAMS: TRIDENT
RACES: 20
CHAMPIONSHIPS: 0
WINS: 4
PODIUMS: 7
TOTAL POINTS: 179
POLE POSITIONS: 2
FASTEST LAPS:
CALAN WILLIAMS
Calan Williams was born on June 30th, 2000 in Perth, Western Australia, and currently drives in Formula 3 for Jenzer Motorsport. Calan won the 2017 Australian Formula 3 Series drivers' championship. He continued working on his craft in the Euroformula Open and Toyota Racing series until 2020 joining Formula 3. Williams finished the 2021 season in 19th place with fifteen points to his name.
F3 STATS
RACED FROM: 2021
TEAMS: JENZER MOTORSPORT
RACES: 38
CHAMPIONSHIPS: 0
WINS: 0
PODIUMS: 1
TOTAL POINTS: 15
POLE POSITIONS: 0
FASTEST LAPS: 0