History of the Hungarian Grand Prix in Formula 1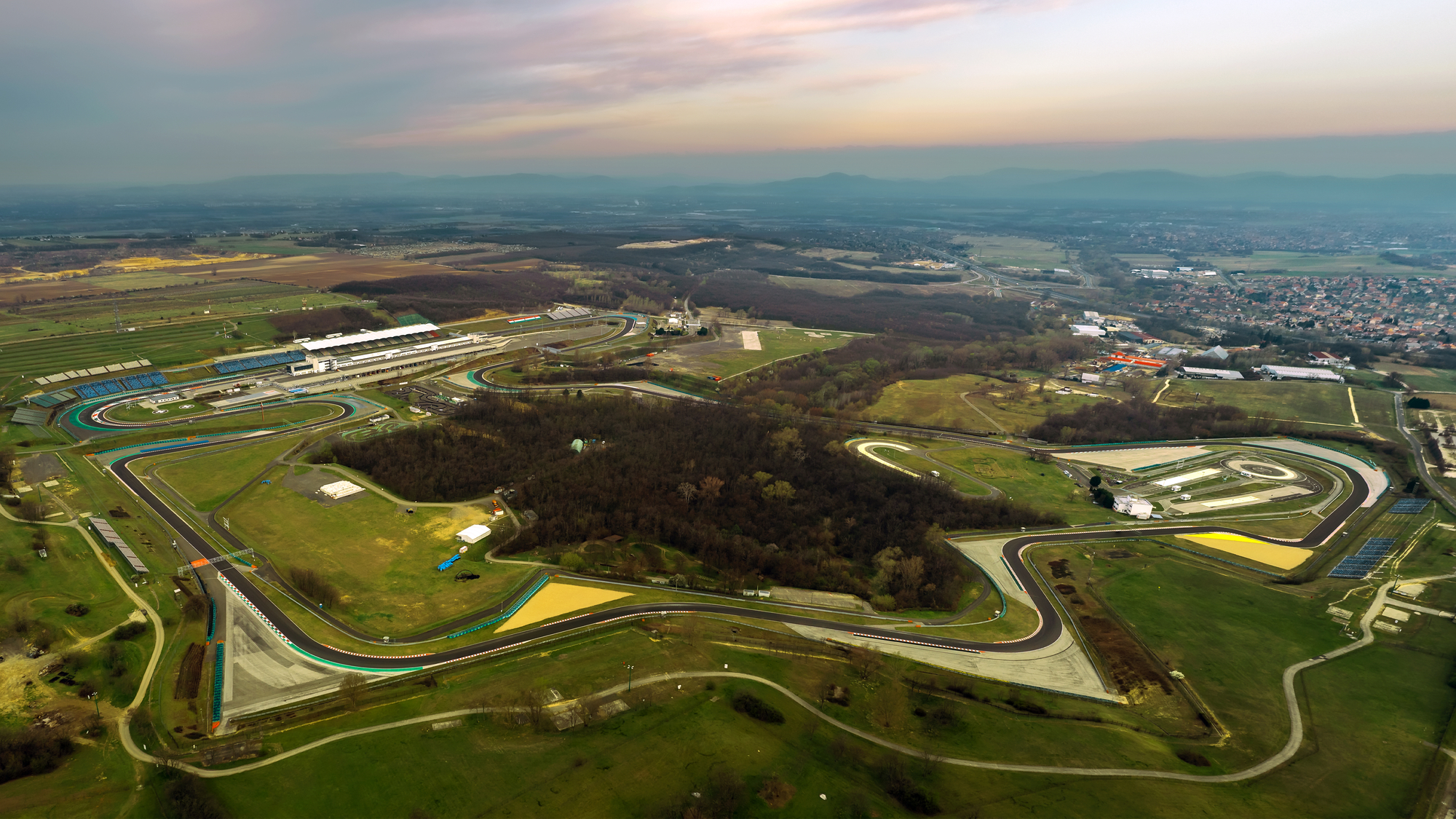 TABLE OF CONTENTS
The history of the Hungarian Grand Prix began in Formula 1 in 1986 at the Hungaroring located just outside of the capital city of Budapest. Formula 1 has always ventured into controversial countries and Hungary was no exception in the eighties.
Hungary was a part of the communist bloc and nestled behind the iron curtain, it took courage to organize a Grand Prix there. After over thirty races, the risk was worth it, and the Hungarian GP will remain on the F1 schedule at least until 2027.
In a circuit where it is notoriously difficult to overtake drivers and teams need to have perfect pit strategies and excellent qualifiers if they intend on having a shot for victory. The most successful driver is none other than Lewis Hamilton and to no one's surprise so was Mercedes.
The 2022 Hungarian Grand Prix will take place on the weekend of July 29 to the 31st. Here is the history of the Hungarian GP.
1980'S
BEYOND THE IRON CURTAIN
In 1986 Formula 1 allowed the west to meet the east scheduling a race in communist Hungary. Two hundred thousand fans descended onto the Hungaroring circuit and the maiden race beyond the iron curtain took off without a hitch. It was an all Brazilian affair as the first pole position was won by Ayrton Senna driving for Lotus.
On race day Senna had to battle his fellow countryman Nelson Piquet in his Williams, who started the race in second place. Unfortunately for Senna, Piquet was able to overtake him and went on to win the first Hungarian GP. Senna finished in second with Britain's Nigel Mansel and Williams finishing third.
BRAZILIAN 1-2 PUNCH
Nigel Mansel in 1987 took pole position and simply dominated the race and was well on his way to claiming his first win in Hungary. With six laps to go disaster struck the Brit and his Williams when one of his tires lost a wheel nut, putting him out of the race.
One man's misfortune is another man's opportunity as Piquet took over the lead and went on to win his second consecutive race at the Hungaroring. Senna finished in second place once again and his future teammate at McLaren Frances Alain Prost finished in third.
SENNA'S NEW COLORS
Senna left Lotus in 1988 and joined McLaren and was immediately thrust into a championship battle with his teammate Alain Prost. At the Hungarian GP Senna nabbed his second pole position at the circuit edging out Mansel by less than a second.
CHICKENPOX
Mansel, who had chickenpox decided to race nonetheless whose decision would eventually catch up to him during the race forcing him to retire on lap 58. Senna who led the entire race had to fend off Prost who made incredible moves passing backmarkers attempting to pass the Brazilian. Senna held on for his first win in the country. Prost and his McLaren finished in second place and Benetton's Thierry Boutsen from Belgium finished in third.
MANSELL IS HEALTHY
With a clean bill of health and a new team in 1989, Nigel Mansell had one of the best performances any driver had in Hungary. Now with Ferrari, Mansell had a difficult qualifying session landing him in twelfth position on the starting grid.
On race day, Mansell had an incredible start allowing him to leapfrog into seventh place passing five cars in the opening corner. Mansell continued his furious pursuit throughout the race, passing one driver after another until he had Senna who led the race in front of him.
Mansell capitalized on a Senna error that had the Brazilian lift off the throttle slightly when trying to overtake a black marker, Mansel did lift off the throttle and passed him cleanly. Mansell won the race with a twenty-five-second lead over Senna in second. Boutsen reached the podium once again claiming third place.
1990's
A BELGIAN AFFAIR
The Hungarian GP so far was very entertaining and featured battles between F1 legends and in 1990 the circuit would not disappoint. Boutsen and his Williams had pole position and throughout the race, he never relinquished the lead, but it was no easy affair.
Senna, who fell back into the pack, had to climb his way back to the top of the grid throughout the entire race. Senna even managed to survive colliding with Italy's Alessandro Nannini before applying extreme pressure to Boutsen.
Boutsen crossed the finish line with Senna behind him by less than three-hundredths of a second. Nelson Piquet returned to the podium in third place with Benetton.
SENNA'S PLAYGROUND
It was clear to anyone with eyes and a brain that Ayrton Senna was one of the best drivers at the Hungaroring circuit, consistently finishing on the podium and claiming pole positions. In 1991 Senna added to his trophy collection by winning his second Hungarian GP, leading the entire race from pole. Mansel, who also shared plenty of success at the circuit finished in second while his Williams teammate Ricardo Patrese from Italy finished in third.
THE FIRST TO THREE
Senna in 1992 and his McLaren were hunting for their second straight win at the Hungaroring but had to contend with Patrese and Mansell who qualified ahead of them. Senna benefitted from multiple collisions and the yellow flags that ensued.
Patrese eventually bowed out with engine problems leaving Senna with a comfortable forty-second lead, Mansel had to content himself with a second-place finish as Austrian Gerhard Berger and McLaren finished in third.
THE PROFESSOR MAKES A MISTAKE
Alain Prost had never won in Hungary throughout his illustrious career and in 1993 driving for Williams, it seemed he could get his first. Prost took and wasted his pole position on race day, stalling his engine before the formation lap landing him at the back of the grid.
Prost's disaster opened the door for his British teammate Damon Hill to take over the top spot and win his first GP at the circuit. Patrese, now driving for Benetton finished in second place and Ferrari with Berger behind the wheel finished in third.
SCHUMACHER GETS HIS FIRST
Germany's Michael Schumacher and Benetton were a dynamic duo during their partnership in the early nineties and in 1994 the duo would succeed in Hungary. Schumacher nearly hit a grand slam taking pole position, the fastest lap, and winning the race but failed to lead the entire GP.
Schumacher's only mistake of the day was coming off the line slower than Hill allowing him to pass even if for just a couple of moments. Those couple seconds were enough to negate Schumacher's grand slam. Hill and Williams finished in second place and Netherlands Jos Verstappen, driving for Benetton, finished in third.
WILLIAMS TAKES OVER BUDAPEST
The Williams team was always one of the more consistent performers at the Hungaroring and in 1995 alongside great drivers began a streak of victories. Damon Hill returned to the top of the podium in fine fashion hitting a grand slam of his own, leading the entire race from pole position and scoring the fastest lap on lap 34. Hill's teammate David Coulthard finished in second giving Williams a 1-2 finish. Berger and Ferrari followed the Brits in third.
IN THE NAME OF THE FATHER
Gilles Villeneuve sadly never had the opportunity to race in Hungary, but his son Jacque made him proud with his performance in 1996. Villeneuve driving for Williams started the race in third behind teammate Hill and Schumacher in first with Ferrari.
Villeneuve elected for a three-stop strategy that paid off, allowing him to overtake his rivals in the pits rather than on the track. Villeneuve won the race with Hill behind him by under a second. It was the second 1-2 finish in a row for Williams. France's Jean Alesi finished in third for Benetton.
VILLENEUVE GOES BACK TO BACK
Williams continued to show the power of its car in 1997 that despite losing pole position to Schumacher and Ferrari could not be stopped during the race. Hill and Villeneuve were far ahead of the pack cruising to Williams' third straight 1-2 finish.
Hill was unlucky because of hydraulic issues which slowed him down significantly, allowing Villeneuve to take over the lead and win the race. Fortunately for Hill, his substantial lead allowed him to remain in second place despite his car's issues. Britain's Johnny Herbert finished in third for Sauber. It was three straight wins for Williams and two in a row for Villeneuve.
FERRARI STEPS UP
Schumacher had to bide his time with Ferrari and finally, in 1998 he managed to return to the top of the podium. Schumacher and Ferrari were outgunned by McLaren who had two of its drivers leading the first half of the race.
Schumacher, like Villeneuve, did some years earlier, elected for a three-stopper during the race allowing him to take over the lead. Schumacher won his second race in Hungary and Ferrari won its first in nearly ten years. McLaren and David Coulthard finished in second while Villeneuve and Williams finished in third.
HAKKINEN ATTRACTS A CROWD
Closing out the decade McLaren who had fallen from grace returned to the forefront of Formula with Finland's Mika Hakkinen leading the way. The 1999 edition of the Hungarian GP was no contest as Hakkinen led the entire race from pole and shared the top of the podium with Coulthard who finished in second place. McLaren scored its first 1-2 finish in Hungary. Eddie Irvine with Ferrari finished in third.
2000's
HAKKINEN'S DOUBLE
The new millennium began, and McLaren was still on top of Formula 1 battling Schumacher and Ferrari from taking over. Schumacher added another pole position to his name at the Hungaroring, but his lead did not last past the first corner of the race.
Hakkinen had a great start passing Coulthard and Schumacher who was ahead of him. Hakkinen could not be beaten and won his second race in Hungary while Schumacher had to be satisfied with a second-place finish. Coulthard joined his Finnish teammate in third place.
FERRARI'S 1-2
In 2001 Ferrari and Schumacher finally became the unstoppable force in Formula 1. In Hungary Schumacher dominated the race from pole position and for the first time in Hungary Ferrari had a 1-2 finish. Brazil's Rubens Barrichello finished in second place and Spain's Fernando Alonso driving for Renault finished in third.
Ferrari was able to clinch the constructor's title with five races in hand. It also marked the third consecutive constructor's title for the legendary Italian team. Schumacher had now won three times in Hungary tying him with Senna for the most wins at the Hungaroring.
BRAZIL STRIKES BACK
It took a decade since Senna for a Brazilian to stand on top of the podium in Hungary in 2002 when Barrichello and his Ferrari took the highest step. It is also the last time a Brazilian driver has won in Hungary.
Schumacher finished the race in second place giving Ferrari another 1-2 finish in Hungary which also clinched their fourth consecutive constructor's title. By this point, there was no doubt that Schumacher was winning the driver's title too. In third place, Ralf Schumacher joined his brother in their celebrations driving for Williams.
ALONSO ALWAYS GETS IN THE WAY
If there ever was a thorn in the side of Ferrari and their dominance in the early 2000's it was Fernando Alonso. Ferrari had a nightmare qualifying, unable to reach the top three spots on the grid while Alonso took pole in 2003.
Alonso, driving for Renault on race day, had a clean start and at the time went on to become the youngest driver to win a GP in Formula 1 history. Finland's Kimi Raikkonen driving for McLaren finished in second place and Colombian Juan Pablo Montoya finished in third behind the wheel of a Williams.
SCHUMACHER ADDS ANOTHER TROPHY
In 2004 Alonso could not deter Schumacher and Ferrari from returning to glory in Hungary. Schumacher, who was on his way to claiming another world championship, dominated the weekend. Ferrari claimed yet another 1-2 finish at the Hungaroring with Barrichello once again finishing in second place. Alonso and his Renault finished in third place.
FINNISH PARADISE?
Due to Hakkinen's success at the track and in Formula 1, Hungary became a popular destination for Finnish fans. In 2005 they would receive a treat when they got to see one of their own claim victories at the GP. Schumacher and Ferrari claimed yet another pole position which is crucial for success in Hungary.
Kimi Raikkonen had the difficult task of passing the German who was eager to win his fifth race in Hungary. Raikkonen used his pit stops to help him get past the slower Ferrari and never had to look back after that. Raikkonen won his first and last Hungarian GP while Schumacher finished in second place followed by brother Ralf driving for Toyota.
WET RACE
Since 1986 the Hungarian GP has always been held in summer and the weather was consistently dry and hot leaving the track dusty. In 2006, for the first time in its history, the rain became a factor in the race. The weather played a crucial role in determining the final order of the race with drivers colliding and struggling with their tires on the track.
Schumacher, who clawed his way back from the back of the pack after a collision, was forced out of the race while he was in second place due to suspension problems. Britain's Jenson Button driving for Honda started the race in the fourteenth and won the race followed by Spain's Pedro de la Rosa in his McLaren and Germany's Nick Heidfeld in third.
HAMILTON'S FIRST
It was no secret that Lewis Hamilton and Fernando Alonso were not getting along at McLaren and their rivalry shone brightly in 2007 at the Hungarian GP. Both drivers during qualifying tried to impede each other from achieving pole.
Alonso was punished while Hamilton kept his pole position. Hamilton went on to lead every lap of the race but could not shake the Ferrari of Raikkonen off his tail, keeping the Brit on his toes the whole. Hamilton won his first of many in Hungary with Raikkonen in second place and Heidfeld in third driving for BMW.
FINLAND STRIKES AGAIN
Hamilton seemed to be on pace to win a second consecutive race driving for McLaren in 2008 taking his second straight pole position. In this Hungarian GP Hamilton had to fight off the Ferrari of Brazil's Felipe Massa and failed to do so, getting overtaken in the first corner. Hamilton remained close to Massa but was forced out of the race with a tire puncture.
Massa also suffered an early retirement due to an engine coming to a stop three laps away from the finish line. Finland's Heikki Kovalainen won his first and only Formula 1 race driving for McLaren and German Timo Glock finished in second place for Toyota. Finnish fans were equally delighted to see Raikkonen and Ferrari in third, giving countrymen two reasons to celebrate.
ALWAYS WEAR A HELMET
The Hungarian Grand Prix in 2009 almost had a horrific moment when Felipe Massa was struck in the head with a spring that came off Barrichello's Brawn. Massa was traveling at a speed of 260km/h when he was struck and immediately knocked out with a fractured skull. Massa survived the incident and returned to Formula 1 after his recovery.
Hamilton, who started the race in fourth, managed to win his second Hungarian GP with Raikkonen and his Ferrari trailing in second place. Australia's Mark Webber driving for Red Bull scored their first podium at the Hungaroring in third.
2010's
THE MAN DOWN UNDER
Mark Weber and Red Bull were battling Lewis Hamilton for the Driver's championship entering the twelfth race of the season in Hungary. Germany's Sébastien Vettel who was Weber's teammate at red bull took pole position and was also in the hunt for the driver's title.
Hamilton who qualified in fifth with McLaren had a terrible race withdrawing from it on lap 23 due to gearbox issues. Weber was able to take the win and took over the lead in the standings for the driver's title. It was also Weber's first and only win in Hungary. Fernando Alonso managed to squeeze himself between the red bulls finishing in second place with Ferrari as Vettel finished in third.
CHOOSE WISELY
In 2011 the GP presented a unique challenge before the start of the race that had the track wet but without any further rain projected to fall. Teams needed to solve what tire selection and setup they would use to maximize their cars. The track will dry but in how long? Is the track too slick for intermediates?
These are some of the questions that needed to be answered before the lights at the start of the race would go out. Vettel had pole position with Hamilton and Button behind him in their McLarens. The race had a clean start and once the track surface began to dry, drivers began to pit for slicks. For many drivers, this decision would prove costly as a brief rain shower decided to rain in on the parade for more pit stops.
HAPPY ANNIVERSARY
Jenson Button in his 200th race proved to have the best luck or strategy depending on who you ask as he benefited from the track drying out allowing him to pass Hamilton who was in the lead. Button won his second Hungarian GP followed by the two Red Bulls of Vettel in second and Weber in third.
HAMILTON TIES SENNA
Lewis Hamilton in his last race in Hungary with McLaren in 2012 before moving to Mercedes had no issues other than completing the race to secure his third win at the Hungaroring. Hamilton led the entire race from Pole position, never feeling any pressure from the two Lotus' behind him.
It was unexpected that Lotus would have such a great weekend but having a former world champion such as Kimi Raikkonen on your roster certainly helps. Raikkonen had to fight his teammate Romain Gros Jean from France for second place overtaking him on lap 46. GrosJean added his third and final podium of the season in third place.
HAMILTON TIES SCHUMACHER
In 2013 Sebastien Vettel and Red Bull completely smashed any challengers for the drivers and constructor's title. The Hungarian GP was the tenth race on the schedule and Vettel had won the previous race in Germany. If not for Hamilton, now racing for Mercedes, Vettel would have gone on to win eleven races in a row.
Hamilton claimed his first win with his new team and tied Schumacher for the most wins in Hungary with four. Kimi Raikkonen continued to race well in front of the many fans who traveled south to Budapest, finishing in second place with lotus. Vettel finished in third place.
RICCIARDO CELEBRATES
Rain at the Hungarian GP was a rarity and in 2014 for the third time wet conditions prior to the race played a part in determining the race winner. The race was a chaotic one with the lead being held by multiple drivers throughout the race only to lose it in the pits or due to unforced errors on their part.
Safety cars and yellow flags cursed the race but helped drivers like Hamilton to regain valuable positions they had lost at the start of the race. Australia's Daniel Ricciardo stole the show overtaking Hamilton and Alonso to claim his first victory in Hungary for Red Bull. Alonso finished in second place with Hamilton fending off Rosberg in third place.
VETTEL NEEDED A FERRARI
It is remarkable with all the success that Vettel and Red Bull had achieved that they were unable to win at the Hungaroring. In 2015, Vettel traded a bull for a stallion joining Ferrari attempting to return the team back to glory.
Vettel qualified in third place with two Mercedes in front of him. Hamilton had pole and Rosberg in second squandered their advantage at the start of the race, losing ground to Vettel and Raikkonen who took over their spots.
Vettel held on to his lead position until the chequered flag claiming his first in Hungary. Ricciardo driving for Red Bull survives contact with Rosberg taking third place and for the first time Daniil Kvyat achieved his first podium with Red Bull and in Formula 1 in second place.
HAMILTON STANDS AT THE TOP OF THE HEAP
Records are meant to be broken and at the Hungaroring, Hamilton was tied with Schumacher for the most wins at the circuit. In 2016 there was a lot more on the line than attaining the track record for wins but the driver's title was also in play between Hamilton and Rosberg.
The two were separated by one point with the German in the lead. Hamilton won the race without any serious challenge from Rosberg who finished in second place. Hamilton not only surpassed Schumacher for the most wins but also took the lead for the driver's title. Ricciardo added another podium finish in Hungary in third place with Red Bull.
FERRARI IS ON TOP AGAIN
Similar to the previous year the battle for the driver's title had two drivers separated by one for first place and in the 2017 Hungarian GP it was now Vettel leading Hamilton. Vettel led the entire race from pole and with support from his teammate Raikkonen the two Ferrari's held off Mercedes to score a 1-2 finish. Finland's Valtteri Bottas driving for Mercedes finished in third place. Vettel extended his lead by fourteen points over Hamilton with his win.
MERCEDES AND HAMILTON BLAST OFF
Records are not only meant to be broken but also smashed, making any attempt to break them a near-impossible task. Hamilton in 2018 added his sixth win to his Hungarian GP belt followed by Vettel in second place and Raikkonen in third both with Ferrari.
In 2019 Hamilton was still not satisfied with the winning tally and added his seventh win battling Verstappen for multiple laps before pulling away after a round of pit stops. Verstappen and his red bull finished seventeen seconds behind Hamilton and in third place were Vettel and Ferrari.
2020'S
EXTENDING THE LEAD
Hamilton already had enough wins to ensure no one in F1 history could catch him at the Hungaroring but adding more can't hurt either. In 2020 Hamilton won his eighth race at the circuit easily with Verstappen stepping onto the podium in second place for the second time and Bottas followed suit in third.
ALONSO PLAYS SPOILER
In 2021 Hamilton was aiming for nine wins but his old rival Fernando Alonso would have something to say about that. Alonso driving for Alpine had the ultimate wingman performance holding off a much faster Hamilton buying time for France's Esteban Ocon who was in first.
OCON WINS!
For twelve laps Alonso stifled Hamilton but eventually, the stronger Mercedes could not be stopped. Ocon held on to the lead to win his first GP in his Formula 1 career. Hamilton's streak of three wins in a. Row came to an end finishing in second place. Ferrari finished in third place with Carlos Sainz Jr scoring his first podium in Hungary.