Japan's Formula 1 History of Race Tracks, Teams, and Drivers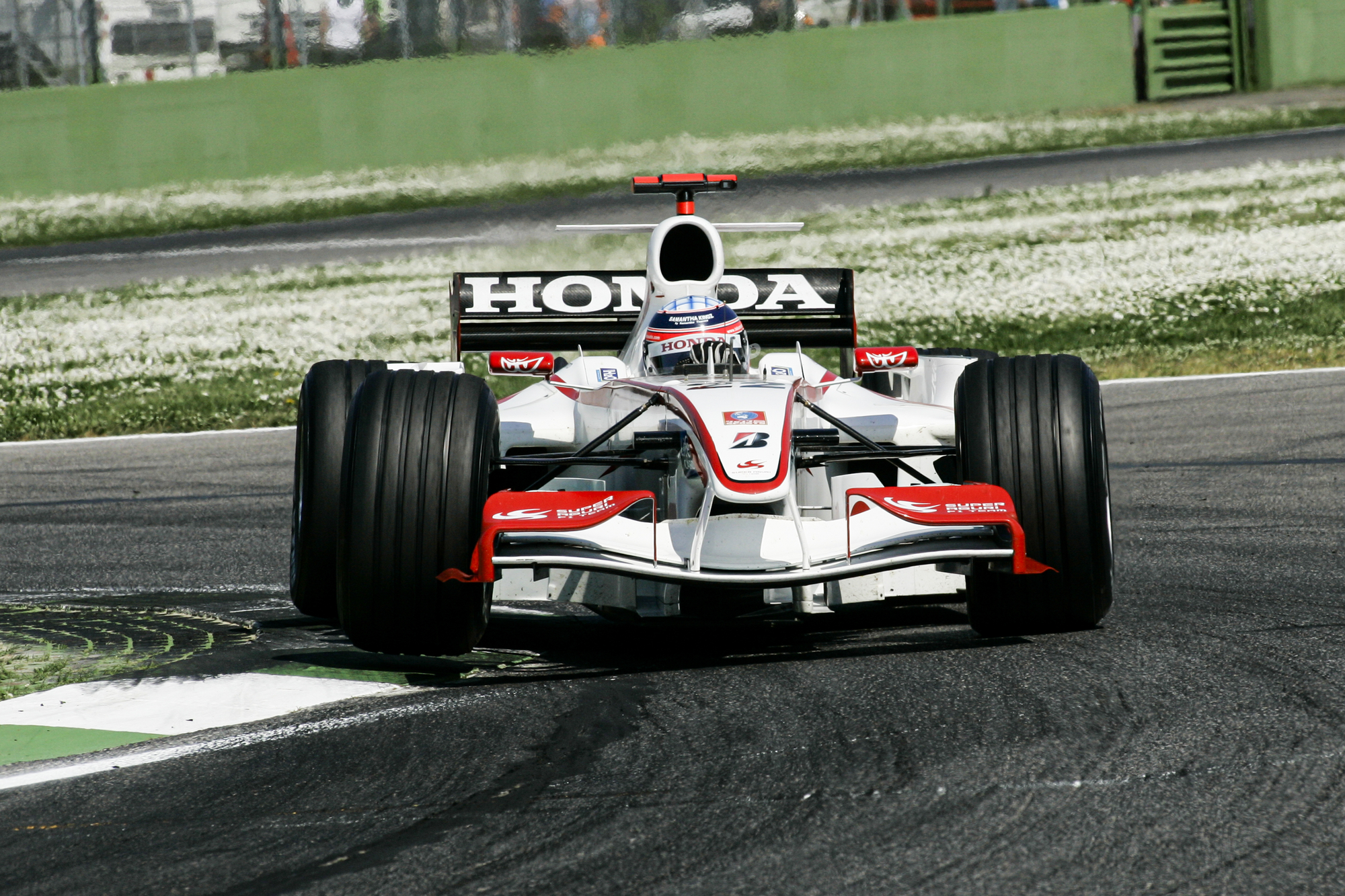 TABLE OF CONTENTS
Japan, a nation known for its technological prowess and an affinity for order, it comes as no surprise that the country has always had a strong attachment to Formula 1. Japan is no slouch when it comes to motorsports and world-leading car manufacturers such as Honda and Toyota have won numerous championships across the sport in various series.
Throughout Formula 1 history Japan has hosted up to forty-five races which don't include the two Pacific Grand Prix it hosted in the nineties. Japan has produced five Formula 1 teams and has seen twenty-one drivers representing the land of the rising sun.
The current home of the Japanese Grand Prix is at the Suzuka Circuit wherein the distance you can see Mount Fuji standing tall. So, pour yourself a glass of Saki and enjoy some sushi as we take a look at the History of Japan's Formula 1 teams, track, and drivers.
TRACKS
QUICK JUMPS
SUZUKA INTERNATIONAL RACING COURSE
Suzuka Circuit has been the current home of the Japanese Grand Prix since 1987, ten years after Japan offered the Fuji Speedway to Formula 1 for two races. The city of Suzuka which the track calls home is located in the middle of Japan on the pacific coast where the temperature is primarily warm throughout the year.
The Suzuka Circuit which is owned by Honda was designed by Dutchman John Hugenholtz in 1962. Many championships have been determined on the circuit simply because it was scheduled for a large period of time as the last race of the season.
INSIDE THE NUMBERS
The track has a unique layout that resembles a figure eight and includes an overpass where the circuit intersects. The layout has seen three variations used in Formula 1 and the circuit has eighteen turns that run on a track that is 5.807km long. To achieve the race distance of 307.471km drivers need to complete fifty-three laps to reach the finish line.
There is only one DRS zone found in the final sector of the race leading into the final chicane before the finish line. The circuit is loved by drivers and fans because of the multiple extremely quick parts of the track while integrating a challenging series of "S" turns and hairpins that vary in size and degrees of difficulty.
The original circuit's track length was 5.859 and had nineteen turns for drivers to conquer. For two races the drivers need to complete fifty-one laps to reach the race distance of 298.829km from 1987 to 1988. In 1989 drivers had to complete fifty-three laps with the new race distance of 310.548. This layout was changed from 199 to 2000 but it made a small comeback for two races in 2001 and 2002.
The layout used from 1991 to 2000 was a slightly longer track that was 5.864km still with nineteen turns and needing fifty-three laps to finish the race. The race distance achieved by drivers was 310.792 km.
CHANCE OF RAIN
Despite the warmer temperatures in the region, rain has consistently played a part in Suzuka challenging drivers and teams with their race strategies and their car setups. To win in Japan drivers must be technically sound and bold which is an apt reflection of the country they are driving in.
Listed below are the fastest times achieved in Formula 1 history so far at Suzuka Circuit.
| | | | |
| --- | --- | --- | --- |
| TRACK VARIATION | TEAM | DRIVER-YEAR | TIME |
| 1987-1990/2001-2002 | FERRARI | MICHAEL SCHUMACHER-2002 | 1:36.125 |
| 1991-2000 | WILLIAMS | HEINZ HERALD FRENTZEN-1997 | 1:38.942 |
| 2001- | MERCEDES | LEWIS HAMILTON-2019 | 1:30.983 |
FUJI SPEEDWAY
The Fuji Speedway sits near the base of Japan's largest and most iconic mountain Mount Fuji in the city of Oyama. The circuit was originally designed and meant to be constructed for NASCAR events in the early sixties but due to the lack of economic funding, the idea was abandoned. Luckily for the circuit, Mitsubishi took over control of what was looking like an oval track and converted it to a road course that featured a dangerous banked turn.
The Speedway started hosting races in 1965 and subsequently, the number of accidents and deaths began as well. The Circuit needed to be altered even further removing the deadly banked turn and adding more turns to the layout. The Fuji Speedway was used in Formula 1 in 1976 and became the first track to host the Japanese Grand Prix.
INSIDE THE NUMBERS
The original Fuji Speedways had a track length of 4.359km and included seven turns and one of the longest straights in all motorsports at the time with a distance of 1.475km. Other than the three hairpins in the layout, the other turns could easily be handled at top speeds because of their gradual long sweeping corners. To achieve the race distance drivers needed to complete seventy-three laps to complete the 319.690km goal.
This version of the circuit only hosted two back-to-back races and was removed from the calendar after the 1977 GP where fans were killed during an accident. Suzuka subsequently took over until 2007 and 2008 when the GP returned to the Speedway.
The circuit used in the new millennium had completely renovated facilities, grandstands, and an updated layout. The latest versions used in F1 had a track length of 4.563km and now had sixteen turns for drivers to weave through. The long straight still remained as a part of the layout which now included some chicanes, sharper turns, and additional hairpins.
The circuit now had a more balanced approach mixing speed and technical areas on the track. The new race distance was 305.416km which was achieved by completing sixty-seven laps. In half of the four races held at the circuit, rain had played an integral part in deciding the race's outcome.
Here is the fastest time at the Fuji Speedway in Formula 1.
| | | | |
| --- | --- | --- | --- |
| TRACK VARIATION | TEAM | DRIVER-YEAR | TIME |
| 1976-1977 | WOLF | JODY SCHECKTER-1977 | 1:14.300 |
| 2007-2008 | FERRARI | FELIPE MASSA-2008 | 1:18.426 |
TANAKA INTERNATIONAL AIDA CIRCUIT (OKAYAMA INTERNATIONAL CIRCUIT)
Formula 1 for two years visited Japan twice in one season in 1994 and 1995 in Suzuka and the TI Circuit Aida (commonly known as). Suzuka held the title of the Japanese GP and TI was dubbed the Pacific GP.
The circuit was constructed with the funding of a golf club manufacturer Hajime Tanaka hence the name of the circuit in 1990. The circuit which was originally used by the affluent as their personal racecourse was located in the city of Mimasaka in the Okayama region of Japan.
INSIDE THE NUMBERS
Formula 1 hosted two races at the circuit in 1994 and 1995 which featured a track layout that had a track length of 3.703km with eleven turns. The circuit featured multiple hairpins and especially between Turns 5 through Turn 9. Michael Schumacher driving for Benetton set the fastest lap in 1994 with a time of 1:14.023.
The circuit which has been renamed the Okayama International Circuit was and is used for the smaller Formulae and GT series of racing.
TEAMS
Japan who is considered one of the leading car manufacturers in the world leading the way with Honda, Toyota, and Mitsubishi to name a few. Naturally, Japan got involved in formula 1 to prove that they can not only compete but can also win against the teams from the west.
Japan has had five teams compete throughout Formula 1 history. It must be noted that Honda, the most successful of the bunch, achieved glory as an engine provider and not as a team. Let's take a deeper look at the Japanese Formula 1 teams throughout history.
QUICK JUMPS
HONDA RACING F1 TEAM
Being one of the world's most popular car manufacturers Honda has enjoyed success on and off the formula 1 track throughout its history since the company's inception. Honda first joined Formula 1 as a team in 1964 and continued to race until 1968. In 1964 Honda only entered one car with American Ronnie Bucknum in three races beginning at the German Grand Prix at the Nürburgring where the team finished in thirteenth place. In the following two races in Italy and in Germany the team could not finish both races.
HONDA'S FIRST POINTS AND PODIUM
In 1965 the team added a second car and American Richie Ginther took the wheel for Honda. Richie was the first Honda driver to score points for the team at the Belgian GP finishing in sixth place and scoring one point. Honda shocked formula 1 at the last race of the season winning the Mexican GP with Ginther taking the chequered flag.
SOME UPS AND MANY DOWNS
In the following season could not reach the podium but in 1967 Honda returned to a single car with F1 great Britain's John Surtees driving for the team. Honda returned to the podium in South Africa in third place and added their second win of the season in Italy. Honda finished fourth for the constructor's title, their best finish to date. In 1968 Honda struggled and after the season the team withdrew from F1.
HONDA TRIES AGAIN
Honda returned to Formula 1 after thirty-eight years in 2006 where in the same year they finished in fourth for the constructor's title. Jenson Button led the team with two third-place finishes and one victory at the Hungarian GP.
Honda could not return to the podium the next year and had to wait until the French GP in 2008 to score their last podium in Formula 1 in third place. Honda once again withdrew from Formula 1 due to the economic crisis looming in the world and their lack of success on the track.
GIVING MCLAREN AND WILLIAMS POWER
Honda may have struggled as a team in F1 but as an engine provider, the team was vastly more successful. For five consecutive years from 1986 to 1991, Honda helped power McLaren and Williams to five constructors' championships during that time. Honda was also the engine that powered the McLaren in one of the most dominant seasons in F1 history where the team only lost one race the entire season.
RED BULL PARTNERSHIP
Honda's glory days were not restricted to the late eighties because the team played an integral part to Red Bull's success in 2021 helping Max Verstappen win his driver's title.
Honda withdrew from F1 after the 2021 season no longer providing engines to any teams to focus on constructing sustainable engines. If history repeats itself Honda is sure to return to F1 one day be it as their own team or by providing engines.
F1 STATS
RACED FROM:1964-1968, 2006-2008
RACES: 88
CONSTRUCTORS CHAMPIONSHIPS: 0
DRIVERS CHAMPIONSHIPS: 0
WINS: 3
PODIUMS:9
TOTAL POINTS: 154
POLE POSITIONS:2
TOYOTA RACING
Toyota is another behemoth when it comes to car production and is considered to be the most reliable cars in the market. Toyota took a long time to join Formula 1 in 2002 but that did not mean the company was not involved in motorsport.
HEAVY FUNDING FOR LIGHT RESULTS
Toyota has participated in racing since the late fifties competing in multiple Rally series and Le Mans along the way. Toyota entered F1 in 2002 swinging a big stick but failed to hit the mark. Toyota was one of the most well-funded teams during its eight seasons but could never produce a single victory.
In 2002 Finland's Mika Salo scored Toyota's first formula 1 point in the opening race of the season in Australia. Toyota struggled for the rest of the year and the following two seasons scoring points occasionally.
MANY PODIUMS BUT NO WINS
In 2005 Toyota had its most promising season with Italy's Jarno Trulli scoring the team's first podium in second place at the Malaysian GP. Trulli and his German teammate Ralf Schumacher reached the podium five times and scored points in nearly every race they competed in. Toyota finished in fourth place for the constructor's title which ended up being their best performance during their time in F1.
The team could never break the mold of being a middle-of-the-pack team most due to the inability to win. Toyota scored their last podium at the Belgian GP in second place at the hands of Trulli.
Toyota withdrew from Formula 1 after the 2008 season after being hit with heavy criticism due to their lack of success and overspending. Toyota also provided engines to F1 teams from 2005 to 2009 supplying Jordan, Williams, Midland F1, and Spyker F1. Toyota's luck as an engine provider did not improve, scoring some podium finishes but failing to win.
F1 STATS
RACED FROM:2002-2008
RACES: 8
CONSTRUCTORS CHAMPIONSHIPS: 0
DRIVERS CHAMPIONSHIPS: 0
WINS: 0
PODIUMS:13
TOTAL POINTS: 278.5
POLE POSITIONS:3
SUPER AGURI F1
Aguri Suzuki founded his own Formula 1 team in Tokyo Japan and used the old factory used by Arrows in England. Despite its home base being in the United Kingdom Super Aguri was an all-Japanese team with Honda providing the engines and Takuma Sato and Yuji Ide both from Japan drove for the team.
MONEY TALKS IN FORMULA 1
Super Aguri joined F1 in 2006 at the Bahrain GP where only Sato could finish the race in eighteenth place. The remainder of the season was a reflection of Super Aguri's poor start, struggling to finish races or cracking the top fifteen by race's end. In 2007 Aguri scored their first points at the Spanish GP finishing in eighth and two races later they scored their last points in F1 at the Canadian GP in sixth place.
The following year Super Aguri only competed in four races before folding due to a lack of financial support. In three seasons scoring only four points made it clear that Super Aguri and F1 were a miss.
F1 STATS
RACED FROM: 2006-2008
RACES: 39
CONSTRUCTORS CHAMPIONSHIPS: 0
DRIVERS CHAMPIONSHIPS: 0
WINS: 0
PODIUMS:0
TOTAL POINTS: 4
POLE POSITIONS:0
KOJIMA ENGINEERING / MAKI ENGINEERING
The last of the two teams to compete in Formula 1 was Kojima Engineering and Maki Engineering who competed in the mid-seventies. Maki attempted to enter eight races from 1974 to 1976 and failed to qualify, never even reaching the starting grid.
Kojima on the other hand only participated in two races from 19176 to 1977 at the Japanese Grand Prix. The small team managed to finish in eleventh place in 1976 with Masahiro Haesmi at the wheel from Japan.
In 1977 Kojima entered two cars at the GP and this time Japan's Kazuyoshi Hoshino finished in eleventh and Noritake Takahara crashed out of the race. Kojima bowed out of Formula 1 to compete in Formula 2 and eventually retired to only keep racing in Japan's domestic series.
DRIVERS
Japan's love of motorsport has led twenty-one drivers to make it to Formula 1 since the championship began in 1950. The first appearance of a Japanese driver was Hiroshi Fushida in 1975 at the Dutch GP in Zandvoort where he failed to start the race due to engine problems.
The honor of being the first Japanese driver to actually finish a race was Masahiro Hasemi in 1976 at the Japanese Grand Prix. Japan's Formula 1 drivers struggled to make their mark until the late eighties onward when they became more competitive. Currently, there is one driver from Japan racing in the 2022 season for Alpha Tauri Yuki Tsunoda. Let's take a look at his biography and other drivers from Japan during F1 history.
QUICK JUMPS
YUKI TSUNODA
Yuki Tsunoda who was born on the 11th of May in 200 in the city of Sagamihara, Japan is currently racing with Alpha Tauri in Formula 1. Tsunoda started his racing career at the age of ten competing in karting across Japan. By the time he was sixteen Tsunoda moved to single-seaters competing in the Japanese Formula 4 championship in 2016. In his rookie season, he competed in only two races and managed to score a podium in the first race finishing in second.
PLENTY OF POTENTIAL
In 2017 Tsunoda displayed his great driving abilities finishing third for the driver's title-winning three races and scoring three other podium finishes. In his third year competing in the series, Tsunoda won his first driver's title by winning seven of the fourteen races on the schedule. His strong performance led him to Europe in 2019 where he competed in Formula 3 winning one race and scoring one podium.
Tsunoda didn't linger in F3 and moved to F2 in 2020 driving for Carlin. Tsunoda continued to experience success winning three races and scoring four other podium finishes landing him in third for the driver's title.
ALPHA TAURI GIVES SHORTY A CHANCE
Tsunoda was given the opportunity to test drive for Alpha Tauri which led to him winning a seat alongside Pierre Gasly in Formula 1. Tsunoda scored his first F1 points in his first race at the Bahrain GP in 2021 and amassed thirty-two points by the season's end. Tsunoda's year was filled with plenty of ups and downs but still remains a solid future prospect of perhaps becoming the first Japanese World Champion.
F1 STATS
RACED FROM: 2021-
TEAMS: ALPHA TAURI
RACES: 22
CHAMPIONSHIPS:0
WINS:0
PODIUMS:0
TOTAL POINTS:32
POLE POSITIONS:0
TAKUMA SATO
Takuma Sato who was born on the 28th of January in 1977 in Tokyo, Japan is the second Japanese driver to ever finish on the podium in Formula 1 history. Referred to as Taku, he began competing in karting very late compared to other drivers at the age of nineteen.
LATE BLOOMER
It didn't take him long to win his first karting championship in 1997 after which he moved to single-seaters in 1998. Taku joined the British Formula 3 series in 1999 scoring points in all the races he entered and in the following year in the series he managed to win four races landing him in third for the championship. In 2001 Taku reached the pinnacle of his Formula 3 adventure, claiming the title by winning twelve races, attracting Formula 1 to look his way.
In 2002 Jordan gave Taku a seat and at the last race of the season in front of a home crowd in Japan he scored the first points of his F1 career finishing in fifth. Taku left Jordan for BAR in 2003 as a test driver and participated in one race, the Japanese Grand Prix scoring points once again finishing in sixth.
In 2004 with BAR he had the best season of his career in F1 scoring his first podium at the United States Grand Prix in Indianapolis finishing third. Taku managed to score points in eight other races netting him thirty-four points ranking him eighth overall for the driver's title.
THE DECLINE OF F1 LEADING TO INDYCAR
Everything went downhill from there and in his last year with BAR in 2005, he scored a single point. In 2006 he joined the Japanese team Super Aguri where he remained until the end of his Formula 1 career in 2008.
Taku scored his last points at the Canadian GP in Montreal finishing in sixth place. Taku moved on from Formula 1 and went on to have a steady career in IndyCar winning eleven races which included two Indy 500 wins. Takuma Sato was always a well-respected driver who was known to be aggressive on the track and is still racing in Indy Car today.
F1 STATS
RACED FROM: 2002-2008
TEAMS: BAR, SUPER AGURI F1, JORDAN
RACES: 90
CHAMPIONSHIPS:0
WINS:0
PODIUMS:1
TOTAL POINTS:44
POLE POSITIONS:0
AGURI SUZUKI
Aguri Suzuki who was born on the 8th of September in 1960 in Tokyo Japan was the first Japanese driver to achieve a podium finish in Formula 1 history. Suzuki had an impressive career in Karting winning multiple championships.
Suzuki moved on to bigger things joining the Japanese Formula 3 series where he had his best season in 1983 when he finished third for the title. Suzuki also competed in touring cars, Le Mans, Japanese F2, and F3000 series leading up to his entry into Formula 1 in 1988.
JAPAN'S FIRST PODIUM IN F1
Suzuki was taken on by Larrouse to drive in one race at the Japanese GP where he finished in sixteenth place. 1989 was a year worth forgetting for Suzuki because the team Zakspeed he had joined could provide a car that qualified in any races that year.
Suzuki returned to Larousse when in 1990 scored his first points at the British GP in sixth place and became Japan's first podium finisher in third place in front of a cheering home crowd at the Japanese GP. That was the peak of his success in Formula 1 and went to jump on board three different teams in four years from 1992 to 1995.
Suzuki scored his final points at the German GP finishing in sixth place. Suzuki continued to race outside of F1 returning to the All Japan Grand Touring Car Championship series from 1996 to 2000. Suzuki returned to Formula 1 with his team called Super Aguri F1 but failed to achieve any success in three seasons.
F1 STATS
RACED FROM: 1988-1995
TEAMS: LIGIER, JORDAN, FOOTWORK, ZAKSPEED, LAROUSSE
RACES: 88
CHAMPIONSHIPS:0
WINS:0
PODIUMS:1
TOTAL POINTS:8
POLE POSITIONS:0