History of the Japanese Grand Prix in Formula 1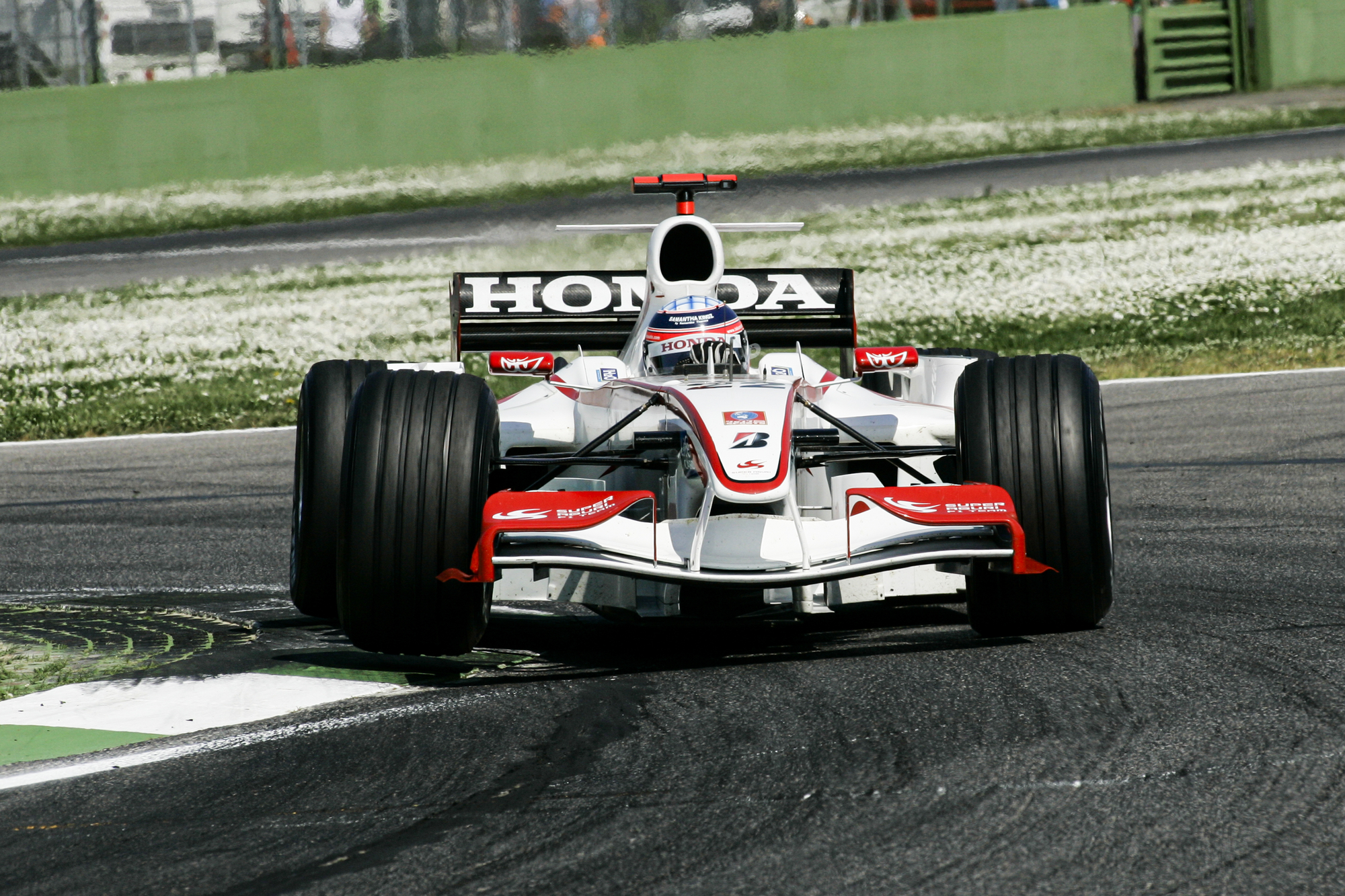 TABLE OF CONTENTS
In the land of the rising sun Formula 1 ventured into Japan in 1976 racing in the shadows of Mount Fuji. Japan was scheduled as the last race for many seasons in F1 meant many championships would be decided in front of the one hundred and forty thousand fans in attendance and watching worldwide.
The Japanese Grand Prix has taken place in two locations the first being the Fuji Speedway and for the most part at the Suzuka International Racing Circuit. Since being introduced to the schedule in 1976 only forty-five races have been held in Japan because of an eight-year hiatus from 1978 to 1986. Here is the history of the Japanese Grand Prix.
1970'S
LAUDA VS HUNT
In 1976 Formula 1 traveled east and the Fuji Speedway hosted the first Japanese Grand Prix in front of one hundred and forty thousand fans. The weather was awful as rain pelted the track risking the GP being canceled altogether. There was a championship on the line between Ferrari's Nikki Lauda and McLaren's James Hunt.
Lauda, who was still struggling with mental issues from his near-death experience at German GP, refused to race in the dangerous conditions. This meant Hunt needed four points to claim the championship for himself.
Hunt led a large part of the race but began losing valuable positions as the track dried, landing him in fifth and potentially losing the title. Luckily for Hunt, he managed to overtake his rivals to finish third claiming his first and only world championship.
ANDRETTI WAS THE FIRST
Japan's first GP was won by Lotus's Mario Andretti from the United States followed by France's Patrick Depailler in second place driving for Tyrell.
IT'S PROHIBITED FOR A REASON
The Fuji Speedway hosted its last race in 1977 before relinquishing hosting duties to Suzuka in 1987. In the Speedways final race of the season, the championship was already secured by Ferrari and Nikki Lauda.
The race had turned tragic when Canada's Jacque Villeneuve collided with Sweden's Ronnie Peterson causing debris to fly into a marshal and a photographer who were trackside in a prohibited area.
The marshal who was trying to clear the illegal bystanders was killed alongside the photographer he was trying to move away from the track. The race ended with James Hunts and his McLaren in first place followed by Ferrari's Carlos Reutemann in second for Ferrari and Depailler and his Tyrell in third.
1980'S
SUZUKA TAKES OVER
After eight long years, the Japanese Grand Prix rose up from the ashes of Mount Fuji returning to Formula 1 at the Suzuka International Racing Circuit. Suzuka was a more modern circuit than the Fuji Speedway and had the potential of being a great track.
In 1987 in the GP's first race back Ferrari's Gerhard Berger claimed pole position and went on to win the race on Sunday. Nigel Mansel and Piquet were battling for the driver's title, but their duel ended when Mansell couldn't start the race after crashing during warmups. Brazil's Ayrton Senna finished in second place for Lotus followed by McLaren's Stefan Johansson in third from Sweden.
PROST V SENNA ROUND 1
Although the Japanese GP was not scheduled as the last race of the season, the driver's championship was decided in Suzaka in 1988. McLaren's Alain Prost and Ayrton Senna were necks to neck for the driver's title which had Senna take pole ahead of his rival.
Prost on race day got away clean at the start while Senna stalled his engine briefly rejoining the race from the back of the pack. Senna clawed his way back to the front displaying his masterful skills in driving in extremely wet conditions.
Senna could not be stopped, and he eventually overtook Prost for the lead, winning the race and clinching the Drivers title. Prost finished in second place followed by Ferrari's Gerhard Berger in third.
PROST V SENNA ROUND 2
In 1989 Prost and Senna were once again fighting each other for Formula 1 supremacy and history was made in Japan that year. The starting grid was the same as the previous year with Senna on Pole and Prost in second place and once again Prost bested Senna at the start of the race.
Senna was only able to catch Prost on Lap 40 where Prost controlled the pace on the track keeping Senna behind him. On Lap 47 Senna made his move on Prost who did not yield an inch which ended up with a collision between the two legends.
WAS IT ON PURPOSE?
Prost was out of the race while Senna got lucky as trackside marshals helped push-start his car back onto the track. Senna went on to win the race and seemingly win the driver's title, but the celebration was cut short by Senna being disqualified.
Stewards punished the Brazilian for getting an illegal push start, knocking him out of the race and handing the championship to Prost. The incident between Prost and Senna will forever be debated about whether Prost's intentions during that corner, were intentional or not.
With Senna DQ'ed Italy's Alessandro Nannini driving for Benetton finished in first place followed by fellow countryman Riccardo Patrese in second driving for Williams. Belgium's Thierry Boutsen finished in third place also driving for Williams.
1990's
PROST V SENNA ROUND 3
The third round between Senna and Prost who now drove for Ferrari took place in 1990 once again with the title up for grabs between the two drivers and once again controversy came into fruition. Senna, who led in the championship, claimed pole position for the third straight race in Japan just ahead of Prost, and like the previous two races it seemed Prost had the better start of the race again.
SENNA'S REVENGE?
Senna did not let Prost through, crashing his McLaren into the Frenchman, knocking both drivers out of the race. Senna, therefore, won the championship but his rivalry with Prost became even more bitter creating an even bigger rift between them. This time it was Senna who was under fire with the question was his move intentional and revenge for last year's events at Suzuka.
With the championship battle out of the way, Benetton scored a 1-2 finish led by their two Brazilian drivers Nelson Piquet in first and Robert Moreno in second. Japanese fans had something to cheer for as their hometown favorite Aguri Suzuki finished in third place driving for Lola.
SENNA'S NEW RIVAL
In 1991 Senna remained in the thick of things, this time-fighting Nigel Mansel for the championship, and the task was simple: finish ahead of your rival and claim the title. Senna who qualified in second blocked Mansell who qualified in third heading into the first corner and the rest is history.
Mansell eventually bowed out of the race on Lap 9 handing Senna his second straight driver's championship. Senna was joined by McLaren's teammate Gerhard Berger in second and Patrese and Williams finished in third.
NOTHING TO DISPUTE
The dramatics came to an end at the Japanese GP in 1992 without the championship being on the line at the race because Mansell had already clinched some races early. Patrese who drove for Williams won the last race of his F1 career and was joined by Berger in second place driving for McLaren and Britain's Martin Brundle in third driving for Benetton.
PROST V SENNA ROUND 4
Familiar foes lined up on the grid with Prost driving for Williams on Pole as Senna and McLaren lined up in second. Prost at this point had already won the title but certainly still wanted to beat his Brazilian foe. Senna got the best of Prost at the start of the race only to lose his leadership position when he entered the pits.
Prost could not hold the lead for long as Senna took back the lead passing Prost and dominating the race from that point. Senna won the race with Prost in second place followed by his teammate Mika Hakkinen from Finland in third.
RAIN, RED FLAGS, AND AGGREGATE TIMES
Heavy rain soaked Suzuka in 1994 and in the second last race of the season the battle for the championship was between Williams' Damon Hill and Benetton's Michael Schumacher. Schumacher entered the race ahead of Hill in the standings and entered the race taking pole ahead of his rival.
The heavy rain forced the race to be red-flagged and the final standings were determined using aggregate times. Schumacher, who was leading the race at the time of the red flag had a six-second lead, but Hill's aggregate time gave him a ten-second lead reversing the final order.
Hill was awarded the victory and Schumacher was left in second place with Ferrari's Jean Alesi in third. That was the last time Formula 1 used the aggregate system to determine the final standings of a red-flagged race.
SCHUMACHER WINS!

In 1995 Schumacher and Benetton entered the Japanese GP on the hunt to clinch the Constructors title. Schumacher had already secured the driver's title-winning eight races prior to this race. Schumacher took pole position, ran the fastest lap, and only gave up the lead in the race during a pit stop on his way to winning his ninth GP of the season.
Williams, who was the only threat to Benetton for the constructors, saw their hopes dashed when Hill spun out of the race on Lap 40. Ferrari's Jean Alesi finished in second place while Hakkinen and his McLaren added his second third-place finish of the Fins career at Suzuka.
LIKE FATHER LIKE SON
Williams had an impressive stable of drivers in 1996 which included Hill and the son of Gilles Villeneuve, Jacques. Hill and Villeneuve were battling for the driver's championship and had already clinched Williams' constructor's title heading into the race.
Villeneuve had pole position, but luck was not on his side having a poor start and exiting the race on Lap 36 when his wheel fell off mid-drive. Hill won the race and along with it came the driver's championship, his first and only title win in F1.
Hill's father Graham Hill was a former champ and with Damon's victory, they became the first father-son duo to accomplish that feat. Schumacher and his Ferrari finished in second place followed by McLaren's Hakkinen who added yet another third-place finish at the circuit.
FERRARI GETS A LITTLE CLOSER
Schumacher with Ferrari helped elevate the team back to being a contender in Formula 1 and in 1997 in Suzuka the team was battling Williams and Villeneuve for the two top prizes of the sport.
Villeneuve who achieved his second straight pole position was initially penalized for ignoring yellow flags and was supposed to start the race at the rear of the grid. Williams appealed and convinced stewards to retract their punishment bringing Villeneuve back to pole.
It made no difference because Schumacher had a great race and won his second Japanese GP giving him a one-point lead over Villeneuve heading into the last race of the season. Villeneuve who finished in fifth was stripped of his points because Williams decided to retract their initial appeal. Williams managed to seal the constructor's title because of Heinz Herald Frentzen's second-place finish. Ferrari's Eddie Irvine completed the podium in third place.
MCLAREN RISES AGAIN
McLaren, like Ferrari, had a resurgence in the late nineties with Mika Hakkinen leading the charge. Heading into the GP in 1998 Hakkinen needed to finish in second place to clinch his first driver's championship and he accomplished it by winning the race instead. Irvine and his Ferrari finished in second place and Coulthard joined in the fun in third place for McLaren.
HAKKINEN THE FLYING FIN
McLaren and Ferrari battled all season long and at Suzuka, in 1999 both titles were settled by the end of the race. Irvine, who trailed Hakkinen for the driver's title, needed to finish ahead of the Fin if he wanted to keep his hopes alive. Unfortunately, Irvine could not stop Hakkinen from winning and claiming his second straight driver's championship. Irvine finished in third place with his teammate Schumacher finishing in second place which helped Ferrari claim the constructor's title for the season.
2000'S
FERRARI BREAKS THE CYCLE
Ferrari entered the new century primed to take over Formula 1, but they would have to go through McLaren first. At the 2000 GP Schumacher had an eight-point lead over Hakkinen and Ferrari also led over McLaren for the constructors championship. Schumacher managed to keep Hakkinen at bay for over fifteen laps to win his third race in Japan and secure his third driver's title.
Ferrari was elated because the 21-year drought of unsuccessful seasons for their drivers was broken. Schumacher's win also helped Ferrari clinch the constructor's title in the next race. The new champion was joined on the podium by his McLaren rivals Hakkinen in second and Coulthard in third.
SCHUMACHER MAKES SUSHI OUT OF HIS RIVALS
Schumacher and Ferrari were not satisfied with simply ending the winless streak but strived to create a winning streak in its wake. In 2001 Schumacher added his fourth win in Japan and his second win in a row further extending his dominance and securing his place in the driver's championship standings.
He was joined by Colombia's Juan Pablo Montoya and Williams in second place and McLaren's David Coulthard in third. Hakkinen retired from Formula 1 after this race and is still considered one of the best drivers in Formula 1.
SCHUMACHER RECORDS
In 2002 Ferrari and Schumacher continued to add trophies and records to their names, completely dominating the season and the Japanese GP. Entering the race both titles were already secure but with Schumacher's third straight win and fifth win in Suzuka he made it clear he was the master of Suzuka.
Ferrari also tied McLaren's jaw-dropping fifteen wins in a season which they accomplished in 1988. Ferrari had a 1-2 finish that had Brazilian Rubens Barrichello in second place and Finland's Kimi Raikkonen finished in third for McLaren.
BARICHELLO WINS THE BATTLE SCHUMACHER WINS THE WAR
History was made again in 2003 by Schumacher who finished in eighth place giving him enough points to claim his sixth driver's championship. Schumacher now surpassed Juan Manuel Fangio who had won five championships in the fifties. Ferrari also clinched their fifth straight constructor's title with Barrichello winning the race for the team. McLaren finished behind him with Raikkonen in second and Coulthard in third.
SIMPLY FERRARI
If any had any doubts about Schumacher, he helped clear those negative thoughts winning his seventh championship in 2004. Japan was a formality for Ferrari who dominated with Schumacher taking pole and leading most of the race to claim his sixth win in the country.
Ferrari had now won five races in a row at Suzuka. Ralf Schumacher joined his brother on the podium in second place driving for Williams and BAR's Jenson Button finished in third.
THE YOUNG GUNS
For the first time in a decade, a Ferrari driver did not stand on the podium in Japan in 2005. Two future world champions signaled the changing of the guard in Formula 1. Raikkonen and his McLaren won his first GP in Japan followed by the two Renaults of Giancarlo Fisichella in second and Fernando Alonso in third.
ALONSO GETS LUCKY
Schumacher and Ferrari were not going to give up their lead role to the younger drivers so easily in 2006. Schumacher and Alonso came to Japan fighting for the championship and it seemed that Ferrari was going to have the ideal day.
Schumacher who led the race experienced disaster in the pits when his engine failed to allow Alonso and his Renault to win the race. Ferrari had to content themselves with Felipe Massa's second-place finish. Fisichella rounded off the podium in third place giving Renault 1-3 finishes.
BACK TO THE FUJI SPEEDWAY
In 2007 the Fuji Speedway was brought back to host the Japan GP and along with came heavy rain causing the start of the race to be started with a safety car. Raikkonen had the performance of the day clawing his way back from last place with his Ferrari to finish in third. In second place Renault's Heikki Kovalainen from Finland finished in second place. Lewis Hamilton had the most complete day taking pole, the fastest lap, and winning the race.
ALONSO WINS AGAIN
The Fuji Speedway returned to the schedule in 2008 and was the last time the Japan GP was held there since. In a wild race that had multiple collisions featuring the top drivers of the season including Hamilton and Massa, it was Alonso who ruled the day. Alonso and his Renault won his second GP in Japan on two different circuits, the only man to do so in the country. Poland's Robert Kubica finished in second place for BMW and Ferrari had Raikkonen in third place.
BACK TO SUZUKA
In 2009 the GP returned to Suzuka and has remained the host of the race until today. Germany could experience success in Japan once again with Sebastien Vettel driving for Red Bull winning his first race in the country.
His win kept his championship title hopes alive against Button and Brawn heading into the final race of the season. Toyota scored a podium with Italy's Jarno Trulli in second place and Hamilton joined him third driving for McLaren.
2010's
RED BULLS INTERNAL STRUGGLES
Vettel and his teammate Mark Webber battled each other for the Driver's Championship in 2010 and the Japanese GP once again played an important part in their story. Vettel took pole position but lost his lead to Weber during a pit stop.
Vettel thrilled the crowd by overtaking his rival and left Webber to mull over a second-place finish losing crucial points heading into the final race of the season. Ferrari continued to make their steady appearance on the podium in third place with Alonso at the wheel.
VETTEL WINS BIG
In 2011 Red Bull and Vettel dominated the season and in Japan, their German driver was able to secure his second straight world championship in a row. Vettel clinched the title finishing in third place with four races remaining on the calendar.
Button, who had a mathematical chance for the drivers, did all he could to win the race for McLaren which wasn't enough to keep him in contention. Alonso added a podium finish in Japan in second place for Ferrari.
RED BULL RUNS WILD
Vettel and Red Bull were on a roll heading into the 2012 GP and the German won his third race in four years at Suzuka. Vettel hit a grand slam claiming pole, the fastest lap, and leading every single one of the fifty-three lap race. Ferrari's Massa finished a=in second place and to the delight of the Japanese crowd Kamui Kobayashi finished third with Sauber.
VETTEL'S LUCKY CHARM
It's good to be lucky and it's lucky to be good, goes the old saying that applied to Vettel's race in 2013. Vettel's teammate Button who had pole position and led the race with a solid pace elected for a three-stop strategy which ultimately failed the Australian driver. Vettel got lucky and was able to win his fourth and final Japanese GP. Webber completed Red Bull's 1-2 finish in second place followed by France's Romain Grosjean driving an old familiar team named Lotus.
MERCEDES DYNASTY BEGINS
Red Bull's reign came to an end in 2014 as Mercedes emerged as the new powerhouse taking over Formula 1 and Japan with it. Lewis Hamilton won the first of six consecutive wins for Mercedes at the circuit. Mercedes added Germany's Nico Rosberg in second place and Vettel and Red Bull in third.
The race was marred by a terrible accident that led to the death of Jules Bianchi. Bianchi slammed his Marussia into the back of a tractor trying to clear another car off the track. Bianchi who suffered head trauma died one later due to the severity of his injuries.
HAMILTON WINS
Mercedes added their second straight 1-2 finish in Japan in 2015 with Lewis Hamilton taking the top spot once again leaving Rosberg in second place. Vettel, now driving for Ferrari, made his seventh straight podium at Suzuka in third place.
ROSBERG GETS HIS SHARE
In 2016 Mercedes faltered slightly this time finishing the race with their drivers in the 1-3 positions on the podium. In this GP Roberg claimed his first and last win in Japan while his teammate Hamilton finished third. A very young Max Verstappen from the Netherlands driving for Red Bull finished in second place.
THE SILVER ARROWS REMAIN SHARP
Hamilton and Mercedes were near unstoppable and they continued to smash their opponent in 2017. Hamilton won his fourth Japanese Grand Prix leading from Pole followed by the two Red Bulls of Verstappen in second and Daniel Ricciardo in third.
HAMILTON KEEPS ON WINNING
Mercedes in 2018 continued to prove they were by far the best team in F1 and in Japan they achieved yet another 1-2 finish with Hamilton taking the highest step on the podium. This time he was joined by Finland's Valtteri Bottas in second place. Verstappen added his third straight podium finish with Red Bull in third.
WHY NOT BOTTAS?
Ferrari made a valiant attempt to stop Mercedes from winning their sixth straight win by Vettel claiming pole for La Scuderia. Unfortunately for Ferrari and Vettel, they had a disastrous start allowing Bottas to take over the lead and eventually win the race.
Vettel added his eighth podium in Japan in second place alongside Hamilton in third. Mercedes closed out the decade with six straight wins with three different drivers.
2020's
The Japanese Grand Prix was canceled in 2020 and 2021 due to Covid-19 and travel restrictions. The race is slated to return in 2022.