History of the Canadian Grand Prix in Formula 1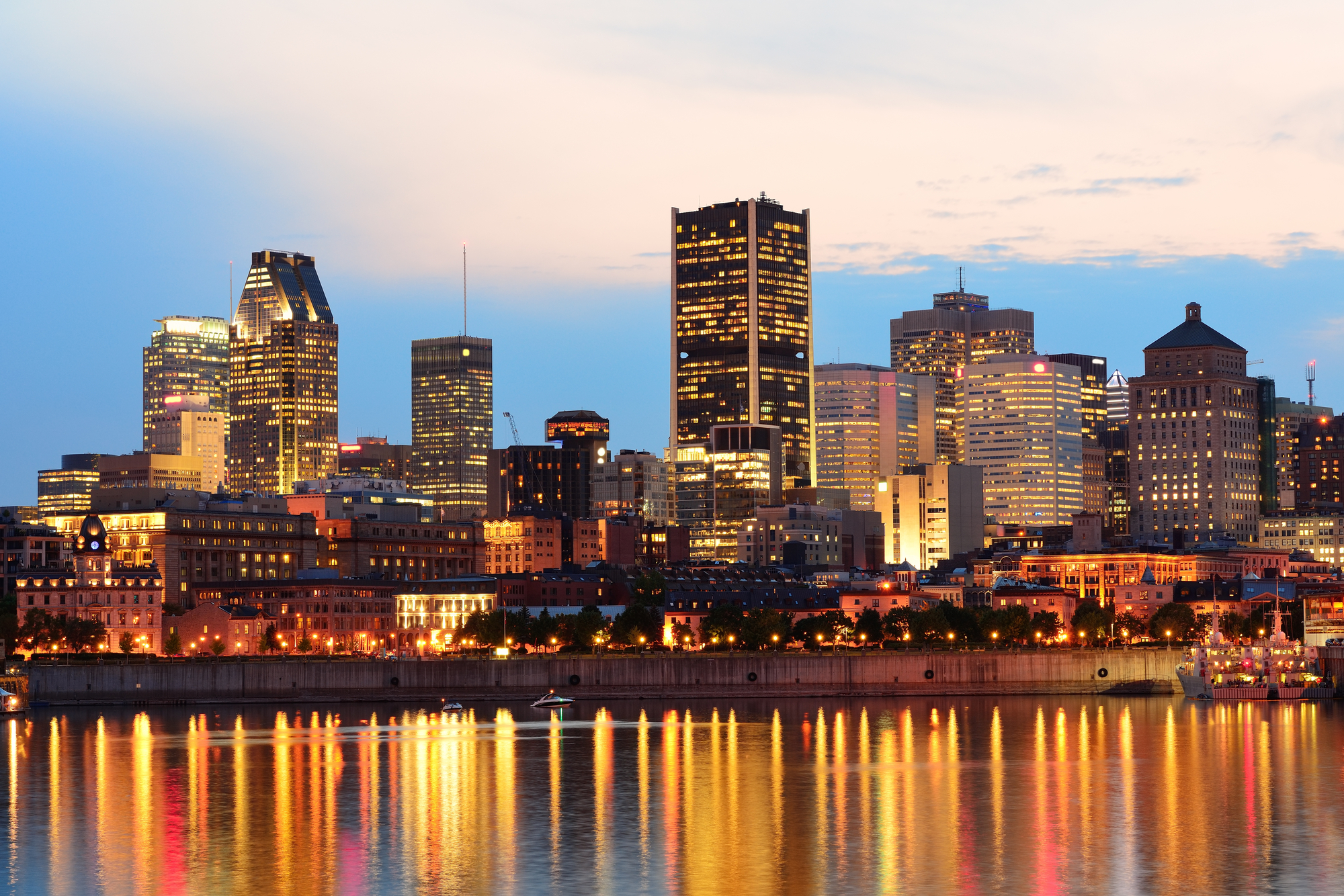 TABLE OF CONTENTS
The history of the Canadian Grand Prix in Formula 1 began in 1961 when the first non championship race took place at Mosport Park in Ontario, Canada. The Canadian GP held its first official F1 race in 1967.
The GP was also held in the mountain village of Mont Tremblant in Quebec for two races in 1968 and 1969. From 1978 until today the race has been held in Montreal at the Circuit Gilles Villeneuve on Île de Notre Dame.
F1 fans and drivers seem to love the Canadian GP because of its fast pace, multiple passing opportunities, and a chance to party in the wild city of Montreal. Here is the history of the Canadian GP and the great moments that have taken place there over the years.
1960's
BEFORE F1
The first Canadian Grand Prix in 1961 at Mosport Park hosted a field of drivers that were predominantly North American but still had some F1 quality drivers such as Stirling Moss and Pedro Rodriguez attending. Canada's Peter Ryan driving a lotus won the inaugural race beating out Rodriguez with Ferrari in second place and Stirling Moss in third with Lotus.
For the next five years, the Canadian GP was included on F1's schedule as a non-championship race that featured four different winners over that time. Three different Americans claimed the top spot on the podium; Masten Gregory in 1962, Jim Hall in 1965, and Mark Donohue in 1966. Mexico's Pedro Rodriguez and his Ferrari won the race twice, once in 1966 and the other in 1964.
F1 BEGINS
The first official F1 Canadian GP took place in 1967 at Mosport Park and this time hosted all the elite drivers F1 had on its roster. Brits and Australians dominated the top ten finishes in the race.
Australia's Jack Brabham won the race comfortably with a one-minute lead over his New Zealander teammate Denny Hulme, both driving in a Brabham. The American Dan Gurney rounded off the podium in third driving for Eagle.
A CHANGE OF SCENERY
In 1968 the GP was moved to Mont-Tremblant in the neighboring province of Quebec and would prove to be a very challenging circuit. Multiple elevation changes and a very bumpy track ensured that drivers had to be extremely focused for the entire race.
Twenty-two drivers started the race and only six drivers would be able to cross the finish line. Denny Hulme won the race one lap ahead of Bruce McLaren in second place and Pedro Rodriguez scored another podium in Canada in Third Place.
BACK TO ONTARIO
In 1969 the GP returned to Mosport Park where once again the majority of the field would not finish the race. This time only seven drivers finished the race and only three of those drivers were not lapped.
TOO SLOW FOR F1
Canada's Al Pease earned the dubious honor of being the only driver in F1 history to be disqualified for driving too slowly. Belgium's Jacky Ickx had no issues with speed as he won his first Canadian GP followed by Jack Brabham in second and Austria's Jochen Rindt in third.
1970's
THE TREMBLING MOUNTAINS
In 1970 the GP returned for the second and last time to Mont-Tremblant where the circuit yet again was unrulily taking out half the drivers who participated. Jacky Ickx took his second win in a row in Canada for Ferrari with his teammate Clay Regazzoni in second place. New Zealand's Chris Amon finished the race in third place.
The Mont-Tremblant circuit was deemed too dangerous and not up to par with F1 standards forcing the race to be solely held in Mosport Park for the next seven years before moving to Montreal.
OH, SWEET JACKIE
Back in Mosport Park Britain's Jackie Stewart driving for Tyrell won his first of two back-to-back wins in 1971. The 1971 victory was no easy task as the drivers had to contend with cold weather and strong winds that ultimately cut the race short with sixteen laps to go.
Jackie Stewart in 1972 did not have to deal with foul weather on his way to his second victory on Canadian soil, beating American Peter Revson in second and Denny Hulme in third.
MCLAREN GETS COMFORTABLE
In 1973 rain poured heavily onto the track which eventually caused numerous crashes and for the first time, a "Safety Car" was used to round up the pack. Peter Revson driving in McLaren took advantage of the safety car gaining a lap over all his competitors. Revson's win was the last time an American-born driver won a Formula 1 race.
NECK AND NECK
Cold weather and high winds in 1974 plagued drivers during this edition of the GP that featured a tight battle for the Drivers Title between Emerson Fittipaldi and Clay Regazzoni. Regazzoni entered the race with a three-point lead over his Brazilian rival and by race end the two were tied heading into the last race of the season.
Fittipaldi won his first and only Canadian GP taking advantage of Nikki Lauda who spun out of the race late in the race. Regazzoni finished in second place and Sweden's Ronnie Peterson finished in third.
HUNT'S FURY
In 1975 the Canadian GP was not held, and fans had to wait until 1976 to watch McLaren win their race in a row in Mosport Park. This time Britain's flamboyant James Hunt drove his McLaren to victory beating out France's Patrick Depailler in a Tyrell and American Mario Andretti with Lotus in third. Prior to the race, Hunt learned about his DSQ from the British GP costing him precious points in his Championship battle with Nikki Lauda.
MOSPORT PARKS SAYS GOODBYE
For the last time in F1 history, Mosport Park hosted its Canadian GP in 1977 and it would be fitting that a Canadian-based team won the race. The final race in Mosport Park was another frigid race and the bumpy racetrack caused serious crashes that led to the decision not to return to this circuit.
NOT WITHOUT DRAMA
James Hunt, after a questionable crash with his teammate, punched a marshal who was trying to push the Brit away from the track. Only twelve drivers out of a field of twenty-six finished the race. Jody Scheckter, who drove for the Canadian team WOLF, survived the chaos winning his first and only Canadian GP.
MOVING TO QUEBEC
Montreal wasted no time in volunteering to host the now vacant Canadian GP spot on the F1 calendar. In 1978 Circuit Ile Notre Dame was introduced to Formula 1 and would eventually be called Circuit Gilles Villeneuve. Formula 1 has remained in Montreal ever since then and continues to be one of the most popular circuits.
VILLENEUVE COMES HOME
The inaugural race in Montreal will always be special for Canadians and fans of Gilles Villeneuve, who not only won his first F1 race in the province where he was born in but was also the first time a Canadian won in Canada.
The seventies ended with a fantastic battle between hometown favorite Gilles Villeneuve and Australia's Alan Jones in 1979. Unfortunately for Villeneuve, he was unable to pass Jones who started the race in Pole Position. Jones won his first of two wins in Canada and it was his Williams' team's first victory in Montreal. Clay Regazzoni, who also drove for Williams, finished in third place.
The 1980's
The eighties kicked off with Alan Jones and Nelson Piquet battling for the world championship entering the final race of the season at the Canadian GP. Alan Jones, driving for Williams, won his second consecutive Canadian GP, which propelled him to the top of the driver's standings. Jones was the second and last Australian to win the driver's title since Jack Brabham who won three titles of his own.
ANYONE CAN WIN IN CANADA
One of the great aspects of the Canadian GP is that it was very difficult to predict who would take the chequered flag during this decade. Eight different drivers won the race and in 1981 Frances Jacque Laffite won the last F1 race of his career despite racing for another five seasons.
The race was stopped early due to cold and wet conditions and was the last time the race would be held in the fall in Canada. The race also featured Gilles Villeneuve's last podium finish in Canada in third place.
GILLES VILLENEUVE WILL NEVER BE FORGOTTEN
In 1982 Gilles Villeneuve lost his life qualifying for the Belgian GP and in his honor, the Circuit Ile de Notre Dame was renamed Circuit Gilles Villeneuve. The start/finish line includes the words "Salut Gilles" (Hello Gilles) painted onto the racetrack.
It was also the first Canadian GP to take place in summer and remains that way until today. Nelson Piquet won the race driving for Brabham followed by Italian Riccardo Patrese in second and John Watson in third.
TRAGEDY IN MONTREAL
The race was not without tragedy because Ricardo Palleti died after he slammed into the back of a stalled Ferrari at 180km/h and subsequently got smashed by an oncoming car in the melee. Paletti was stuck in his race car when he was engulfed by fire further delaying crucial help. Paletti died shortly after arriving at the hospital.
VIVE LA FRANCE
In 1983 another Frenchman would claim the podium and this time Ferrari's Rene Arnoux took the chequered flag beating out American Eddie Cheever in second. France's Patrick Tambay also with Ferrari finished in third place.
BRABHAM MAKES IT TWO
In 1984 Brabham won their second GP of the decade which was also Nelson Piquet's second win in Montreal. It was also Nikki Lauda and Alain Prost's first podiums in Canada driving for the emerging McLaren team. Piquet led the race from start to finish despite burning his foot inside the cockpit of his car throughout the race.
FERRARI GETS A PAIR TOO
Ferrari has experienced decent success in Canada and in 1985 they won their second race of the decade this time with Italy's Michele Alboreto at the wheel. Alboretto had to hold off his Swedish teammate Stefan Johansson until the chequered flag, beating him by 1.9 seconds. Alain Prost finished in third place for the second time at Circuit Gilles Villeneuve.
BRITAIN STRIKES BACK
It was ten years since a British driver had not won in Canada and in 1986 Williams and Nigel Mansell broke the winless streak. Mansell dominated the weekend taking pole position on Saturday and never relinquishing his lead position on race day.
Alain Prost stood on the podium this time in second place alongside Nelson Piquet in third place. The battle for the drivers and constructor's title was heating up with Williams and McLaren separated by a handful of points.
BEER WAR
Sadly, for fans in 1987, there was no Canadian GP because of a sponsorship battle between Labatt and Molson. Formula 1 returned to Canada in 1988 that featured the powerhouse McLarens of Alain Prost and Ayrton Senna.
Senna led the entire race from his pole position leaving Prost behind in second place with a 5.9second lead. Belgium made their return to the podium with Thierry Boutsen driving for Benetton in third place. It has been eighteen since. A Belgium born driver reached the podium.
BELGIAN WAFFLES
It took nineteen years since Jacky Ickx won with Ferrari in 1970 that a Belgian Driver won a Canadian GP. Thierry Boutsen took two steps higher in 1989 to win his first race and only Canadian GP win, driving for Williams.
Rain played an important role in deciding the race winner, making tire selection a crucial part of the race. Boutsen shared the podium with teammate Ricardo Patrese and Italy's Andrea de Cesaris driving in a Dallara in third.
The 1990's
BRAZILIAN CARNIVAL
Ayrton Senna in 1990 driving with McLaren won his second Canadian GP and was his third straight win from the beginning of the season. Nelson Piquet finished in second place driving for Benetton, making it a Brazilian 1-2 in Montreal. Nigel Mansel finished in third place driving for Ferrari.
In 1991 Piquet won his third and final Canadian GP which was ultimately given to him on the last lap of the race. Nigel Mansel had a comfortable lead heading into the hairpin before the final chicane of the race where Mansell's car suddenly lost power opening the door for Piquet. Piquet took the unexpected chequered flag for Benetton followed by Italian Stefano Modena in a Tyrell and Ricardo Patrese and Williams in third.
AUSTRIA'S FIRST
No Austrian driver ever won in Canada and that changed in 1992 when Gerhard Berger and his McLaren climbed from fourth to first during the race. Berger was the benefactor of Senna and Mansell who both exited the race early allowing the Austrian to take the lead. Berger scored the fastest lap of the race and held off Michael Schumacher and Jean Alesi from taking the top spot away from him.
PROST TAKES THE HIGHEST STEP
Alain Prost was no stranger to the podium in Montreal but never reached the pinnacle until 1993 while driving for Williams. Prost took pole position only to lose the lead in the first lap to Damon Hill. It took Prost only five more laps to take back the lead and win the race with a comfortable lead. Schumacher netted his second straight podium in second place with Benetton followed by Damon Hill driving in his Williams.
FIRST OF MANY
Michael Schumacher, after finishing in second place in the last two races in Montreal, was due for a victory in 1994. Schumacher would not be denied his victory taking pole position, scoring the fastest lap, and winning the race by forty seconds. Damon Hill finished second and Jean Alesi netted his second podium in Montreal in third place.
LA SCUDERIA WINS AGAIN
Jean Alesi in 1995 defied the odds to win his first and only Formula 1 win in his career. Driving for Ferrari and bearing Gilles Villeneuve's number 27 which delighted the home crowd, stirring them into a wild frenzy that spilled over onto the track.
Schumacher who was heavily favored to win a second time in Canada and led the race until a lengthy pit stop took him out of the lead. Alesi won the race alongside Rubens Barrichello and Eddie Irvine who both drove for Jordan. It was Jordan's and their driver's first podium appearance at Circuit Gilles Villeneuve.
VILLENEUVE RACES AGAIN
In 1996 the home crowd gave Jacque Villeneuve a hero's welcome who was driving for Williams alongside Damn Hill. Damon Hill won his first Canadian Grand Prix after reaching the podium on two other occasions, but all eyes were on Jacques. Villeneuve finished in second place for the first time since his father, a Canadian, was back on the podium in Canada. Jean Alesi finished in third place driving for Benetton, continuing his solid performances in Montreal.
SCHUMACHER GOES FOR THREE
Ferrari acquired Schumacher in 1997 and the difficult task of reviving the struggling team was thrust upon the former world champion. Schumacher always drove well in Montreal and that did not change in 1997.
Schumacher won the race that was stopped fifteen laps early due to an accident involving Olivier Panis that broke both his legs. Jean Alesi scored yet another podium in Montreal, finishing in second place as Italian Giancarlo Fisichella finished in third.
In 1998, the GP was forced to endure two restarts, one under a red flag, the other with a safety car after two crashes forced the restarts. David Coulthard, who was in pole position, could not outlast Schumacher after suffering from a transmission issue that put him out of the race. Schumacher passed the Brit and went on to win his third GP in Canada. Fisichella scored his second podium in a row finishing in second place followed by Eddie Irvine's Ferrari in third.
A FIN GETS IN THE WAY
Finland's Mika Hakkinen put an end to Schumacher's streak in 1999 taking the last win of the decade in Montreal. Schumacher exited the race on Lap 30 after crashing into the wall of the champions on turn 13. Hakkinen had to hold off Fisichella who was hungry for a win in Canada and won the race with 0.782seconds in hand. Eddie Irvine made another appearance on the podium in third once again.
2000's
SCHUMACHER MAKES IT FOUR
Ferrari and Michael Schumacher dominated the early 2000's and Canada was no exception. In 2000 Schumacher added his fourth win on Ile Notre Dame in front of 100,000 thousand fans in attendance. Schumacher survived the late rainfall and held off teammate Rubens Barrichello by 0.1 seconds at the finish line. Fisichella joined the party once again in third place driving for Benetton.
RALF BEATS HIS BROTHER
In 2001 it was the first-time brothers would share the podium in Formula 1's history. The Schumacher brothers kept close to each other the entire race with brother Ralf tailing his older brother Michael until lap 51.
Ralf, driving in a Williams undercut his brother via a pit stop and held on to the lead he had gained beating his brother to the chequered flag. Mika Hakkinen finished the race in third place for McLaren.
MICHAEL'S THREE-PEAT
For the next three races at the Canadian GP, Michael Schumacher would reign supreme making him the driver with the most wins in Canada with seven to his name.
In 2002 Schumacher benefitted from a superior pit strategy taking the lead away from his teammate Barrichello. In 2003 Michael and his brother repeated their 2001 performance finishing 1-2 with Colombia's Juan Pablo Montoya in third place for Williams.
2004 would turn out to be the last time Ferrari would win in Canada until 2018. Schumacher dominated the race and the season and there was no real doubt about how the race would end. Schumacher had his seventh win and only one other driver would match that feat.
ICEMAN COMETH
Kimi Raikkonen and McLaren turned the tide away from Ferrari in 2005 with the Finnish driver winning his only race in Canada. Kimi's mirrors were full of Ferrari red as Schumacher trailed him by a second behind him and managed to hold the lead until the end of the race. Barrichello added another podium finish with Ferrari in third.
VIVA LA SPANIA
Fernando Alonso had no problem winning the 2006 Canadian GP leading the whole race from pole position. Most of the action took place behind the Spaniard that had Raikkonen in second place and Schumacher in third.
Kimi could not keep his cool with two laps to go as he ran wide in a corner allowing Schumacher to pass him and finish in second place. Schumacher was yet again on the podium, making it twelve totals in Canada and it is nearly indisputable he is the best driver on this circuit.
LEWIS GETS A TASTE AND MAKES HISTORY
Lewis Hamilton won the first of his seven races in Canada in 2007 driving for McLaren. The race included four safety car sessions due to numerous crashes, most notably Robert Kubica who was airborne and tumbling into the barriers shredding his car into pieces.
Hamilton made history that day by becoming the first black driver to win in Formula 1, and it was also the first Grand Prix win of his career. Nick Heidfeld driving for BMW finished in second place and Alexander Wurz for Williams finished in third.
KUBICA REDEEMED
Poland's Robert Kubica who had a terrible crash the year earlier in Montreal that nearly cost him his life redeemed himself in 2008. Kubica driving for BMW Sauber became the first and only Polish driver to win a Grand Prix in Formula 1 and it was fitting that it occurred in Montreal.
The race had wild moments in the pitlane where Hamilton, Rosberg, and Raikkonen piled into each other putting them out of the race. Rounding off the podium was Heidfeld with his second, second-place finish in a row and David Coulthard in third place.
IT'S ALWAYS ABOUT THE MONEY
For the third time in its history, the Canadian Grand Prix did not take place in 2009. After numerous complaints about the track's deteriorating surface and contract disputes with the FIA, the race was canceled. A deal was struck between the Quebec government and the FIA ensuring the track would be improved with Quebec also paying fifteen million dollars a year to host the race.
2010's
MONTREAL REBORN
Lewis Hamilton in 2010 ushered the return to Montreal dominating the race weekend taking pole position and leading the entire race with his McLaren giving him his second win in Canada. Fellow Brit Jenson Button in 2011 won his first and only GP in Montreal also driving for McLaren after starting the race in seventh place.
In 2012 Lewis Hamilton added his third notch of victories in Montreal still driving with McLaren. Hamilton shared the podium with a surprise performance by Romain Grosjean with Lotus in second place and Sergio Perez in third with his Sauber.
A NEW GERMAN WINS
Since 2004 no Germans had won in Montreal until Sebastien Vettel won the race in 2013. Vettel driving for Red Bull returned Germany to prominence in Canada, winning the race handily beating Fernando Alonso and his Ferrari by fourteen seconds and Lewis Hamilton with Mercedes in third.
THE HONEY BADGER TAKES A SIP
Australia's Daniel Ricciardo in 2014 won his first and only Canadian GP and thrilled the crowd with his ever-popular "shoey" celebration. It was the first time since 1980 and Alan Jones that an Australian had won a Canadian GP.
It was also Ricciardo's first F1 win after finishing on the podium in the previous two races in third. Nico Rosberg finished in second place for Mercedes and Vettel finished in third with Red Bull.
HAMILTON'S THREE-PEAT
Starting in 2015, Lewis Hamilton and Mercedes began their three consecutive wins in Montreal. The 2015 race had Lewis cruise to victory easily from pole position beating out his teammate Rosberg and future teammate Valtteri Bottas in third place with Williams.
In 2016 Hamilton capitalized on Ferrari's poor decision to pit Vettel who lost the lead of the race during that stop to the brit. Vettel finished in second place and Bottas earned his second third-place finish in Montreal.
Hamilton did not have any issues in 2017, sweeping the competition with another weekend featuring a pole position, fastest lap, and race victory. It was now his sixth Canadian GP win.
VETTEL WINS AND GETS ROBBED
Sebastien Vettel in 2018 threw a monkey wrench into Hamilton's plans of winning his fourth straight race at Circuit Gilles Villeneuve. Vettel and his Ferrari faced no real threats from the Mercedes team who struggled with their pace that weekend. Bottas with Mercedes finished in second place and a young Max Verstappen got his first podium in Canada in third place.
Vettel would steal the show in 2019 after being robbed of what should have been his victory by race end. It was a tight race between Vettel and Hamilton and on lap 48 Vettel, under pressure from Hamilton went off track only to return onto the track slowing Hamilton down.
Vettel, who took back his lead was handed a five-second penalty for the incident that left many Ferrari fans fuming. Vettel was unable to separate himself from Hamilton, finishing the race with 1.3-second gap between them. The race was handed to Hamilton giving him his record-tying seventh win in Canada.
2020's
The 2020 and 2021 Canadian Grand Prix were canceled due to restrictions caused by the COvid-19 pandemic. The GP is set to return in 2022 and is already sold out. Hopefully, this popular race will not face any setbacks in the coming months.