History of the Belgian Grand Prix in Formula 1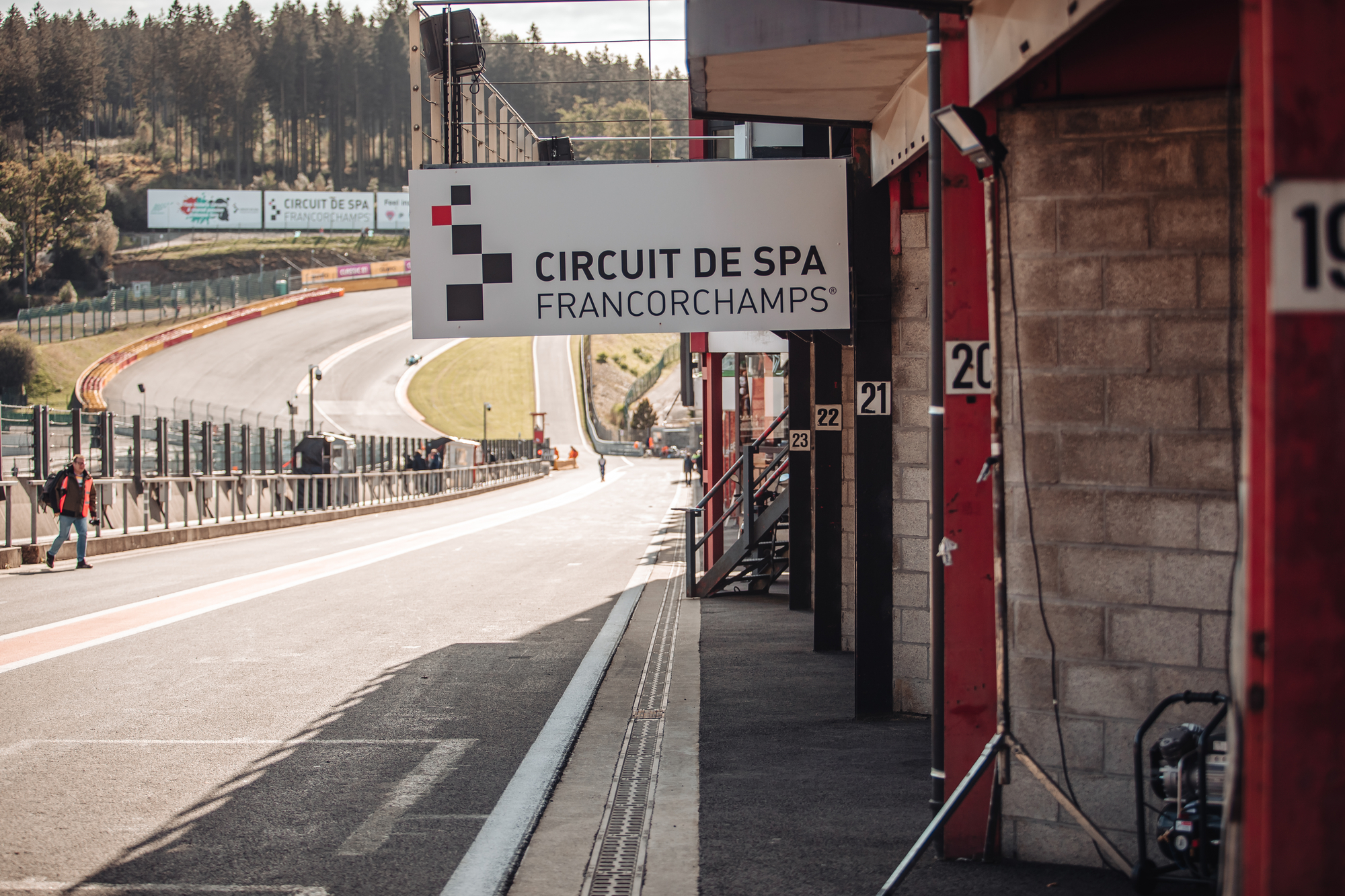 TABLE OF CONTENTS
The history of the Belgium Grand Prix which began well before the Formula 1 Championship in 1950 still remains one of the most popular races. Taking place at the Circuit de Spa-Francorchamps where drivers and teams have their skills put to the test on one of the longest tracks in F1.
The circuit is challenging on the sunniest of days but in all likelihood, there will be rain, and plenty of it making the race a wild card event. The Belgian GP also took place at two other circuits; the Circuit De Zolder and the Circuit de Nivelles.
Winning the Belgian GP is never easy, and the winner's list is a diverse one filled with former champions who conquered the beast. Let's take a look at the History of the Belgium Grand Prix.
1950'S
THERE IS ONLY ONE FANGIO
With the first official Formula 1 championship season kicking off in 1950 it was quite fitting for a future legend of racing to take the first Belgium GP at Spa. In what was nearly a five-hundred-kilometer race Alfa Romeo's Juan Manuel Fangio from Argentina won the race followed by his teammate Luigi Fagioli from Italy in second place. France's Louis Rosier driving in a Talbot finished in third place.
Fangio returned to Spa in 1951 taking pole position and leading for a large part of the race until he was forced to endure an agonizingly long pit stop that lasted fourteen minutes. Fangio's long repairs landed him in last while there was an all-Italian podium. Nino Farina and his Alfa Romeo finished first with the Ferraris of Alberto Ascari in second and Luigi Villoresi in third.
FERRARI AND ASCARI KEEP ROLLING
It was a rainy affair in 1952 but that could not deter Ferrari from improving on the previous performance a year earlier. Ascari had pole position, the fastest lap, and won his first GP in Belgium. His teammate at Ferrari Nino Farina finished in second place followed by Robert Manzon from France driving a Gordini in third.
In 1953 Fangio was poised to delight the over one hundred thousand fans in attendance, smashing lap records and top speeds on multiple laps. Unfortunately for Fangio, he had a collision with Belgium's Johnny Claes knocking him out of the race.
Ascari and Ferrari took over the day winning his second straight Belgian GP. Ferrari was also in second place with Villoresi and in third, there was Maserati's Onofre Marimon from Argentina.
FANGIO STRIKES BACK
For the next two races in 1954 and 1955, Fangio stood up above all his competition-winning back-to-back races with two different cars. It did not matter if Fangio drove a Maserati or a Mercedes his competitors could not keep up with him. Fangio now had three wins in six races at Spa making him the most successful driver in Belgium so far.
FANGIO'S LETDOWN
Ferrari continued to add more podium finishes to its stable of trophies in 1956. In what began as a wet race only to dry out later in the race had Fangio lead the race until lap 24. Fangio's transmission blew and so did his race allowing Britain's Peter Collins and Ferrari to win the race.
Ferrari was not done on the podium adding Belgium's Paul Frere in second place delighting the home crowd. Third place was shared by the two Maserati drivers who shared their car to finish the race; Cesare Perdisa and Britain's Stirling Moss.
A BRITISH AFFAIR
In 1957 the Belgian Grand Prix was off the F1 schedule and made its return in 1958 where Spa's track showed off some renovations and a brand-new track surface.
The race was also shortened going from nearly five hundred kilometers to under three hundred and fifty kilometers. On the revamped circuit Britain ruled the day with three drivers owning the podium. Vanwall's Tony Brooks won the race followed by Ferrari's Mike Hawthorn followed by Stuart Lewis Evans in third place with the other Vanwall.
The race was also canceled in 1959 only to make its return in 1960.
1960'S
TRAGEDY STRIKES TWICE AT SPA
Back on the schedule in 1960, the race distance returned to the longer version of the race lasting over 500km. The race was marred by not one but two horrific deaths which were a first in Formula 1.
Chris Bristow lost control of his car and was flung out of his car into barb wire decapitating him. Alan Stacey had the misfortune of a bird flying into his face causing him to crash and subsequently burn to death, stuck in his car.
Incredibly the race continued, and Australia's Jack Brabham won the race driving for Cooper. New Zealand's Bruce McLaren and Belgium's Olivier Gendebien finished in second and third both driving in Coopers.
IT'S AS EASY AS COUNTING TO FOUR
In 1961 Ferrari returned to Spa becoming the first in F1 history for a team to finish in the top four spots at the end of a race. Ferrari dominated every facet of the race with American Phil taking the pole and winning. His teammate Wolfgang Von Trips finished in second place followed by Richie Ginther in third who also scored the fastest lap. Gendebien completed Ferrari's dominance in fourth place.
CLARKS MAIDEN VICTORY
The road to becoming a world champion and F1 legend always begins with a driver's first victory. In 1962 Jim Clark won his first F1 race driving for Lotus beating out Graham Hill and his BRM who finished in second. This kicked off their rivalry that would last until Clark's death in 1968. Ferrari joined the Brits on the podium with American Phil Hill in third place.
Clark was not done winning in Belgium and he added his second straight win at the circuit. Clark, who started in eight places, climbed up the rankings throughout the race with ease taking the lead and eventually lapping the entire field too. Bruce McLaren added another second-place finish driving for Cooper and American Dan Gurney driving for Brabham finished in third.
CLARK IS UNSTOPPABLE
Even the world's best drivers need some luck which came in handy for Clark in 1964. Brabham Gurney who dominated the race right from the start had the finish line one lap away when he ran out of fuel. Clark took the blessing and won his third straight Belgian GP tying him with Fangio for the most wins in the country.
Lotus and Clark continued their winning ways and in 1965 became the most successful duo at the Belgian GP. Clark won his fourth straight race by hitting a grand slam taking pole, the fastest lap while leading every single lap of the GP. His closest rival who was over forty-five seconds behind Clark was Britain's Jackie Stewart in his BRM and in third place McLaren finished in third with his Cooper.
HEAVY HEAVY RAIN
In 1966 finishing the race was an accomplishment let alone winning it. The rain was heavy and out of sixteen drivers, only five crossed the finish line. The majority of the retirements were caused by accidents induced by the rain-soaked track and luckily no one died or suffered from severe injuries. Ferrari survived with Brit John Surtees winning followed by Austria's Jochen Rindt in second in his Cooper and in third came Ferrari's Lorenzo Bandini.
ALL AMERICAN WINNERS
Jim Clark was looking to add his fifth win at Spa in 1967 taking pole position heading into the race. Clark led from the start leaving the rest of the pack behind until his first pit stop lasted over two minutes, robbing him of any chance of victory.
A rarity in F1, an American driver in an American car won the race with Dany Gurney driving for Eagle. Stewart finished in second place with BRM and Ferrari added yet another podium with New Zealand's Chris Amon in third.
MCLAREN GETS THEIR FIRST
Bruce McLaren was no stranger to the podium in Belgium and for the first time in his career, he could claim the top spot in 1968. Bruce won the race driving in his own McLaren and was followed by the young Mexican Pedro Rodriguez driving for BRM.
Ferrari of course needed to join the party finishing in third with Belgium's own Jacky Ickx in third. The 1969 GP was canceled and returned the following year.
1970's
SPA IS FORCED OUT
The Circuit de Spa-Francorchamps in 1970 hosted its last race in Formula 1 which lasted until 1983 when the track was completely renovated and changed. Spa which was becoming more and more dangerous had F1 looking for a new location to host the race.
Rodriguez, who finished in second place two years earlier, won the last race of his career in Spa. He shared the podium with Amon driving for March and France's Jean Pierre Beltoise driving for Matra in third.
NIVELLES
After taking another year away from F1 the Belgium GP returned to the schedule in a new location at the Circuit de Nivelles. A much smaller circuit that featured seven turns was introduced to F1 for only two races.
LOTUS SHINES AGAIN
In 1972 Brazil's Emerson Fittipaldi brought Lotus back to the podium in first place. France's Francois Cevert finished in second place for Tyrell and New Zealand's Denny Hulme driving for McLaren finished in third.
ZOLDER
In 1973 Formula 1 visited the Circuit de Zolder with the hopes of finding a much more entertaining track for fans and drivers. Zolder was longer than Nivelles and had more challenging turns as well.
ZOLDERS DANGERS
Zolder did face scrutiny over the track surface after drivers inspected it and threatened to boycott the race if repairs were not provided. Zolder resurfaced the track and Jackie Stewart finally won his first Belgium GP driving for Tyrell. Tyrell scored a 1 -2 finish adding Cevert to the podium in second place. Fittipaldi and his Lotus finished in third place.
NIVELLES
Nivelles was given their second and last chance in 1974 to prove worthy for Formula 1 and failed to convince the series to remain there. In Nivelles last race in F1, Fittipaldi claimed his second win on the circuit this time driving for McLaren. Ferrari joined the podium with Austria's Nikki Lauda in second place who had South Africa's Jody Scheckter driving for Tyrell in third.
ZOLDER
HOME FOR NOW
In 1975 the Belgian GP returned to Zolder and became the sole host of the GP until 1983. Lauda and Ferrari took one step higher than they did at Nivelles winning the race easily without any real threats from the competition. Scheckter and Tyrell also took a step higher finishing in second place with Argentina's Carlos Reutemann and his Brabham in third.
LAUDA BRINGS FERRARI BACK TO THE TOP
Lauda wasn't done in 1976 claiming top honors once again in Zolder. Lauda and his Ferrari took over the weekend claiming pole, the fastest lap, and victory. Swiss driver Clay Regazzoni completed Ferrari's 1-2 punch in second place followed by France's Jacques Laffite and his Ligier in third.
LOTUS CAN STILL WIN
Lotus, like Ferrari, had enjoyed success in Belgium and in 1977 the British team stopped Lauda from claiming a third straight victory. For the first time in Belgium, a Swedish driver won the race with Gunnar Nilsson crossing the finish line first.
Lauda and Ferrari couldn't complain too much, finishing in second place while another Swedish driver joined the podium with Ronnie Peterson and his Tyrell.
AN ITALIAN AMERICAN DRIVES A LOTUS
For the first time in a little over ten years, an American would win the Belgian GP in 1978. None other than Mario Andretti broke the winless drought for the United States giving Lotus their second consecutive in Zolder.
Peterson joined his American teammate in second place giving Lotus a 1-2 finish. A podium without Ferrari is rare in Belgium and Carlos Reutemann finished in third for La Scuderia.
FERRARI OVERTAKES LOTUS
In the final race of the decade, it came to no one's surprise that Ferrari would have a role to fill on the podium. Canada's Gilles Villeneuve took pole position for Ferrari, but it was teammate Jody Scheckter who would win the race.
Scheckter gave Ferrari their eighth win in Belgium surpassing Lotus for the most who had seven wins to their name. Laffite and his Ligier finished in second place followed by fellow Frenchman Didier Pironi in his Tyrell in third.
1980's
ANYONE'S RACE
Kicking off the eighties in Zolder was a GP where predicting the winner was near impossible because of the wild start of the season that had three different drivers winning the first four races.
Pironi became the fourth different driver to win at the beginning of the season and was also his first GP win in F1 driving for Ligier. Australia's Alan Jones and his teammate Reutemann rounded off the podium giving Williams a 2-3 finish.
PIT LANE DISASTER
The 1981 race was nothing short of being chaotic that sadly included the death of a mechanic. During the Friday practice sessions mechanic, Giovanni Amadeo for the Osella team fell off the pit wall into the oncoming Carlos Reutemann who could not avoid impact. Amadeo died in hospital a day later due to a fractured skull.
Drivers and teams complained about Zolder's pit lane and the dangers that came with forcing regulation changes to be made overall in F1. Reutemann who had pole position won his first race in Belgium driving for Williams followed by Lafitte in second with his Ligier and Lotus returned to the podium in third with Nigel Mansell at the wheel.
VILLENEUVE'S POTENTIAL CUT SHORT
Tragedy continued to follow in Zolder and in 1982 the Formula 1 world was robbed of one of its most promising drivers Gilles Villeneuve. Villeneuve and his Ferrari crashed during qualifying had his car cartwheeling in the air, tossing the Canadian out of his car and into the surrounding fences. Villeneuve, who broke his neck, was pronounced dead later that night.
Formula 1 was in shock but as per usual the race must go on. McLaren won the somber race with John Watson in first followed by Finland's Keke Rosberg in his Williams in second place. American Eddie Cheever driving for Ligier finished in third place.
SPA-FRANCORCHAMPS
PROST ENJOYS THE NEW LAYOUT
IN 1983 Spa returned to F1 to host the race on a new permanent track that could challenge drivers in multiple sectors. The new layout was 7km making it once again one OF the longest circuits on the schedule.
Alain Prost and his Renault took pole and the first win back at Spa followed by Ferrari's Patrick Tambay from France in second. Renault completed a great weekend with Cheever finishing in third for the first time in two years.
ZOLDER
FERRARI SAYS GOODBYE WITH A WIN
In 1984 Zolder held its last race in Formula 1 due to the success of Spa's return and the unfortunate death of Villeneuve two years prior. It was fitting that Ferrari helped bid adieu to the circuit with Michele Alboreto taking pole and victory.
It was the first time since 1966 that an Italian driving a Ferrari had won a GP. Britain's Derek Warwick driving for Renault finished in second place while Ferrari Rene Arnoux in third place.
SPA-FRANCORCHAMPS
ONLY ONE TRACK TO HOST THEM ALL
As of 1985 Spa until today and in the foreseeable future is the sole host of the Belgian GP. Lotus, who had won the GP seven times, added their eighth and final win in Belgium in 1985.
In a race that presented both wet and dry conditions, Brazil's Ayrton Senna and his Lotus won the race by twenty-eight seconds. Mansell and his Williams finished in second place while Alain Prost and his McLaren followed in third.
MANSELL SURVIVES THE MELEE
At the start of any GP, chaos can always occur because of drivers jockeying for better positions on the racetrack. In 1986 Senna was the cause of multiple cars colliding at the start of the race as he fought hard to gain position cutting off his competitors and creating a melee behind him.
Mansell, who survived the scrum, eventually passed Senna via pit stops and won the race driving for Williams. Senna finished in second with his Lotus whit Ferrari returning to the podium with Stefan Johansson in third.
MANSELL TELLS SENNA HOW HE REALLY FEELS
In 1987 Mansell sat on pole position and started the race cleanly ahead of the pack only to be forced to restart the race due to a severe crash that brought out the red flags. On the second restart, Mansell and Senna battled each other and collided immediately, taking the Brazilian out of the race.
Mansell later retired from the race due to the damage sustained and in the pit lane he sought out Senna where the two exchanged "pleasantries" and some fists over the matter.
McLaren took advantage of the situation, scoring a 1-2 finish with Prost winning his second Belgian GP and Johansson taking second place. Italy's Andrea de Cesaris driving for Brabham finished in third place pushing his own car over the finish line.
MCLAREN IS KING
McLaren's dominance in the eighties by this point was absolutely clear and adding Senna to the fold with Prost made them unbeatable. From 1988 to 1990 Senna and Prost owned Spa giving McLaren three consecutive 1-2 finishes in a row.
Senna also had three straight pole positions in that time leading the way in every Belgian GP. Senna tied Jim Clark with the most wins at the GP with four.
1990's
SENNA STANDS OUT
Senna's magnificent run at Spa did not end in the eighties as he added his fourth straight win with McLaren at the circuit in 1991. Senna became the all-time best driver in Belgium surpassing Clark with five total wins. Senna also added his fourth straight pole position at the circuit and had no issue holding off the pack behind him.
McLaren also added their fourth straight 1-2 with Austria's Gerhard Berger in second place and Piquet in third driving for Benetton. It was one of the most impressive runs by a team on a circuit in F1 history.
SCHUMACHER GETS HIS FIRST
All streaks must come to an end and in 1992 McLaren proved to be a non-factor in the race. Senna who qualified in second place was right on the heels of race leader Mansell until the rain began to fall forcing everyone in the pits except for McLaren who took a chance hoping for sunshine.
The sun never shone again that race and Senna fell back into the pack after pitting late. A young Michael Schumacher driving for Benetton won his first Belgian GP with a comfortable lead over Mansell in second place and Riccardo Patrese in third both driving for Williams.
WILLIAMS FLEXES
Williams added Prost to their lineup replacing Mansell creating a strong team with Damon Hill in 1993. In a very exciting race that had Prost, Hill, Schumacher, and Senna battling for a large part of the race for the top four spots. Ultimately it was Damon Hill who won the race followed by Schumacher in second and Prost in third.
SCHUMACHER AND BENETTON GET A DSQ
Like McLaren in the late eighties, Williams was the powerhouse in the early nineties and followed up their previous performance with another win in 1994 without crossing the finish line in first. The race at first was thought to be won by Schumacher and his Benetton but upon further inspection by stewards on the Germans car, he was disqualified.
The stewards found that the skid block beneath his car had been worn out considerably which meant the setup of the car's suspension was too low creating an illegal aerodynamic advantage. Hill was awarded his second win at the circuit followed by Finland's Mika Hakkinen in his McLaren and in third place Jos Verstappen of the Netherlands in third for Benetton.
SCHUMACHER V HILL
The 1995 Belgian GP will be one of those races that will be brought up for generations because of the battle between Hill and Schumacher. Schumacher, who started in sixteenth place, leapfrogged the pack when the cars ahead of him completed their first stop. Rain began to pour a few laps later forcing drivers like Hill to return to the pit for wet surface tires, but Schumacher remained on the track with his slicks.
Hill quickly caught up to Schumacher who had no choice but to drive slowly but could not overtake the German. Schumacher blocked Hill at every corner which would eventually give Schumacher a one-race suspension for dangerous driving. Schumacher won the race leaving a furious Hill in second place followed by Britain's Martin Brundle who achieved the last podium of his career in third driving for Ligier.
VILLENEUVE'S GIFT TO FERRARI
Schumacher, now with Ferrari, continued his winning ways in Belgium the following year but this time had to contend with Canada's Jacque Villeneuve and his Williams. Villeneuve had pole position and led the race early on until a safety car was deployed and the young Canadian made a critical error.
Villeneuve who was due for a pit stop skipped it forcing him to pit after the safety car was disengaged allowing Schumacher to win third Belgian GP. Villeneuve finished in second place followed by McLaren's Mika Hakkinen.
THE RAIN MASTER
In 1997 Formula 1 fans were privy to one of Schumacher's greatest performances in motorsport giving a masterclass in driving in the rain. Schumacher who qualified in third benefited from the heavy rain that fell and a safety car deployment before the race even began, Schumacher switched his Ferrari for the spare car with a different setup and the rest is history.

Schumacher not only passed his two rivals ahead of him, he also managed to put a one-minute buffer ahead of them too. While the field slowed down Schumacher accelerated, proving his mastery of the rain and Spa.
Italy's Giancarlo Fisichella finished in second place after Hakkinen was disqualified for having fuel irregularities. Germany's Heinz Herald Frentzen also moved up one spot due to the ruling into third place driving for Williams. Schumacher at this point had four wins at the GP.
ANGER AND FRUSTRATION IN THE RAIN
By this point not bringing an umbrella to Spa would make you more than a fool and in 1998 the rain came once again. The start of the race had thirteen cars involved with multiple collisions forcing the race to be stopped for over an hour.
Once the race resumed Hill took the lead now driving for Jordan only to lose it to Schumacher a few laps later. Schumacher once again was destroying the field creating an immense lead until he attempted to lap David Coulthard who made the terrible decision to lift off the throttle on the racing line causing Schumacher to smash him in the rear.
Schumacher was robbed of his fourth straight win and had to watch the remainder of the race from the paddock. Hill won the race followed by his teammate Ralf Schumacher giving Jordan a rare 1-2 finish. France's Jean Alesi driving for Sauber finished in third place.
MCLAREN GETS IT RIGHT
In the last race of the century in Belgium in 1999 two McLarens would lead the entire race. Hakkinen and Coulthard had no problem with any of their competitors but had to deal with each other.
With Hakkinen on pole and leading the race, Coulthard attacked his rival vying for the lead, and disaster almost struck as the two bumped tires. Luckily both survived the race and for the first time since the eighties, McLaren had a 1-2 finish in Belgium. Jordan returned to the podium in third place with Frentzen at the wheel.
2000's
It was Hakkinen's turn to take the top spot in the first race of the 21st century in Spa, taking pole and leading the entire race. It was Hakkinen's first and only victory at the circuit which he shared with Ferrari's Schumacher in second and BMW's Ralf Schumacher in third.
SCHUMACHER TIES RECORDS
Keeping Schumacher away from the highest spot on the podium for long is no easy task and in 2001 he tied Ayrton Senna for the most wins in Belgium with five.
Schumacher survived a couple of restarts of the race and with his win, he also tied Alain Prost for the most wins in F1 history with 52. Schumacher shared the podium with David Coulthard and his McLaren in second place and Fisichella and his Benetton in third.
SIMPLY THE BEST
Schumacher continued his dominance of Spa in 2002 and added his sixth victory in Belgium to his name. Schumacher became and still is the most successful driver at the GP until today.
Schumacher achieved the record in fine fashion taking pole, the fastest lap, and leading nearly every lap of the race except for when he was in the pits. Ferrari scored a 1-2 finish as Rubens Barrichello came in second place for the team and Williams' Juan Pablo Montoya from Colombia came in third.
A COUPLE OF YEARS OFF
After skipping a year due to conflict over tobacco laws and advertising, Formula returned to Spa in 2004. The race was also removed from the schedule in 2006 only to return one year later in 2007 and has had no further interruptions until today.
THE ICEMAN BRINGS THE HEAT
From 2004 to 2007 Finland's Kimi Raikkonen dominated Belgium winning all three races, twice with McLaren and once with Ferrari. Raikkonen used a bit of luck and skill to achieve his three-peat of wins.
In both the 2004 and 2005 races the Iceman benefitted from safety cars, pit stops and late collisions involving his rivals. His 2007 victory was accomplished by his own hands taking pole and practically leading the entire race.
FERRARI LOVES BELGIUM
Ferrari was not done winning in Belgian and added their second straight win in 2008 this time with Felipe Massa from Brazilian leading the team to victory.
Lewis Hamilton who was leading the race was forced to serve a twenty-five-second penalty due to an illegal overtake. Hamilton's and his McLaren finished third and ahead of him was Germany's Nick Heidfeld and his BMW in second place.
RAIKKONEN TIES CLARK
In 2009 Raikkonen added his fourth win in five races in six years at Spa with Ferrari. Raikkonen tied the legendary Jim Clark who was in third for the most wins at the Belgian GP. The Finnish driver was joined by Fisichella driving for Force India and making his first podium in Spa Germany's Sebastien Vettel and Red Bull in third.
2010's
PLENTY OF FIRST-TIMERS
Lewis Hamilton was eager to score his first win in Belgium and in 2010 he did just that. Driving for McLaren, Hamilton who qualified in second place took the lead after the first corner and never looked back leaving Australia's Mark Webber and his Red Bull in second place. Poland's Robert Kubica brought Renault back to the podium in third place.
VETTEL GETS ONE
In 2011 Vettel was also due for his first win in Spa and set himself for victory taking pole position heading into the race. Despite losing the lead to Germany's Nico Rosberg, Vettel overtook him easily a few laps later. Vettel won his first and his teammate Webber joined him on the podium in second place giving Red Bull a 1-2 finish. Britain's Jenson Button and his McLaren finished in third.
BUTTON GETS HIS TOO
Button, still driving for McLaren, was yet another driver who claimed his first win in the country in 2012. Button had no issues taking the pole and leading his rivals all the way to the chequered flag. Vettel finished in second place and Raikkonen returned to the podium in third driving for Lotus.
RED BULL GOES FOR TWO WINS
Vettel in 2013 won his second Belgian GP and in 2014 Australia's Daniel Ricciardo won his first giving Red Bull back-to-back wins at the circuit. The 2014 race was highlighted by the ever-growing feud between Rosberg and Hamilton at Mercedes that had the two drivers bump each other during the race.
MERCEDES THE POWERHOUSE
From 2015 to 2017 it was Mercedes' turn to dominate Spa winning all three races with Hamilton winning two of them and Rosberg with one. In 2015 Mercedes scored a 1-2 finish with Hamilton on top of Rosberg and in 2016 they followed it up with a 1-3 finish with Rosberg on the highest step. In 2017 Hamilton stood alone on top of the podium as his new teammate Valterri Bottas finished fifth.
FERRARI REBOUNDS
Ferrari could not be left looking in from the outside for long in Belgium and in 2018 they started a streak of their own. Vettel who joined the Scuderia gave them their first win since 2009. Vettel's win helped him tie Alain Prost with fifty-two wins adding to the German's legendary status in F1.
THE DEATH OF A FRIEND INSPIRES VICTORY
In 2019 the Belgian GP had a grim shadow cast over the weekend when the Formula 2 race which took place on Saturday had a horrific crash. The crash left Juan Manuel Correa with two broken legs and a spinal cord injury, but the worst casualty of the crash was Antoine Hubert who died due to injuries later in hospital.
It was rather fitting that Hubert's close friend Charles Leclerc from Monaco won the race in his honor. It was Leclerc's first win with Ferrari and of his career. Leclerc was joined by Hamilton and Bottas in second and third for Mercedes in a solemn podium celebration that did exceed more than a couple of handshakes.
2020's
THE RACE WILL GO ON
Despite the Covid-19 pandemic forcing the cancellation of many F1 races across the world, the Belgium GP went on as planned. Lewis Hamilton dominated the race taking pole position and leading the entire race easily.
Hamilton has four wins in Belgium tying Clark and Raikkonen and perhaps he can tie Senna in 2022. Mercedes scored their 1-2 finish with Bottas in second and Max Verstappen and his Red Bull finished in third.
A DISASTER FOR FORMULA 1'S BRAND
In 2021 fans were allowed to return to the grandstands only to have their hearts broken with the race being stopped after one lap due to heavy rainfall. The GP was deemed too dangerous to move forward after the drivers completed the opening lap of the race behind a safety car. Verstappen was declared the winner of the race followed by Brit George Russell driving for Williams in second and Hamilton in third for Mercedes. Full points were not awarded, and the top ten drivers left with half the points. It was an utter disaster that hopefully will not repeat itself in the future.