Belgium's Formula 1 History of Race Tracks, Teams, and Drivers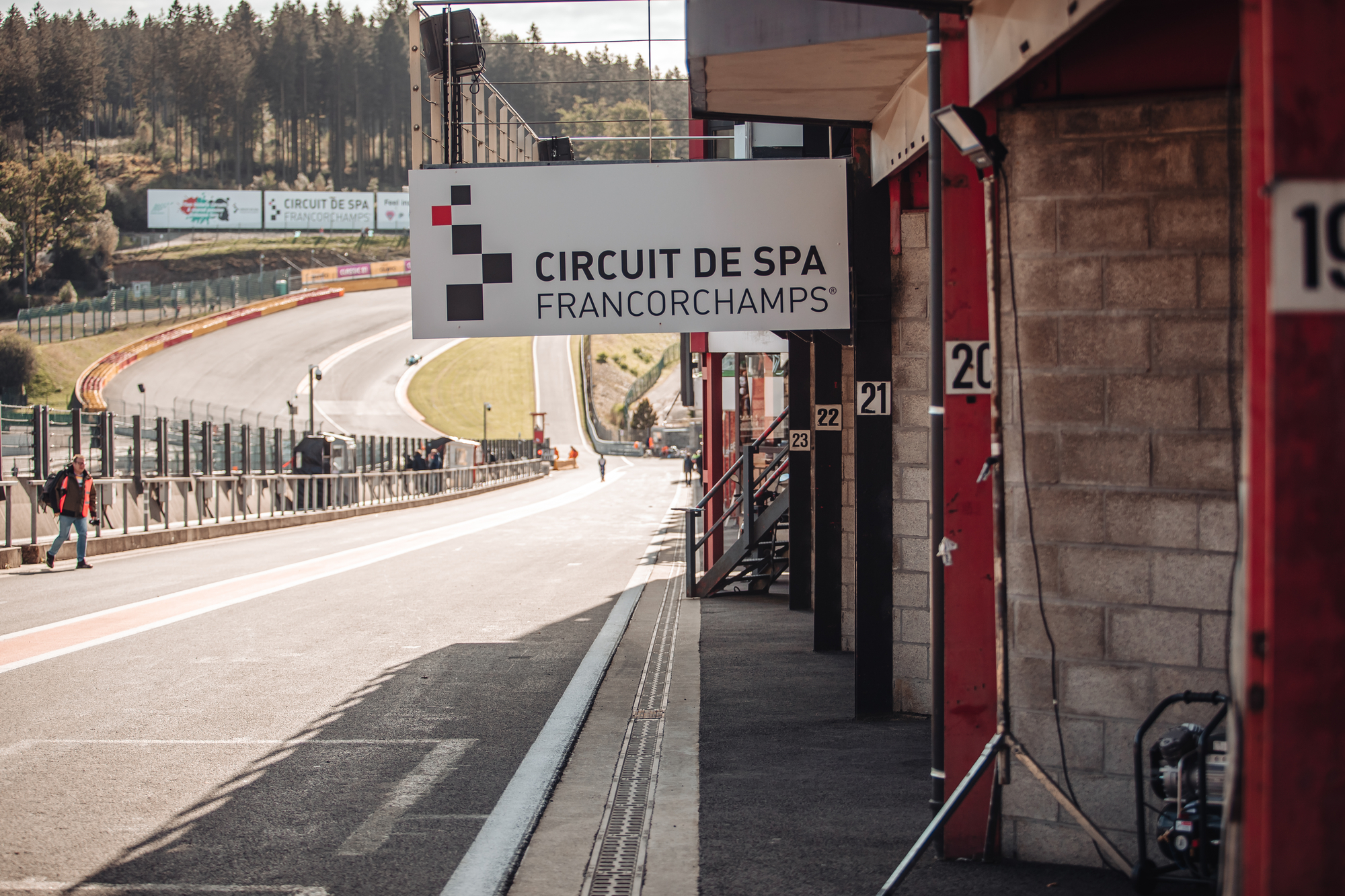 TABLE OF CONTENTS
Formula 1 and the Belgium Grand Prix have been one of the most popular Grand Prix on the schedule since 1950. The Belgian GP began taking place before the F1 championship began in 1925.
Throughout its history, three different circuits have hosted the GP with Spa-Francorchamps being the current home of F1. Twenty-four drivers have raced in Formula 1 and called Belgium home since the championship began in 1950. Although Belgium's history in F1 is thick they have only been able to produce one team representing the country.
The Belgium Grand Prix has also provided some of the greatest and most tragic racing moments in F1 history. Let's take a look at the history of Belgium's Formula 1 Circuits, teams, and drivers.
TRACKS
QUICK JUMP
CIRCUIT DE SPA-FRANCORCHAMPS
This historic circuit is located outside of the Spa near Francorchamps in the Stavelot region of Belgium. Spa is now a permanent track that has been used since 1925 across numerous racing series. With a current capacity of seventy thousand spectators, fans can enjoy one of the more challenging and entertaining races on the F1 calendar with ease.
It comes to no one's surprise that a circuit that is this old that it has changed throughout time to meet the ever-evolving standards of racing. One factor that has remained in common for Spa is the long length of track drivers must endure.
MULTIPLE WEATHER FRONTS
Due to the massive length of track covering a large part of the region drivers can be challenged with multiple weather fronts in different sectors of the track. Finding the right balance and setup for their cars and let alone figuring out what tires to use will help decide the outcome of the race. One thing is certain is that rain is almost always on the menu.
100% CHANCE OF SHOWERS
Spa for twenty years straight had rain hit the track during the GP challenging both teams and drivers. Before the Formula 1 Championship began the original Spa looked nothing like the current iteration of the track.
INSIDE THE NUMBERS
The original circuit was nearly fifteen kilometers, had twenty-five turns, and was one of the fastest tracks in Europe. By the time the F1 championship began in 1950 and until 1970 Spa's track length was reduced to 14.120km and had 21 turns. Spa still remained one of the faster tracks on the schedule and drivers had to complete an average of thirty-six laps to achieve the race distance of 508.320km during the fifties. During the sixties, the race distance slowly reduced year by year until it settled at 394.800 km needed twenty-eight laps to achieve that.
A DANGEROUS VIEW
This version of the circuit was a temporary street circuit that traveled across the Belgian countryside with little to no barriers along the track other than some haystacks. Losing control of your car racing there could lead to serious accidents not only for the drivers but for the fans who lined the streets.
SPA CHANGES
Spa did not host a Belgian GP from 1971 until 1983 when it returned with a whole new layout. Spa became the permanent circuit we now know and had its track length greatly reduced from 14km to 6.968km and had nineteen turns. Laps counts hovered between forty to five laps covering race distances ranging from 280km to 305km.
L'EAU ROUGE
This new layout was used from 1983 until 1993 and featured the infamous L'Eau Rouge corner that had drivers head into a blind corner climbing a hill at incredible speeds. L'Eau Rouge is famous for having dangerous accidents including one that occurred in F2 that caused the death of Antoine Hubert in 2019.
ADDING A CHICANE
In 1994 a small chicane was added to the Eau Rouge Corner changing the track length to 7.001km but still maintaining the same amount of turns at nineteen. The layout was reverted back to the original and was used from 1995 until 2003.
Spa since 2003 has had two other slight variations of the layout and the current circuit will be 7.004km and have twenty turns. Drivers will need to complete forty-four laps to achieve the race distance of 308.052km. There are currently two DRS zones that are placed at the end of Sector three and the beginning of Sector 1 heading into Eau Rouge.
A WET FAILURE
The 2021 race in Spa was considered a disaster after a torrential downpour ended the race after one lap and drivers were awarded points, nonetheless. Listed below are the fastest times set at Spa on all the different variations of the track.
| | | | |
| --- | --- | --- | --- |
| TRACK VARIATION | TEAM | DRIVER-YEAR | TIME |
| 1950-1970 | MARCH | CHRIS AMON-1970 | 3:27.400 |
| 1983-1993/1995-2003 | FERRARI | MICHAEL SCHUMACHER-2002 | 1:47.176 |
| 1994 | WILLIAMS | DAMON HILL-1994 | 1:57.117 |
| 2004-2006 | MCLAREN | KIMI RAIKKONEN-2004 | 1:45.108 |
| 2007- | MERCEDES | VALTERI BOTTAS-2018 | 1:46.286 |
CIRCUIT NIVELLES-BAULERS
In 1972 Formula 1 was looking for a safer alternative to Spa and Nivelles was given the opportunity to host the Belgium Grand Prix. The circuit which was designed by Roger Caignie and John Hugenholtz was constructed in Nivelles in 1971. The circuit was a permanent track that featured large run-off areas creating a safer environment for drivers. Unfortunately for fans, their view of the track was not optimal as the grandstands were far from the tarmac.
INSIDE THE NUMBERS
Nivelles had a track length of 3.724km and had seven turns for the drivers to handle. The race ran clockwise, and the start-finish line was placed on a long straight. Turn 1 was a simple right-hander that led to Turns 2 and 3 which combined for a very large and gradual hairpin.
Things tightened up heading into turn 4 which was a sharp left-hander that led to the chicane making up turn 5. After a short straight driver faced a skinny chicane making up Turn 6 leading into the hairpin of Turn 7.
A BORING EVENT
Drivers nor the fans enjoyed the simple layout that provided no real challenges for the elite of Formula 1. New Zealand's Denny Hulme scored the fastest lap in 1974 driving in his McLaren with a time of 1:11.31. Only two Grand Prix was held there and eventually, the circuit itself went bankrupt ending its use in motorsports.
CIRCUIT ZOLDER
Circuit Zolder made its first appearance in F1 in 1973 and after the failure of Nivelles took over as sole host of the Belgian GP from 1975 until 1982. In 1983 Spa returned to the calendar and Zolder hosted its last F1 GP in 1984. Zolder was constructed in 1963 in Heusden-Zolder and was a permanent track that featured numerous elevation changes.
INSIDE THE NUMBERS
The Zolder circuit used for Formula 1 had a track length of 4.262km and fifteen turns that required drivers to complete seventy laps to achieve the race distance of 298.34km. Zolder presented drivers and teams with a speedy track that included a couple of hairpins and some sharp corners. The fastest lap was achieved by France's Rene Arnoux driving for Ferrari with a time of 1:19.294. Zolder was not without its own dangers as the track surface suffered from blistering creating an unhealthy racing surface for drivers and their tires to contend with.
VILLENEUVE'S DEMISE
Zolder was also the circuit where Canadian Gilles Villeneuve lost his life in a tragic accident that sent him flying out of his Ferrari and into the surrounding fences. Zolder could not compete with the new layout of Spa and with the death of Villeneuve the circuit lost its place as host of the Belgium Grand Prix.
TEAMS
The history of Belgium's Formula 1 teams is intertwined as what began as two separate teams eventually merged into one. All three teams competed throughout the fifties and early sixties and since then Belgium has not been able to provide an F1 team.
QUICK JUMPS
ECURIE BELGE
Ecurie Belge was founded by jazz musician Octave John Claes in 1948 competing as a privateer team using race cars built by other manufacturers. Claes, who was born in England, raced for the Belgian flag rather than the union jack of Britain.
With the Ecurie Belge Claes was only able to win non-championship races while struggling in the official championship races. Ecurie Belge competed from 1950 to 1953 with Claes moonlighting with other teams throughout that time too.
A MERGER OCCURS
Claes' team used multiple different chassis such as the Talbot, Simca-Gordini, and Connaught cars. In 1955 after falling ill with tuberculosis Ecurie Belge merged with Ecurie Francorchamps to form the team called Ecurie Nationale Belge.
F1 STATS
RACED FROM: 1950-1953
RACES: 19
CONSTRUCTORS CHAMPIONSHIPS: 0
DRIVERS CHAMPIONSHIPS: 0
WINS: 0
PODIUMS:0
TOTAL POINTS: 0
POLE POSITIONS:0
ECURIE FRANCORCHAMPS
Ecurie Francorchamps was another privateer team founded by Jacques Swatters in 1950 using Ferrari as his race car of choice. The team was only capable of winning one non-championship race during their tenure in Formula 1.
Francorchamps also competed in the 24 Hours of Le Mans where the team enjoyed some relative success winning in their class division and even ranking third overall in 1965. During its F1 run which lasted from 1952 to 1954, the team finished in the top ten in the handful of races it competed. In 1955 the team merged with Ecurie Belge.
F1 STATS
RACED FROM: 1952-1954
RACES: 10
CONSTRUCTORS CHAMPIONSHIPS: 0
DRIVERS CHAMPIONSHIPS: 0
WINS: 0
PODIUMS:0
TOTAL POINTS: 0
POLE POSITIONS:0
ECURIE NATIONAL BELGE
The team was founded in 1955 after the merger of the Ecurie Francorchamps and Ecurie Belge was complete. The new team competed from 1955 to 1962 in 11 races only being able to finish in four of those races.
The team used other teams' chassis to compete with and was able for one race to design and construct a race car of their own in 1962 finishing in 16th place at the German GP.
F1 STATS
RACED FROM: 1955-1962
RACES: 11
CONSTRUCTORS CHAMPIONSHIPS: 0
DRIVERS CHAMPIONSHIPS: 0
WINS: 0
PODIUMS:0
TOTAL POINTS: 0
POLE POSITIONS:0
DRIVERS
Belgium, which is famous for its mouth-watering waffles, beer, and chocolate has also been able to export twenty-four drivers to Formula 1. Only two of the twenty-four drivers have been able to win races and only one driver came close to winning a championship finishing as runner-up twice.
There hasn't been a driver from Belgium in F1 since Stoffel Vandoorne drove for McLaren from 2016 to 2018. Let's take a look at some of the more notable drivers from this beautiful country.
QUICK JUMP
JACKY ICKX
Jacques Bernard Ickx who was born on the 1st of January in 1945 in Brussels is the most successful driver from Belgium in Formula 1 history. Ickx was exposed to motorsport by his father who was a journalist covering the sport. His father bought Ickx a motorcycle and his love for racing immediately grew. On two wheels Ickx was a national champion and continued to win when he moved on to touring car racing.
JOINING F1
Ickx made his appearance in Formula 1 in 1966 for one race at the German Grand Prix driving for Tyrell where he crashed out of the race on the opening lap. In 1967 Ickx returned to Formula 1 and competed in three races where he impressed his rivals running in Formula 2 caliber cars and keeping up with the much stronger F1 cars.
FERRARI OFFERS A SEAT
His solid performances helped Ickx secure a seat at Ferrari in 1968 where he scored his first podium on home soil at the Belgian Grand Prix in third. In the same year, Ickx also won his first F1 race at the French Grand Prix and by season's end, he tallied four total podium spots.
RUNNER UP
In 1969 Ickx left Ferrari to join Brabham where the Belgian had a great season winning two races and added another three podium finishes ranking him second overall for the driver's title. Ickx moved on from Brabham back to Ferrari in 1970 and remained with the team until 1973. In 1970 Ickx improved winning three races and scoring two other podium finishes leaving him as runner up for the championship once again.
For the remainder of his time with Ferrari Ickx experienced a mixed bag of success and retirements from races never coming close to a championship again.
THE DECLINE
In 1973 he drove for three teams; Ferrari for ten races, McLaren for one and Frank Williams Racing for one. His best finish that year was with McLaren finishing in third place at the German GP. From 1974 to 1975 the Belgian drove for Lotus and scored his last podium in the 1975 Spanish GP in second place.
From 1976 to 1979 when he ended his F1 career Ickx drove for four different teams with no real success. Ickx also competed in the 24 Hours of Le Mans during his F1 career which continued well afterward until 1985.
SUCCESS AT LE MANS
At Le Mans Ickx was able to win six times and finished runner up twice. His ability to drive in any form of motorsport was solidified by his solid performances in the Dakar Rally Championship wherein in 1983 he won the race in his respective class. Ickx remains Belgium's most successful F1 driver until today.
F1 STATS
RACED FROM: 1966-1979
TEAMS: FERRARI, WILLIAMS, ENSIGN, WOLF, FRANK WILLIAMS RACING, MCLAREN, COOPER, LIGIER
RACES: 116
CHAMPIONSHIPS:0
WINS: 8
PODIUMS:25
TOTAL POINTS: 181
POLE POSITIONS:13
FASTEST LAPS: 14
THIERRY BOUTSEN
Thierry Marc Boutsen who was born on the 13th of July in 1957 in Brussels is the second most successful driver from Belgium in F1 history. Boutsen earned his racing stripes at the Andre Pilette Racing School in Zolder and used his skills to win the Formula Ford 1600 Championship.
GLORY AND TRAGEDY
Boutsen moved up in the racing ranks driving in Formula 3 and Formula 2 winning multiple races making him a contender for their respective championships. Boutsen was involved in a terrible crash at the 24 Hours of Le Mans in 1983 which left him unscathed. His teammate, unfortunately, lost an arm, and a track marshal who was struck by his car died.
I HAVE CASH
Boutsen joined Formula 1 in 1983 by buying his way into the tune of 500k to drive with Arrows. He competed in ten races that year and his best finish was seventh place at the Detroit and Canadian GP.
PODIUMS BUT NO WINS
Boutsen remained with Arrows until 1987 and during that time he could only step onto the podium once in second place at the San Marino GP in 1985. In 1987 Boutsen joined Benetton scoring only one podium finish at the last race of the year in Australia. The following year he had a solid season finishing in third place five times throughout the season leaving him in fourth for the driver's title.
FIRST WIN
Boutsen moved to Williams in 1989 where he won his first F1 race at the Canadian GP and added his second win in Australia later that year. In 1990 Boutsen won his last F1 race with Williams at the Hungarian GP which also marked his final podium appearance.
WINNER AT LE MANS
From 1991 to 1992 Boutsen raced for Ligier only cracking the top five once and in 1993 he ended his F1 career with Jordan. Boutsen after his Formula 1 adventure competed at Le Mans-winning once in his class in 1996. Boutsen retired from all types of racing in 1999 and Currently runs his own company in Monaco.
F1 STATS
RACED FROM: 1983-1993
TEAMS: BENETTON, WILLIAMS, ARROWS, LIGIER, JORDAN
RACES: 163
CHAMPIONSHIPS: 0
WINS: 3
PODIUMS:15
TOTAL POINTS:132
POLE POSITIONS:1
FASTEST LAPS: 1
OLIVIER GENDEBIEN
Olivier Jean Marie Fernand Gendebien who was born on the 12th of January in 1924 in Brussels is one of the first drivers to compete in Formula 1. Gendebien started his racing career competing in Rally races in Europe during the early 1950s. During his time in rally, he finished runner up and won multiple races which caught the attention of Enzo Ferrari.
ENZO OPENS THE DOOR
Gendebien in 1956 joined Ferrari and competed in two races retiring from one and finishing in fifth at the Argentine GP. From 1959 to 1960 with Ferrari, his best finish was fourth place at the French GP. Gendebien left Ferrari in 1960 and joined Yeoman Credit Racing Team which ran on a Cooper chassis.
A COUPLE PODIUMS
With Yeoman, Gendebien became the second Belgian driver in history to step onto the podium finishing in third place at the Belgian GP. In the following race, Gendebien took one step higher finishing in second place at the French GP and this would also be the last time he finished in the top three.
In 1961 Gendebien drove for three different teams in three different races. He split his duties between Ferrari, Lotus, and Equipe Nationale Belge. He scored the last point of his career in F1 with Ferrari at his home race at the Belgian GP.
ONE OF LE MANS GREATEST
Gendebien retired from formula 1 but went on to have an amazing career racing at the 24-Hour s of Le Mans driving for Ferrari and in one season Porsche. Gendebien won the historic endurance race four times, three of which were consecutive wins from 1960 to 1962.
Gendebien was a well-respected driver during his era and was considered one of the top drivers even if success did not come at the Formula 1 level.
F1 STATS
RACED FROM: 1955-1956, 1958-1961
TEAMS: FERRARI, LOTUS, EQUIPE NATIONALE BELGE, YEOMAN CREDIT RACING TEAM
RACES: 14
CHAMPIONSHIPS:0
WINS: 0
PODIUMS:2
TOTAL POINTS:18
POLE POSITIONS:0
FASTEST LAPS: 0
UP AND COMERS
There are currently no young drivers competing in Formula 2 or 3 that can be considered future prospects in Formula 1.