History of the Austrian Grand Prix in Formula 1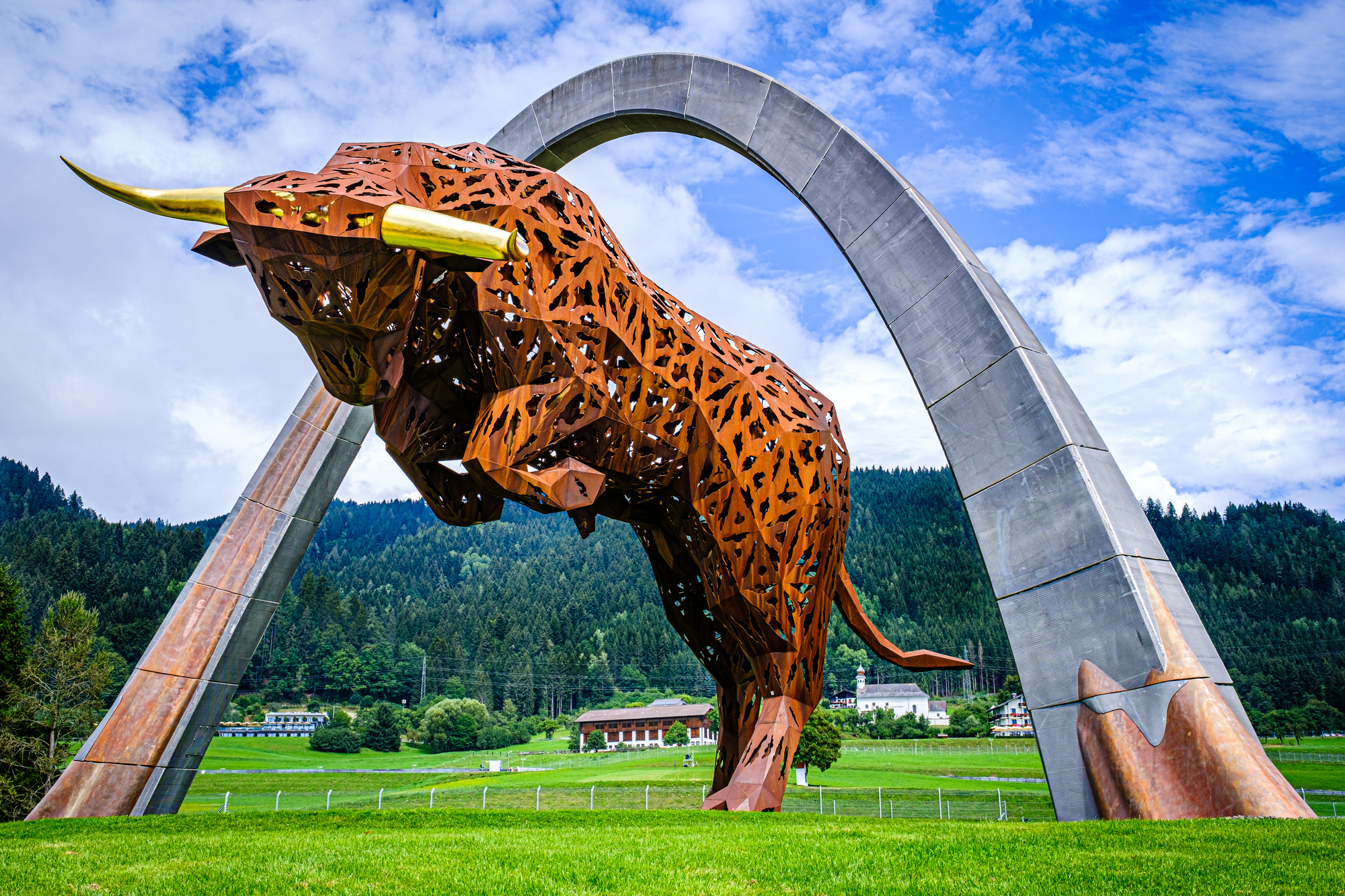 TABLE OF CONTENTS
The history of the Austrian GP dates back to 1963 and has been in an on and off relationship with Formula 1 since then. The Grand Prix has taken place on four different tracks but has always been located in the same region in the beautiful Stygian mountains.
A scenic race that has always incorporated speed and challenging corners that have only balanced drivers and teams that can claim success in Austria. Throughout its tenure, in Formula1 the Austrian GP has been won by many different drivers with only a handful being able to win more than once.
Let's take a look at the history of the Austrian Grand Prix in Formula 1.
1960'S
ZELTWEG AIRFIELD
In 1963 an F1 non-championship race was held at the Zeltweg Airfield which was won by Australia's Jack Brabham. In 1964 Austria hosted its first official F1 Championship race where drivers had to complete 105 laps in order to finish the race.
A RACE OF ATTRITION
Out of twenty drivers who participated in the race only nine could cross the finish line. Only the top two drivers of the race finished on the final lap while the seven other drivers were all at least three laps behind.
Britain's Bob Anderson driving in Brabham finished in third place and Richie Ginther of the United States finished in second. Lorenzo Bandini became the first Italian to win in Austria and also gave Ferrari its win first in the Styrian mountains.
The Austrian GP did not hold an F1 championship race until 1970 when they moved to a new circuit called Osterreichring.
1970's
OSTERREICHRING
Formula 1 officially returned to Austria in 1970 and the new Osterreichring circuit was very different from the Zeltweg Airfield. The track had speedy and long turns, making it a hazardous track for drivers to tackle.
NEW CIRCUIT NEW CHALLENGES
In its first GP, Jochen Rindt seemed poised to become the first Austrian to win on home soil by taking pole position driving for Lotus. Unfortunately for the Austrian crowd, Rindt, his engine blew on lap 21, allowing Ferrari to win their second consecutive race in the country.
It was a 1-2 finish for the Italian team with Belgium's Jacky Ickx taking top honors in first and his Swiss teammate Clay Regazzoni in second. Germany's Rolf Stommelen took the final spot on the podium in third driving for Brabham.
SIFFERT SURVIVES
In 1971 Switzerland's Jo Siffert who had won in non-championship races in Austria set forth to claim his first official race in Austria. Siffert driving for BRM took pole position and led the entire race to victory.
Siffert had to manage a punctured tire which slowed him down significantly in the final laps of the race allowing Brazil's Emerson Fittipaldi and his Lotus to cut his substantial lead. Luckily for Siffert, there weren't enough laps for Fittipaldi to finish the job leaving the Brazilian in second place followed by New Zealand's Tim Schenken driving for Brabham in third.
FITTIPALDI WINS
Fittipaldi, still driving with Lotus in 1972, made sure to step on the highest step of the podium by claiming pole position and leading the entire race without any real issues. For the first time, McLaren reached the podium with New Zealand's Denny Hulme in second and American teammate Peter Revson in third.
Lotus proved to be competitive at the Osterreichring over the last couple of races and continued to perform well in 1973. Fittipaldi claimed his second straight pole followed by his Swedish teammate Ronnie Peterson.
SWEDEN'S FIRST
With only six laps to go Lotus was set up for a 1-2 finish before Fittipaldi's fueling system failed, taking him out of the race. Peterson won his second race of the season as Britain's infamous Jackie Stewart claimed the last podium of his F1 career in second place driving in a Tyrell. Brazil's Carlos Pace, driving in a Surtees, stepped on the podium for the first time in F1 in third place.
LAUDA TEASES AUSTRIA
Austrian fans were delighted to see that their Austrian Countryman Nikki Lauda and his Ferrari sat first on the grid on the day of the race in 1974. Lauda and his fans would have to wait another ten years for Lauda to give them what they wanted.
Lauda had to bail out from the race on Lap 17 due to engine problems which allowed Argentina's Carlos Reutemann to win his only GP in Austria driving for Brabham. Hulme and McLaren returned to the podium in second place followed by the wild Brit James Hunt driving for Hesketh.
A BLACK WEEKEND FOR FORMULA 1
The 1975 GP was a weekend of attrition that left some drivers injured and one dead. During the practice session for the race, Britain's Brian Henton had a crash that ended his weekend early. Wilson Fittipaldi, Emerson's older brother also had a crash that broke two of his fingers taking his chances of racing away.
LOSS OF LIFE
The most tragic event of the weekend occurred before the start of the race in the early morning warm-up when the American Mark Donahue blew a tire that sent him flying through the fences and billboards that lined the track. Donahue struck two marshals leaving one dead and the other severely injured. Donahue walked away from the crash only to die from a brain hemorrhage two days later.
A SHORT RACE
The race was doomed before it even started and unironically the rain began to pour down onto the Osterreichring. Lauda was in pole position again, but his Ferrari could not handle the torrential downpour dropping him down in the rankings.
Italy's Vittorio Brambilla took advantage of the day and the shortened race that ended on Lap 29 with his first and only F1 victory at the age of thirty-seven driving for March. James Hunt finished in second place in a Hesketh and Britain's Tom Pryce finished in third for Shadow.
A DIFFERENT WINNER EVERY YEAR
So far in the decade, every Austrian GP had a new winner taking the highest step of the podium and that continued in 1976. James Hunt claimed his first pole in Austria but could not maintain it fishing in fourth on race day. Britain's John Watson driving for Penske had a great day with both of them claiming their first victory in F1.
A WOMAN IN F1
It was the last time an American-based team won in Formula 1. France's Jacques Laffite driving for Ligier finished in second place and Sweden's Gunnar Nilsson finished in third place for Lotus. This GP was the last time a woman competed in F1 when Italian Lella Lombardi finished in twelfth place.
LAUDA FALTERS AGAIN
Osterreichring was altered by adding a chicane at the first corner of the race to help slow down the drivers and promote overtaking. Niki Lauda grabbed his third pole position in Austria only to tease his fans again not being able to win the GP for them but for the first time he stepped onto the podium in second place.
Australia's Alan Jones won his first of many F1 races driving for shadow and Germany's Hans-Joachim Stuck driving for Brabham claimed his final F1 podium in third place.
FIRST TO TWO
In 1978 the Austrian GP had its first repeat winner on the podium during a rain-soaked race that left nine out of the twenty-six drivers who qualified to finish the race. The race began under wet conditions and after a slew of accidents, the GP was red-flagged and delayed until the rain slowed sufficiently to race again.
Ronnie Petterson, who qualified first with Lotus, won the race which turned out to be his last victory in F1 due to his impending death that occurred in the upcoming Italian GP.
France's Patrick Depailler driving for Tyrell finished in second place and a very young Gilles Villeneuve from Canada scored his first F1 podium in third place with Ferrari.
JONES TAKES A SECOND SERVING
Closing out the decade in 1979, Alan Jones driving for Williams became the second repeat winner at the Osterreichring. Alan Jones had to overcome France's Rene Arnoux who qualified ahead of him and could not hold the Aussie back.
Gilles Villeneuve and his Ferrari finished in second place, more than thirty seconds behind Jones. Laffite and his Ligier finished in third place, far behind Jones who led by forty-six seconds.
1980's
FRENCH INVASION
In the eighties, Austria was taken over by three drivers from France who ended up winning five out of the seven races held in that time. The first Frenchman to conquer the Osterreichring in 1980 was Jean Pierre Jabouille.
Jabouille, who was driving for Renault, had a lackluster career in Formula 1 and his 1980 win in Austria was the second and last win of his career. Alan Jones finished in second place and Carlos Reutemman finished in third place, giving their Williams teams a 2-3 finish.
VIVE LA FRANCE
In 1981 the French revolution continued as Ligier became the second French team to win in Austria. This edition of the race featured an incredible battle for position between the likes of Nelson Piquet, Laffite, Jones, and Reutemman keeping fans on the edge of their seats.
By the end of the race, it was Laffite who won the war winning the first race of the season followed by Frenchman Rene Arnoux and his Renault in second. Brazil's Nelson Piquet driving for Brabham finished in third place.
AN ITALIAN SPOILS THE FUN
Piquet, who finished third in last year's race in the 1982 GP was now holding pole position driving for Lotus. Piquet, who led the race, lost his lead in the pits and eventually was forced out on lap 31 with electrical issues.
The Leaders of the race kept changing after their pit stops and ultimately Italian Elio de Angelis driving for Lotus won the race. It was De Angelis' first of two wins in his Formula 1 career. Finland's Keke Rosberg finished in second place followed by Laffite driving for Ligier.
ALLEZ LES BLEUS
France returned to the front of the pack in 1983 and none other than the professor Alain Prost took his first win in Austria. France owned the qualifying session that had both fires piloted by Tambay and Arnoux starting the race in the 1-2 position.
Arnoux joined his fellow countryman on the podium in second place. It was the second time in the decade France scored a 1-2 finish at the Osterreichring. Piquet driving for Brabham finished in third place.
LAUDA FINALLY WINS
Austrian fans had been extremely patient, never witnessing an Austrian driver win at home until 1984. Nikki Lauda finally gave his country some to celebrate after twenty years' worth of races in F1. Lauda qualified in fourth place with McLaren, but he was the driver who managed to have a perfect race without error.
Piquet who had pole position spun out; Prost who was in third place spun out on an oil spill caused by De Angelis who was in second place. All three of the race leaders could only watch Lauda breeze by them.
AUSTRIA'S FIRST
Lauda became the first and only Austrian Driver to win in his home country. Piquet tried his best to catch the Austrian but could only finish in second place followed by Ferrari's Michele Alboreto from Italy.
THE FRENCH PROFESSOR TEACHES F1
Alain Prost and his McLaren in 1985 made a statement by taking pole position, the fastest lap, and winning the race easily. Ayrton Senna, driving for Lotus, finished in second place followed by Italian Michele Alboreto with Ferrari in third.
The race also saw an incredible accident that involved Andrea De Cesaris driving for Ligier that had him rolling and tumbling across the runoff area shredding his car to pieces. Amazingly, De Cesaris walked away uninjured proving that F1 cars had made great strides in producing safer cars.
PROST SHINES AGAIN
Prost was not satisfied with two wins and so in 1986 he made it three wins in the eighties in Austria, the first driver to accomplish that feat. Prost with the powerhouse McLaren easily overcame starting in fifth place to win the race one lap ahead of his closest competitor. Ferrari filled up the rest of the podium with Alboreto in second place and Sweden's Stefan Johansson in third.
A DEER, RED FLAGS, AND THE FINAL RACE
In the last race to be held at the Osterreichring and Austria in 1987, the final GP of the decade had multiple accidents. The most bizarre of the accidents were caused by a deer who attempted to cross the track and collided with Johansson at 225km/h leaving the driver with a serious concussion.
The race had to be restarted twice afterward due to massive crashes that involved numerous drivers. Nigel Mansell managed to survive unscathed and won his first race in Austria driving for Williams. Williams scored a 1-2 finish with Piquet following Mansel and grabbing third place was Italian Teo Fabi who scored the last podium of his F1 career.
1990's
A1-RING
Austria was removed from the Formula 1 schedule for eight years and only made it return once a new circuit was built over the old Osterreichring. This new circuit maintained the same spirit of having really fast straights with tight and twisty sectors forcing teams and drivers to have a more balanced approach.
VILLENEUVE WINS
In 1997 Formula 1 returned to the Stygian Mountains and in the A1-Rings maiden race, Canada's Jacque Villeneuve had a stellar weekend. Jacques, who is Gilles Villeneuve's son, achieved what his father could not victory in Austria.
Jacques, driving for Williams, nearly hit a grand slam taking pole, the fastest lap, and winning the race. Britain's David Coulthard driving for McLaren finished in second place and Germany's Heinz Harald Frentzen in third place driving for Williams.
MCLAREN AND HAKKINEN RISE
In 1998 McLaren's Mika Hakkinen from Finland had his first Austrian GP win overshadowed by his teammate Coulthard who ended up finishing in second place. Coulthard, unlike his teammate who led the race after overtaking two cars in the first corner, had to start in fourteenth place.
Coulthard during the start damaged his front wing after colliding with his opponents and forced him to pit early and on the restart of the race, he was in last place. Coulthard put on a show climbing all the way back up to the podium to claim his second podium in Austria. Germany's Michael Schumacher finished in third place driving for Ferrari.
IRVINE SURPRISES
Hakkinen and Coulthard were a formidable duo with McLaren and respect between the two were always apparent. Yet you cannot stop F1 drivers from wanting to be number 1 and in 1999 McLaren's duo bumped each other off the track while battling for 1st place at the start of the race.
Hakkinen fell all the way to last place and Coulthard remained in second place while Ferrari and Eddie Irvine pulled away. Irvine, in his seventh year of racing in F1, won the first race of his career. Coulthard finished in second place and Hakkinen, who put on a great performance for the Austrians, clawed back to third place.
2000's
BACK ON TOP
McLaren's success continued in Austria in 2000 and once again Hakkinen and Coulthard reached the podium. Hakkinen took pole position and never lost his lead throughout the race and Coulthard scored the fastest lap finishing in second place. It was a McLaren 1-2 finish that left Ferrari in third place with Brazil's Rubens Barrichello making his first podium appearance at the A1 Ring.
COULTHARD GETS HIS DUE
In 2001 McLaren's solid performance at the A1 Ring continued but not without a fight from their rivals at Ferrari. Schumacher took pole position only to lose his advantage at the start of the race. Barrichello and his Ferrari had the lead of the race until his pit stop allowed Coulthard to overtake him and win his first Austrian GP. Barrichello, who could have finished in second place, gave into team orders and allowed Schumacher to pass his teammate on the final lap, ceding his position.
SCHUMACHER GETS A LITTLE HELP
There is no doubt that Barrichello was the optimal team player and he proved it once again in 2002. The Brazilian took pole position and led the entire race until once again he was asked to step aside for Schumacher who was battling for a championship. Schumacher won his first Austrian GP while Barrichello finished in second place and Colombia's Juan Pablo Montoya finished in third.
SCHUMACHER CATCHES FIRE
It would be unbecoming for Schumacher not to win in Austria on his own accord and in the last race to be held at the A1-Ring he did exactly that in 2003. Schumacher took pole, the fastest lap, and won the race.
It was not all fun and games for the German who during a pit stop had his car briefly catch on fire due to some spilled fuel that fell on his car. The fire was put out and luckily, he could continue driving. Schumacher shared the podium with McLaren's Kimi Raikkonen from Finland and his teammate Barrichello in third.
SAYING GOODBYE
The Austrian GP's contract expired and issues due to new advertising laws against using tobacco brands forced the race to be canceled until 2013.
2010's
RED BULL RING
Formula 1 returned to Austria in 2014 on a track nearly identical to the A1-Ring that had some minor changes and was now called the Red Bull Ring. In its fourth return race to F1, Mercedes flexed their Bavarian muscles in the Styrian Hills, finishing 1-2.
Germany's Nico Rosberg won his first Austrian GP followed by his British teammate Lewis Hamilton. Finland's Valtteri Bottas driving for Williams finished in third place.
MERCEDES ENJOYS THE MOUNTAINS
Rosberg in 2015 spoiled Hamilton's plans who had pole position coming into Sunday's race. Hamilton could only lead the race heading into the first corner losing the top spot to Rosberg who never looked back from there. Rosberg won his second consecutive race in Austria and Hamilton added his second podium in the country in second place. Williams once again finished in third place but this time it was Brazil's Felipe Massa at the helm.
HAMILTON WANTS HIS SHARE
After finishing in second place for two straight years Hamilton's hunger to win in Austria had grown even more. His teammate Rosberg was looking for win number three and attempted to repeat his successful overtake in the first corner from the previous year.
In 2016 Rosberg's go at Hamilton failed with the two-bumping forcing Rosberg to fall into fourth place. Hamilton, on the other hand, led the entire race, scored the fastest lap, and won his first and only Austrian GP to date. Max Verstappen from the Netherlands driving for Red Bull finished in second place and Ferrari's Raikkonen finished in third.
BOTTAS PLAYS HIS PART
By 2017 Mercedes had won in Austria for three straight years with two different drivers and they would add to their impressive streak with Bottas winning his first in the country. Germany's Sébastien Vettel took his first podium finish in second place with Ferrari as Australia's Daniel Ricciardo finished in third for Red Bull.
HOMETOWN VICTORY
All streaks came to an end and in 2018 Red Bull Racing was the team to get in the way of Mercedes claiming their fifth straight win. In fact, both Mercedes were forced out of the race due to mechanical problems ruining the great qualifying that had them own the top two spots on the grid.
Verstappen and Red Bull benefited and for the first time, an Austrian-based team won on home turf. Ferrari joined the fun with both their drivers finishing in second and third place with Raikkonen and Vettel.
VERSTAPPEN TAKES TWO
Red Bull and Verstappen had to battle hard for their second straight win in Austria in 2019, battling back from eighth place and overtaking a strong field of drivers ahead of him. Ferrari's Charles Leclerc who started on pole finished in second place and Mercedes returned to the podium in third place thanks to Bottas' performance.
MERCEDES DOMINATES
In 2020 it was Mercede's turn to get in the way of Red Bull's plans for a third straight win at the circuit. Bottas and his Merc nearly hit a grand slam taking pole, the fastest lap, and winning the race giving the Fin his eighth F1 win. Ferrari and Leclerc added another second-place finish for the Monegasque driver and a young Lando Norris from Britain scored his first F1 podium in third place.
2020's
STYRIAN GRAND PRIX
Due to Covid-19, the Red Bull Ring was used for the second race in Austria dubbed the Styrian Grand Prix in 2020. Mercedes scored their deuce of victories this time with Lewis Hamilton leading and winning the race from pole position. Both Mercedes drivers could be content in the paddock both winning in Austria. Bottas finished in second place followed by Verstappen and Red Bull in third.
Formula 1 maintained the same two-race format on the schedule in 2021 and it was Red Bull's turn to score a double like Mercedes did the previous year. This time Verstappen led the entire race from pole position and resisted the Mercedes of Hamilton in second place and Bottas in third.
AUSTRIAN GRAND PRIX 2021
One week after the Styrian GP, the Austrian GP took place, and once again Verstappen finished on top of the podium. Verstappen won the race in style, hitting the ever-elusive F1 grand slam and for the first time in his career won back-to-back races.
Bottas, who races really well in Austria, claimed second place giving him seven total podiums at the circuit. McLaren and Lando Norris grabbed his second third-place finish, surviving a five-second penalty that could have cost him his podium finish.