Austria's Formula 1 History of Race Tracks, Teams, and Drivers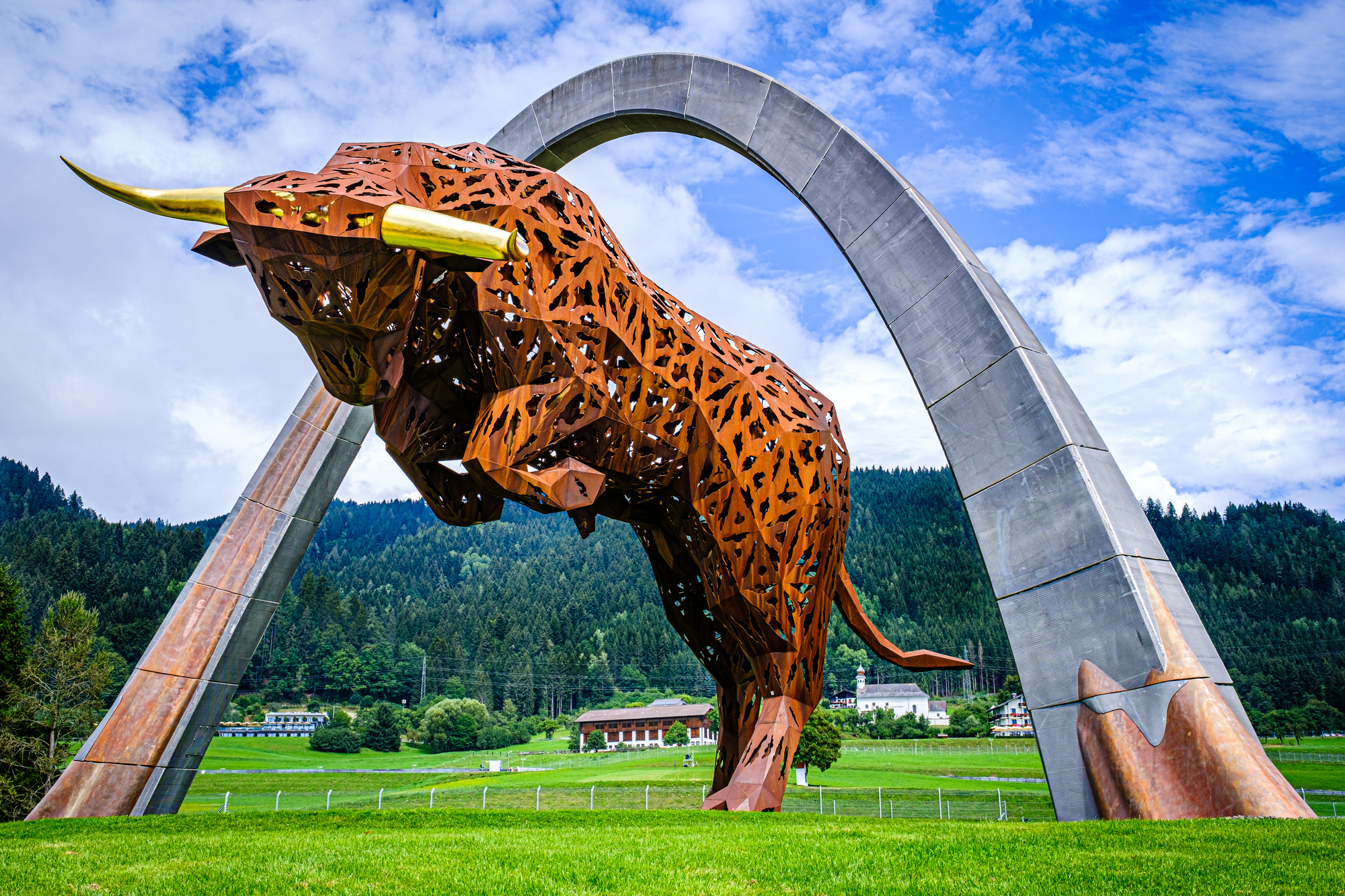 TABLE OF CONTENTS
Formula 1 and Austria have had an on and off relationship since the 1960s with the F1 Grand Prix taking place on four different circuits. Austria has incredible scenic mountains that provide a beautiful backdrop to any races held there.
Austria has provided many classical music composers and, like Formula 1, in order to function or produce quality music, a large number of people need to be in sync. Austria has provided some amazing drivers that, like the composers from the days of old had created beauty on the track.
There is only one team to race under the Austrian Flag and they are one of the most successful in F1. Austria, despite being a very small country, has been an integral part of Formula 1's history. Let's take a look at the history of all the tracks, teams, and drivers that have come from Austria.
TRACKS
QUICK JUMPS
ZELTWEG AIR BASE
Zeltweg's Airbase which is found in the scenic mountains of Styria was an airfield used during WW2 by both sides of the war. The circuit was constructed in 1959 and inspired by Silverstone but looks quite different from its British counterparts.
INSIDE THE NUMBERS
The track had a length of 3.186km that included four turns. Drivers needed to complete one hundred and five laps to achieve the race distance of 336km. The circuit began on a long straight that headed into the gradual corner of turn 1. After turn one, F1 drivers sped into the first wide hairpin which was Turn 2 before heading into turn 3 a left-hander. From turn 3 drivers went full throttle on a longer straight mirroring the start-finish straight before hitting the brakes and downshifting for the extremely tight hairpin of turn 4.
A DANGEROUS TRACK
The track was considered perilous due to the poor track surface and narrow track widths. The race wasn't spectator-friendly which led to the Austrian GP being held just once in 1964.
Zeltweg did continue to host F1 non-championship races and endurance challenges at the circuit. The fastest lap was set by Britain's Graham Hill DRIVING in a BRM with a time of 1:04.820.
OSTERREICHRING
The Osterreichring was built to replace the Zeltweg circuit in 1969 and was constructed in Spielberg in the Styrian mountain region of Austria. The Österreichring was built across the street from Zeltweg and Formula 1 has never left this area until today. This circuit is the first of three tracks that would be built in the same area, the latter was the A1 Ring and Red Bull Ring.
INSIDE THE NUMBERS
There were two variations of the track, the first being used from 1969 to 1976 and the second from 1977 until 1987. The original circuit was 5.911km long and had sixteen fast turns. To reach the finish line, drivers needed to complete fifty-four laps to complete the race distance of 319.914km.
The track, much like the Styrian mountains surrounding the circuit, had multiple elevation changes which challenged drivers, especially heading downhill into some turns. Speed was never short in abundance on the slender track that was ten meters wide in nearly all parts of the track.
SLOWING THEM DOWN
A small chicane was added in 1977 in order to slow down drivers changing the long fast sloping corner that was turn 1 into an "s" style chicane. The new variation of the track was now 5.941km long with eighteen turns to maneuver through. The new race distance varied because the number of laps drivers needed to complete varied as well. Laps needed to complete the race varied between fifty-four laps and fifty-two laps and race distances varied between 320.868km and 308.984km.
MORE DANGER IN AUSTRIA
Throughout its use in Formula 1, Osterreichring was considered a dangerous track due to the incredible speeds and narrow track that prevented safe overtaking. The fastest speed clocked on the circuit was 344km on a circuit that did not include many runoff areas or barriers to protect drivers who made errors.
TIME TO MOVE ON
Mark Donohue from the United States died in 1975 in a violent crash at the Osterreichring prompting changes to the circuit that came into being in 1977. Osterreichring held its final F1 GP in 1987 due to safety concerns and the growing death toll occurring at the circuit. Formula 1 would not return to Austria until 1997.
A1-RING
With major funding being provided by the A1 mobile phone company, a brand-new circuit was built in 1996 over the old Osterreichring circuit. The New A1-Ring was designed by German Herman Tilke who decided to shorten the track and eliminate some of the long extremely fast corners to help facilitate overtaking.
INSIDE THE NUMBERS
The A1-Ring was 4.326km long and now had nine turners compared to sixteen and eighteen turns of Osterreichring. Drivers now had to drive seventy-one laps to achieve the race distance of 307.146km.
The A1-Ring which included some very sharp right-handed turns, two hairpins, and long straights forced teams and drivers to have a more balanced set up in their cars. The A1-Ring was used until 2003 when the Austrian Grand Prix was dropped from the F1 schedule due to tobacco advertising conflicts.
RED BULL RING
The A-1 Ring was left abandoned without Formula 1 and any other motorsports taking place on the circuit. The grandstands and paddock areas were demolished, and it seemed that the circuit would never host a race again.
RED BULL BRINGS AUSTRIA BACK
Red Bull bought the circuit and at first, was hesitant on spending any money rebuilding a track that wouldn't be used. Luckily for Austrian fans, Red Bull had a change of heart and decided to renovate and rebuild the track which has the same layout as the A1 Ring.
No changes were made to the total laps, race distance, and the number of turns. The only change is a reduced track length, which is now 4.318km. In essence, the Red Bull Ring is a modernized A1-Ring that includes three DRS zones allowing multiple areas for overtaking.
The Austrian GP returned to Formula 1 in 2014 and has been hosting the race until the present day. In 2020 and 2021 due to Covid-19 two GPs were held at the circuit under two names the first being the Austrian GP and the latter the Styrian GP.
Listed below are the fastest times on all the tracks used for the Austrian GP.
| | | | |
| --- | --- | --- | --- |
| TRACK | TEAM | DRIVER-YEAR | TIME |
| ÖSTERREICHRING 1969-1976 | FERRARI | NIKI LAUDA-1975 | 1:34.850 |
| ÖSTERREICHRING 1977-1995 | WILLIAMS | NELSON PIQUET | 1:23.357 |
| A1 RING 1997-2003 | FERRARI | MICHAEL SCHUMACHER-2003 | 1:08.337 |
| REDBULL RING 2014- | MCLAREN | CARLOS SAINZ JR-2020 | 1:05.619 |
TEAMS
RED BULL RACING
Austria throughout Formula 1 history has only been able to produce one Formula 1 team, but it has been one of the most successful teams in history. Red Bull made its fortune selling energy drinks worldwide and ran a marketing campaign all about speed, pushing the limits, and flying high. It came to no one's surprise that Red Bull became a major sponsor and team builder in Motorsport and Extreme sports around the globe.
JOINING FORMULA 1
Red Bull made its first appearance on the Formula 1 circuit as a sponsor in 1995 for Sauber with the iconic logo used on the livery. Red Bull remained as a sponsor with Sauber until 2004 when the founder of Red Bull Racing, Dietrich Mateschitz decided to buy the fledgling Jaguar Racing team in 2005.
MORE THAN JUST A SPONSOR
Red Bull Racing otherwise known as RBR hired Christian Horner as team principal and has remained with the team until today. RBR's first drivers included the vastly experienced and successful David Coulthard and a young driver from Austria Christian Klein.
Their opening season had the team finish in seventh place for the constructor's title scoring no podium finishes. In 2006 RBR traded their Cosworth engines for Ferrari-made engines and fared no better finishing once again in seventh place.
CHANGING ENGINES CHANGING FORTUNES
Red Bull in 2007 opted for Renault to take over providing engines and in turn Red Bull's performance dramatically improved. For the 2007 and 2008 seasons, RBR continued to adjust to Formula 1 becoming more competitive, scoring more points and having Australia's Mark Weber be their first driver to score a podium in third place at the European GP in Germany.
RED BULL GIVES VETTEL WINGS
In 2009 the team took on Germany's Sebastien Vettel who was racing in Red Bull's second team Toro Rosso based in Italy. Red Bull and their strong team of drivers almost won the drivers and Constructor's titles that year. Vettel became the first Red Bull driver to win for the team at the Chinese GP.
FOUR IN A ROW PLUS ONE
For the next four years from 2010 to 2013, Red Bull and Vettel dominated Formula 1 winning four consecutive driver and constructor titles. Red Bull had managed to become a top-tier team in five years and ever since 2009 Red Bull has been in the mix for the F1 championships.
Red Bull has wisely used their second team, Toro Rosso, to develop their future drivers and Max Verstappen from the Netherlands certainly stands out as he became the team's latest world champion in 2021.
Red Bull has had an impressive stable of drivers that includes Mark Webber, David Coulthard, Sébastien Vettel, Daniel Ricciardo, Pierre Gasly and Sergio Perez. Red Bull has won five driver's championships and will certainly be in the hunt to add a second title in 2022.
THE ELUSIVE CONSTRUCTORS TITLE
The team has not been able to add to their four constructor's titles since 2013 and has been runner-ups five times and third place three times up until today. Red Bull's current home base is in Milton Keynes, England, and is currently preparing for the 2022 season.
F1 STATS
RACED FROM: 2005-
RACES: 326
CONSTRUCTORS CHAMPIONSHIPS: 4 (2010, 2011, 2012, 2013)
DRIVERS CHAMPIONSHIPS: 5 (2010, 2011, 2012, 2013, 2021)
WINS: 75
PODIUMS:206
TOTAL POINTS: 5629
POLE POSITIONS:73
DRIVERS
Throughout Formula 1 history, sixteen drivers have represented Austria and two of those drivers reached the pinnacle of the sport by claiming World Championships. Niki Lauda is the most popular Austrian driver and Champ and remains until today one of the most influential in the sport.
QUICK JUMPS
AUSTRIA'S LOST SOULS
On a sour note, three of the sixteen drivers have died racing formula 1, Jochen Rindt in 1970, Helmuth Koinigg in 1974, and Roland Ratzenberger in 1994. Let's take a look at some of the more prominent and successful drivers from Austria in Formula 1.
NIKKI LAUDA
Andreas Nikolaus Lauda, who was born on February 22nd, 1949 in Vienna, Austria, is a three-time drivers champion, the most of any Austrian driver. Lauda began racing in Formula Vee and had to battle for his family's approval of his racing ambitions which never came. Lauda had to take out a loan so he could buy himself into Formula Two to join the March Team.
In 1971 Lauda took part in the Austrian GP and retired from the race on lap 20. In the same year, he competed in F2 and could not score any podiums. In 1972 raced in both Formula Two and Formula 1 driving for March.
TAKING OUT LOANS
In F2 Lauda managed to score some podiums, contrarily in Formula 1, he could not finish any higher than ninth place which was achieved at the British GP. In 1973 Lauda visited the bank once again for another loan and bought his way into BRM placing him into even more debt for the love of racing.
With BRM, Lauda improved on the previous year's best finish in Belgium finishing in fifth. Lauda attracted the attention of Enzo Ferrari with his driving style alongside the positive thoughts of Clay Regazzoni meant the Austrian would be on the move.
ENZO FERRARI LOVES LAUDA
Ferrari opened their doors to Lauda in 1974 and instantly the duo began to reap the benefits of their partnership. Lauda scored the first podium of his career in Argentina, finishing in second place and winning his first race in Spain.
A CHAMPION
Lauda also had an impressive six straight pole positions, but Ferrari suffered technical issues in the many races, costing Lauda multiple opportunities for victory. Lauda in 1975 joined former driver Jochen Rindt, becoming the second world champion from Austria. In an incredible season, Lauda won five races and added three other podium finishes to secure his title.
LAUDA V HUNT
Ferrari had not won a constructor's title since 1963 and couldn't be happier to return to the top of the sport. Lauda in 1976 took part in one of the most famous duels in Formula 1 with Britain's James Hunt who drove for McLaren.
The battle between the two has been made into Hollywood movies and the topic of many racing documentaries. Their battle lasted the entire season except for a couple of races that Lauda missed due to injury. Lauda was lucky to be alive after a fiery crash at the German GP at the Nürburgring.
BURNED AND BATTERED HE NEVER QUIT
Lauda suffered from horrible burns that left his face and head scarred and even missing most of his right ear. Despite this horrible near-death experience, Lauda returned to battle Hunt and eventually lost the championship in the last race of the season.
TWO CHAMPIONSHIPS WITH FERRARI
In 1977 Lauda won his second championship not by winning the most races during the season but by being the most consistent driver on the podium. Lauda won three races and added seven podiums to secure his title.
A BRIEF RETIREMENT
Lauda left Ferrari for Brabham and after two seasons retired from Formula 1 only to return in 1982 to race with McLaren. In 1984 Lauda became the first Austrian to win the Austrian GP and won his third driver's championship of his career.
A THIRD TITLE
He won the title by beating his teammate Alain Prost by half a point. Lauda retired after the 1985 season from racing in Formula 1 but that did not mean he stayed away from the track. Lauda worked with Ferrari as a consultant in the early nineties, became Jaguars team principal in the early 2000s and became a non-executive chairman of Mercedes.
A MENTOR
With Mercedes, Lauda helped the team lure Lewis Hamilton away from McLaren, and played an influential role in the Brits racing career. Lauda passed away at the age of seventy years old peacefully in his sleep on May 20th, 2019. He will be forever remembered as one of the best drivers in Formula 1 history.
F1 STATS
RACED FROM: 1971-1979, 1982-1985
TEAMS: FERRARI, MCLAREN, BRM, BRABHAM, MARCH
RACES: 171
CHAMPIONSHIPS: 3 (1975, 1976, 1984)
WINS: 25
PODIUMS:54
TOTAL POINTS:420.5
POLE POSITIONS:24
FASTEST LAPS: 24
JOCHEN RINDT
Karl Jochen Rindt who was born on the 18th of April in 1942 in Mainz, Germany was the first Austrian F1 driver to race in Formula 1 and win a driver's title. Rindt chose to drive under an Austrian license because of his mixed heritage where his mom was Austrian, and his father was German. Both his parents died when he was a little more than one year old during a bombing raid in WW2. Rindt was raised by grandparents in Austria in the aftermath of that tragedy.
RACING IN GRANDMA'S CAR
Rindt began racing his friends on a moped on nearby motocross tracks and participated in his first official race using his grandmother's car. Rindt replaced his grandma's car with an actual race car, an Alfa Romeo GT, and began to win races.
Rindt eventually made it to Formula Junior where he cemented the fact, that he was a dangerous and wild driver. Rindt joined Formula 2 and created the success needed to get the attention of Formula 1. Rindt managed to win twenty-nine races during his tenure in Formula Two while he continued to split his time racing in Formula 1.
JOINING FORMULA 1
Rindt made his first appearance in F1 in 1964, participating in one race at the Austrian GP driving in a Brabham. In 1965 Rindt joined Cooper on a full-time basis and his best finish was fourth place at the German GP. Rindt achieved his first podium at the Belgian Grand Prix finishing in second place and adding two other podium finishes by season's end.
WINNING WITH LOTUS
Rindt left Cooper to join Brabham in 1968 and during this singular season he finished in third place twice while retiring from every other race on the schedule. Rindt left Brabham the following year to join Lotus and finally snagged the elusive first F1 win at the American Grand Prix at Watkins Glen, New York.
AUSTRIA'S FIRST CHAMPION
In 1970 Rindt made history becoming the first Formula 1 from Austria to win the driver's title. Rindt won four races in a row and added a fifth win in Monaco. Rindt also became the only driver to win the title posthumously.
Rindt died in yet another horrific F1 accident at the Italian Grand Prix in Monza. Rindt smashed into the barriers at nearly 200km/h which completely caved in the front of his Lotus and led to his seatbelts cutting his throat open as his body slid forward.
HIS DEATH WAS NOT IN VAIN
His death helped prompt many safety updates and changes to help prevent more deaths from occurring. Rindt died on top of the sport and never got to experience it for himself. His legacy remains as one of Austria's best drivers and whose death helped Formula 1 become a little safer.
F1 STATS
RACED FROM: 1964-1970
TEAMS: BRABHAM, COOPER, LOTUS
RACES: 62
CHAMPIONSHIPS: 1 (1970)
WINS: 6
PODIUMS:13
TOTAL POINTS:107
POLE POSITIONS:10
FASTEST LAPS:3
GERHARD BERGER
Gerhard Berger who was born on the 27th of august in 1959 in Worgl is the third most successful driver from Austria. Berger learned how to drive from working in his father's trucking company before starting to race competitively.
Berger competed in the German and European Formula Three championships in 1982 and continued to compete in the European championships until 1985. In 1984 Berger made a brief appearance in Formula, participating in four races with ATS Wheels, a German-based team scoring zero points.
A REAL CLIFF HANGER
In the same year, Berger encountered his first near-death experience which occurred away from the track when he got into an accident in the mountains of Salzburg. Berger was hit from behind and his car was sent flying off a cliff and ejecting Berger out of it simultaneously. Berger was lucky that two surgeons who happened to be driving on the same route found him and helped stabilize him. Berger broke his neck and multiple bones in his back.
FULL TIME IN F1
Berger made a full recovery and in 1985 he joined arrows on a full-time basis and could not finish higher than fifth place. Berger would have to wait another year before joining Benetton to achieve his first podium in F1 at the San Marino GP in Italy and win his first race in Mexico. It was also Benetton's first win in Formula 1 too.
PLAYING WITH FERRARI
For the next three seasons, Berger joined Ferrari and proved to be a consistent competitor, winning four races and reaching the podium seven times. With Ferrari in 1988, he had his best ranking to date finishing in third for the driver's title.
ANOTHER NEAR-DEATH EXPERIENCE
Berger faced his second near-death experience racing at San Marino GP in 1989 where he smashed into a wall at nearly 300km/h which subsequently had the car catch fire. Berger had to wait for an agonizing sixteen seconds for the fire to be put out. Remarkably, he missed only one race due to his injuries.
RACING WITH SENNA
In 1990 Berger joined Ayrton Senna at McLaren and helped the team secure constructor's titles along the way. Berger won three more races and scored fifteen more podiums from 1990 to 1992. Berger returned to Ferrari from 1993 to 1996 where the team struggled to perform at a high level on a consistent basis.
BACK TO FERRARI BACK TO BENETTON
In his second stint with La Scuderia Berger could only race at the German GP but was able to claim another twelve podiums. In 1994 Berger matched his personal best finish for the driver's title finishing in third.
For the last two seasons of his F1 career, Berger returned to Benetton and won his and the team's last race in Formula 1 at the German GP in Hockenheim. Berger retired from racing but his involvement in Formula 1 continued.
Berger worked with BMW bringing them into F1 and even owned fifty percent of Toro Rosso until being bought out by Red Bull. Berger is an Austrian journeyman who has participated in over two hundred races, no stranger to the podium or facing death, he has left a positive mark in motorsport.
F1 STATS
RACED FROM: 1984-1997
TEAMS: BENETTON, FERRARI, MCLAREN, ARROWS, ATS WHEELS
RACES: 210
CHAMPIONSHIPS: 0
WINS: 10
PODIUMS:48
TOTAL POINTS: 385
POLE POSITIONS:12
FASTEST LAPS:21
KARL WENDLINGER
Karl Wendlinger, who was born on the 20th of December in 1968 in Kufstein, participated in formula 1 for forty races. Wendlinger earned his racing stripes karting, competing in Formula Ford and various Formula Three Series across Europe.
Wendlinger won the 1988 Austrian Formula three title and in 1989 won the German Formula Three title. Wendlinger also competed in multiple sports car championships and in 1991 he was given a chance to race in Formula 1.
FORMULA 1 AUDITION
Wendlinger competed in two GPs in Japan and Austria driving for Leyton House Racing. In Japan, he retired from the race in the first lap after having a collision that involved multiple cars, and in front of his Austrian fans, he could only finish in the twentieth position.
Wendlinger joined March in 1992 and cracked the top ten once finishing in fourth at Circuit Gilles Villeneuve in Canada. In 1993 Wendlinger had his last full-time season in F1 driving for Sauber and could only score points outside of the podium.
FLIRTING WITH DEATH
In 1994, Wendlinger's career took a turn for the worse after a crash in Monaco that left him in a coma for weeks and with severe head trauma. His season was cut short with twelve races remaining. The following year, Wendlinger attempted to return to F1 but his injuries still lingered and he only participated in six races.
SUCCESS AT LEMANS
He retired from F1 mostly because of his inability to withstand the rigorous drives F1 cars provide. All was not lost for the Austrian because he became a major force at the 24 Hours of Lemans winning it two times and finishing in second and third once.
Wendlinger continued in the FIA GT Championships wherein 1999 he won the driver's title, winning six out of the ten races on the schedule. Wendlinger was a great driver who had more success outside of Formula 1 than in it.
F1 STATS
RACED FROM: 1991-1995
TEAMS: SAUBER, MARCH, LEYTON HOUSE
RACES: 42
CHAMPIONSHIPS: 0
WINS: 0
PODIUMS:0
TOTAL POINTS:14
POLE POSITIONS:0
FASTEST LAPS:0
ALEXANDER WURZ
Alexander Wurz who was born on the 15th of February in 1974 in Waidhofen an der Thaya was able to score three podiums in sixty-nine races in Formula 1. Wurz won his first championship on two wheels claiming the 1986 World BMX Championship at the age of twelve.
Wurz began racing on four wheels in 1991 starting in Karting and moving his way up and through Formula Ford, German Formula Three Championship, and the DTM series. Wurz also competed in the 24 Hours of LeMans and won his first of two races there in 1996.
FORMULA 1 JOURNEY BEGINS
In 1997 Wurz joined Formula 1 midway through the season driving for Benetton. Wurz who was the test driver replaced fellow Austrian Gerhard Berger who was ill and in the three races he participated in he scored his first podium with a third-place finish at the British GP.
The following year Wurz no longer lurked in the shadows and took a full-time role with the team in 1998. Wurz had a decent season scoring seventeen-point ranking eight overall by the season's end. The next two seasons with Benetton bore no fruit and Wurz became a test driver for McLaren after the 2000 season.
THE TEST DRIVER
Wurz returned to the track in 2005 for a single race where he finished in third place at the San Marino GP. In 2006 Wurz remained a test driver with a new team being Williams. In 2007 he was given the opportunity to race full time and scored his last third-place finish and podium in F1 at the Canadian GP.
Wurz continued to race at LeMans claiming his second win in 2009 and also competed from 2012 to 2015 in the FIA World Endurance Championships.
Wurz is currently working for Williams as a driver's coach and is also a TV personality and commentator on Formula 1.
F1 STATS
RACED FROM: 1997-2000, 2005, 2007
TEAMS: WILLIAMS, MCLAREN, BENETTON
RACES: 69
CHAMPIONSHIPS:0
WINS: 0
PODIUMS:3
TOTAL POINTS:45
POLE POSITIONS:0
FASTEST LAPS:1