Formula 1's Mexican Grand Prix Travel Guide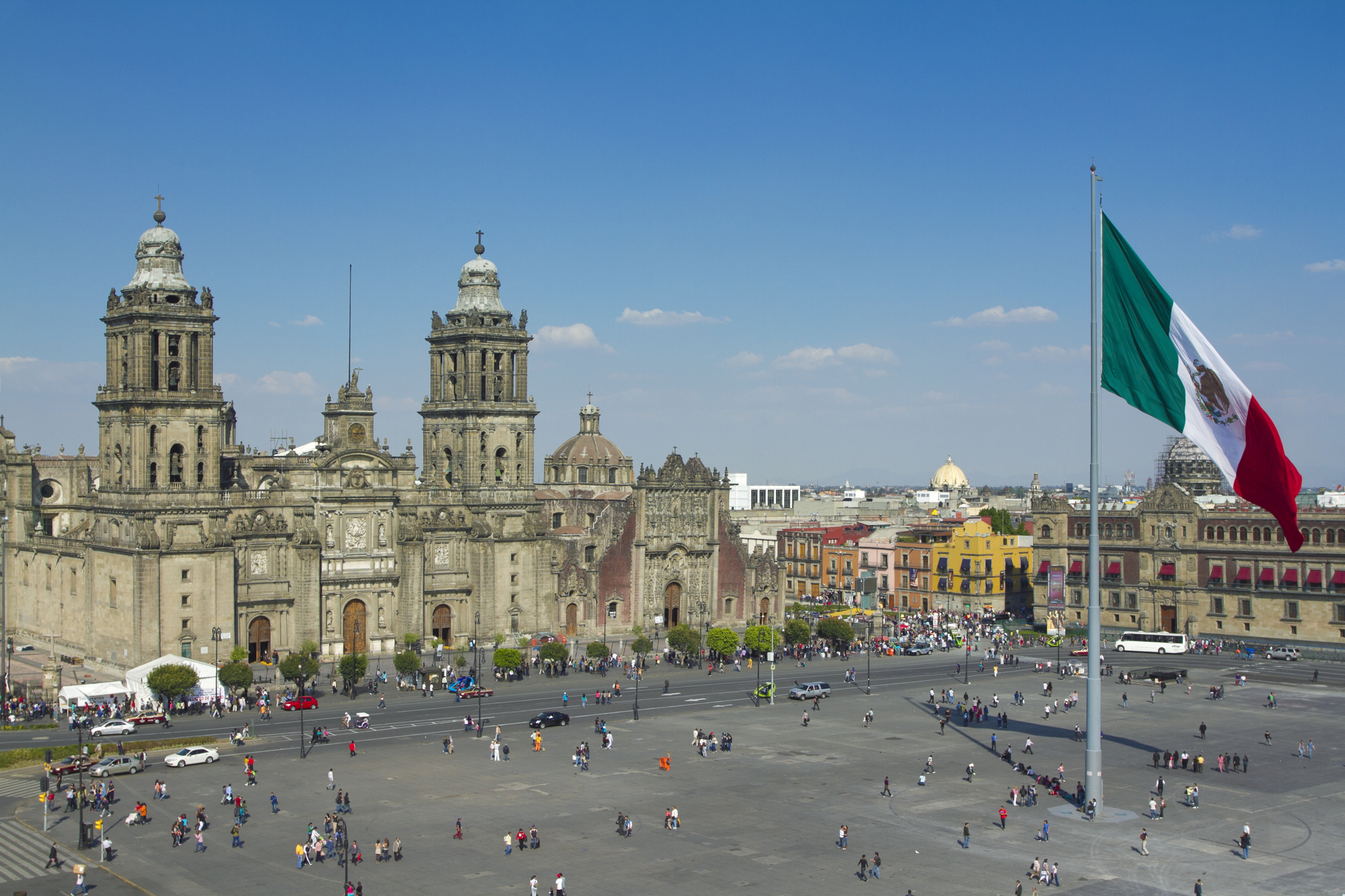 A wildly popular destination for Formula 1 fans to enjoy is heading to Mexico City where the Autodromo Hermanos Rodriguez hosts the Grand Prix. Mexico City is the capital of Mexico and sits high above its beautiful coasts that bank both the Pacific Ocean and gulf coast.
Mexico City is home to over twenty-two million people and the sheer size of the city is worth noting. The country's capital is home to many relics of the past, be it the ancient Aztec Ruins or sub-twentieth-century architecture.
PACKING YOUR BAGS
Getting prepared for your Mexican Grand Prix experience you'll need to pack appropriately especially considering the fall weather when the race takes place. Temperatures start to drop in the traditionally hot country to highs of twenty-three degrees and temperatures dropping to nearly ten degrees.
Packing some warmer clothing is crucial especially if you want to enjoy Mexico City's vibrant nightlife in comfort. Rainfall can occur and when it rains in Mexico it can really come down hard and fast. Raingear is an absolute must and buying an umbrella might also be a good idea.
AIRPORTS AND TRANSPORTATION
Traveling by air will land in the heart of the capital at the Mexico City International Airport and from there you can reach your hotel easily by taxi or subway. We recommend using prepaid tickets for taxis to ensure a certified driver will be driving you to your destination. Be wary of "unofficial" taxi services because going for a joyride and getting a huge bill for it isn't worth the risk.
SUBWAYS
The subway is directly connected to the airport and depending on which terminal you are at will determine how long it takes to reach one of the subway lines. The downtown core is about 10km away from the airport which means travel time won't be that long. We strongly suggest not renting a car and driving for yourselves due to the insane road conditions you will have to face in the city.
DO NOT DRIVE
Mexico City is notorious for having some of the most intense traffic, which often has its main highways stuck in gridlock. Driving within the city practically takes a super license or extreme courage because of the chaotic nature and dangerous driving habits of the locals. Remember you are supposed to enjoy your time in Mexico not get stressed out over traffic!
GETTING TO THE TRACK
The Autodromo Hermanos Rodriguez is located in Mexico City, which means using the subway is your best bet to get to the circuit on race day. Naturally, there will be more people to navigate through, but you won't have to deal with the insane traffic of cars.
WHERE TO STAY
Mexico City has over three hundred neighborhoods and not all of them are suitable for tourists visiting the country. Hotels are plentiful in the best neighborhoods Mexico City can offer and only your budget will determine how much luxury you want.
There are five neighborhoods with different appeals we suggest booking in: Centro Historico, Roma, Condesa, Polanco, and Zona Rosa. You can't go wrong booking in any of those areas and access to each other is relatively easy by subway therefore you do not have to fear missing out on anything.
CENTRO HISTORICO
The Centro Historico is the core of Mexico City and home to many landmarks worth visiting. There is also no shortage of museums and street vendors to keep you occupied away from the track. Using the pedestrian-only street Calle Madero you will have your lion's share of restaurants and shops to choose from.
ROMA
Roma is found to the west of the Centro Historico and has developed its own unique cultural scene. Roma is filled with everything a tourist needs and desires, from mouth-watering restaurants to funk art installations. Food and Art come to play in this area and are certainly worth booking your hotel in.
CONDESA
Much like Roma, Condesa has a large hipster influence which means more art and interesting restaurants that serve up interesting twists on dishes. The local architecture has a strong European influence as many art-deco buildings line their streets. This area is lively all day and night and offers many delights that can satisfy anyone's needs.
POLANCO AND ZONA ROSA
For an upscale experience, we recommend booking your hotel in the Polanco or Zona Rosa areas of Mexico City. Here you can find all your favorite luxury brands on sale at the numerous upscale stores on the Avenida Presidente Masaryk street.
Luxury hotels and even mansions can be rented out in this area if you want to spoil yourself and your guests. Restaurants are also upscale and finding a Michelin star restaurant is easy in this area. Zona Rosa is widely known for its great nightlife where the tequila surely never stops flowing.
WHERE TO EAT
The food in Mexico can be an incredible experience for anyone's palate and in Mexico City, there is no shortage of quality restaurants to choose from. It doesn't matter where you are in the city, you will always have a delicious place to eat some tacos, enchiladas, tostadas, and chili con carne. Spicy food lovers will feel like they died and went to spicy heaven in Mexico city!
One thing is certain in Mexico City, your belly will never fill empty. Here is a list of some of Mexico City's best restaurants.
NIGHTLIFE
The nightlife in Mexico City is likely to leave you with a hangover even if you are being careful. The city stays vibrant under the stars and you'll continue to be spoiled with a vast array of nightclubs, bars, and cantinas to choose from. There is no shortage of amazing tequilas you can only find in Mexico and who can ever say no to a margarita after a beautiful day at the track.
RED-LIGHT DISTRICTS
Try to avoid hopping into a cab and telling the driver I want to have a good time because he might take you to a brothel, which can be both dangerous and expensive. Prostitution is legal in Mexico City so if that's your thing you've come to the right place.
For everyone else try and stick to the heart of the city and party with the locals and you'll have an incredible time. Here is a list of the best nightclubs and bars in Mexico City.
SIGHTSEEING
Mexico City is the best place to experience the many historical periods the state capital has gone through. You can see cultural influences from Europe due to Spanish colonialism, while in other areas the ancient Aztec culture shines bright.
Mexico City has also undergone some modernization and you can also find some skyscrapers in the business districts of the city. Venturing outside the city can also provide some great experiences, be it taking some time to sit on the beach or visiting some incredible pyramids built by the Mayans and Aztecs in centuries past.
ART AND CULTURE
In Mexico City visiting the Palacio de Bellas Artes is practically unavoidable especially if your hotel is in the heart of the city. The Palacio is home to not only many incredible art exhibits but also hosts many musical, theater, and dance performances as well. Architecturally stunning and worthy of many selfies for your Instagram.
To continue your understanding of Mexican culture, visiting the Templo Mayor Museum will help you explore the Aztec culture. The Soumaya Museum is certainly an incredible building and if you have time to visit the exhibits it offers you will be exposed to many Eurocentric pieces. The Catedral Metropolitana is a behemoth-sized cathedral and stands high above Zocalo square, taking a walk around the Zocalo square you can't avoid seeing its splendor.
LUCHA LIBRE AND FRIDA
For a different twist visiting the Arena Mexico to watch some Lucha Libre wrestling is a great way to experience the lighter side of Mexican culture. Art lovers need to visit the incredible Museo Frida Kahlo which features many of her incredible works in the very house she was born in and died in.
VISIT THE PAST IN THE PRESENT
IF time allows it, leave the city to visit the Teotihuacan pyramids, which are about an hour away from Mexico City. Guided tours are available and recommended to use if you want to understand the world you will be immersed in during your visit.
Your Grand Prix experience in Mexico will never have a dull moment on and off the track with all these activities available at any time.
THINGS TO CONSIDER
Travel Visas are not necessary for most travelers from around the world.
Type A and B sockets are used. European travelers, don't forget your power adaptors.
The Mexican Peso(MXN) is primarily used. US dollars are also accepted in some establishments but exchange rates will not be in your favor. Always try to keep some pesos on hand because Credit Cards are not always accepted.
The time zone is -6 hours UTC/GMT
Due to Mexico City's higher elevation, you can experience some shortness of breath and feel light-headed. Any negative symptoms will pass as your body adjusts to the altitude.
At night, avoid dark, less populated areas and stick to where the action is to avoid any undesirable interactions.
Tap water is not safe to drink!
Please tip your servers
Do not flaunt your cash or valuables in public. Be wary of pickpockets and tourist scams near landmarks.
Mexican Spanish is the language used by the locals. English is generally understood and spoken in tourist areas. Learning a few key phrases can't hurt either.