Mexico's Formula 1 History of Race Tracks, Teams, and Drivers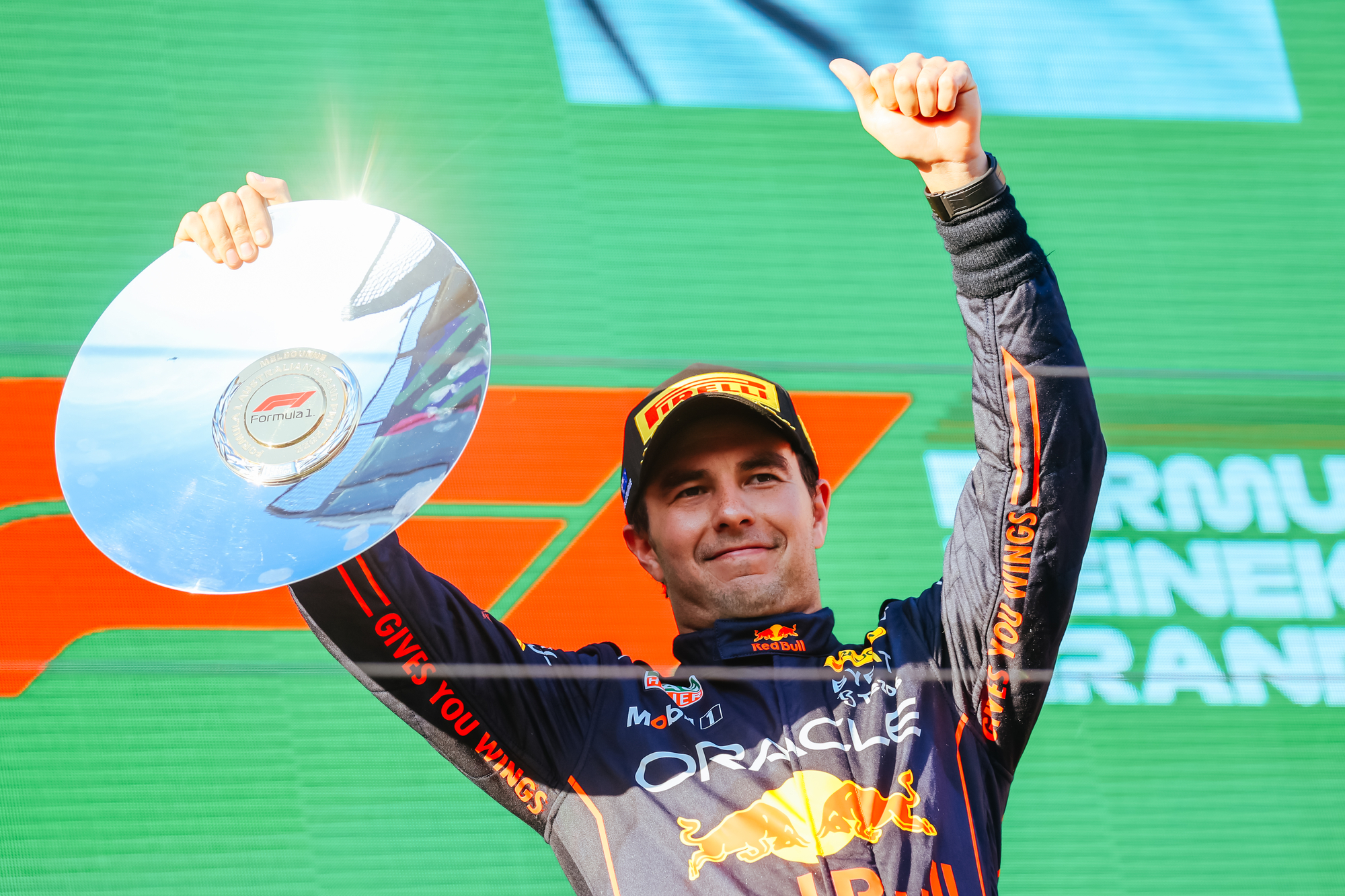 TABLE OF CONTENTS
Mexico is a beautiful country that attracts tourists from around the world. With stunning beaches, delicious food, and incredible history, Mexico has much to offer. In terms of sports when thinking of Mexico, soccer and Lucha Libre wrestling comes to mind but there is a strong love of motorsport for millions of fans in the country.
Formula 1 hosted its first race in Mexico City in 1963 and despite the race being canceled for decades at a time, the track has returned to F1 at least until 2022. During this year's Mexican Grand Prix, fans were delighted to watch fellow countryman Sergio Perez lead the race at one point and finish in third driving for Red Bull. He is the first Mexican to ever achieve those feats.
MEXICO'S F1 TRACKS
The Mexican Grand Prix has always been held in Mexico City where the track can hold up to one hundred thousand spectators. Throughout the years the track's location has been the same, contrarily, the layout and name of the track have changed over time. The Mexican GP served as the final race on the F1 schedule from 1962 to 1970 where consequently many championship battles for first place were decided. Like every track in Formula 1, there is both tragedy and joy in their histories.
QUICK JUMPS
MAGDALENA MIXHUCA
BEFORE F1
The circuit in southern Mexico City, the nation's capital, was designed by a young University student, Oscar Fernandez, who was studying civil engineering in 1953 for his thesis. His track design was built by the Mexican government and with support from the Rodriguez family.
The track is built in a public park 2240 meters (7340 feet) above sea level, which presents unique challenges to car mechanics and engineers due to the thinner air. Air ducts and braking systems need to be adjusted in order to allow better cooling for F1 cars. The track also featured a 180-degree banked turn called the Peraltada which is similar to Monza's Parabolica curve. The track ran on a track that was 5km long that included fourteen turns and 65 laps around the circuit to complete the race.
THE HERMANOS DELIGHTS THE HOME CROWD
In 1959 the track hosted its first race, the Mexico City 500 Miles where Pedro Rodriguez won the race followed by his younger brother Ricardo in third. The young Mexican brothers became instant heroes in their native country.
BROTHER PEDRO FALTERS AND A NATION MOURNS
In 1962 the Magdalena Mixhuca circuit hosted its first un-official F1 race that showcased multiple top-level F1 drivers and the sad death of Ricardo Rodriguez who was only twenty years old. Mexico mourned their loss and in the following year the track was renamed the "Autodromo Pedro Rodriguez".
F1 BEGINS
LEGENDS DUEL AND CHAOS ENSUES
Formula 1 officially held its first Championship race in Mexico in 1963 and continued to host the race until 1970. Mexico's Grand Prix would be the deciding factor for a few championships being last on the schedule. Jim Clark dominated the decade with three wins including the non-championship win of 1962. Crowds watched many thrilling battles between greats such as John Surtees, Jackie Stewart, Denny Hulme and Graham Hill.
FORMULA 1 WALKS AWAY
In 1970 the Mexican Grand Prix faced a massive surge of fans that caused costly delays to the race. The track can support one hundred thousand fans but due to Pedro Rodriguez's participation, two hundred thousand unruly fans showed up to watch.
The crowd was aggressive and uncooperative and even a dog was unfortunately struck by Jackie Stewart during the race. Ferrari won the race with a 1-2 finish, Jacky Ickx taking the top spot followed by Clay Regazzoni. Due to the chaos and the inability for race organizers to control the race weekend the Mexican Grand Prix was canceled for sixteen years.
AUTODROMO HERMANOS RODRIGUEZ
MEXICO EVOLVES
Upon the death of Pedro Rodriguez, the Magdalena Mixhuca which was renamed the Autodromo Ricardo Rodriguez changed its name for the last time honoring both fallen brothers. The track was and is still known as the Autodromo Hermanos Rodriguez and in 1986 Formula 1 returned to Mexico.
The track underwent some changes by creating better facilities around the track, shortening the distance, and adjusting the infamous Peraltada turn making the track safer. The Mexican Grand Prix was no longer the last race of the season, ceding the spot to Australia.
THE BEGINNING OF A SHORT-LIVED ERA
Gerhard Berger won the first race back driving for Benetton followed by Alain Prost and Ayrton Senna. Alain Prost driving for McLaren and Nigel Mansel driving for Williams shared much success on the Mexican track with two wins for each of them.
Financial struggles began to loom in the shadows in 1991 and by 1992 the FIA demanded some changes on the bumpy and rough track surface. Track officials did their best to comply offering some minor renovations, but the track remained mostly in the same state which endangered the lives of Mansell and Senna during practice runs. Formula 1 refused to return the following year and did not return until 2015.
LET'S TRY THIS AGAIN PLEASE
In order for the Autodromo Hermanos Rodriguez to return to F1 major renovations were needed both on and off the track to please FIA and Bernie Ecclestone. A new paddock and media center were installed helping to modernize the aging infrastructure. The track was shortened once again and the Peraltada turn was shortened adding some new turns to slow down the pace before entering the legendary curve.
SPEEDY GONZALEZ CAN NEVER KEEP UP
In today's modern Formula 1 cars you can expect them to hit speeds of 370km/h(230mph) on the main square of the track. Upon its return to F1, Germany's Nico Rosberg won the first race back in the country driving for Mercedes in 2015.
Lewis Hamilton and Max Verstappen dominated the remainder of the decade. Max won three races and Lewis with two top podium finishes as well. Valtteri Bottas holds the record for the fastest lap running a time of 1:15.875 achieved during qualifying for the 2021 race. The Mexican Grand Prix's contract to continue hosting F1 races expires in 2022, there is no word yet of any extensions.
F1 TEAMS
TEAM REBAQUE
Team Rebaque is the only Mexican team to race in Formula 1 during the 1978 and 1979 seasons. The team was founded by Formula 1 driver Hector Rebaque because no other team would take him as a driver. Hector would rely on Lotus for the chassis and Ford for their engine power.
IT WAS OVER BEFORE IT STARTED
This young inexperienced driver now had a young inexperienced team to manage. Naturally, the results would reflect the team's lack of experience resulting in only scoring one point in two years of racing. This adventure for Hector proved to be unfruitful for him and the team. To no one's surprise Team Rebaque eventually folded. Hector continued to race in F1 for other constructors but Team Rebaque at the very least can still claim to be Mexico's only F1 team in history.
TEAM REBAQUE STATS
FIRST RACE: 1978 ARGENTINE GRAND PRIX
LAST RACE: 1979 UNITED STATES GRAND PRIX
NUMBER OF RACES: 19
CONSTRUCTORS CHAMPIONSHIPS: 0
DRIVERS CHAMPIONSHIPS: 0
RACE VICTORIES: 0
PODIUMS:0
POLE POSITIONS: 0
FASTEST LAPS: 0
MEXICAN DRIVERS IN F1
In all sports, Mexico is known for producing some of the most resourceful, feisty, and proud athletes. Formula 1 has seen six Mexican drivers throughout its long history. Ricardo Rodriguez would be the first to break into Formula 1 during the Italian Grand Prix in 1961.
Sergio Perez is the only Mexican driving in this year's Formula 1 season driving for Team Red Bull. Here is a brief history of all the drivers that hailed from this beautiful country.
QUICK JUMPS
SERGIO PEREZ
A PROMISING PROSPECT FROM THE VERY BEGINNING
Sergio Perez Mendoza was born on January 26th, 1990 in Guadalajara and is currently driving for Red Bull alongside Max Verstappen. Racing is a family affair in the Peres household with Sergio's older brother who is now retired after competing in the Mexican NASCAR series for four years. Checo, as friends and family and fans worldwide refer to Sergio, began his racing career at the age of six. It was clear even then Checo had incredible abilities that allowed him to win races and eventually win championships before the age of ten! He continued his winning ways that naturally began to attract talent scouts his way.
TURNING HEADS ALONG THE WAY
His teenage years had Sergio competing in various series such as the American Skip Barber Championship, Formula BMW in Europe, and A1 Grand Prix Championship in Mexico. At Seventeen years old, Europe became his mainstay, joining Formula 3. His stint in F3 continued to show that the young Perez was more than capable of winning races and competing for championships wherein in 2008 he finished fourth for the Drivers title.
FORMULA 1 TAKES NOTICE
It wouldn't take long for Formula 1 to welcome Sergio Perez into the fold and in 2010 Ferrari made Checo a member of their Driving academy. During the 2010 season of GP2 Sergio finished second overall in the championship with five wins under his belt.
SERGIO TAKES THE WHEEL IN F1
In 2011 Checo's F1 journey officially began behind the wheel of Sauber and in his first race at the Australian Grand Prix finished in seventh place, the points accrued were taken away after the FIA ruled the team had violated some technical rules on Sauber's racecar.2011 would prove not to be so easy, especially in Monaco where Sergio had a dangerous crash during qualifying that knocked him out of the race on Sunday and the upcoming Canadian Grand Prix.
Checo scored his first points officially during the Spanish Grand Prix when he finished the race in ninth place. Sergio finished the season in sixteenth place in the Drivers standings.
CHECO KEEPS LEARNING
Learning from the previous season, Checo still driving for Sauber in 2012, brought delight to Mexico with the first podium of his career at the Malaysian Grand Prix, finishing second place. Checo yet again turned heads with his stellar performance and instantly rumors of making a jump to bigger teams began to follow.
Checo revisited the podium another two times during the campaign, finishing third in Canada and second place in Italy. Sergio finished his season with Sauber in tenth place for the Drivers' championship.
A MCLAREN MISSTEP
It was no surprise that Sergio would leave Sauber for another team in 2013 when he joined McLaren Mercedes. His move wasn't a shock to fans, but Sergio was certainly shocked by the poor performance of his McLaren during the season. There were no podium finishes for him and he took a step back in his point earnings total with forty-nine points compared to sixty-nine points during the previous year.
TRADING A SHORT TRIP FOR A LONG ONE
Sergio's stay in McLaren lasted only one year leaving the Team for Force India which would last for another four years. Force India would prove to be a middle-of-the-pack team that could not truly compete with the elite teams of Formula 1. In 2014, Sergio's best finish occurred at the Bahrain Grand Prix where finished in second place. The young Mexican could only muster top ten finishes for the remainder of the races he competed in.
SAME STORY DIFFERENT SEASON
When analyzing his time with Force India, you can see that his 2014 season would more or less repeat itself every season. In 2015 his best finish was third at the Russian Grand Prix accompanied by several top-ten finishes. In 2016 his luck would improve only because he could muster two podium visits; finishing second in Monaco and third in Baku.
STRUGGLING TEAM STRUGGLING DRIVER
The following year in 2017, Checo would probably agree was a frustrating year where the closest he got to a podium finish was fourth in Spain. With the team around him struggling and facing financial woes, 2018 did not see many improvements. Despite the team's struggles, Sergio got back on the podium with a third-place finish in Baku. His time in Force India never had Checo finish higher than seventh in the drivers' championship.
LAWRENCE STROLLED IN AND RACING POINT BEGAN
In 2019 Force India was bought out, becoming Racing Point with Billionaire Lawrence Stroll backing the team. Due to the previous year's financial struggles, the development of the car took major setbacks which made the current season more of a transitory campaign. Sergio would suffer due to the inconsistencies of the new car failing to reach the podium.
HARD WORK PAYS OFF
2020 would prove to be a much better season for Checo and racing point becoming a competitive mid-level team once again. The Turkish Grand Prix saw Sergio finish in second place and after the following race in Bahrain, Perez announced he was leaving Racing Point at the end of the season.
GLORY TO PEREZ AND MEXICO
The Sakhir Grand Prix is where Sergio Perez broke the fifty-year drought of a Mexican-born driver winning a Formula 1 Grand Prix. Sergio got his first win in a remarkable fashion that would make his performance one for the ages. Sergio started the race in second place only to fall to eighteenth place after a collision with Ferrari's Charles Leclerc. Sergio clawed his way back to the top of the race on lap 64 and eventually won the race 23 laps later. Sergio finished fourth in the drivers' championship making it his most memorable year so far.
GRAB THE BULL BY THE HORNS
In 2021 Sergio joined Red Bull and is currently sitting in fourth place in the Driver Championship with 165 points. Baku continues to provide Perez with his best results where he managed to net the second win of his career. He followed up his win by finishing third in France.
For the last three races of the current season, Sergio has been on the podium three times finishing in third. His last race will certainly be one he and his fellow Mexicans will never forget. Perez is the first Mexican to ever lead a race and finish on the podium while racing in Mexico. Sergio's father alongside thousands of their fellow countrymen celebrated with pride and exuberance.
With five races remaining Sergio is sure to be a deciding factor in the Constructors championship and helping his teammate Max Verstappen's pursuit of his first drivers' championship.
F1 STATS
RACED FROM: 2011-CURRENT SEASON
TEAMS: SAUBER, MCLAREN, FORCE INDIA, RACING POINT, REDBULL
RACES: 211
CHAMPIONSHIPS: 0
WINS: 2
PODIUMS: 15
TOTAL POINTS: 884
POLE POSITIONS: 0
FASTEST LAPS: 6
RICARDO RODRIGUEZ
TOO HOT TO HANDLE
Ricardo Valentin Rodriguez de la Vega was born on February 14th, 1942 in Mexico City and for over fifty years was the youngest driver to ever drive in Formula 1. Ricardo was known as a fireball due to his flamboyant and dangerous racing style. Ricardo began racing in cycling alongside his brother Pedro, who was making a name for himself in motorcycling. Ricardo eventually switched over to motorcycling and continued the family winning ways, claiming multiple titles before the age of fifteen.
From driving on two wheels, Rodriguez made the move to four wheels and his talent would not suffer but continued to grow. At sixteen years old he attempted to race at LeMans but was refused entry due to his age, not to be deterred by this setback he returned at the age of eighteen. He is the youngest driver to step up on the podium at Lemans finishing in second place with his partner from Belgium Andre Pilette. Ricardo was eighteen at the time, which turned heads at the Formula 1 level.
FERRARI TAKES A CHANCE
Ferrari took notice and gave Ricardo the chance of a lifetime in a guest drive in 1961. He shocked his competitors and fans by qualifying in second place at the Italian Grand Prix. Unfortunately, his strong performance would suffer during the race the following day when his fuel pump failed him, putting him out of the battle for first.
Nonetheless, he was the youngest driver ever to qualify and start in an F1 race, Max Verstappen would change that in 2016. Enzo Ferrari knew how talented Ricardo was but also knew the young driver needed to learn to control and refine his driving style. Ferrari continued to work with Ricardo in 1962, allowing him to drive in both F1 and Non-F1 Championship races. In the few races he competed in F1 he managed his personal best of 4th in Belgium and second place at the Pau Grand Prix which was a non-championship race.
RAW TALENT AND RECKLESS ONLY SORROW WOULD FOLLOW
In 1962, Mexico held its first Grand Prix in Formula 1 in the Non-Championship series. The track was built with the backing of Ricardo's father and the Mexican government who believed Mexico needed a race to showcase its country and its amazing drivers internationally. Ferrari had opted out of the race but that did not deter Ricardo from participating in the race. Rodriguez signed up driving for Lotus, giving him an opportunity to go for glory at home.
Tragedy would strike the twenty-year-old when during qualifying his rear suspension snapped, which caused him to lose control of his car and smash into a barrier which in turn flung him out of the car, killing him instantly upon impact. It was an unpleasant day for Mexico, which had the whole country in mourning. He was twenty years old at the time and sadly his potential would never be realized.
The track the following year was named the Autodromo Ricardo Rodriguez in his honor. The track changed its name once again when his brother also died racing and the track is now called the Autodromo Hermanos(brothers) Rodriguez in both their honor.
F1 STATS
RACED FROM: 1961-1962
TEAMS: FERRARI
RACES: 6
CHAMPIONSHIPS: 0
WINS: 0
PODIUMS: 0
TOTAL POINTS: 4
POLE POSITIONS: 0
FASTEST LAPS: 0
PEDRO RODRIGUEZ
CARRYING THE FAMILY NAME
Pedro Rodriguez de la Vega was born on January 18th, 1940 in Mexico City and is the older brother of Ricardo Rodriguez. Like his brother, Pedro began his racing exploits in motorcycling and cycling and like his brother won multiple championships. Pedro got his first taste of a Ferrari in 1957 and subsequently crashed it at the Nassau Speed Week competition. Both brothers were full of talent but with that talent came a recklessness that needed to be tamed.
Pedro competed in LeMans and other European races such as the Rheims 12 Hours where his team finished second. Pedro and Ricardo both received offers from Ferrari to come to drive for the legendary team and remarkably Pedro declined, choosing to stay in Mexico and manage the business. Nonetheless, Pedro continued to race in other series and challenges until 1963 when he got his first taste of Formula 1.
A TERRIBLE DAY FOR BROTHERS
In 1962 he and his brother competed in the first Mexican Grand Prix where subsequently his brother would die in a horrific crash. Pedro withdrew from the race due to what is sure to be due to the emotional trauma of losing a loved one.
FOR THE LOVE OF RACING
Pedro's journey in Formula 1 was not a smooth ride, to say the least, especially in his first two races with Lotus in 1963 where he failed to finish both races at the United States Grand Prix and Mexican Grand Prix. In 1964 Rodriguez would bring some joy to the Mexican Grand Prix when he managed to get his first points in F1 finishing in 6th driving for Ferrari. Despite his lackluster career in F1 at the moment he continued to win in other races such as the Daytona Continental on two occasions and the sports car Canadian Grand Prix.
Pedro was learning how to control himself on the track, which would prove fruitful in his Formula 1 career. In 1965 Pedro continued to have relative success in North America with Ferrari finishing 5th in the United States and 7th in Mexico. In 1966 Pedro competed in five races, failing to finish in any of the races due to technical issues.
FOR MEXICO AND FAMILY
Pedro would make history by becoming the first Mexican to win an F1 Grand Prix in South Africa to kick off the 1967 season. Driving for Cooper he produced a solid season with multiple top-ten finishes which allowed him to finish 6th in the driver's standings with fifteen points. The following year he continued to be the pride of Mexico, reaching the podium three times, finishing second in Belgium and third place in both Dutch and Canadian Grand Prix's driving for BRM.
QUALITY OVER QUANTITY
The remarkable aspect of Pedro's career is how he continued to improve despite the low number of F1 races under his belt. 1969 saw Pedro taking a step back with Ferrari exiting from five out of the eight races he competed in. He did repeat his solid performances in Italy, finishing 6th, in the United States in 5th and in Mexico in 7th.
Leaving Ferrari, the next year in 1970 he rejoined BRM and had another solid year with the team. Pedro won his second and last Grand Prix in F1 during the Belgian Grand Prix. He also reached the podium finishing in second place at the Watkins Grand Prix in the USA. He tallied the highest point total of his career with twenty-three points. 1971 began with high hopes for Pedro who remained with BRM after his solid performance the year before. He managed to finish 4th in Spain and took his final podium in the Netherlands when he finished second.
JOINING HIS BROTHER UP ABOVE
Sadly, Pedro would follow in the footsteps of his brother when he died driving outside of Formula 1. Driving for Ferrari at the Norisring Interseries Sports Car race in Nuremberg, West Germany, Pedro lost a tire which subsequently sent him into a wall where his car caught fire. Despite getting rescued from the vehicle, Pedro passed away later on due to the multiple injuries he had sustained. He was thirty-one years old, sadly his great season came to an end.
Following his death, the Mexican Grand Prix changed the name of the track which was named after his brother to Autodromo Hermanos Rodriguez in honour of both fallen brothers.
F1 STATS
RACED FROM: 1963-1971
TEAMS: FERRARI, LOTUS, COOPER, BRM
RACES: 55
CHAMPIONSHIPS: 0
WINS: 2
PODIUMS: 7
TOTAL POINTS: 71
POLE POSITIONS: 0
FASTEST LAPS: 1
MOISES SOLANA
LOVED JUST THE SAME
Moises Solana was born on December 26th, 1935 in Mexico City and eventually competed in eight Formula one races. Moises split his time racing between Formula 1 driving for Cooper and Lotus and Formula 2 driving for Lotus and Solana Sports. His first and last races in F1 were during the Mexican Grand Prix of 1963 and 1968. Solana never raced in F1 outside of North America, only competing in the United States and Mexico.
THE RACETRACK CLAIMS ANOTHER
He only finished 3 out of the 8 races, never cracking the top ten in either of those races. If Solana could have any claim to fame in F1 it would be him being the first competitor to drive a car numbered 13 at the British Grand Prix. Solana, like the Rodriguez brothers, died behind the wheel of a racing car. In 1969 Solana died driving in McLaren during the Hillclimb challenge in Mexico, his car overturned, and Moises, unfortunately, burned alive. The Mexican Grand Prix has named turns one through three the "Ese Moises Solana" in his honor.
F1 STATS
RACED FROM: 1963-1968
TEAMS: COOPER, LOTUS
RACES: 8
CHAMPIONSHIPS: 0
WINS: 0
PODIUMS: 0
TOTAL POINTS: 0
POLE POSITIONS: 0
FASTEST LAPS: 0
HECTOR REBAQUE
A FEISTY COMPETITOR
Hector Alonso Rebaque was born on February 5 5th, 1956 in Mexico City and eventually created the only Mexican Formula 1 team in history. Hector's father who bore the same name was a race car driver too who also was a close friend of Pedro Rodriguez.
Hector's father who had accrued much wealth due to his construction company would create a racing team of his own where his son would race for much of the seventies. Hector competed at multiple levels, honing his craft racing in Daytona racing challenges, British Formula Atlantic, Formula 2, and Formula Atlantic in the Canadian and American Championships series.
MAKE YOUR OWN WAY
Hector never won any championships but was always able to be a consistent competitor, battling for numerous top-ten finishes. In 1977, Hector joined Formula 1 driving for Hesketh where he participated in six races, failing to qualify in five of those and retiring from one race.
In 1978 Hector created his own Formula 1 team dubbed "Team Rebaque" using a Lotus engine to power the car. For the next two seasons Hector continued to struggle qualifying for races, for the ones he did manage to qualify he mostly would not end any of those races. His best finish was at the German Grand Prix in Hockenheim finishing in 6th place, giving the team its only point during its short history in F1.
In 1980 Team Rebaque withdrew which led to Hector driving for Brabham and Parmalat Racing. He continued to struggle for the 1980 campaign not participating in the majority of the races, his best finish was sixth place. The following year was his most successful year in formula 1. Despite his habit of retiring from races for most of the season he did manage to finish 4th place on three occasions at the Grand Prix's of San Marino, Germany, and Netherlands. He earned his highest point totals for the drivers' championship with eleven points ranking him tenth overall.
Hector continued racing in Indy Car in 1982 where he finally won a race at the Grand Prix Road America in Wisconsin. He retired from racing in 1983 but continued to work in Architecture and real estate in Mexico.
F1 STATS
RACED FROM: 1977-1981
TEAMS: HESKETH, REBAQUE, BRABHAM
RACES: 41
CHAMPIONSHIPS: 0
WINS: 0
PODIUMS: 0
TOTAL POINTS: 13
POLE POSITIONS: 0
FASTEST LAPS: 0
ESTEBAN GUITIERREZ
ANOTHER YOUNG MEXICAN PROSPECT
Esteban Manuel Gutierrez was born on august 5th 1991 in Monterrey, Mexico, and is currently working in F1 as a brand and business ambassador for Team Mercedes. Estaban got his first taste of racing at the age of thirteen in karting where showed promise as an excellent driver. By the time he was sixteen in 2007, Esteban made the jump from karts to the Formula BMW series in the United States. He won rookie of the year due to his eight podiums which included four wins landing him in second for the driver's title at the end of the season.
MAKING HISTORY
In 2008, Esteban crossed the Atlantic to compete in the Formula BMW European Championship where he made history by being the youngest Mexican to win an International championship at the young age of seventeen. The young Mexican dominated the season with six consecutive wins bringing his total to seven by year's end. He finished on the podium another five times leaving his closest rival behind with a twenty-six-point lead.
Esteban continued his ascension the following year, joining the Formula 3 Series in 2009, and the GP3 Series in 2010 where he became champion once again, clinching the title with two races to spare. In 2011 and 2012, Esteban competed in the GP2 series, struggling in the first year only to follow up with a brilliant campaign the following year that landed him 3rd place in the Championship.
FORMULA 1 BECKONS
Before joining Formula 1, Esteban worked behind the scenes as a test driver for F1 BMW but Sauber would be the team Esteban would finally get his first F1 race opportunity. In 2013, Esteban finished thirteenth in his first race at the Australian Grand Prix. Esteban would score his only points in Formula 1 at the Japanese Grand Prix when he finished in seventh place, granting him six points for his effort.
Esteban continued to race for Sauber until the end of 2014 with no real success during that season. In 2015 he joined Ferrari as a reserve and test driver, consequently, he was not called up for any races that year. His last season as a driver in F1 took place in 2016 driving for Haas and unfortunately success never followed. He failed to score any points, never breaking the top ten benchmark.
A DIFFERENT ROLE
Despite his struggles, Esteban remains in F1 until this day working with Mercedes. In 2018, Mercedes hired Esteban as a simulator and reserve driver prepping the race cars of Bottas and Hamilton. As mentioned earlier, Mercedes has recently announced a new role for Esteban as Ambassador for the team.
F1 STATS
RACED FROM: 2013-2014, 2016
TEAMS: SAUBER, HAAS
RACES: 59
CHAMPIONSHIPS: 0
WINS: 0
PODIUMS: 0
TOTAL POINTS: 6
POLE POSITIONS: 0
FASTEST LAPS: 1
UP AND COMING MEXICAN DRIVERS
RAFAEL VILLAGOMEZ
Rafael Villagomez Jr was born on November 10th, 2001 in Leon, Guanajuato and finished competing in the 2021 season in Formula 3. Rafael has had success racing at the F4 levels in the French and British Championships in 2020.
In 2021 racing in Formula 3 he drove for Racelab and failed to score any points throughout the season. His future in racing will be in his own hands and scoring some points will be a good place to start. Mexico is sure to be watching and hoping he can follow in Sergio Perez's footsteps ascending to Formula 1.