Hungary's Formula 1 History of Race Tracks, Teams, and Drivers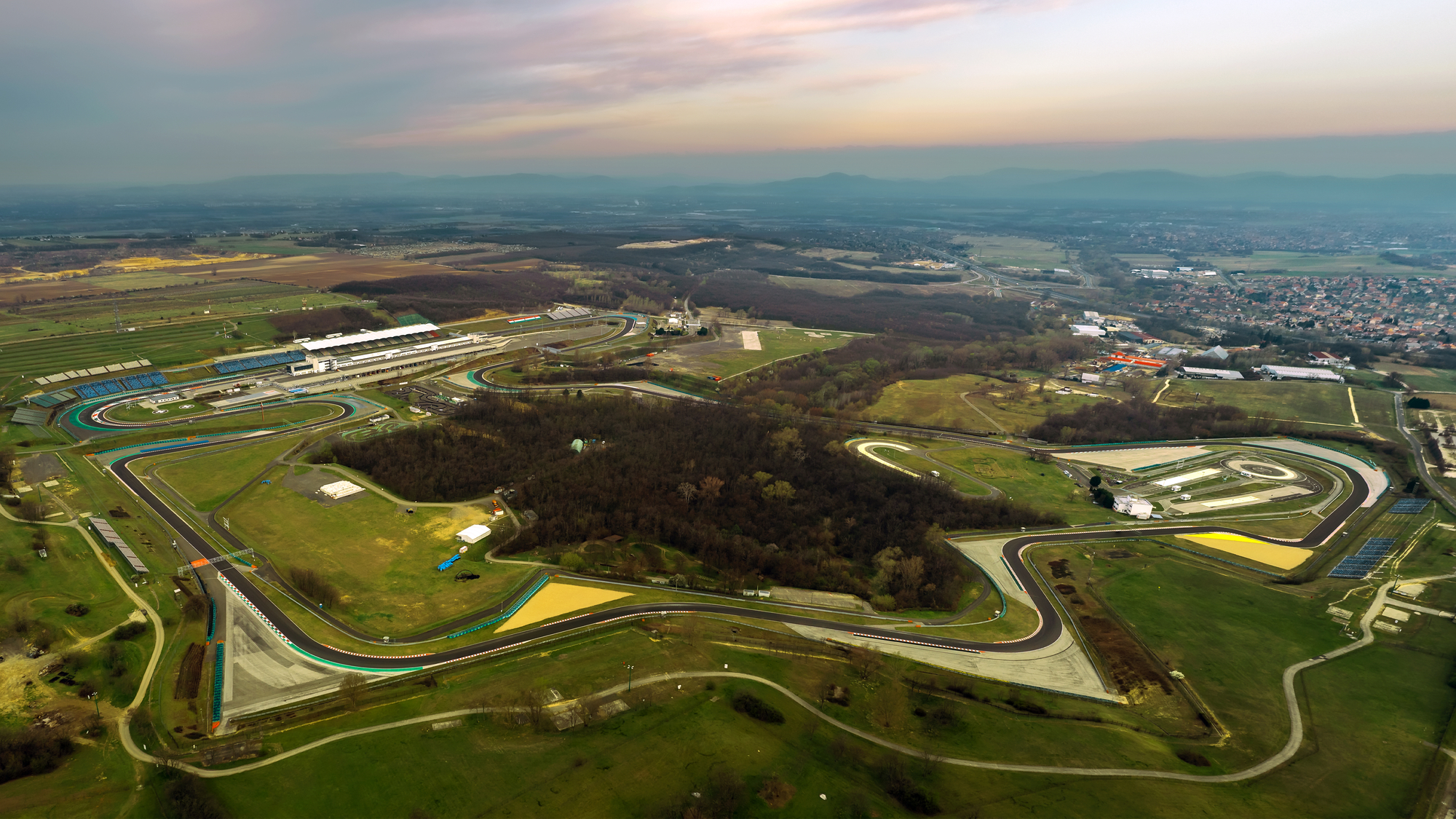 TABLE OF CONTENTS
The Hungarian Grand Prix has been a part of the formula 1 schedule since 1986, hosting the race at the Hungaroring located just outside of Budapest. The Hungarian GP was the first race in Formula 1 history to take place behind the iron curtain.
The iron curtain represented the barrier between numerous communist countries allied with the USSR since World War Two and the west. With the dissolution of the USSR, Hungary has become a part of the European Union and a democratic country.
Budapest remains a beautiful tourist attraction where F1 fans can see the remnants of the communist bloc and ancient medieval castles. The 2022 Hungarian Grand Prix will take place on July 31st. Here we will take a look at the tracks, teams and drivers Hungary has provided Formula 1.
TRACKS
HUNGARORING
Formula 1 has been privy to only one track in Hungary which took eight months to be constructed for the 1986 Hungarian Grand Prix. The circuit is located outside of Budapest near the city of Mogyorod.
A unique feature of the circuit is that eighty percent of the track can be visible from anywhere fans choose to sit. This remarkable feat is due to the track being constructed at the bottom of a valley creating high vantage points around it.
The circuit has a capacity of seventy thousand spectators and over a weekend easily over two hundred thousand fans will be in attendance.
INSIDE THE NUMBERS
Throughout the years, the circuit has changed three times, altering the length and amount of turns in each variation. The first edition of Hungaroring which lasted from 1986 until 1988 had a track length of 4.014km and sixteen turns. Drivers needed to complete seventy-six laps to achieve the race distance of 305.064km.
The race ran clockwise and turn 1 was a large looping hairpin that led into another short straight. Turn 2 was a left-handed hairpin that led into the chicane that made up turn 3. Turn 4 was a quick left-hander that led into the third hairpin of the race in turn 5.
Turn 6 was a left-right chicane that led into turns 7-8 which was a left-right corner. Turn 9 was a slight bend in the track that set up turn 10's, a hard right-hander. Turn 11 after a short straight was a gradual right-hander leading into the fourth hairpin in turn 12. Turn 13 was the fifth and final hairpin of the race.
SECOND VERSION
The second variation of the circuit was used from 1989 until 2002, reducing the track length to 3.975km and thirteen turns. Drivers now needed to drive seventy-seven laps to reach the race distance of 306.075km.
WHAT THEY RACE ON TODAY
The third version of Hungaroring was used from 2003 until the present day. This version of the track was now 4.381km long with fourteen turns to manage. The new race distance is 306.630km, which requires seventy laps to reach the finish line.
This time the distance between Turns 11 and 12 was extended creating a longer straight that now leads into a sharp ninety-degree right-hander. The circuit has only one DRS zone which begins before turn 14 and finishes up on the final straight leading to the finish line.
NO OVERTAKING?
In all three variations of the track, Hungaroring always faced and faced the same criticism for being a boring circuit. The track is narrow and the multiple hairpins do not provide much room for overtaking throughout the race.
Pit strategy and having a solid setup are the keys to success in Hungary. The GP has held in the middle of summer, making this race a very dry and hot race. Due to very dry weather, drivers need to deal with a very dusty track surface which strains their tires even further. Listed below are the fastest times achieved in all three variations of the Hungaroring in F1 history.
| | | | |
| --- | --- | --- | --- |
| HUNGARORING | TEAM | DRIVER-YEAR | TIME |
| 1986-1988 | WILLIAMS | NELSON PIQUET-1987 | 1:30.149 |
| 1989-2002 | FERRARI | MICHAEL SCHUMACHER-2002 | 1:16.207 |
| 2003- | MERCEDES | LEWIS HAMILTON-2020 | 1:16.627 |
TEAMS
Hungary has yet to produce any teams throughout Formula1 history. There are no teams projected to enter Formula 1 in the near future either.
DRIVERS
ZSOLT BAUMGARTNER
Hungary has been a part of Formula 1 since 1986 and has seen only one driver race under the red, white, and green colors of their flag. Zsolt Baumgartner who was born on January 1st, 1981 in Debrecen, Hungary has a single point scored in his Formula 1 career. Zsolt began racing competitively at the age of thirteen karting in Hungary in 1994.
PROST PROSPECT
BY 1997 Zsolt moved up to racing in single-seaters and got noticed by Alain Prost who added the young driver to his development school. In 1999 he was awarded race car driver of the year in Hungary for his championship win in the German Formula Renault 2000 series, winning six races. In the year 2000, Zsolt continued to move up the ranks, joining the German Formula 3 series racing in the juniors category.
ZSOLT THE SUBSTITUTE
Although he didn't have much success from 2000 until 2003 he was still given the opportunity of a lifetime to race in F1. In 2003, Zsolt became the first Hungarian driver to race in Formula 1 history driving for Jordan. Zsolt was asked to replace the injured Irishmen Ralph Firman who survived a horrific crash during practice at the Hungarian GP.
Zsolt's first appearance in F1 was in front of his home crowd making it that much sweeter for him and his country. Zsolt qualified in second last in nineteenth place and on race day was forced to retire on lap 34 due to engine problems. Zsolt raced in one other race in 2003 at the Italian GP and fared far better than in the last race, finishing in eleventh place.
JOINING MINARDI
In 2004, Zsolt was hired by Minardi and was given a full-time seat with the team. Minardi was a backmarker team and Zsolt did the best he could with a weaker team finishing more races than not.
Zsolt scored the only point of his career at the United States Grand Prix that took place in Indianapolis. He finished in eighth place, three laps behind the race winner Michael Schumacher and his Ferrari. After that race, Zsolt could not crack the top 15 in any of the remaining races.
His contract was not renewed and no teams picked up the Hungarian. Zsolt never raced in Formula 1 again but did make attempts to race in the Champ Series and the Superleague Formula.
F1 STATS
RACED FROM: 2003-2004
TEAMS: MINARDI, JORDAN
RACES: 20
CHAMPIONSHIPS: 0
WINS: 0
PODIUMS:0
TOTAL POINTS:1
POLE POSITIONS:0
FASTEST LAPS: 0
UP AND COMERS
LASZLO TOTH
Laszlo Toth who was born on June 2nd, 2000, in Telki Hungary is currently slated to race for Charouz Racing System in Formula 3's 2022 season. Toth began karting at the age of thirteen years old in 2013. During three years' worth of karting across Europe and in Hungary his best finish was finishing in third place twice.
Toth moved away from karting to single seaters in 2018 competing in the Italian and Spanish F4 championships. During that time he did not record any wins or podium finishes but managed to score forty-seven points in Spain. In 2019 Toth continued in the Italian Formula 4 championship and also participated in the ADAC Formula 4 championships.
In 2020, Toth raced for Bhaitech Racing in Formula Renault Eurocup still not winning any races but scoring some points along the way. In 2021 the Hungarian joined Campos Racing in Formula 3 and in seventeen races scored zero points. Charouz Racing has acquired Toth for the 2022 season. Toth will need to start producing more than scoring some points if he wishes to become the second Hungarian driver to race in Formula 1. At this point, it is unclear if he will make the jump to Formula 2 let alone Formula 1.