History of the Monaco Grand Prix in Formula 1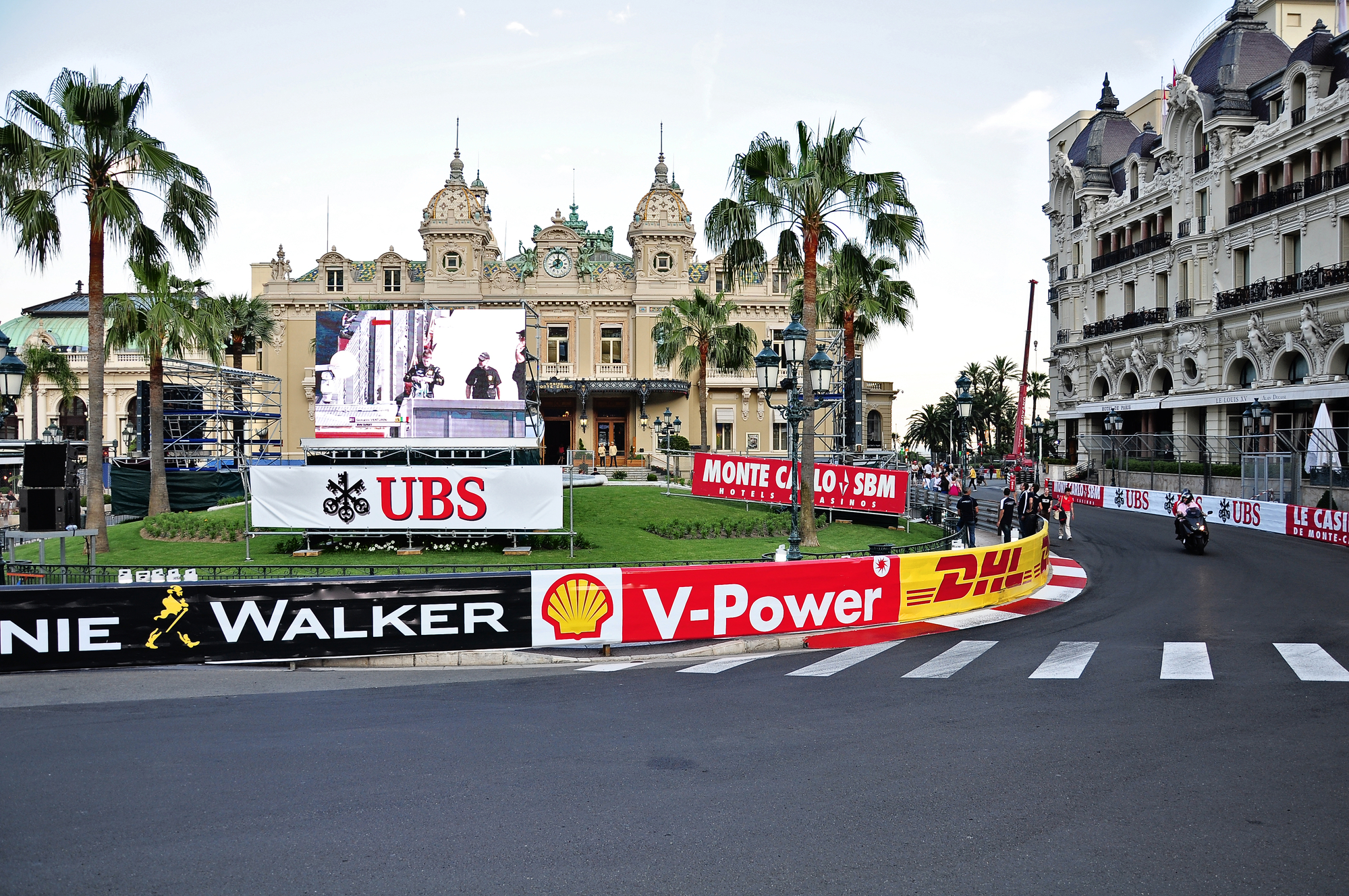 TABLE OF CONTENTS
The Monaco Grand Prix is more than just a race, it is a spectacle that attracts the eyes of racing fans worldwide. The Circuit de Monaco, which winds and twists its way through the streets of Monte Carlo that hug the harbor and the Mediterranean Sea, has challenged drivers and teams from its very first race in 1929.
Winning in Monaco takes nerves of steel, masterful control, and a sharp focus that must endure until the chequered flag. The narrow street circuit with its unique challenges has struck fear into every F1 driver that hopes to claim a victory there. Here is the history of Formula 1's historic and unforgiving Monaco Grand Prix.
BEFORE F1
Before the Formula 1 championship was created, the Monaco Grand Prix was still taking place from 1929 until 1949. The very first winner was William Grover-Williams driving for Bugatti. Monaco's own Louis Chiron won the race in 1931 to the delight of the home crowd in attendance. It was the first and last time a Monegasque driver accomplished such a feat. The Grand Prix was interrupted by WW2 and the first race back in the city was won by future F1 Champ Nino Farina in 1948.
1950's
FORMULA 1 BEGINS
AGE MEANS NOTHING
In its first race to be recognized as an F1 Grand Prix did not disappoint as a local hero and well-aged Louis Chiron finished in third place who was a mighty fifty-one years old on that day. Juan Manuel Fangio Earned top honors winning the race by avoiding a wave of water that came up from the harbor causing a huge pile-up of race cars.
A BRIEF PAUSE
The following year the race was postponed to budgetary issues in 1951 and although the Grand Prix took place in 1952 it was a non-championship race. In 1953 and 1954 Monaco was sidelined once again due to budget and regulatory red tape that luckily all became rectified by 1955.
ASCARI GOES FOR A SWIM
Racing in Monaco has never looked back since then and in its return race, Frances Maurice Trintignant won driving for Ferrari. Alberto Ascari nearly lost his life when his car flipped over a barrier where he landed in the harbor where his car sank nearly twenty-five feet.
Britain's Sterling Moss and Maserati won in 1956 and eventually would lose the driver's title by three points by the season's end. Juan Fangio continued to enjoy the difficult track with his second win in Monte Carlo, which helped the Argentinian win his third straight Drivers title in 1957, giving him five all-time.
Maurice Trintignant also wanted a repeat win and completed the task, winning the race in 1958 this time driving for Maserati. Australia took its first win in Monaco when Australian Jack Brahbam driving for Cooper took the chequered flag in 1959. Brabham's win was also granted Cooper's first win in Formula 1 history.
1960's
THE BRITISH ARE COMING!
The British Empire by this time may have dissolved but its presence would not be forgotten at the Monaco Grand Prix. Britain and Australia were the only nations to win the race for the entire decade! Britain's Stirling Moss began the decade with back-to-back wins adding to his tally giving him three totals in Monaco.
A NEW KING FOR MONACO
In 1962 New Zealand's Bruce McLaren the founder of McLaren Racing won his third race in Formula 1 and was the first New Zealander to win at Monaco. Graham Hill became the King of Monaco by not only winning the race three years in a but by winning the race and at the time a record of five wins that did not get beaten until Ayrton Senna came along.
Graham Hill began his dominance by winning in 1963 driving for British Racing Motors who took advantage of eventual world champ Jim Clark and his broken gearbox. In 1964 Graham made it two wins, beating out teammate Richie Ginther and Britain's Peter Arundel who scored his first podium in third place.
Graham Hill in 1965 did not lose his appetite for victory, claiming his three-peat of victories in Monaco that also witnessed another driver going for a dangerous swim in the harbor. Paul Hawkins is the last driver to ever crash and land in the harbor to this day.
THE KING OF MONACO SHARES SOME WINS
In 1966 another British F1 legend Jackie Stewart who already shared multiple podiums in Monaco wanted and got his first win leaving his BRM teammate Hill in third place. New Zealand won its second race in Monte Carlo but this time it wasn't Bruce McLaren but rather Denny Hulme driving for former winner Jack Brabham's F1 team that bore his name.
ONLY ONE TRIPLE CROWN WINNER
For the remainder of the decade in 1968 and 1969 Graham Hill capped off his amazing performances in Monaco with another pair of victories driving for Lotus. Graham Hill's victories played a crucial role in allowing the Brit to be the only driver in all of racing to have won a triple crown title. To win the rarest of titles Hill had to win the 1966 Indy 500, 1972 24 hours of Lemans and at least one Monaco Grand Prix. The King of Monaco wears a Triple Crown.
1970's
ONE SMALL MISTAKE IS ALL IT TAKES
Monaco continued its history of unpredictability in the 1970 GP as Jack Brabham was looking for his second win in Monaco and was leading the race heading into the final lap. What he and everyone else was sure things did not come to pass when he crashed on the very last corner of the race. His disaster allowed future 1970 drivers champion Jochen Rindt to drive for Lotus and to win the race. Jochen won the driver's title posthumously after he died in an accident at the Monza GP.
STEWART GOES FOR MORE
Jackie Stewart in 1971 had a great weekend in Monaco claiming the pole position and winning the race while being followed by director Roman Polanski who was filming a documentary on the brit. Drivers today can understand the feeling because of Netflix's Docu-series Drive to Survive which follows all the teams and drivers over the latest three seasons.
In 1972, Monaco had its first facelift completed rearranging some of the dangerous parts of the tracks and the lap total dropped to eighty to complete the race. Despite Brazil's Emerson's Fittipaldi's pole position, Jean-Pierre Beltoise driving for BRM won the only race of his career on race day.
Jackie Stewart in 1973 once again captured pole position led to his third win in Monte Carlo that would eventually add points to his third drivers' championship. Stewart retired on top of F1 after the 1973 season.
FERRARI RETURNS TO THE PODIUM
Sweden's Ronnie Peterson driving with Lotus won his first race of the season in 1974 beating out South Africa's Jody Scheckter in second and Jean Pierre Jarier from France. Ferrari did not win in Monaco since Maurice Trintignant won the race in 1955.
Austria's Nikki Lauda broke the twenty-year drought not only winning in 1975 but repeating the feat as well in 1976. Lauda's win in 1976 gave the defending champion what seemed like an insurmountable lead of thirty-six points over his closest rival only to have James Hunt ultimately win the driver's title by one point at season's end.
FORD MADE IN AMERICA
In 1977 Lauda's streak ended with him finishing second to Jody Scheckter who was driving for Wolf-Ford. The victory marked one hundred wins for Ford-powered cars in F1. Nikki continued to enjoy success in Monaco in 1978, claiming yet another podium finishing in second place.
Frenchman Patrick Depailler driving for Tyrell won the first of two races he would ever win in Formula 1. Jody Scheckter nabbed third place adding to his podium count in Monaco. In 1979 Jody continued to add podiums by adding his second and last win in Monte Carlo driving for Ferrari. Scheckter went on to win the driver's title in 1979. Britain's James Hunt retired from Formula 1 after the 1979 GP due to the team's struggles.
1980's
A FIRST FOR CANADA AND ITALY
The eighties started out with a bang at the Monaco GP with a huge crash knocking out four cars in an instant at the start of the race. Argentina's Carlos Reutemann won his only race of the 1980 season which also gave Williams Racing its first win in Monaco.
Ferrari and Gilles Villeneuve won the race in 1981. Villeneuve was the first and only Canadian or North American to ever win a Monaco GP in F1 history. It had been a prolonged time since an Italian won in Monaco. It was so long since the last Italian winner was in a non-championship race in 1952 with Vittorio Marzotto driving for Ferrari.
In 1982 Ricardo Patrese became the first "official" Italian winner of the Monaco GP that thrilled fans that saw six lead changes in the final laps of the race. Patrese barely survived as he spun out and stalled but was lucky enough to be on a hill allowing him to bump start his car and take the win. The win was also Brabham's final victory in the country.
MCLAREN GETS COMFORTABLE BEING ON TOP
Finland had never won in Monaco and that changed in 1983 with Keke Rosberg winning the race followed by Brazil's Nelson Piquet in second and Alain Prost and his first podium in Monaco landing in third. McLaren had not seen victory in Monaco since Founder Bruce McLaren won the race in 1962.
PROST'S MÉNAGE À TROIS
Alain Prost, who finished third the previous year, went on to win the next three races in Monaco. In 1984 Prost beat out future rival Ayrton Senna who drove a masterclass in wet conditions only to be robbed of his victory due to the race being red-flagged as he was passing Prost late in the race. Senna's pass on Prost would not count and Prost maintained his first position and won.
In 1985 Prost capitalized on Senna's engine failure and beat out two Italians Michele Alboreto and Elio de Angelis. In 1986 Prost beat out his teammates Keke Rosberg and Senna who claimed his second podium finish in Monte Carlo. It was also the last race for Italian Elio De Angelis who died three days later in an accident while running some tests for his team's car.
A NEW KING RISES
Ayrton Senna's abilities in Monaco had already been showcased in his two previous podium finishes, it was clear that this dangerous circuit was made for the Brazilian. Senna won his first Monaco GP in 1987 driving for Lotus, taking advantage of pole-sitter Nigel Mansell who suffered a turbo failure. Senna won the race by thirty-three seconds over the closest runner-up.
In 1988 Senna claimed pole position and led the race with a huge margin but unfortunately at lap 67 Monaco proved that if you lose concentration for an instant you will be visiting a wall shortly. This was the case for Senna, allowing Alain Prost to take advantage and win his fourth Monaco GP.
LEARNING FROM MISTAKES
Senna was definitely frustrated by his lack of composure in 1988 and he would not repeat it again in Monaco for the next five years, winning every race in Monte Carlo. He ended the eighties with a dominant performance over his bitter rival Alain Prost, winning the race with a comfortable wide margin of fifty-two seconds.
1990's
GIVE HIM HIS CROWN
Senna would not slow down in Monaco and continued his epic winning streak in 1990. Senna with McLaren would prove to be a near unbeatable duo in Monte Carlo. The 1990 GP had Senna lead from pole position, setting the fastest lap of the race and leaving Jean Alesi in second place and Gerhard Berger in third without any chance of challenging him. Senna went on to win his second world title in 1990.
1991 would be no different with Senna repeating his performance of securing pole position and allowing no one to catch him on race day. It was Nigel Mansell's first podium in Monaco after eleven attempts, finishing in second place. Jean Alesi performed well once again, earning another podium in third for Ferrari.
SENNA MATCHES GRAHAM HILL
Senna in 1992 had his eyes set on the King of Monaco's Graham Hill's record of five wins in Monaco and took his rightful place beside Hill by winning the race in dramatic fashion. Nigel Mansel, who led the race heading into the final laps of the race had a punctured tire forcing him to pit and cede his position to Senna. The two would battle until the chequered flag with Senna beating Mansell by 0.2 seconds.
A KING MUST STAND ALONE
Tying records is a special moment in sport but breaking records is what athletes in any sport hope to do. In 1993 Ayrton Senna went for six in Monaco and succeeded in becoming the new King of Monaco. It would be very fitting that Senna won the race with Graham Hill's son Damon in second place driving for Williams.
Damon has said that his dad would have been the first man to congratulate Senna on his amazing accomplishments in Monaco. Reflecting on Senna's career at Monaco he could have easily won another two races in the eighties and his unfortunate death stopped his streak from continuing the following year.
MONACO MOURNS A NEW ERA BEGINS
In 1994 after Senna's death at the Italian GP, the following race at the Monaco GP was up for grabs for the first time in five years. Formula 1 honored Senna and Ratzenberger who also died in Italy by leaving the first two grid positions empty, painting the pavement with their respective flags in place of them.
SCHUMACHER AIMS FOR ROYAL STATUS
It was the first Monaco GP without a former World Champion competing or a winner of the Monaco GP. Germany's Michael Schumacher followed in Senna's footsteps taking pole position and his first race win in Monaco. Schumacher won his second race in Monaco in 1995 beating out Damon Hill who had a superior car that weekend. Schumacher passed the Brit during his pit stop and never looked back. Damon Hill would never win in Monaco, unable to join his father as a winner in Monaco.
ONLY THE THREE CROSS THE FINISH LINE
In 1996 Monaco's fluctuating weather coupled with drivers struggling with their cars helped Olivier Panis drive a Ligier to win the first and only race of his F1 career. The race featured numerous accidents, car retirements, and the transition from wet to dry that ultimately benefited the Frenchmen who had dry tires on at the end of the race. Only three drivers finished the race, a first in F1 history.
FERRARI RETURNS TO GRACE
In 1997 Schumacher added a third notch to his belt, winning in Monaco once again but this time driving for Ferrari. Ferrari had not won in Monaco since Gilles Villeneuve won the race in 1981. The 1997 race was stopped short once again due to rainy and unsafe conditions on the track.
Finland would also win again in Monaco with Mika Hakkinen and his McLaren taking his first win in the city-state in 1998 beating out Giancarlo Fisichella and Eddie Irvine. Schumacher closed out the decade with his fourth win in Monaco bypassing his rival Hakkinen who was in pole position at the start of the race. The Finnish driver could never catch Michael for the remainder of the race, finishing in third.
2000's
BRITAIN STRIKES BACK
For nearly thirty years a British driver had not won a race in Monaco and that changed heading into the 21st century. David Coulthard driving Maclaren won the race in 2000, taking advantage of Schumacher's car troubles that put him out of the race on lap 55.
SCHUMACHER MAKES IT FIVE
In 2001 Schumacher and Ferrari would not falter, winning the race with an impressive 1-2 finish. Schumacher's victory made it sixteen with Ferrari becoming the team's most successful driver. It also gave Schumacher his fifth and last win in Monaco, tying him with Graham Hill in second place for the most wins in Monte Carlo.
David Coulthard in 2002 decided to revisit the top of the podium in Monaco by having an impressive start to the race passing the pole-sitter Juan Pablo Montoya. Both Schumacher brothers rounded off the podium with Michael in second place and brother Ralf in third.
Juan Pablo Montoya and his Williams gave Columbia its first win in Monaco. The race is also noted as one of the few races where there were no recorded overtakes on the track. Changes in position only occurred via pit stop strategies.
KIMI AND HIS YACHT
Jarno Trulli driving for Renault would break yet another long drought of Italians failing to claim the Podium at this infamous GP. Jarno who had pole position kept the hungry pack behind him the entire race winning his first and only race in Formula 1.
Kimi Raikkonen would be the third elite Finnish driver to win in Monaco in 2005 driving for McLaren. It was the first and last time the Iceman won in Monaco. In 2006, Kimi made fans roar with laughter when his heat shield caught fire, forcing him to retire. Rather than returning to pit lane and the paddocks, Kimi chose to walk to his yacht which sat in the harbor where he watched the rest of the race. While Kimi was enjoying the view, Spain's Fernando Alonso won the first of his two wins at the Circuit de Monaco.
ALONSO TAKES A DEUCE
He won driving with Renault in 2006 and won driving with McLaren in 2007. The 2006 race is remembered for Schumacher's attempt to prevent Alonso from taking pole position by allegedly intentionally stopping his car at the Raccase corner. Schumacher would subsequently be sent to the back of the grid for his actions, relieving him of pole position and handing it to Alonso.
In 2008 Lewis Hamilton won his first race in Monaco behind the wheel of McLaren in a very wet race. In the last race of the decade that had numerous first-time winners, Jenson Button won his first Monaco GP in 2009 driving for Brawn.
2010's
NOT SINCE BRABHAM
The last man from the land down under Australia to win in Monaco was Jack Brabham way back in 1959! Mark Webber broke the fifty-year winless streak in 2010 driving for Red Bull. It was the Red Bulls' first win on the streets of Monte Carlo. Webber's teammate Sebastien Vettel also achieved his first podium finish at the GP in second place.
In 2012 Sebastien Vettel took one step higher on the podium winning his first win with Ferrari's Alonso in second place and Jenson Button in third. Australia did not have to wait another fifty years for another Aussie victory as Mark Webber became the most successful Australian in Monaco winning in 2012.
LIKE FATHER LIKE SON
In 2012 Nico Rosberg finished in second place and like so many other drivers it always seems like it pushes them to victory the following year. In 2013, Nico Rosberg won the first of his three consecutive wins in Monaco driving for Mercedes in all three races.
His wins in Monaco also meant that it was the first-time father and son had won in Monaco, his father being Keke Rosberg. In 2013 and 2014 Nico led the races from start to finish and in 2015 Rosberg benefited from a team error that had race leader Lewis Hamilton perform a pit stop at the wrong time.
EVERY SECOND COUNTS
There would be no mistakes in 2016 for Lewis Hamilton and Mercedes as the team won its fourth consecutive race in Monaco and Lewis's second win at the circuit. Pit stops as per usual in Monaco played a vital role in deciding the race winner when a slow stop by Daniel Ricciardo opened the door for Hamilton's win. In 2019 Sebastien Vettel who was now wearing Ferrari red won his second Monaco GP and Ferrari's first since Schumacher in 2001.
THE HONEY BADGER DEFENDS HIMSELF
Daniel Ricciardo did not face any pit issues in 2018 while driving for Red Bull in 2018. Ricciardo was the third Aussie to win the race and it was Red Bull's fourth win of the decade. Ricciardo proved his worth fending off Vettel for nearly fifty laps due to a weakened engine and fewer gears to play with.
Lewis Hamilton in 2019 won his third race in Monaco and for Mercedes, it was their fifth win in the current decade. Securing pole position ultimately made it an easy win for the World Champion Lewis Hamilton.
2020's
In 2020 the Monaco Grand Prix was suspended due to the Covid -19 Pandemic.
A DUTCHMAN, A SPANIARD, AND A BRIT
In 2021 Max Verstappen won his first Monaco GP that had Ferrari's Charles Leclerc in pole position and not even start the race due to a cracked driveshaft. Leclerc's disaster at his home race allowed the Dutchman to win easily.
Young aspiring drivers Carlos Sainz finished in second place and Lando Norris came in third, giving them both their first podium experience in Monaco. After this race, Verstappen took the lead in the drivers' championship and placed his team, Red Bull, ahead of Mercedes in the Constructors championship. The race was uneventful with scarce overtaking taking place.