Monaco's Formula 1 History of Race Tracks, Teams, and Drivers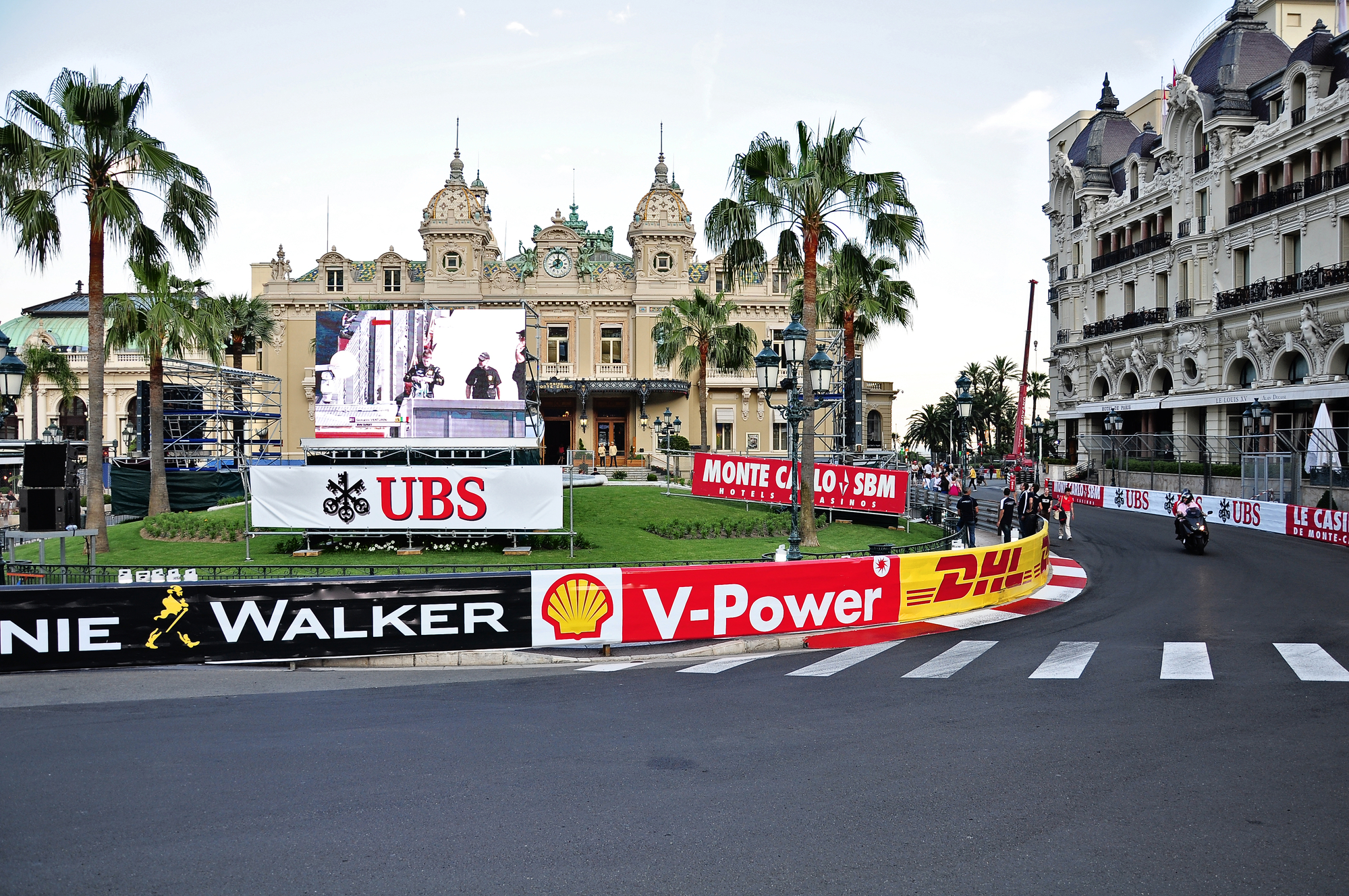 TABLE OF CONTENTS
Formula 1 without the Grand Prix of Monaco would feel like it was missing a vital organ. Since 1929, Monaco has showcased the streets of Monte Carlo, creating a race track unparalleled in F1 history. Monaco is well known to be the home of some of Europe's richest people but has also spawned some F1 drivers such as Charles Leclerc who is currently driving for Ferrari.
Perhaps in the near future Monaco will be able to produce their first F1 team if the FIA permits. Until then, Monaco will have to be content with the prestige the Circuit de Monaco has attained throughout its history. Here is a brief history of Monaco's tracks, drivers, and F1 teams.
F1 TRACKS
Every Formula 1 driver dreams of winning a Grand Prix in Monaco but every driver will not win at one of the most challenging tracks in F1 history. This road circuit takes place in the heart of Monte Carlo where drivers have to navigate some of the tightest corners and straights in F1 leaving them nearly no margin for error.
In order to claim the Triple Crown of Motorsport, a driver must win the Indianapolis 500, the 24 Hours of Le Mans, and the Monaco Grand Prix. Monaco is one of the hardest races to compete let alone win.
CIRCUIT DE MONACO
BEFORE F1
In 1929 the ACM(Automobile Club de Monaco) and Antony Noghes alongside Louis Chiron helped transform the streets of Monte Carlo into a race track. The very first race was held on April 14th, 1929 and the first man to win in Monaco was Britain's William Grover-Williams driving a Buggati. From its inception, the track was considered an important track in the Grand Prix Series up until 1938 when all racing came to a halt due to world war 2.
After the great war Nino Farina won the first race back in Monaco in 1948. The race was canceled the following year because of the death of the head of state and Monarch Prince Louis II. The Circuit de Monaco was a part of Formula 1 when it debuted in 1950.
THE TRACK
From 1929 to 1972 the track featured fourteen turns over a 3.145km track that twists and winds its way near the harbor of Monte Carlo. From 1929 until 1968 a driver needed to survive one hundred laps to cross the finish line. The number of laps began to reduce in 1968, dropping to eighty laps, then dropping to seventy-eight laps in 1973, and has pretty much remained at the number until today barring a few races that fell below that mark.
Technically speaking the Circuit de Monaco if it were introduced today would not have been allowed into Formula 1. It falls short of the mandatory minimum race distance of three hundred five kilometers by forty kilometers. It is clear that the sentimental value, prestige, and history of the track cannot be ignored or stopped from proceeding.
CHALLENGES FOR DRIVERS
It currently takes six weeks for the track to be prepared and the circuit has remained mostly the same since 1929. The track showcases the slowest turn in F1 clocking in at 48km/h and the quickest turn at 260km/h.
Those turns are not the only challenges drivers will have to face, there is also a tunnel they drive through that presents difficulties. The infamous tunnel of Monaco takes drivers from daylight to darkness to daylight in mere seconds traveling at top speeds, which affects the driver's vision. The tunnel was also difficult to manage when it rained because the track remained dry beneath it; F1 currently wets the entire racing surface when it rains to ensure track continuity during the race.
Although Formula 1 drivers desire to take the chequered flag at Monaco, they are fully aware of how hard it is to navigate. Nelson Piquet compared the circuit to riding his bicycle in his living room and Michael Schumacher claimed the number of risks needed to finish the race was justifiable once a year.
MONACO'S ROYALTY
The track has faced some alterations over the years, increasing the number of turns from fourteen to twenty-five and settling back down to where we are today with nineteen total turns. Ayrton Senna holds the record for the most wins on the track with six beating out Graham Hill who won five many decades ago and Micael Schumacher. Below is a small table of the drivers with the fastest laps on every variation of the track.
| | | | |
| --- | --- | --- | --- |
| CIRCUIT | DRIVER-YEAR | TEAM | TIME |
| 1929-1972 | JACKIE STEWART 1971 | TYRELL | 1:22.2 |
| 1973-1975 | RONNIE PETERSON 1974 | LOTUS | 1:27.9 |
| 1976-1985 | MICHELE ALBORETO 1985 | FERRARI | 1:22.637 |
| 1986-1996 | MICHAEL SCHUMACHER 1994 | BENETTON | 1:21.076 |
| 1997-2002 | RUBENS BARICHELLO 2002 | FERRARI | 1:18.023 |
| 2003-2014 | MICHAEL SCHUMACHER 2004 | FERRARI | 1:14.439 |
| 2015- | LEWIS HAMILTON 2021 | MERCEDES | 1:12.909 |
A DANGEROUS RIDE
The track is dangerously unpredictable and unforgiving, especially in the case of the four drivers whose lives Monaco has claimed. The first being Norman Linnecar in 1948 followed by Italian Luigi Fagioli in 1952, Britains Dennis Taylor, and Italy's Lorenzo Bandini.
Alberto Ascari and Paul Hawkings are the only drivers to end up crashing and landing in the harbor, both were lucky to survive their respective incidents.
HOW TO WIN
Due to the narrow and twisty nature of the track, passing is nearly impossible, so drivers must have a strong qualifying time for better track position for the race. Team strategy and having perfect pit stops are important keys to victory. Safety cars are practically guaranteed and if it rains there will be chaos. The Circuit de Monaco is one of the hardest tracks to drive and the most unpredictable in Formula 1.
F1 TEAMS
MIM
In the history of Formula 1, there are no teams to have originated or are based out of Monaco. This may change in the future as MIM( Monaco Increase Management) has begun showing interest in joining Formula 1.
MIM is a Monaco-based company that was founded by Italian Salvatore Gandolfo who is also the co-owner of Campos Racing. Campos Racing competes at the F4, F3, and F2 levels. MIM is also a drivers management company and currently has Indy Car Champion Alex Palou as one of their clients.
MIM has already contacted the FIA expressing their interest in joining F1 on numerous occasions. MIMs hopes that the FIA will waive the required 200 million dollar entry and allow them to compete. It is still uncertain if FIA will accept their proposal and nothing is set to be decided at the minimum before 2022. If MIM achieved its goal it will be the first F1 team from Monaco.
F1 DRIVERS
QUICK JUMPS
THE LIST IS SHORT
The Grand Prix of Monaco is certainly one of F1's most coveted tracks in its history but because of the small size of the city-state, not many drivers have originated from there. Throughout F1 history there have been only four drivers who were born and raised in Monaco and can claim to have taken the wheel of an F1 car.
The most successful driver of the bunch is the current driver with Ferrari, Charles Leclerc. Although Monaco has not produced many homegrown drivers, the city has certainly attracted numerous F1 drivers throughout F1's history to move there and call Monaco home during their racing careers.
F1 DRIVERS CALL MONACO HOME
Currently, there is about seventy percent of drivers who drive in F1 in 2021 call Monaco home. Drivers like Lewis Hamilton, Max Verstappen, Valterri Bottas, Daniel Ricciardo, Sergio Perez, and Lando Norris to name a few. Drivers seem to be attracted to the posh city because of its location is very centralized in Europe with easy access to tracks in the surrounding countries.
That's not all, the weather is consistently warm all year round and the social scene is incredible to say the least especially if you love yacht parties and casinos. Monaco is also very secure and boasts twenty-four CCTV cameras placed all over the city ensuring that the numerous wealthy elites are well protected.
Ultimately many F1 drivers will avoid accrediting the biggest driving factor in their move away from their home country to Monaco is simply taxes. Monaco is a tax haven, meaning there are no personal income taxes, which allows F1 drivers to keep their entire earnings without losing a dime. The cost of living in Monaco is naturally higher but F1 drivers still benefit tremendously from tax-free Monaco.
FUTURE MONEGASQUE DRIVERS?
Perhaps in the future due to all these F1 drivers living in Monaco will help produce more drivers from the city-state but until then all hopes lie on Charles Leclerc to become the first Monegasque Formula 1 Drivers Champion. Here are some quick biographies of Monaco's F1 drivers throughout F1 history.
CHARLES LECLERC
Charles Marc Herve Perceval Leclerc, who was born on October 16th in 1997 in Monte Carlo, Monaco, currently drives for La Scuderia Ferrari in the 2021 season. It would seem that Charles was born to become an F1 driver. His family made their wealth owning an automobile parts company and Leclerc's father Herve was also a Formula driver in his younger days.
Herve Leclerc eventually died young at the age of 54 in 2017. Leclerc's godfather was former F1 driver Jules Bianchi who served as a mentor to Charles up until his untimely death in 2015 due to an accident he had at the Japanese Grand Prix in 2014. Charles' two greatest mentors may have passed but Charles always brings them up in interviews never forgetting the roles they played in getting him to Formula 1.
BORN TO WIN
At eight years old, Charles won his first Karting Championship in neighboring France. Charles kept winning titles as he grew up moving up through the ranks of Karting up until the age of sixteen.
As a teenager, Leclcrec did not get distracted by his youth and continued to press forward to his ultimate goal of joining F1. In 2014 he finished runner competing for his first driver's championship in a single-seater driving in the Formula Renault 2.0 Alps Championship series. He managed to score seven podiums and won twice at Monza, assuring him of the Junior Championship, an impressive start for the young teen.
Leclerc's success granted him a seat in the European Formula 3 Championship in 2015 and 2016. Charles continued to secure pole positions and win races throughout his F3 run, despite his solid performances he could not manage to win a championship. In 2016, Charles changed his luck, winning the GP3 Drivers Championship with three wins and a total of eight podiums.
ONE STEP CLOSER WHILE TURNING HEADS
There would be no stopping Charles from his ascension when in 2017 he joined Prema Racing in Formula 2. Subsequently, Charles was already signed to Ferrari's Driver Academy and was used as a development driver for Ferrari and Haas granting him access to F1 cars. When Charles wasn't testing F1 cars he was on his way to winning the Formula 2 drivers championship in 2017.
In his head-turning season, he grabbed the attention of not only F1 teams but also F1 drivers like Lewis Hamilton and Sebastien Vettel who concurred that Charles was more than just a prospect but the real deal. During his F2 Championship run, Charles won seven races, adding three other podiums to clinch his championship. He won the last race of his short-lived F2 career in Abu Dhabi.
FORMULA 1 MAKES THE CALL
In 2018 Charles finally reached his goal of making Formula 1 but that only meant his next goal would be to win a driver's championship. Leclerc drove with Alfa-Romeo Sauber in his debut season and after twenty years Monaco could claim to have one of their own representing their country in F1.
Charles scored his first points in Formula finishing in sixth place at the Azerbaijan Grand Prix and managed to score a total of thirty-nine points by season end. Charles proved to be the better driver at Alpha Romeo, outperforming his teammate Marcus Ericsson in every race.
CHARLES JOINS LA SCUDERIA
In 2019 Ferrari decided to cash in on their young prospect bringing Charles to la Scuderia to drive alongside Sebastien Vettel. Charles had the unenviable task of replacing the last world champion for Ferrari Kimi Raikkonen. In his very first race with the Italian team, Leclerc already improved his best race finish earning a fifth-place spot at the Australian Grand Prix. Charles proved his talent by becoming Ferrari's youngest pole-sitter at the Bahrain Grand Prix where eventually suffered engine issues during the race causing the young Leclerc to finish third. It was his first podium in Formula 1 and Monaco's first podium since Louis Chiron in 1950.
GETTING THAT FIRST WIN
Charles continued his impressive run in 2019, improving his best finish to date in Austria completing the race in second place. Leclerc took the highest spot on the podium for the first time at the Belgian Grand Prix, making him the first driver from Monaco to win an F1 race. His win in Belgium also meant he was now the youngest driver to win a race for Ferrari.
ITALY SMILES ON A MONEGASQUE
Charles followed his first win with a second win the following race at the Italian Grand Prix in Monza. Charles gave the ecstatic Italian home crowd a much-needed win for Ferrari on home soil, snapping an eight-year drought. Charles continued to grab pole positions and podium finishes, his last one at the Abu Dhabi GP in third.
Leclerc finished the season with the most pole positions with seven, ten podium finishes beating his former world champion teammate Vettel in the driver standings. Charles finished in fourth place with 264 points, which certainly made Ferrari and their fans hopeful of a championship run in the near future.
A DIFFICULT YEAR
In 2020 Leclerc started the season on the right foot finishing in second place at the Austrian GP only to struggle the next two races retiring from the Styrian Gp and finishing out of the points in Hungary. The British Grand Prix was the last time Leclerc made the podium in 2020, finishing in third place.
Ferrari's performance dropped off from the previous year and their team principal Mattia Binotto announced that fans would need to be patient as the Scuderia redeveloped their cars. This did not bode well for Leclerc who could not repeat his stellar performance from the year before. He finished eighth in the driver's standings with ninety-eight points.
STEADILY IMPROVING
In the current 2021 season, Ferrari's struggles persist but that has not slowed down Leclerc completely. Although the team is not competing for the drivers or constructors championships with Red Bull and Mercedes they are fighting Mclaren to be the next best team.
Charles has finished nearly all his races in the points, finishing in fourth place six times, and had his point performance at the British Grand Prix, finishing on the podium in second place. Heading into the last races of the year, Charles sits in sixth place with 152 points.
Ferrari continues to improve every race and Charles who is only twenty-four years hopes next season will be his and Ferrari's renaissance.
F1 STATS
RACED FROM: 2018-CURRENT SEASON
TEAMS: ALFA ROMEO-SAUBER, FERRARI
RACES: 79
CHAMPIONSHIPS: 0
WINS: 2
PODIUMS:13
TOTAL POINTS: 553
POLE POSITIONS:9
FASTEST LAPS: 4
LOUIS CHIRON
Louis Alexandre Chiron was born on August 3rd,1899 in Monte Carlo and was the first Formula 1 driver to have hailed from Monaco. He is also the oldest driver to ever complete an F1 race at the age of fifty-five. Louis Chiron began racing way before Formula 1 was even conceived driving in Grand Prix Races after World War 1 as a teenager.
He won his first race in 1926 in France at a small local race in Toulouse. His success continued during the end of the decade winning the Italian, Spanish, German, and Marne Grand Prix.
WINNING BEFORE WW2
Chiron did not only drive in Europe as he made the trip across the Atlantic ocean to compete in the Indy 500 in 1929 where he finished in seventh place. He returned to Europe and competed in the European Grand Prix circuit and the 24 Hours of Le Mans driving Bugatti's and Alfa Romeos. Much of Chiron's success came in the thirties starting with a big win at the Belgian Grand Prix in 1930.
In 1931 Chiron won the Monaco Grand Prix becoming the first and only driver from Monaco to win the race. He won his second race of the season at the Czcheckloslovakian Grand Prix. In 1932 Chiron won another two races repeating his Czeck performance and winning in France.
In 1933 Louis won a total of three races, improving on his personal best of two from the previous two years. He also added a win in Belgium's Spa 24 hours challenge. Before WW2 took hold of all of Europe, halting racing for nearly a decade, Louis managed to win another three races. Louis Chiron retired from racing in 1938 but after the war, he made his return to racing in 1947 adding another two wins in two French GPs (1947, 1949).
AFTER THE WAR THE AGELESS WONDER MAKES HISTORY
In 1948 he delighted his home crowd in Monaco finishing in second place. In 1950 the Formula 1 Championship officially began and despite Louis' age he continued racing at the age of 51 years old he became the oldest driver to finish on the podium in third place at the Monaco Grand Prix.
It was a true testament to his love of racing and incredible ability to endure the physical stress racing forces on the body. His podium finish ultimately gave him the only points he ever scored in F1 with four. Chiron continued to drive in Formula 1 until 1958.
Chiron holds the record for the oldest driver to participate in F1 at the age of 58. Chiron has been honored at the Monaco circuit naming the Swimming Pool Corner after him. Bugatti also used Chiron's name naming their 2016 streetcar the Bugatti Chiron. Chiron is Bugatti's most successful driver and one can wonder how much success he would have had in Formula 1 if he was a younger man.
F1 STATS
RACED FROM: 1950-1951, 1953, 1955-1956, 1958
TEAMS: MASERATI, ECURIE ROSIER, LANCIA, SCUDERIA CENTRO SUD
RACES: 19
CHAMPIONSHIPS:0
WINS: 0
PODIUMS:1
TOTAL POINTS: 4
POLE POSITIONS:0
FASTEST LAPS: 0
ANDRE TESTUT
Andre Testut, who was born on April 13th, 1926 in Lyon, France, became a citizen of Monaco shortly thereafter. Information about Andre's early life is very hard to come by but what is known is that he began racing in his twenties, possibly at the age of twenty-two.
Testut drove alongside the now legendary Monegasque Louis Chiron during the fifties and had some relative success driving in the European Roadster series finishing in second place at the Course de Cote de Vuillafans-Echevanne and third at the Coupe d'Automne.
Chiron and Testut formed Monte Carlo AutoSport in 1957. Testut continued to impress his fellow countryman with wins during that season that also prompted some attention from F1's Maserati's brother.
JUST A COUPLE OF SHOTS
Unfortunately for Testut, his talent was never exploited in Formula 1. Andre attempted only to qualify for two races in two years at the Formula 1 level. Both races were at Monaco Grand Prix and for both races, he failed to qualify for the starting grid. Formula 1 racing was not the proper fit for Testut who abandoned F1 to continue competing in sports car racing where he competed and excelled in most of his races.
F1 STATS
RACED FROM: 1958-1959
TEAMS: MASERATI(PRIVATELY OWNED)
RACES: 2
CHAMPIONSHIPS:0
WINS: 0
PODIUMS:0
TOTAL POINTS: 0
POLE POSITIONS:0
FASTEST LAPS: 0
OLIVIER BERETTA
Olivier Beretta, who was born on November 23rd, 1969 in Monte Carlo, competed in only one Formula 1 season in 1994. Beretta, like Testut before him, had a much better career racing outside of F1.
Racing in Formula 3000 Beretta managed to win one race in his two-year run in the series at Donington Park in England in 1993. In 1994 Beretta joined F1 driving for the team Tourtel Larousse. Beretta struggled from the start of the season, retiring from the first three races of his F1 career. Oliviers best finish in F1 came at the Monaco Grand Prix where he finished in eighth place.
LE MANS AND ENDURANCE RACING
His season in F1 was cut short when his team ran out of sponsorship money and withdrew after the first ten races, abandoning the six races left on the schedule. This was the end of Beretta's F1 career but would not be the end of his racing days.
Berretta continued to drive in the 24 Hours of Lemans from 1995 to 2019. During that span, Beretta won numerous races in his driver's class. He won 6 races and finished on the podium another four times, which is way better than his stifled F1 stint. Beretta also competed in the FIA Endurance Championship from 2012 to 2020 with limited success.
F1 STATS
RACED FROM: 1994
TEAMS: LARROUSSE
RACES: 10
CHAMPIONSHIPS:0
WINS: 0
PODIUMS:0
TOTAL POINTS:0
POLE POSITIONS:0
FASTEST LAPS: 0
UP AND COMERS
ARTHUR LECLERC
Arthur Leclerc, who was born on October 14th, 2000 in Monte Carlo, is currently competing in the 2021 Formula 3 driving with Prema Racing. Arthur Leclerc is the younger brother of Ferrari's Charles Leclerc proving racing is certainly in the family's genes.
Like his older brother, Arthur won his first championship in karting at the age of fourteen in 2014. Arthur got his first taste of single-seater racing working as a development driver for Venturi in Formula E and the French F4 Championship Series 2017-2018. He won two races with a total of eight podiums, landing him fifth for the F4 driver's title.
HIGH HOPES
In 2019 continued to learn and move through the ranks moving to the ADAC Formula 4 Championship series where he continued to impress and finished third overall by the end of the season. In 2020 Leclerc joined the Prema Powerteam in the Formula Regional European Championship and had himself a great year.
Winning six races and making the podium fifteen times in twenty-three races left him as runner up for the driver's title by sixteen points. Like his older brother, Arthur keeps making leaps forward due to his obvious skill and in 2021 he joined Formula 3 driving for Prema Racing and entered Ferrari's Driver Academy.
GETTING CLOSER TO HIS BROTHER
In 2021 he managed to win three races alongside numerous podium finishes netting him seventy-nine points and a tenth place finish in the driver's rankings. Not bad for a twenty-one-year-old who still has plenty of room to grow and flourish in motorsport.
Can the young Monegasque make the jump to F2? Will we have both brothers one day driving for Ferrari in Formula 1 together? Only time will tell but there is nothing but positive signs that Arthur Leclerc will be the fifth driver from Monaco in Formula 1.
F3 STATS
RACED FROM: 2021
TEAMS: PREMA RACING
RACES: 20
CHAMPIONSHIPS: 0
WINS: 2
PODIUMS: 3
TOTAL POINTS: 79
POLE POSITIONS:1
FASTEST LAPS: 2