History of the Italian Grand Prix in Formula 1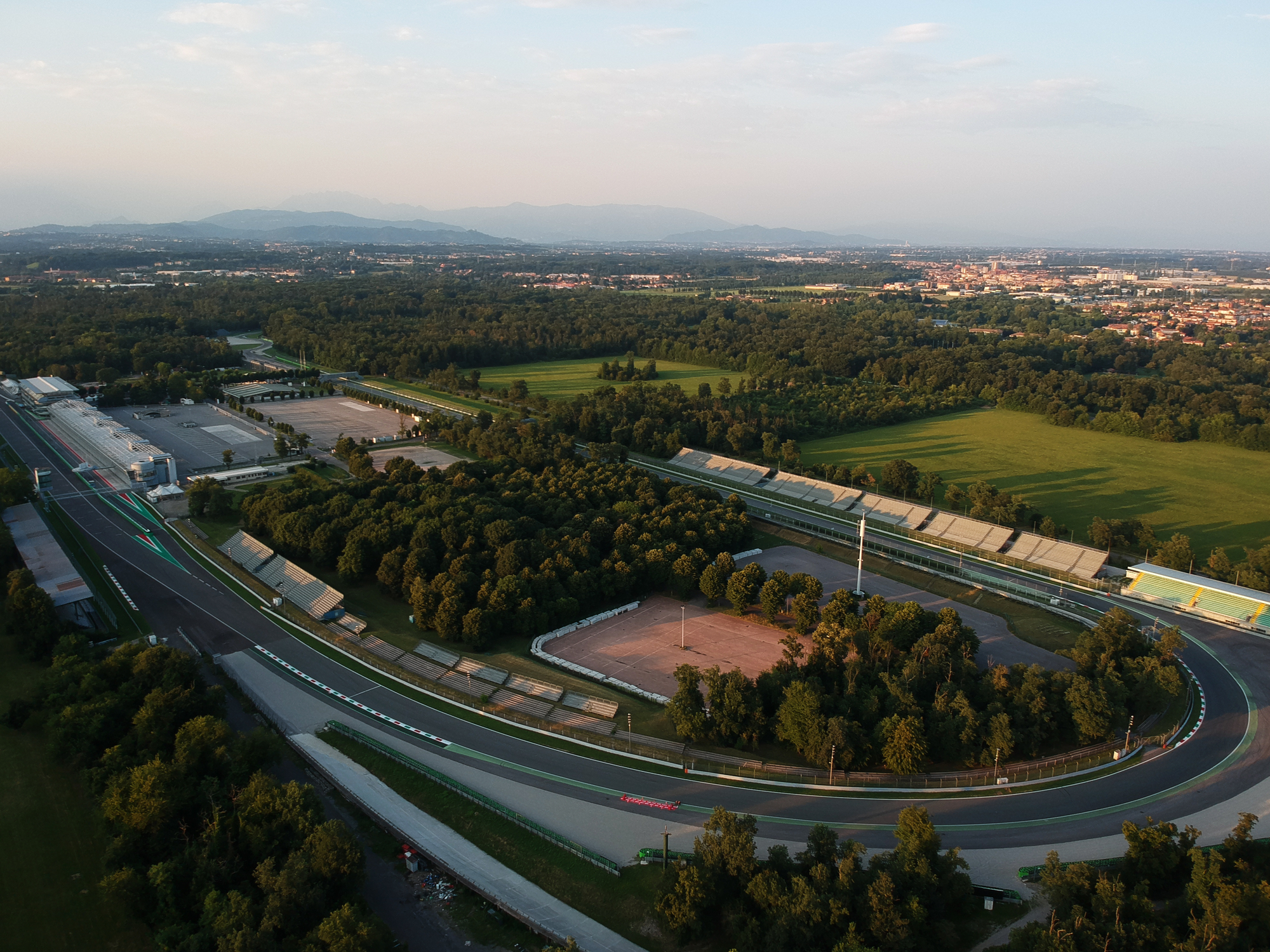 TABLE OF CONTENTS
Autodromo Nazionale di Monza
The Italian Grand Prix has called the Autodromo Nazionale di Monza it's home since 1950 in Formula 1. Monza is located in the province of Lombardy and is a quick fifteen-minute train ride or thirty-five-minute drive from the city of Milan.
The Autodromo is one of the oldest racetracks in the world and certainly held races on the infamous circuit before the Formula 1 Championship existed. Monza will be one hundred years old in 2022 and its history is deep with tragedy and glory.
BEFORE F1
In its first race in 1922, Fiat and Pietro Bordino would win after eighty laps in under a long 6 hours of racing. Monza's track was a combination of a road circuit and flat banked straights and corners. The course was notoriously fast, which in contemporary times would have the Autodromo nick-named the Temple of Speed.
DISASTER AT MONZA
The fast speed combined with the banking straights and corners would prove to be a deadly combination, especially in 1928. During the 1928 Italian Grand Prix more than twenty-five spectators would die when Emilio Materrassi who was battling for position lost control of his race car at 200km/h(125mph) and flew off the banking directly into the unprotected grandstand nearby. Materassi would die as well making this accident one of the worst in history. The race would go on hiatus for three years, returning in 1932.
The events of 1928 would not be the only tragic event to occur at Monza. in 1933 a race dubbed the "Black Day of Monza" would have three drivers die in an unpleasant fashion. Carlo Felice Rossi would be crushed to death pinned beneath his race car after tumbling multiple times. Baconin Borzacchini who was following Rossi attempted to dodge the chaos in front of him only to lose control of his car and flew off one of the bankings into trees snapping his neck upon impact. The third fatality was no less pleasant when Stanislas Czajkowski's engine blew spraying gasoline all over the driver, which in turn caught fire burning him to death. A nightmare weekend in racing would begin changing the racetrack and the demand for more safety precautions.
RACING STOPS
Monza would continue to hold races until 1939 and was forced to stop due to World War 2 gripping the entire planet let alone Europe. In 1947 racing would return to Italy but not in Monza for two years in Portello 1947 and Valentino Park 1948. Monza in 1949 would return to racing ready to usher in the Formula 1 championship the following year.
FORMULA 1 OFFICIALLY BEGINS
1950'S
ALFA ROMEO WINS
The Formula 1 Championship officially began in 1950 and Monza would have Italian Giuseppe "Nino" Farina of Alfa Romeo winning the first official Formula 1 race in Italy and at the same time winning the Drivers championship. That would be the first and last time an Italian can claim both types of victories on home soil.
FERRARI'S REIGN
Alberto Ascari driving in an Alfa Romeo would not only win the Italian Grand Prix for the next two years in a row, but he would also win the Drivers Championships as well. Most notably in 1952 when Ascari completely smashed his competition-winning seven of the seven races in the championship.
FANGIO'S LOVE FOR ITALY
Argentinean Juan Manuel Fangio, a legend in his own right, would taste success on the infamous track in 1953 driving a Maserati. Fangio would continue his winning ways in Italy, winning in 1954 and 1955. Throughout this time, the Autodromo would continue to evolve its surrounding infrastructure, including new facilities around the track. Organizers would always convert one of the long flat curves into a long banking one.
BRITAIN TAKES MORE THAN A BITE
Monza would experience another three-peat of wins with Britain's Stirling Moss taking the chequered flags in 1956,1957 and 1958. The 1956 GP would be no stranger to controversy when Fangio driving for Ferrari needed his teammate's race car after his own Ferrari's steering column had snapped. Fangio, using his teammate's car, would finish in second place, securing his fourth Driving championship in Formula 1.
1960'S
RACING NIGHTMARE
Tragedy would return to Monza in 1961 when Wolfgang Von Trips flew off a banking into the grandstands. Wolfgang and fourteen fans would lose their lives in that crash. Jim Clark, who was involved in the crash, had to face scrutiny from the Italian police who considered Clark to be at fault for the deadly crash. Finally, the banking would never be used again, which shortened the full length of the track to 5.75km.
OLD SCHOOL LEGENDS
In 1965 fans would witness a truly historic battle between Jim Clark, Jackie Stewart, Graham Hill, and John Surtees who would trade the lead of the race a record forty times throughout the race. Graham Hill driving for British Racing Motors would claim his first victory in his Formula 1 career.
THE LAST TIME
Ludovico Scarfiotti, driving for Ferrari in 1966, could lay claim to being the last Italian Driver while driving for an Italian team to win on home turf.
1970'S
During the seventies, Monza would add more chicanes to the racetrack to help create more action for the fans other than watching drivers slipstream past each other on the long straights of the Autodromo.
A MELANCHOLY VICTORY
Despite these changes, another death would occur on the fabled track in 1970. Lotus driver Jochen Rindt crashed during practice, taking his life. Clay Regazzoni of Switzerland driving in a Ferrari would win the race which is probably the quietest celebration due to the death of Rindt.
Most notably Jochen Rindt despite his death would be crowned the Driver's Championship due to his five previous wins on other tracks. He is the only driver to win the title posthumously.
VICTORY BY A NOSE
In 1971 Formula 1 fans would have to watch on the edge of their seats to see who would win this infamous race. Britain's Peter Gethin would net his only formula victory over Ronnie Peterson, beating him by less than a nose at the finish line. Only 0.6 seconds separated the two drivers, making it the closest and one of the most thrilling ends to a race in history.
ANOTHER CHAMPION DIES
Ronnie Peterson of Sweden certainly tasted success in Italy, winning the race four times over his career. Sadly, the Italian Grand Prix would ultimately take his life after the start of the race in 1978. After the start of the race there was a multi-car pile-up that left Ronnie in his burning Lotus but would be saved with the help of James Hunt, Clay Regazzoni and Patrick Depailler dragging him out of the wreck. Unfortunately, Peterson would die in hospital due to an embolism in his leg the forthcoming day.
FERRARI REIGNS SUPREME
Ferrari would add yet another bookmark to an illustrious history book when in 1979 the Scuderia would take the Italian Grand Prix, claiming the top of the podium and second place. Jody Scheckter of South Africa would win Ferrari's 300th formula 1 race followed by Canada's Gilles Villeneuve in second. Scheckter would also clinch the Drivers and Constructors championship at the same time. Italians and Ferrari fans would be celebrating for days afterward. It would be the twelfth and last time the Italian Grand Prix would decide who would win the driver's championship.
1980'S
MONZA TAKES A YEAR OFF
In 1980 the Italian Grand Prix would be moved to Imola due to the Autodromo getting a major face-lift. Monza would revamp and construct an entirely new pit area and building for the track. The race would return in 1981 and despite Monza retaining the title of hosting the Italian Grand Prix, Imola would remain in Formula 1's calendar under the moniker of the Grand Prix of San Marino until 2006.
MONZA RETURNS IN STYLE
Throughout the eighty's fans of Formula 1 at the Italian Grand Prix would be spoiled with great performances and wins by Alain Prost who took the chequered flag in 1981, 1985, and 1989. Niki Lauda would win one of his own in 1984 driving for McLaren. Nelson Piquet of Brazil would win three races, the first in 1983 driving for BMW and netting the other two wins for Williams in 1986 and 1987.
A LEGENDARY SEND-OFF
Enzo Ferrari is a name synonymous with racing, let alone Ferrari. In 1988 Italy and fans around the world would mourn the death of the founding father of La Scuderia Ferrari. The legendary founder would be celebrated in style and passion at the Italian Grand Prix that year when Germany's Gerhard Berger would win the Italian Grand Prix for Ferrari. A whole nation would rejoice, and Enzo Ferrari would surely be smiling from up above. Amazingly that would be the only race McLaren would not win that year in Formula 1.
1990'S
LEGENDARY WINNERS
The nineties would also have amazing performances at the Temple of speed with a multitude of wins from legendary drivers of Formula 1. Brazil's Ayrton Senna would snag two victories with McLaren-Honda in 1990 and 1992. Britain's Nigel Mansel in a Williams-Renault would score a win in 1991 as well. Not to be outdone by his fellow countrymen, Damon Hill won two of his wins in 1993 and 1994.
F1 MOURNS AGAIN
Ayrton Senna would die in Imola in 1994 which sent reverberations across the world and Monza would alter its track in response to the tragedy. Monza created wider run-offs, so formula 1 cars avoid impact when losing control of their cars.
FERRARI SMILES AGAIN
When Michael Schumacher joined Ferrari in 1996, he would face the tremendous task of returning the prancing horse back to the glory of the days of old. Ferrari had not won a driver's championship since 1979 and a constructor's title since 1983. Schumacher would ultimately turn the tide for the struggling team for years to come.
During his first year, he would make Ferrari's Tifosi(fans) roar when he would win the Italian Grand Prix by a whopping twenty seconds over his closest competitor. Schumacher would win once again in Italy in 1998.
Schumacher would elevate Ferrari back to glory starting an amazing five-year string of Drivers and Constructors championships starting in the year 2000. Throughout his reign, Schumacher and Ferrari would win the Italian Grand Prix three times; 2000,2003, and 2006.
2000'S
THEY CALL IT THE TEMPLE OF SPEED FOR A REASON
Schumacher's victory in 2003 was remarkable due to his Ferrari maintaining the highest average speed in F1 history driving at 247.585km/h(153.842mph) throughout the whole race! Consequently, this would mean Schumacher would complete the race in 1 hour and 14 minutes, breaking another record for the fastest completion of an entire race.
SOUTH AMERICAN PRIDE
During this decade Brazil's Ruben Barrichello would also drink the champagne on top of the podium three times, twice with Ferrari in 2002, 2004, and once with Brawn-Mercedes in 2009. South America would continue its winning ways in Italy with Colombia's Juan Pablo Montoya's pair of wins for Williams-BMW in 2005 and McLaren Mercedes in 2005.
A YOUNG GERMAN DRIVES AN ITALIAN CAR
In 2008 racing fans were shocked when rookie Sebastien Vettel won the Italian Grand Prix driving one of the smallest constructor teams, Toro Rosso-Ferrari. Vettel at the time was the youngest driver to achieve pole position and a race victory at the tender age of 21 years and 74 days. Despite the rainy conditions, the young German would win at Monza, giving Toro-Rosso its only win over its entire history including its time as Minardi.
2010's
VETTEL WINS AGAIN
During the hybrid era, the Italian Grand Prix would continue its long history of hosting multiple race winners. Sebastien Vettel, who moved on from Toro-Rosso to Red Bull would win another two races in 2011, and 2013 in Italy giving him three wins at the track during his amazing career.
HAMILTON BECOMES ITALIAN ROYALTY
Lewis Hamilton would make Britain proud, dominating the decade with five wins (2012,2014,2015,2017,2018) at Monza, one with McLaren-Mercedes and the latter with Mercedes. Lewis Hamilton would surpass Michael Schumacher during this time winning the Drivers Championships an incredible seven times.
LA SCUDERIA TASTES VICTORY
Ferrari's last victory in Monza was at the hands of Spain's former world champion Fernando Alonso in 2010 and the Tifosi would have to wait until 2019 to take the highest step again on the podium. Young Charles Leclerc of Monaco won the race facing stiff competition from Lewis Hamilton and Valtteri Bottas. It was a much-needed home team win needed for Ferrari's fledgling confidence.
GASLY'S SURPRISE
In 2020 Frances Pierre Gasly would help Alpha Tauri follow in the footsteps of Vettel and Toro Rosso when they shocked the racing world by winning the Italian Grand Prix. The race had numerous accidents, red flags and a restart making the race incredibly entertaining. The podium was shared by two other young drivers, Carlos Sainz in second and Lance Stroll in third.
2020'S
MAX AND LEWIS HAVE A LITTLE DANCE
This year's Italian Grand Prix would not fail to disappoint the fans who were now allowed to return to the grandstands. With regulations over the pandemic of Covid-19 relaxed, Monza felt alive again.
Monza always provides drama and there was no shortage of that, especially when Max Verstappen and Lewis Hamilton collided ending their race day short. Their controversial collision would be debated for weeks on social media.
Their crash opened the door for McLaren to win its first race since 2012 in brazil. Australia's Daniel Ricciardo and Britain's Lando Norris would finish 1-2 for McLaren with Valtteri Bottas in third for Mercedes. Bottas had a remarkable race climbing 16 spots after starting P19.
The Italian Grand Prix history is rich with glory and tragedy, making it one the most legendary tracks in history. To win in Italy is the dream of many drivers and fans can always be rest assured to be fully entertained every single year.