Formula 1's Italian Grand Prix Travel Guide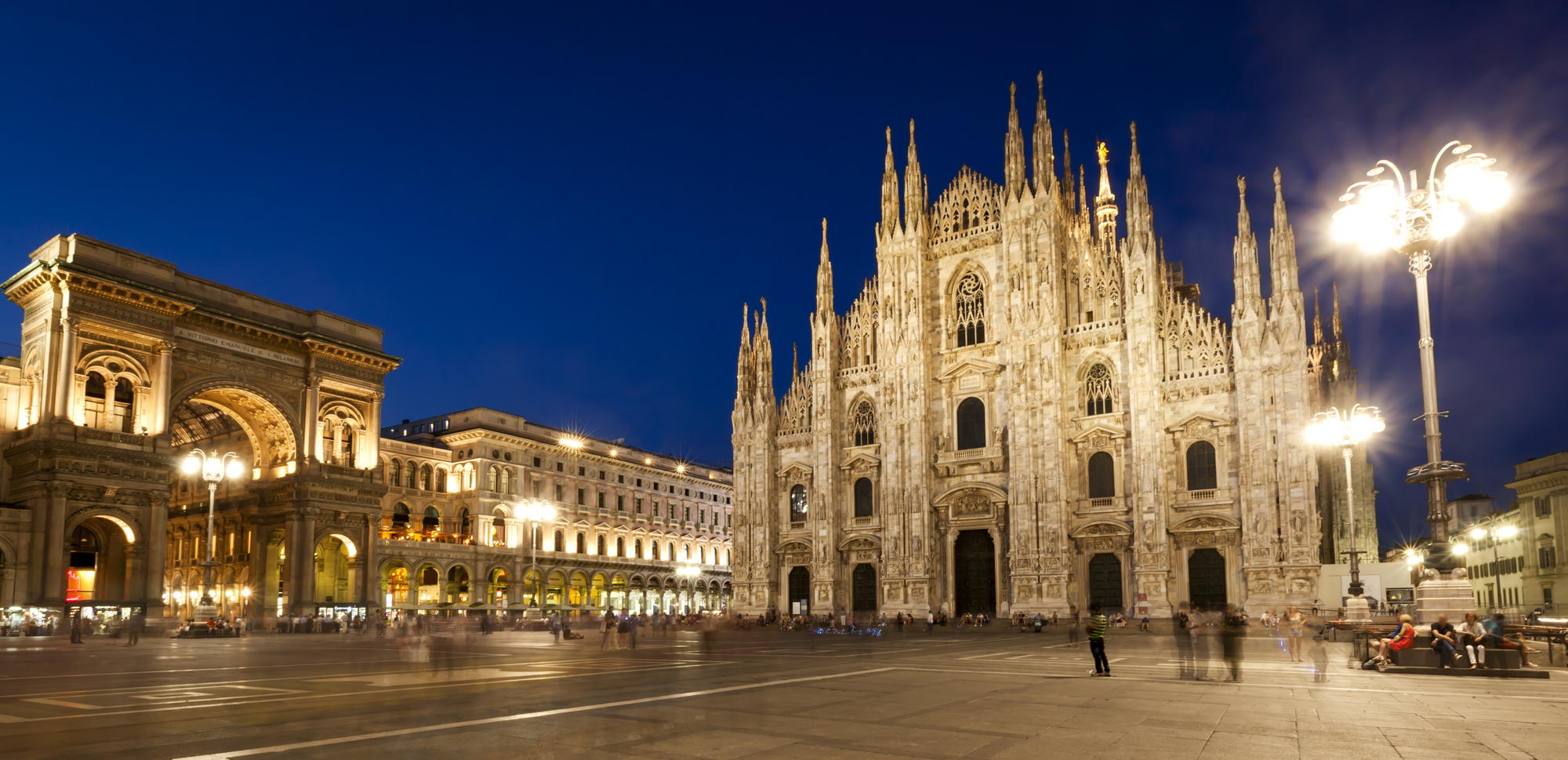 Formula 1's Italian Grand Prix brings you to one of the most iconic tracks in all of motorsport at the Autodromo Nazionale Monza. Also known as the Temple of Speed, it is one of the oldest circuits in Formula 1 history. Ferrari and their hordes of fans blanket the grandstands in seas of red and for F1 fans it is an experience to be had.
Traveling to Italy is always a good idea and adding a Grand Prix Experience to the trip just takes things to a new height. Monza is located in the Province of Lombardia in the north of Italy and is only 15km away from the iconic city of Milan. No matter where you ultimately choose to stay in and around the track you will have the best food and wine in the world.
PACKING YOUR BAGS
The Italian GP takes place in early September, which means summer's influence can still be felt with temperatures averaging anywhere between 25 degrees and 14 degrees. Autumn is knocking at the door so rainfall can occur so be sure to pack some rain gear just in case.
AIRPORTS AND TRANSPORTATION
The city of Monza is extremely accessible, especially by train which should be your primary mode of transportation. This accessibility allows you to visit nearby cities like Milan, Bergamo, and the gorgeous lake Como with ease.
Three airports are at your disposal and depending on where you are flying from will determine where you will land. Milan has two international airports, the Milano Linate Airport and Milano Malpensa. Bergamo has one international airport where most European travelers will land at the Bergamo International Airport.
WHERE TO STAY
Due to Italy's efficient train system, finding a place to stay in and around Monza shouldn't split any hairs. You can choose to stay in one of the surrounding smaller villages or towns and still have an incredible weekend with decent travel time to the track.
Although a smaller town is a viable option, we strongly urge you to stay in the heart of all the action in Monza and Milan. Bergamo and Lake Como can also serve as great places to book your hotel or other accommodations and both have slightly longer train rides.
We can help you find the best hotels so you can have the best weekend possible by clicking here.
MONZA
Choosing to book your hotel in Monza seems like a no-brainer but the number of options is limited SO be prepared to pay higher rates during Grand Prix Weekend. Do not expect to book a room here on a last-minute whim but rather at least a year ahead of the race. Camping is also available trackside for those who love the great outdoors and the smell of burnt rubber.
MILAN
If it is your first time in Italy or you have never visited Milan, there is no better time to visit during the Italian GP. Milan is a large metropolis that is world-famous for its fashion, art, churches, and food. You simply cannot avoid going here.
Booking your hotel in Milan gives you not only easy access to Monza but also to any other major city in Italy. Finding a hotel near the Milano Centrale Train Station will make your commute to the track easier but not necessary.
Milan has an impressive subway system that interconnects the entire city, which means finding a hotel near any subway station is a smart move. Hotels come in all shapes and sizes that vary in price for anyone's budgetary needs.
BERGAMO
Bergamo is located north of Milan and offers beautiful accommodations at slightly lower prices. Travel time to Monza can take about an hour by train or car. Bergamo is split into two parts Citta Alta and Citta Bassa where you will find most hotels.
LAKE COMO
Lake Como is one of the largest lakes in the world and is home to numerous towns and villages that surround the massive body of water. The city of Como is also found North of Milan, which can be accessed by train in about 30 to 45 minutes.
Hotels are widely available and most offer incredible views of the surrounding Alps. Traveling to Monza by train can take about thirty minutes which makes staying in Como extremely viable.
WHERE TO EAT
No matter where you are staying for the race, finding amazing food will not be difficult at all. The challenge lies in which restaurants you will choose and sadly which restaurants you have to leave out for another trip.
Italian cuisine is world-famous and you will be spoiled with restaurants, Trattorias, paninoteca, pizzerias, osterias, and vineyards. I'm drooling just thinking about all the fresh and tasty ingredients you can delight your taste buds with. You might gain a little weight during your stay but luckily you don't have to fit into an F1 one car on race day.
Here are some of the best restaurants you should try during the Italian Grand Prix.
MONZA RESTAURANTS
MILAN RESTAURANTS
BERGAMO RESTAURANTS
LAKE COMO RESTAURANTS
NIGHTLIFE
Italians know how to enjoy the finer things in life and their nightlife is no exception, especially in Milan. Bars, Nightclubs, small cafes, and wine bars are never in short supply and after an exceptional meal grabbing a digestivo or two never hurt anyone.
Milan's nightlife will have the most options compared to the other cities we are covering especially in terms of nightclubs. In Monza, Como, and Bergamo you can find much smaller venues that are entertaining, nonetheless.
Here are some of the best bars and nightclubs to checkout.
MONZA NIGHTCLUBS AND BARS
MILAN NIGHTCLUBS AND BARS
BERGAMO NIGHTCLUBS AND BARS
LAKE COMO NIGHTCLUBS AND BARS
SIGHTSEEING
A great way to burn some of those extra calories you have consumed when you are away from the track is to go sightseeing. Each of the cities we are covering is distinct in its own way despite them all being relatively close to each other. From Milan's action-packed streets to Como's scenic views your senses will be stimulated to the fullest.
MONZA
The Italian Grand Prix is obviously the main attraction in Monza but away from the track things slow down and you can appreciate the beauty of the city. Monza is home to many palaces of former heads of state and you absolutely need to visit the Villa Reale which has stood for centuries.
WHEN ART AND ARCHITECTURE COLLIDE
The sheer size is astonishing and once inside you will be amazed by the intricate decorations and number of rooms to visit. Within the Villa Reale, multiple exhibits are presented that may or may not be related to the actual history of the palace.
Churches are always landmarks to visit in Italy but only a few can stand out like the Catedrale de Monza. This Cathedral looks like many other cathedrals on the inside but once inside you'll have to pick up your jaw off the floor. Every inch of the church has some form of art attached from beautiful frescoes to ornate pillars. You will have more than enough to keep your eyes busy.
MILAN
Milan is world-famous for a reason and its numerous landmarks that have stood the test of time are worth visiting. The most famous spot to visit is the incredible Il Duomo Cathedral which is found in the heart of the city.
Tours are available for both the exterior and interior of this massive church. The amount of sculpting and artwork to dissect is mind-boggling. Milan's medieval past still lingers and visiting the Sforzesco Castle, or the Galleria Vittorio Emmanuelle will make you feel like a renaissance man.
Football(soccer) fans are also in for a treat by taking a subway ride to the San Siro Stadium where AC Milan and Inter Milan call home. During the GP weekend, you might even be able to watch a game.
The stadium is also home to an impressive museum showcasing both teams' history and on off days you can even gain access to the team's locker room and step onto the field.
BERGAMO
Sightseeing in Bergamo will take you to the Citta Alta part of the city which is an old walled-off castle sitting on a mountain. Once you're up there you can enjoy the splendid views of Cite Bassa and walk around the medieval castle which is home to restaurants, shops, a university and more. If you are looking for the beautiful artwork, heading into any of the churches or basilicas is your best bet. Soccer fans can also enjoy watching Serie A's Atalanta at the Gewiss Stadium.
COMO
Sightseeing in Como is like walking into a living and breathing postcard. The surrounding alps and the beautiful lake always provide incredible photo opportunities. Taking a funicular up some of the mountains will lead you to some amazing observation points, don't look down if you're afraid of heights.
A BOAT EXPERIENCE LIKE NO OTHER
Taking a boat tour is always an option and there are sufficient cities and towns that border the lake to keep you well occupied. A small treasure to visit is the Villa del Balbianello which is only accessible by boat.
This magnificent villa was built in the late 1700s will leave you spellbound by the incredible history of the villa and its last owner, Guido Monzino. Monzino was a wealthy businessman who became a world explorer who traveled all around the world collecting artifacts. Monzino is the Italian Indian Jones!
THINGS TO CONSIDER
The currency used in Italy is the Euro.
Italian is the primary language used. English is mostly understood and spoken in tourist areas.
Type F power sockets are used in Italy so don't forget to pack your adaptors.
Travel Visas are not necessary to enter the country.
Always have some cash on you, especially at the Autodromo
Book your train tickets early and try to use the fast trains for faster commutes.
Be wary of pickpockets in heavily packed tourist areas
Avoid taking taxis and use public transport
Italy uses Central European time +2, North America (east coast) +6