Formula 1's Brazilian Grand Prix Travel Guide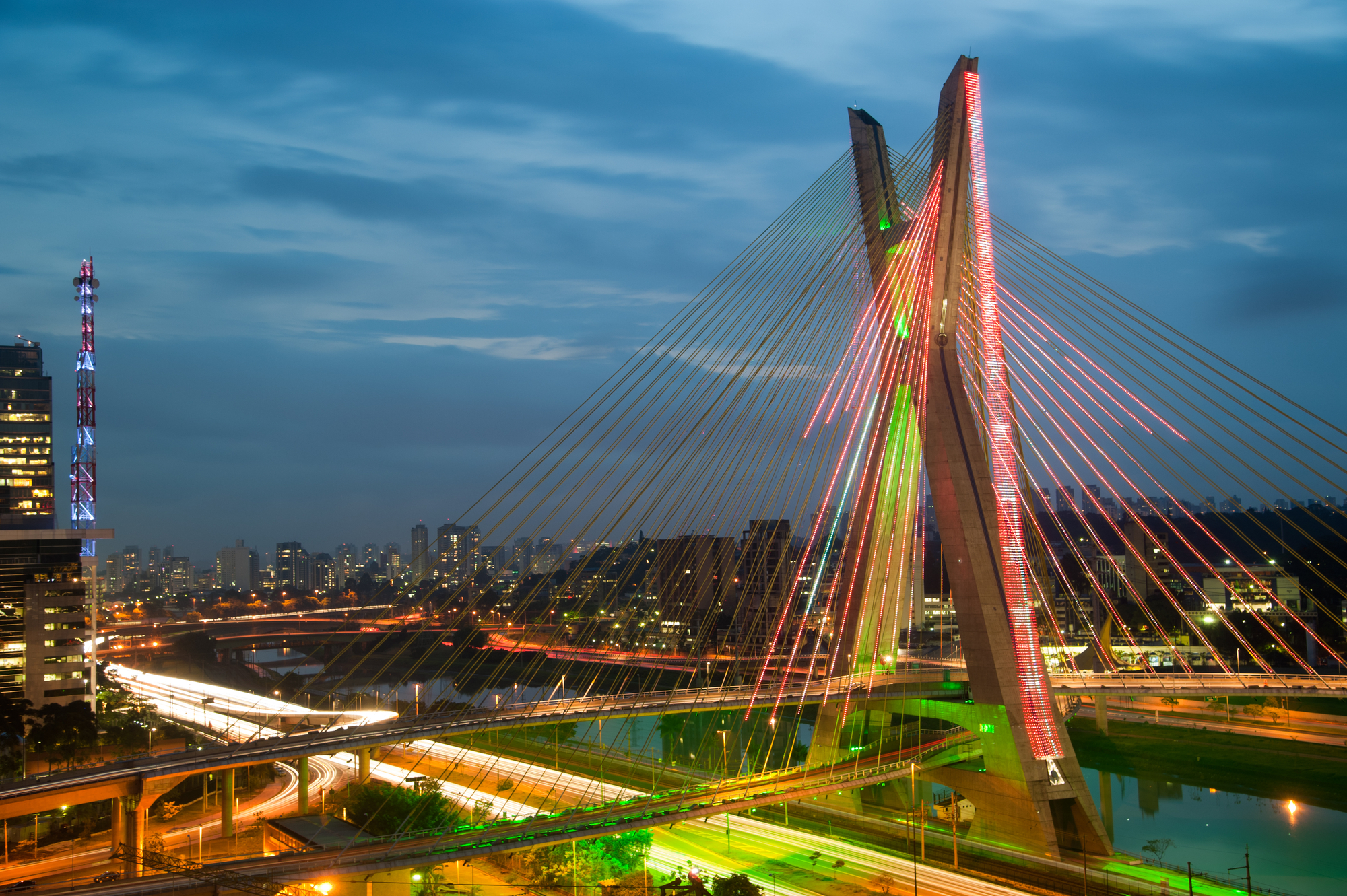 When Formula 1 fans imagine Brazil, they will instantly think of legendary driver Ayrton Senna and for good reason. Senna was one of the best F1 drivers in history but sadly lost his life at the Imola GP. Senna's hometown was Sao Paulo which is also the home of the Brazilian Grand Prix. Sao Paulo is one of the world's largest cities, has a population of 12.33 million people and countless tourists visit every year.
The race is held at the Autodromo Jose Carlos Pace otherwise known as "Interlagos" and is also the only F1 circuit used in South America. Interlagos has had some amazing moments in F1 history and most recently Lewis Hamilton's amazing weekend in 2021 that ended with a victory lap and the Brazilian flag being waved by the Brit in honor of Senna.
The Brazilian Grand Prix is a fan favorite and to watch it live is even better. Book you with us and you'll have the ultimate Grand Prix Experience. Here's a little travel guide to prepare you for the Brazilian GP.
PACKING YOUR BAGS
Preparing for your trek to Brazil is sure to be exciting and packing your luggage is a mundane but an important step, nonetheless. Sao Paulo is located in the South-Eastern part of Brazil and temperatures to no one's surprise are hot. The weather in Sao Paulo is deeply affected by the Sub Tropical Climate where it resides, so you can also expect humidity to be a steady companion throughout your trip.
A SWEATY RACE
Temperatures in November when the GP is held can hit up to twenty-seven degrees and hit lows just below twenty degrees. The probability of rain is extremely high and can offer some relief from the humidity. Packing your bags, you'll need plenty of light wear, comfortable shoes, and rain gear to keep you dry.
AIRPORTS AND TRANSPORTATION
Sao Paulo has three airports that surround the city, but you will only be landing one of them at the Guarulhos (GRU) International airport. Guarulhos receives all international flights and is one of the busiest and largest airports in South America. Once you land, be prepared to navigate through seas of voyagers as you attempt to clear customs and leave the airport.
GOING DOWNTOWN
Sao Paulo's city center is about twenty-six kilometers away from the airport but due to traffic, it can take you about forty to fifty minutes to get there by car. Traffic in Sao Paulo is notoriously heavy and chronic so please don't be afraid to add some leeway to your itineraries. You can avoid traffic altogether leaving the airport using the metro system, but you will not save anytime because it takes about an hour to reach the city.
TAKE THE METRO
In Sao Paulo, using the metro system is ideal because driving around the city is not only difficult because of the traffic but also due to the maze-like layout of the streets. In other words, don't rent a car and use taxis and Ubers whose drivers know their streets and will make moving around the chaos much easier.
GETTING TO THE TRACK
The Autodromo Jose Carlos Pace is located twenty-five kilometers south of Sao Paulo's downtown area and best accessed via metro. It will take about an hour by metro, but you will avoid the brutal traffic around the circuit during the GP. Use the Esmeralda line to reach the final station where the track is reachable by foot from there.
Taking a cab or Uber to the track will be more expensive than the subway and be prepared to get lost in some gridlocked traffic when you approach Interlagos. Plan ahead and leave a little earlier than you should so you don't have to stress about missing a thing at the track.
WHERE TO STAY
Sao Paulo is a very large city with a massive population and finding a place to stay won't be difficult but finding the right place to stay can be. Book with us and we'll save you the headaches and you can rest assured your hotel will be an exciting and safe part of the city.
The sheer size of the city has created countless neighborhoods but only a select few are worth booking your accommodations in. One thing is certain: you need to avoid the Favelas at all times.
CENTRO
The Centro neighborhood is where many first-time travelers end up because of its central location in the city and access to some of the busiest and liveliest streets in the city. Skyscrapers, Museums, and other architectural gems are commonplace. The Mercado Municipal de São Paulo is where you can find a ton of restaurants, bars, and shops to enjoy.
HIGIENOPOLIS
Considered being a higher-end part of the city, you will enjoy the leafy and more green streets that make up this area. If you are a foodie or simply enjoy amazing food, booking your hotel here is a good idea. Restaurants of every culinary background are available and not to mention a vibrant nightlife.
PAULISTA AVENUE
Paulista Avenue is one of Sao Paulo's longest and busiest streets which slices through the core of the city. Paulista Avenue gives access to amazing hotels, bars, and restaurants and not to mention easy access to all other landmarks. We recommend booking in this area during your grand Prix weekend.
OTHER AREAS
Other areas to consider are the Liberdade, Nacoes Unidas, and Vila Madalena which all offer a wide range of hotels with varying costs. All of these areas are interconnected by the metro system and the core of the city. You will never go hungry or get thirsty and you'll never be bored either.
WHERE TO EAT
Brazilians take pride in their food just as much as any European country and you will love some of the restaurants available in Sao Paulo. The classic Brazilian cuisine which you may have sampled back home is the churrascaria style cuisine.
Churrascaria is a meat lover's dream because you can eat as much as you possibly can. Waiters carry platters of different kinds of meat circling the tables offering to whoever wants to partake.
Everything is grilled to perfection and even their grilled pineapple for dessert is worth trying. Brazil is also known for the feijoada dish which varies in every region in Brazil and is certainly worth trying.
Here are some of the best restaurants to try in Sao Paulo.
SAO PAULO RESTAURANTS
NIGHTLIFE
The nightlife in Brazil and Sao Paulo will have you shaking your hips and feeling the sensuous Latin rhythm flowing through you in no time. Brazilians know how to party and celebrate life, even more so during Grand Prix weekend. Listening to great music and dancing the night away at any of the bars, nightclubs, and or brewpubs is bound to happen.
THERE WILL BE DANCING
You'll want to head over to the Baixo Augusta neighborhood where a high concentration of venues is available. Heading to the Jardins district will give the chance to party in more trendy and opulent clubs and bars.
In any case, no matter what neighborhood you are staying in, you will quickly understand why Sao Paulo is considered the nightlife capital of brazil.
Here are some of the best bars and nightclubs in Sao Paulo.
SAO PAULO BARS AND NIGHTCLUBS
SIGHTSEEING
After a wild night of dancing the Samba and afternoon at the track checking out some of Sao Paulo's most interesting landmarks is a great idea. You must accept the fact you won't be able to cover the entire city and all the cool little secrets it may hold but as a first-time traveler, you need to hit a couple of must-see spots.
It can be as simple as taking a long walk on Avenida Paulista and simply looking around you and up into the sky enjoying the architectural designs of their tallest skyscrapers. Football(soccer) fans know how important the sport is to Brazil and visit the Museo de Futebol where you can relive some of their greatest moments on the pitch.
The Theatro Municipal De São Paulo was built in the 1920s and is heavily influenced by European architecture, visually stunning, and worth a visit. Museum-lovers can enjoy the Museu de Lingua Portuguesa or the MASP (Museum Assis Chateaubriand) where you can learn more about Brazilian culture and art.
PAY HOMAGE TO ONE OF THE GREATS
F1 fans and especially Ayrton Senna fans can also pay their respects by visiting his grave which is open to the public at the Gethsemani Morumbi Cemetery. If you are looking for a more serene experience =you can always visit the insanely huge Ibirapuera Park and enjoy the greenery or visit one of the many museums on site.
Looking for some divine intervention for your favorite team and driver at the GP you could go pray or simply enjoy the Sao Paulo Cathedral, the largest church in the city.
THINGS TO CONSIDER
Travel VISAS are not necessary for visitors from most countries around the world
Portuguese is the language most often used in Brazil. English speakers are to come by outside of the service industry and popular tourist destinations.
TYPE N electrical sockets are used. European plugs that are Type C can be used otherwise make sure to bring a power adaptor.
The currency used is the Brazilian Real(R$) and credit cards are widely accepted. We recommend having some cash on just in case a venue does take plastic.
Sao Paulo's time zone is -3hours UTC/GMT
Avoid wearing too much jewelry or showing off anything fancy to avoid getting robbed.
Pickpockets and theft are prevalent, especially in the super busy tourist districts of the city. Stay on your guard and hold on to your purses.
Avoid the Favelas or any of the more run-down neighborhoods. Tourists are prime targets and stand out like sore thumbs in these areas.
The weather can change quickly so following forecasts can be tricky