Brazil's Formula 1 History of Race Tracks, Teams, and Drivers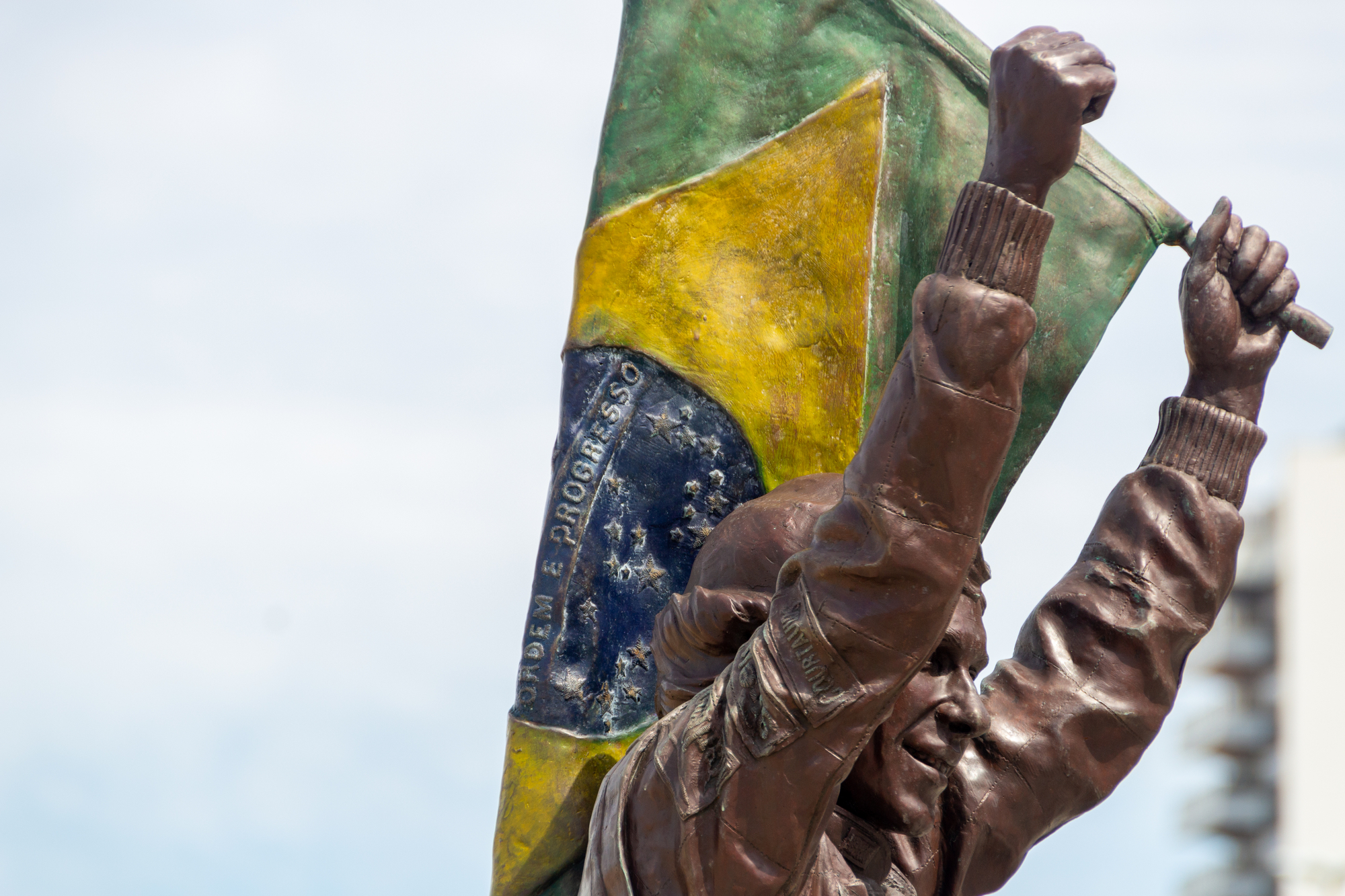 TABLE OF CONTENTS
Formula 1 and Brazil have created many amazing moments in history on the track and by their drivers. Brazil, the heart of South America, has a topography that combines the amazon jungle and beautiful coastlines of Rio into one giant country. Their culture is a passionate one that is put on full display every year at Carnivale. Brazil is also famous for producing the best soccer players in the world, like Pele, Ronaldo, Romario, Ronaldhino, Neymar, and on, and on the list can go.
Brazilians and Fans from all around the world also know that Brazil has offered racing aficionados some of the best Formula 1 drivers in the world too. Senna, Fittipaldi, and Piquet were all world champions who helped inspire drivers like Rubens Barrichello, Felipe Massa and countless others to pursue their F1 dreams.
BRAZILIAN F1 TRACKS
QUICK JUMP
AUTODROMO JOSE CARLOS PACE (INTERLAGOS)
BUILD IT AND THEY WILL RACE
The Autódromo José Carlos Pace was originally named Autodromo Interlagos. The name change occurred in honor of Brazilian F1 driver Jose Carlos Pace who died in a plane crash in 1997. The track is still commonly referred to as Interlagos and I will refer to it as such for the duration of this piece.
Interlagos, which means in between lakes, aptly describe where the circuit can be found. In the late 1930s construction began on the track and was finally completed in 1940 in Sao Paulo, in the borough of Interlagos. The circuit was built in between two large man-made lakes and resides in a heavily populated area of the city. The original track that was used from 1940 until 1978 had a length of 7.960km that incorporated 26 turns for 40 laps to achieve completion.
A UNIQUE BRAZILIAN EXPERIENCE
The fastest lap on this variation of the track is held by Frances Jean Pierre Jarrier driving his Shadow-Ford in 1975 with a time of 2:34.16. Interlagos was notorious for having rough bumpy surfaces, dangerous embankments, and ditches that would challenge and terrorize F1 drivers throughout the years.
This instability is the primary reason the race moved to Rio where conditions were somewhat better and safer for all those concerned. Interlagos is also one of the race tracks that run counterclockwise and has numerous hills, adding more challenging aspects for drivers to tackle.
F1 BEGINS
In 1973 Interlagos held its first official F1 Brazilian Grand Prix and to the delight of Brazil for the next three seasons had a Brazilian born winner on top of the podium. Emmerson Fittipaldi and Jose Carlos Pace were the drivers who helped create a passionate fan base for Formula 1 in their home country. South American compatriot driving for Ferrari, Argentine Carlos Reutemann, also tasted success in Brazil, winning the race three times.
INTERLAGOS FRUSTRATES F1
In 1978 it was the first time the race was moved to JAcerpagua in Rio because of poor track conditions. The race returned to Interlagos the following year only lasting in Sao Paulo for two more races. Drivers and Formula 1 officials were not satisfied with the level of renovations moving once again to Rio.
INTERLAGOS IS REBORN, AGAIN
In 1990, Brazilian race organizers spent over fifteen million dollars to revamp and modernize Interlagos. Ayrton Senna also played a role in paving the way for the return to Interlagos. By this point Senna had already reached god status in Brazil, being born in Sao Paula also served as an incentive to push organizers to allow a homecoming race for Senna's fans.
Their efforts would not be denied and Formula 1 moved the Grand Prix back to Rio. Interlagos underwent some major changes and the length of the track was reduced nearly in half. It was now 4.325km long with fifteen turns compared to the twenty-six turns on the old tracks. A shorter track also meant more laps which rose to 71 laps, Michael Schumacher has the fastest lap record with a time of 1:18.455 driving for Benetton in 1994.
SENNA WINS
Ayrton Senna had one of the most memorable races of his career in 1991, winning in front of his hometown crowd under the rain and difficult conditions. Senna delighted his fans two years later, winning again in 1992. Brazil would see seven different drivers hoisting the winner's trophy in the 90s, all of which became world Champions at one point in their careers like Nigel Mansel, Damon Hill, Michael Schumacher, Mika Hakkinen, Alain Prost, Jacques Villeneuve, and of course Ayrton Senna.
In 1997 Interlagos was once again shortened by a couple of hundred meters but not much else changed except for the fastest lap record on this layout being held by Canadian Jacques Villeneuve with a time of 1:18.397.
A CLEAN NEW LOOK
Despite the numerous facelifts the track still remained very bumpy well into the 2000s where again in 2007 the track had yet another renovation. This time the primary effort was on the track surface, finally, the entire asphalt was redone. The track was lengthened slightly and some turns were also altered in what would be the final and current form of the track in Sao Paulo. Valterri Bottas driving for Mercedes has the fastest lap on this variant with a time of 1:10.540.
Interlagos continued to shine bright lights on Brazilian drivers with Felipe Massa winning two races in 2008, Massa also stood on the podium numerous times in other races, continuing to inspire his fellow countrymen.
Interlagos was scheduled frequently as the last of the F1 season where many championships were ultimately decided. In the following decade, Interlagos continued to have incredible races on its track showcasing amazing performances by multi-winners at the track. Vettel and Hamilton won three times, and Rosberg and Verstappen won a pair each in Brazil.
This year's Brazilian Grand Prix proved yet again how Interlagos always provides thrilling entertainment with Lewis Hamilton charging through the pack to claim victory in honor of Ayrton Senna. Tickets are already on sale for the 2022 edition of the Brazilian Grand Prix.
AUTÓDROMO INTERNACIONAL NELSON PIQUET ( JACAREPAGUÁ)
RIO PROVIDES SOME RELIEF
The track Interlagos had an awful reputation due to terrible safety issues and the changing demographics of the population that lived near the track. Formula 1 wanted a new place to call home for the Brazilian Grand Prix and Rio de Janeiro would step up to the call. Rio, contrary to Sao Paulo, was less urbanized, attracted more tourists, and had stunning beaches too. Rio at the time felt like it would better reflect the F1 elite image.
Before Brazil's own world champion name was used to identify the track in Rio, it was originally known as the Jacarepagua. Like Interlagos the name described the area where the track was built, Jacarepagua translated means Shallow Pond. The reality of the land where the track was built was more like marshlands which began in 1971. The construction process of the track was slow and would only be ready for Formula 1 in 1978.
A SMOOTHER WET RIDE
The circuit incorporated eleven turns over a 5.031km of track. It also featured a long straight allowing F1 drivers to hit 300km/h (mph), unlike Interlagos with varying elevations, this course was mostly flat and less bumpy. Weather always played a factor in racing in Jacarepagua where you would expect to sweat it out in the tropical heat and humidity. The grandstands easily held up to ninety thousand Formula 1 fans. Italy's Ricardo Patrese driving in Williams-Renault has the fastest lap set in 1989 with a time of 1:32.507.
F1 BEGINS
In 1978 Rio got its first taste of Formula 1 while Interlagos was attempting to renovate its circuit to improve driving conditions. The first race in Jacarepagua featured a star-studded podium with Argentina Carlos Reutemann driving for Ferrari in first, Brazil's own Emerson Fittipaldi driving for Fittipaldi in second place, and Austria's Niki Lauda in third driving with Brabham.
A BRIEF SEPARATION
Rio had proved that it could host a Grand Prix in 1978 but F1 decided to return to Interlagos, which only lasted for two more years. Interlagos still suffered from many of the issues that had marred the track for years and F1 made a long-term switch to Jacarepagua.
In 1981 Formula 1 returned to Rio and remained there until 1989 hosting nine races. Carlos Reutemann won his third official Brazilian Grand Prix in 1981, making him one of the most successful in the country up to that time.
THEY CALL HIM THE KING OF RIO
Alain Prost won the following year but not without any controversy. Brazil's Nelson Piquet and Keke Rosberg finished 1-2 only to be disqualified for being underweight at the end of the race. Prost would go on to win another four races (1984,85,87,88) in Rio, giving him five total wins in Rio, he would win another GP in Interlagos in 1990, making it six total wins in Brazil. He is still the current holder of the most wins in the Brazilian Grand Prix.
PIQUET MAKES HIS MARK
Despite Prost's dominance in Brazil fans still got to relive great moments they experience in the early seventies at Interlagos. Nelson Piquet won two races during the Jacapergua era in 1983 and 1986. He also ensured the Brazilian flag was raised in 1987 when he finished in second place and in 1988 finishing third. Piquet received the highest honor immortalizing him by naming the track from Jacarepaguá to Autódromo Internacional Nelson Piquet. He had won three Drivers Championships and being from Rio as well, made the name change an easy decision in 1988.
Nigel Mansell and his V12 Ferrari was the winner of the Brazilian Grand Prix in Rio in 1989. Alain Prost finished in second place and Brazil yet again is someone to cheer for with Mauricio Gugelmin, a Brazilian native, finishing in third. Formula left Rio for Interlagos for the last time and has not returned since. The track was still used to host the CART series, the Rio de Janeiro Motorcycle Grand Prix, and Formula 3.
BRAZILIAN F1 TEAMS
FITTIPALDI AUTOMOTIVE
The Fittipaldi brothers always had a passion for building and racing cars that began in their teenage years. Emerson Fittipaldi and brother Wilson both drove in Formula 1, with brother Emerson winning two F1 drivers championships. In 1974 both brothers decided to step up their game and create the first and only Brazilian-based team in Formula 1 history. Wilson secured a sweet deal with a sugar and liquor key sponsor Copersucar to help fund the team.
THE STRUGGLE IS REAL
In its maiden year in 1975, success would not follow, failing to finish its first race and subsequently struggling to five races, never breaking the top ten. To the surprise of the F1 world, Emerson Fittipaldi joined his brother's team in 1976 knowing full well he could not compete for the driver's title.
Emerson went from world champ to scoring a meager three points with Fittipaldi. 1977 showed some improvement in the quality of the racecar and they experienced their best results finishing fourth in Argentina, Brazil, and the Netherlands.
HARD WORK ALWAYS PAYS OFF
The Fittipaldi brothers continued to work hard and in 1978 achieved their first podium finish to the delight of the home crowd at the Brazilian Grand Prix in second place. The team took a major setback in 1979, retiring from seven races and failing to qualify both cars in the last two races of the season. Both Keke Rosberg and Emerson Fittipaldi in 1980 would grab a third-place finish for themselves and did not produce more than that in the season. It was the last time Fittipaldi achieved a podium finish in F1.
THE WILL TO COMPETE IS NOT ENOUGH IN F1
Fittipaldi Automotive remained in Formula 1 until 1982, struggling the entire way to qualify or even score some points. It was inevitable for the team to fold. Fittipaldi Automotive was a great example of a family's passion for racing and sticking together despite their struggles. Emerson could have easily left the team at any point to join much stronger competitors who would be eager to exploit Emerson's incredible talent.
BRAZIL'S F1 DRIVERS
For many citizens in Brazil sports provide an escape from the difficult living standards. Soccer or Football if you're European, is the dominant and most popular sport in the country. Pele became a worldwide sensation helping Brazil win numerous World Cups.
Motor Racing isn't far behind in terms of popularity with Formula 1 gathering huge crowds to cheer on their local heroes. There have been 32 drivers representing Brazil in Formula and it is one of the most successful nations in F1, producing three World Champions. All three drivers have multiple championships; Ayrton Senna with three, Emmerson Fittipaldi, and Nelson Piquet with two.
There are no Brazilian drivers in the current F1 season, in fact, there hasn't been a driver from the country since 2018. Brazil since 1969 has always had at least one driver competing, perhaps Emersons Fittipaldi's grandchild Enzo can break the drought in the near future. Here is a look at the most notable F1 drivers from Brazil.
QUICK JUMP
FRANCISCO LANDI
THE FIRST TO SCORE
Francisco Sacco Landi who was born on July 14th, 1907 in Sao Paulo and was also known as Chico, is the first Brazilian to ever score points in Formula 1. Chico finished fourth place at the 1956 Argentine Grand Prix. He was also the first Brazilian to ever race in Formula 1 driving with Maserati. Chico had more success winning non-F1 races during the thirties and forties.
F1 STATS
RACED FROM: 1951-1953, 1956
TEAMS: MASERATI (PRIVATELY OWNED)
RACES: 6
CHAMPIONSHIPS:0
WINS: 0
PODIUMS:0(BEST FINISH 4TH)
TOTAL POINTS: 1.5
POLE POSITIONS: 0
EMERSON FITTIPALDI
Emerson Fittipaldi was born on December 12th, 1946 in Sao Paulo and is one the most versatile racing drivers Brazil has ever produced. Emerson was lucky to be born into a family that had racing as a priority. Emerson and his brother Wilson would share much of their racing careers growing together at multiple levels.
By the age of fourteen, Emerson enjoyed racing motorcycles and by the time he was twenty he won his first motorcar race at the Six Hours of Interlagos. He and his family made the move to Europe to further pursue their racing aspirations where Fittiopaldi began to win multiple races in Formula Ford, Formula 3, and Formula 2.
PROVING HIS WORTH
Emerson floated in between Formula 1 and Formula 2 from 1968 to 1970, turning heads in both divisions. While driving with Lotus in F1 the untimely death of Lotus' number one driver Jochen Rindt and John Miles leaving the team opened the door for the young Brazilian to take the lead role in the team. Emerson did not disappoint, winning his first race at the United States Grand Prix on his fourth drive with the team.
BRAZIL'S FIRST F1 CHAMP
In 1971 Emerson continued to hone his craft with Lotus reaching the podium times, twice in second and once in third place. Fittipaldi, in his third year in F1, reached the pinnacle of the sport at the age of 25, the youngest at the time to win the drivers championship. His five race wins and three podium finishes made him the first Brazilian to win the driver's title.
The following year, in 1973, Emerson finished second in the driver's championship losing out to Britain's Jackie Stewart. Despite the loss of the title, Emerson won the first official Brazilian Grand Prix in his hometown of Sao Paulo at Interlagos. In 1974 now driving for Mclaren repeated the Brazilian win to the delight of his fans. Brazil was his first victory of the season, leading to Fittipaldi being crowned F1's Drivers Champion for the second time in his career.
FAMILY FIRST
Emerson in 1975 was runner up once again for the driver's title losing to Austria's Nikki Lauda who won his first of three driver titles. Emerson made a drastic decision in 1976 leaving the powerhouse Mclaren for his brother Wilson's F1 team aptly named Fittipaldi Automotive. The gamble did not pay off and Emerson never won another race in Formula 1 for the rest of his career. His best finish with the team was in Brazil in 1978, crossing the finish line in second place. His only other podium finish was at the United States Grand Prix where he landed third in 1980. The 1980 season was his last in Formula 1.
MORE THAN AN F1 DRIVER
Although he left Formula 1, Emerson continued to race in the American Cart Series from 1984 to 1996. He continued to show off his driving abilities during his stay in the United States. Fittipaldi was crowned Champion which earned from his five race wins and multiple podium finishes in 1989 driving for team Patrick-Penske. Fittipaldi also won the legendary Indy 500 twice, once in 1989 and the other in 1993. Emerson was the inspiration of many great Brazilian drivers who wished to join him as being one of the F1 drivers of all time.
F1 STATS
RACED FROM: 1970-1980
TEAMS: LOTUS, MCLAREN, FITTIPALDI AUTOMOTIVE
RACES: 144
CHAMPIONSHIPS: 2
WINS: 14
PODIUMS:35
TOTAL POINTS: 281
POLE POSITIONS: 6
FASTEST LAPS: 6
CARLOS PACE
Jose Carlos Pace was born on the 6th of October 1944 in Sao Paulo whose career would span six years in Formula 1. Carlos began racing in Karting as a teenager alongside the Fittipaldi brothers. The trio evolved their racing careers together and all three moved to Europe to continue the process at one point or another. Pace made the move in 1970, joining the British Formula 3 series where he left his mark winning the Forward Thrust title.
A BRAZILIAN AND A BRIT DECIDE TO RACE TOGETHER
In 1971 Carlos began to work with Frank Williams in Formula 2 with no success only to make the jump up to Formula 1 with Williams in 1972. Pace scored his first points in Formula 1 at the Spanish Grand Prix finishing 6th. In 1973 Carlos joined Team Surtees where he struggled for most of the season not finishing races. Carlos managed the car's struggles to get his best finish to date and his first podium at the Austrian Grand Prix, finishing in third place. During the 1973 season, Carlos also moonlighted with Ferrari at the 24 Hours Of Lemans race where alongside teammate Arturo Merzario they finished in second place.
In 1974 Carlos and Team Surtees continued to struggle together, failing to complete half the races they competed in. Pace came close to a podium in Brazil finishing in 4th but that would be the best the team could muster. Carlos left Team Surtees with six races left in the season and the Brazilian's luck would turn as well. Joining Brabham, Carlos finished five out of those six races and managed to finish in second place at the American Grand Prix.
PACES MOMENT IN THE SUN
In 1975 still driving with Brabham, Carlos was able to wow his hometown of Sao Paulo at the Brazilian Grand Prix winning the race and sharing the podium with fellow Brazilian Emerson Fittipaldi who was in second place. It was Pace's first victory in Formula 1 and 1975 was his best season to date. He finished third in Monaco and grabbed silver at Silverstone in Britain. He scored twenty-four points in total which ranked Carlos 6th overall for the driver's title.
TRAGEDY AND HONOR
Carlos continued to drive for Brabham until 1977. He started the season well in Argentina, finishing in second place in what could have been an excellent season for him. Unfortunately, Carlo could not see the season through when he died in a plane crash on March 18th. He was only 32 years old. Interlagos honored the fallen driver, renaming the circuit Autodromo Jose Carlos Pace.
F1 STATS
RACED FROM: 1972-1977
TEAMS: WILLIAMS, SURTEES, BRABHAM
RACES: 72
CHAMPIONSHIPS:0
WINS: 1
PODIUMS:6
TOTAL POINTS: 58
POLE POSITIONS: 1
FASTEST LAPS: 5
NELSON PIQUET
Nelson Sautomaior was born on August 17th, 1952 in Rio de Janeiro and eventually became a three-time world driving champion in Formula 1. Nelson from an early age was pushed into the game of tennis by his parents. Nelson, on the other hand, had other plans and began racing in secret to avoid backlash from his parents. He even adopted the surname of his mother, which was Piquet, as a tactic to hide his true passion when enrolling in racing.
At the age of nineteen Piquet won the Brazilian National Karting Championship in 1971-1972. He continued to win in Formula Vee, winning another championship in 1976. Emerson Fittipaldi saw Nelson's potential and encouraged him to leave South America and head to Europe to continue his development. Fittipaldi's influence on Brazil's racing history is impressive and he has helped encourage many to pursue the sport.
In 1978 Piquet joined Formula three where he proved to be more than just a possibility but a force to be dealt with. In thirty-six races he won fifteen of them beating F1 great Jackie Stewart's record for most wins. He also made the podium twenty-four times and claimed thirteen pole positions too. He won the Formula Three championship in 1978 and in the same year he made the move to Formula 1.
PATIENCE IS A VIRTUE
In formula 1 Nelson had to face some immediate growing pains racing for three different teams late in the 1978 season. He began the season with Ensign at the German Grand Prix where he retired from the race. Nelson left Ensign and drove a privately owned Maclaren and in three races he retired in two of them and finished his first full Formula 1 race in ninth place at the Grand Prix of Italy. Piquet made his final move of the year to Brabham where team boss Bernie Ecclestone wanted the young prodigy to learn from Master Niki Lauda.
LEARNING FROM LAUDA
In 1979 Piquet participated in his first full season of F1 and continued to struggle, accumulating multiple retirements along the way before his best finish in fourth at the Grand Prix of Netherlands. In 1980 Niki Lauda retired from Formula 1 granting Nelson Piquet first seat at Brabham. Piquet worked hard with mechanics and engineers to improve his car and the fruits of their labor began to come to fruition in 1980.
Piquet began the season with his first podium finish in F1 in second place in Argentina and won his first race in the United States. His 1980 campaign had him competing against Alan Jones for the driver's championship and fell short by thirteen points despite winning three times, adding three podiums and multiple top-five finishes.
BRAZIL IS CROWNED AGAIN
In 1981 Brazil would once again have a World Champion, the first since Fittipaldi. Nelson, who still drove for Brabham had another stellar season, winning another three races that helped him beat out fellow South American, Argetnias Carlos Reutemann by one point!
LET'S GET TWO
In 1982 Brahbam merged with BMW and sadly for Nelson as his car struggled, allowing him to only manage one win for the year in Canada. The 1983 Piquet started the season in Brazil in his hometown of Rio at the Jacareguapua track. Nelson and Brabham powered by BMW, both turned their misfortunes around and won the Drivers Championship by the end of the season. Nelson now had two world titles under his belt, which never slowed down his desire to win more.
The 1984 and 1985 seasons were not as successful with Nelson winning three races in two years. This ended Piquet's run with Brabham and in 1986 Nelson joined Williams where a rivalry would brew with another legend of F1, Nigel Mansel. Both Piquet and Mansell battled constantly throughout the year had Piquet fuming by the end of the season. Blaming the team for not fully supporting him as the number one driver cost him the championship to Alain Prost.
FIGHTING FOR A THIRD
In 1987 Nelson had his best season in Formula 1 and despite a severe concussion he still managed to win the championship. He won three times and had an impressive seven-second place finishes, and one third-place finish, which meant Piquet stood on the podium eleven times in sixteen races. It was his third and final World Championship drive and concurrently his last season with Williams as well.
He moved from 1988-1989 to Lotus, winning zero races and making the podium only three times. Nelson ended his career with Team Benetton, driving with the team from 1990 to 1991 driving alongside future world champ Michael Schumacher. Nelson won his last race in 1991 at the Canadian Grand Prix and retired at the end of the season to pursue other business opportunities. Nelson is remembered as a stellar driver and a wild man outside the track.
F1 STATS
RACED FROM: 1978-1991
TEAMS: Ensign, Mclaren(private), Brabham, Williams, Lotus, Benetton
RACES: 204
CHAMPIONSHIPS: 3 (1981, 1983, 1987)
WINS: 23
PODIUMS: 60
TOTAL POINTS: 481.5
POLE POSITIONS: 24
FASTEST LAPS: 23
AYRTON SENNA
Ayrton Senna da Silva was born on March 2nd, 1960 in Sao Paulo and is the second Brazilian to win the driver's title three times, like Nelson Piquet. Senna was born with racing in his blood and began karting at the age of thirteen with a kart powered by a lawnmower. Senna won his first kart championship in 1977.
Senna, like many other South American drivers, made the move to Europe to fully exploit their talents and in 1981 Ayrton moved to England. Senna won two racing titles that year and despite that he almost came close to retiring from racing altogether to go back home to Brazil and work with his father.
AN EARLY RETREAT?
Luckily for racing fans, Senna changed his mind staying in England racing and winning the Formula Ford 2000 British and European Championships. It was clear he could win and continued to claim yet another title in 1983 driving in the British Formula 3 Championship. It would be a no-brainer that Senna would drive in Formula 1 and in 1984 Senna tested for multiple teams impressing them all with impressive lap times. Most of the top teams who had strong interests in Senna, such as McLaren, Williams, and Brabham could not free up any seats for the Brazilian.
SENNA JOINS F1
Toleman is the team where Senna began his illustrious F1 journey racing at the Brazilian Grand Prix and scored his first points at the South African Grand Prix finishing sixth. He achieved his first podium in Monaco, finishing in second place. Senna rounded off his rookie year with two other third-place finishes at the British and Portuguese Grand Prix.
RUNNING WITH A LOTUS
His stint at Toleman was short-lived and from 1985 to 1987 Senna drove for Lotus. In 1985 Senna secured his first of many F1 wins at the Portuguese Grand Prix and added a second victory in Belgium. Senna continually impressed his competitors and fans with amazing driving abilities and technical knowledge which he shared with his engineers, constantly improving whatever car he drove. He came closest to winning the driver's title in 1987 when he finished in third place in the rankings with fifty-seven points.
MCLAREN AND SENNA
Senna wanted to leave Lotus for Mclaren and in order to break his contract, he had to buy out the remainder of the deal. His move to Mclaren in 1988 created one of the most dominant seasons for a driver and team in F1 history. Senna and Alain Prost began their rivalry which would continue for many years between the two drivers. Senna reigned supreme in '88 winning eight races breaking the record for most wins during a season and added thirteen pole positions breaking another record which was set by Nelson Piquet. Senna won his first Championship beating out teammate Alain Prost by three points.
PROST A THORN IN HIS SIDE
The following year Senna was runner-up in the driver's title losing out to his main rival Alain Prost despite winning six races. Alain Prost's championship win was shrouded in controversy because of the incident he shared with Ayrton Senna during the Japanese Grand Prix. The championship was on the line and both drivers collided, putting Prost out of the race which would have given the Championship to Senna. Senna, who won the race, was disqualified later due to Senna supposedly using a shortcut during his crash with Prost. The issue is still heavily debated today.
SENNA SHOWS THE WORLD WHO IS THE BEST
Senna would serve up his revenge in the next two seasons winning back-to-back Drivers championships with Mclaren. Ayrton won thirteen races in two seasons accompanied by multiple podium finishes. Senna rightfully took his place as one of the all-time greatest Brazilian F1 drivers in Formula 1 history. He was also the youngest to ever win three driving championships in F1 at the time.
MAKING AMENDS
After two groundbreaking seasons, Senna suffered during the 1992 season with his Mclaren no longer being the dominant car in Formula 1. Mclaren in 1993 rebounded and Senna competed once again for the Drivers titles finishing in second place to old rival Alain Prost who drove for Williams. The bitter rivalry between the two seemed to be resolved when both drivers hugged on the podium in Australia where Senna won and Prost finished second.
A TRAGIC END TO WHAT COULD HAVE BEEN
Senna and Mclaren ended their wildly successful relationship in 1994 when Senna joined the new powerhouse in F1 team Williams. The racing world and non-fans alike were all shocked when Ayrton Senna died during the Grand Prix of San Marino.
Senna lost control of his vehicle, slamming into a wall that initially looked like many other crashes that drivers were able to walk away from. Sadly, Senna had one of his own tires detach off his car and land on his head, which was ruled the cause of his death.
Formula 1 quickly evaluated safety precautions and thanks to Senna's sacrifice, tethers were added to prevent tires from detaching due to a crash which can potentially harm a driver or bystanders.
Formula 1 stood still at San Marino and is considered one of the most somber events in its history. F1 lost a living legend who influenced so many drivers in his wake. He is currently ranked fifth all-time for the most Formula 1 wins with forty-one and in third for the most pole positions with 65. Senna continues to remain in any debate about who is the greatest driver of all time.
F1 STATS
RACED FROM: 1984-1994
TEAMS: TOLEMAN, LOTUS, MCLAREN , WILLIAMS
RACES: 162
CHAMPIONSHIPS: 3 (1988. 1990, 1991)
WINS: 41
PODIUMS: 80
TOTAL POINTS: 610
POLE POSITIONS: 65
FASTEST LAPS: 19
RUBENS BARRICHELLO
Ruben Goncalves Barrichello was born on May 23rd 1972 in Sao Paulo and is ranked third for driving in the most F1 races in history with 323. Rubens followed in the footsteps of other Brazilian F1 drivers winning multiple karting Championships at a young age in Brazil. Like his predecessors, he moved to Europe and won more championships in The Formula Vauxhall, and the British Formula 3 series.
IT STARTS WITH ONE
In 1993, Rubens began his iron man run in Formula 1 joining Jordan, and scored his first F1 points finishing in 5th at the Japanese Grand Prix. Despite Jordan's struggles Rubens managed to get his first podium in third place at the Pacific Grand Prix which took place in Japan. Rubens showed off his skills by finishing in the top five of races six times with a struggling team.
In 1995 Rubens continued to improve and netted his highest finish to date with a second-place finish in Monaco. Rubens ended his run with Jordan in 1996 and joined Stewart in 1997, where he remained with the team until 1999. The first two seasons with Stewart are worth forgetting and his last season with the weak team was the most successful of his career to date. He finished third on three occasions which displayed his strong driving skills, which in turn attracted Ferrari.
A GLORIOUS TIME AT FERRARI
He joined Michale Schumacher and Ferrari in 1999 where Barrichello would experience the best moments of his Formula 1 career. During his first year at Ferrari, Rubens after six seasons won his first F1 Grand Prix in Germany. He also reached the podium with the emerging Ferrari four times in second place and four times in third. Barrichello proved to be an excellent teammate to Schumacher, helping the german and Ferrari secure multiple championships.
In 2002 Rubens recorded his best F1 season, winning four races and finishing as runner-up to teammate Schumacher for the driver's title. Barrichello was such a good teammate during the Austrian Grand Prix he allowed Schumacher to pass him easily, giving the German the win. Following the race, F1 decided to add rules to encourage competition and not allow teams to issue team orders to the drivers.
FROM BAR TO BRAWN TO WILLIAMS
Barichello left Ferrari in 2006 to BAR and for three seasons he only managed to get on the podium once, finishing third in 2008 at the British Grand Prix. Barrichello left BAR in 2009 joining a familiar face from Ferrari, Ross Brawn in Brawn Racing. Rubens looked renewed with a stronger team behind him.
His maiden season with the team returned to the podium six times, giving him his first win since 2004 at the European Grand Prix in Valencia and second win in Italy. He finished in the driver's standings in third place with seventy-seven points. His stay at Brawn was short and in 2010 he moved to Williams, with whom he retired in 2011 sharing very little success with the team. At the time, Rubens Barrichello was the iron man of racing competing in the most races in F1 history.
F1 STATS
RACED FROM: 1993-2011
TEAMS: JORDAN, STEWART, FERRARI, BAR, BRAWN, WILLIAMS
RACES: 323
CHAMPIONSHIPS: 0
WINS: 11
PODIUMS: 68
TOTAL POINTS: 658
POLE POSITIONS: 14
FASTEST LAPS: 17
FELIPE MASSA
Felipe Massa was born on April 25th 1981 in Sao Paulo having a stellar career that lasted fifteen seasons driving for three different teams in Formula 1. Massa is respected throughout Formula 1 for showing dignity and class when he lost the drivers championship to Lewis Hamilton by one point in 2008.
Massa certainly doesn't break the pattern a driver takes to get to Formula 1. He began with karting and eventually moved up to larger race cars competing and winning a championship in the Formula Chevrolet.
His development continued to show promise, winning the Italian Formula Renault and European Championship in that series. His last championship at the lower levels of racing was accomplished in 2001 winning the Euro Formula 3000.
HIGH HOPES EARLY STRUGGLES
His rookie season in Formula 1 began in 2002 with Sauber driving alongside Nick Heidfeld. His first crack at F1 would have a turbulent end of the season with Felipe losing his seat to Heinz Harald Frentzen. Massa scored his first points finishing sixth at the Malaysian Grand Prix. His season was a mixed bag of solid performances and untimely errors that ultimately led to Sauber not renewing the young driver for the following season.
Ferrari in 2003 gave Felipe some life, hiring him as their test driver and helping to develop Schumacher's car that eventually led to his sixth championship. Sauber in 2004 had a change of heart, offering back the seat he had lost the previous season. Massa showed improvement and proved his work at Ferrari paid off. He scored points in multiple races, his best finish was fourth, and minimized errors, allowing him to finish most of his races in 2004 and 2005.
A DOOR OPENS AT FERRARI
Rubens Barrichello in 2006 left Ferrari granting an opening that Massa filled teaming up with Michael Schumacher. With a far superior Ferrari, Massa achieved his first podium at the European Grand Prix of Nurburgring finishing in third. Massa eventually won his first F1 race in Turkey and in the last race of the season he was the first brazil born driver to win at home since Ayrton Senna. Massa ranked third at the end of the season with eighty points, making it his best season by far.
PLAYING SECOND FIDDLE
Critics still felt Massa's success was based more on the power of his car rather than his ability and some might say Ferrari agreed to a certain extent. Schumacher retired in 2007 and hired Finland's Kimi Raikkonen to replace the legendary German, leaving Massa as the "second" driver in the Ferrari paddock. Kimi went on to win the drivers championship that year with Felipe finishing fourth in the standings with ninety-four points. Regardless of losing the driver's title, Felipe won three races that year in Bahrain, Spain, and won his second Turkish Grand Prix.
SO CLOSE YET SO FAR
2008 would prove to be Massa's best year culminating at the end of the season with a roller coaster of emotions. Massa in 2008 saw his roles reversed with Kimi by simply performing better than his teammate. Massa won six races and stood on the podium another four times. Lewis Hamilton and Massa entered the last race in Brazil with the Championship on the line.
Massa needed to win the race with Hamilton finishing lower than fifth. Destiny seemed to work its magic, Massa won the race and alongside his Ferrari team thought they would be celebrating in front of an exuberant home crowd. The paddock was celebrating only to realize Hamilton, who was in sixth, managed to pass Timo Glock who unlucky for Massa suffering from engine problems, put Hamilton into fifth stealing the title by one point.
Massa showed true resilience by standing on the podium proudly fighting his emotions accepting defeat with grace and honor. Massa did not repeat his near championship performance the following year, which meant the Brazilian could not compete in the remaining seven races of the season after a serious race accident at the Hungarian Grand Prix that left him injured.
Massa returned the following year showing some promise with five podium finishes but could not manage to win any races. Massa has not won another race for Ferrari or in his career since that near title win. After seven seasons with La Scuderia, Massa joined Williams in 2014 and did not recreate the success he once had with the Italian team. His last podium finish was in 2015 at the Italian Grand Prix, finishing in third place.
His time racing for Williams ended in 2017 with Massa retiring from Formula 1 after fifteen seasons. Massa had a brief stint in Formula E in the following year and is currently driving in the Brazilian Stock Car Series.
F1 STATS
RACED FROM: 2002, 2004-2017
TEAMS: SAUBER, FERRARI, WILLIAMS
RACES: 269
CHAMPIONSHIPS: 0
WINS: 11
PODIUMS:41
TOTAL POINTS:1167
POLE POSITIONS: 16
FASTEST LAPS: 15
UP AND COMERS
QUICK JUMP
ENZO FITTIPALDI
Enzo Fittipaldi has racing deeply infused in his blood, being the grandson of legendary Brazilian two-time F1 world champion Emerson Fittipaldi. Enzo has proven to be competitive at every level he has competed earning him a spot in Ferraris driving academy. Fittipaldi in 2018 won the Italian F4 Championship and finished runner-up in 2019 for The Formula Regional Championship.
He did not experience any success in Formula 3, regardless of that performance at the age of twenty, he now races in Formula 2. Enzo joined F2 midway through the season and has yet to score some points competing in only one race so far. Only time will tell if he will join F1 following in his grandfather's path.
GUILHERME SAMAIA
Samaia a native of São Paulo, was born on October 2nd, 1996, and is currently racing in Formula 2 for Charouz Racing System. His best season in racing was in 2017 in Brazil's Formula 3 series where he won thirteen out of sixteen races to claim the championship.
Samaia's trajectory to Formula 1 does not seem like a sure thing at this point in his career. In order to turn heads, he will need to start scoring points and standing on the podiums on more than one occasion. He has competed in twenty-four races in F2 and has zero points to his name.