Formula 1's Miami Grand Prix Travel Guide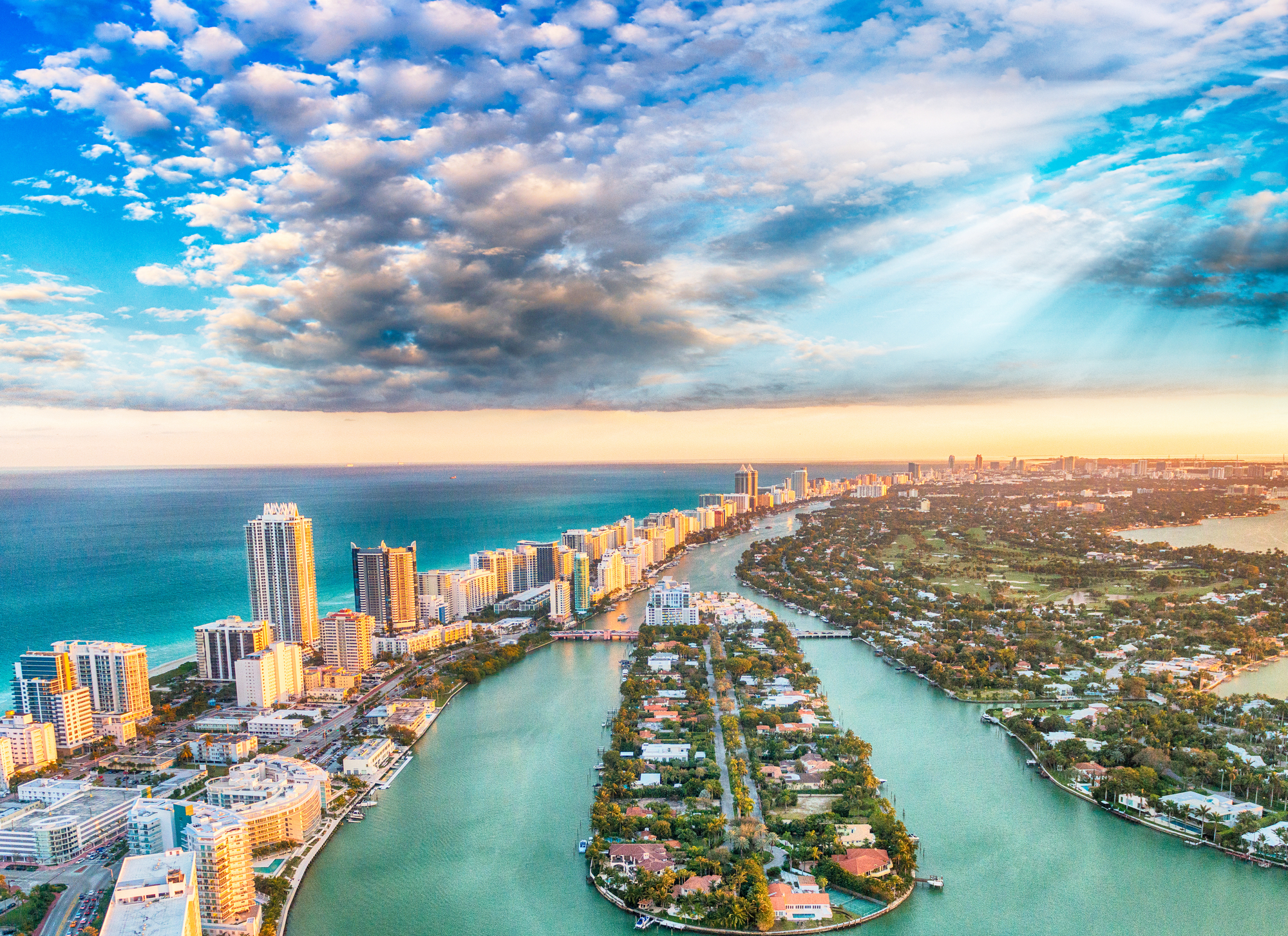 For the first time in Formula 1 history, the city of Miami will be hosting a Grand Prix in 2022. Miami is known worldwide as one of the United States' wildest party cities and is home to some incredible beaches.
Formula 1 fans will have numerous activities and events to enjoy throughout the Formula 1 weekend and here is a little guide to help make it a memorable Grand Prix Experience.
PACKING YOUR BAGS
THE SUNSHINE STATE
Miami, which is located in the sunshine state of Florida, has beautiful weather in May and you can expect temperatures to hover around twenty-eight degrees. Bringing light clothing is key to your weekend being a comfortable one and don't forget your bathing suit!
We do recommend bringing some light rain gear or at the least an easy-to-pack poncho because rainfall if it does happen can be heavy in short bursts. If you intend to experience the rich nightlife Miami has to offer, please pack up some stylish wear so no bouncer can ever refuse you at the door of a nightclub.
Finding flights to Miami will not be difficult and you will have multiple international airports to choose from. The most ideal landing spot is the Miami International Airport which is only thirteen kilometers away from downtown Miami.
AIRPLANES AND TRANSPORTATION
You can also land at the Fort Lauderdale-Hollywood International airport, which is thirty-four kilometers from Miami. Once you have landed and cleared customs, finding transportation can be a cinch because, like any modern city, you'll have plenty of taxis, Uber drivers, public transport, and private cars available to you.
Renting a car can be practical depending on where you are staying, especially if you are planning to book outside of Miami. Otherwise taking cabs or Ubers is the smart thing to do especially if you consume alcohol because spending a night in a US jail is not ideal.
WHERE TO STAY?
The beauty of South Florida is a large number of hotels available to would-be travelers which allows you to book outside of Miami and merely be a short car away from the track at the Hard Rock Café Stadium.
Here is a quick list of some of the best areas in Miami and its surrounding cities where to book your stay. We can make your life even easier by clicking right here and we will hook up with the best hotels that will suit your individual needs. We strongly recommend booking your hotel early because they will get filled up fast, especially if you intend to stay in Miami.
MIAMI
Miami has two districts where we recommend booking your hotels: the Design District and Miami Beach District. The Miami Beach District is located on an island off the mainland of Florida and has two bridges that give you access to the island unless you have a boat readily available.
The Miami Beach district is where you Formula 1 weekend will have the wildest parties all day and all night. If your goal is to have your hotel smack in the middle of all the craziness, booking in this district is ideal.
The Design District is located on the mainland of Florida and in downtown Miami where things can be a little more under control compared to Miami beach. Nonetheless, that does not mean there aren't any wild nightclubs or parties going on either. In the Design District hotels are plentiful and you can experience Miami's cultural side. In either district, you are a short car ride away from the F1 circuit.
SOUTH BEACH
South Beach which is located on the northern side of the Miami Beach district deserves mentioning because it is world-famous for its beachside clubs and restaurants on Ocean Drive. Booking your hotel here is a sure way to bump into celebrities while sipping on cocktails overlooking the ocean.
Your Formula 1 weekend will kick it up another level if you book here. Just keep in mind to set your alarm on race day because Saturday nights are their wildest here.
FORT LAUDERDALE
The city of Fort Lauderdale is about thirty kilometers away from Miami which can be easily traversed by the highway. Booking your hotel in Fort Lauderdale assures you a more laid-back approach compared to Miami.
Rest assured though there are several amazing restaurants and nightlife hot spots you can enjoy. There is also a great deal of beach for you to rest on before hitting the track for F1 activities.
NIGHTLIFE
Writing about Miami's nightlife brings back some great personal memories and I promise you will not be disappointed. Miami is home to some of the world's most famous clubs that attract celebrities, athletes, wall street's wealthiest, and more.
During the Miami Grand Prix booking, a table or getting tickets to a club during your planning phase is essential not to be left out. You can party in downtown Miami or head over to South Beach. you are in for a treat. Here is a shortlist of some of the best clubs in Miami.
LIV MIAMI
LIV Miami is a spectacle IN every sense of the word and partying there at least once in your life is a must. LIV which is found in the Fontaine Bleu Hotel is a massive nightclub with a state-of-the-art light show that in itself can keep you entranced for hours.
The world's best DJs play here every weekend and you'll have your choice of tables, booths, and bars to keep you well hydrated. The service at LIV is outstanding especially if you have a table reserved because your group will never have to pour a drink themselves while you dance the night away.
STORY
An offshoot of LIV, Story is another nightclub that serves as eye candy while blasting great music into your ears. Expect to hear plenty of Hip-Hop artists and DJs performing live during your night at the club. The décor and lighting are something to behold and worthy of Formula 1.
E11EVEN
E11even will be one of those nightclubs you'll never forget even if you drank yourself silly. E11even is not only a nightclub it is also a strip club, and concert hall, and has a rooftop restaurant.
This mega-complex spares no expense when putting on a show for their customers which includes burlesque dancers, acrobats, and one hell of a light show. It is also a 24-hour nightclub which means partying until the break of dawn, just don't miss the start of the race!
OASIS WYNWOOD
The Oasis Wynwood offers an indoor and outdoor nightclub experience with style and finesse. You can easily start your night with a meal here and just merely walk over to another area and dance.
The later the night gets, the more action begins to brew and like many other clubs, you can expect to see some top artists hitting the turntables or performing for you.
WHERE TO EAT?
You will never go hungry in Miami and you'll have plenty of fuel to enjoy your Formula 1 weekend wherever you are staying in the city. There is no shortage of options in types of cuisine ranging from Italian, French, Asian and authentic Cuban.
Fusion-style restaurants are also plentiful, blending different cuisines and creating unique culinary experiences for your palate. Just like booking your hotels and nightclub experiences, be sure to make reservations in your restaurants of choice early because eating at Mcdonald's is not very Formula 1, is it?
BOIA DE
Italian cuisine with modern flair runs by Michelin caliber chefs.
LEKU
Spanish Cuisine that reflects the Basque region.
NAIYARA
A fusion of Thai and Japanese cuisines rich in flavor and creativity.
STUBBORN SEED
One of the best restos in the city. Try their eight-course tasting menu which changes weekly, making it difficult to assign a singular style of cuisine.
ARIETE
Cuban cuisine clashes with French cuisine creating a flavor explosion in your mouth.
YARDBIRD SOUTHERN TABLE & BAR
American-style cuisine is elevated to gourmet levels with numerous fine Bourbons to sip on during your meal.
LA MAR
Peruvian dishes are served to you over the waterfront with impressive views of downtown Miami.
SPORTS ACTIVITIES
During the month of May, you might be able to catch an NBA game if the Miami Heat makes it deep into the playoffs. You can even head over to Fort Lauderdale to watch a hockey game and cool off while the Florida Panthers hit the ice if they are in the playoffs.
Watching football is not possible because the Miami Dolphins are in their off-season and besides the Hard Rock Café Stadium is being used for the race. For the soccer fans out there, you can watch David Beckham's MLS team Inter Miami or watch Miami FC hit the pitch making your formula 1 weekend a sporting weekend.
JOIN THE FUN
As you can see, Miami has plenty to offer you during your Miami Grand Prix experience and the only good problem you will have is deciding on what to do. Whatever you choose to do you can't go wrong in Miami and Formula 1 will not regret bringing the fans here either.