Formula 1's 2023 Saudi Arabia Grand Prix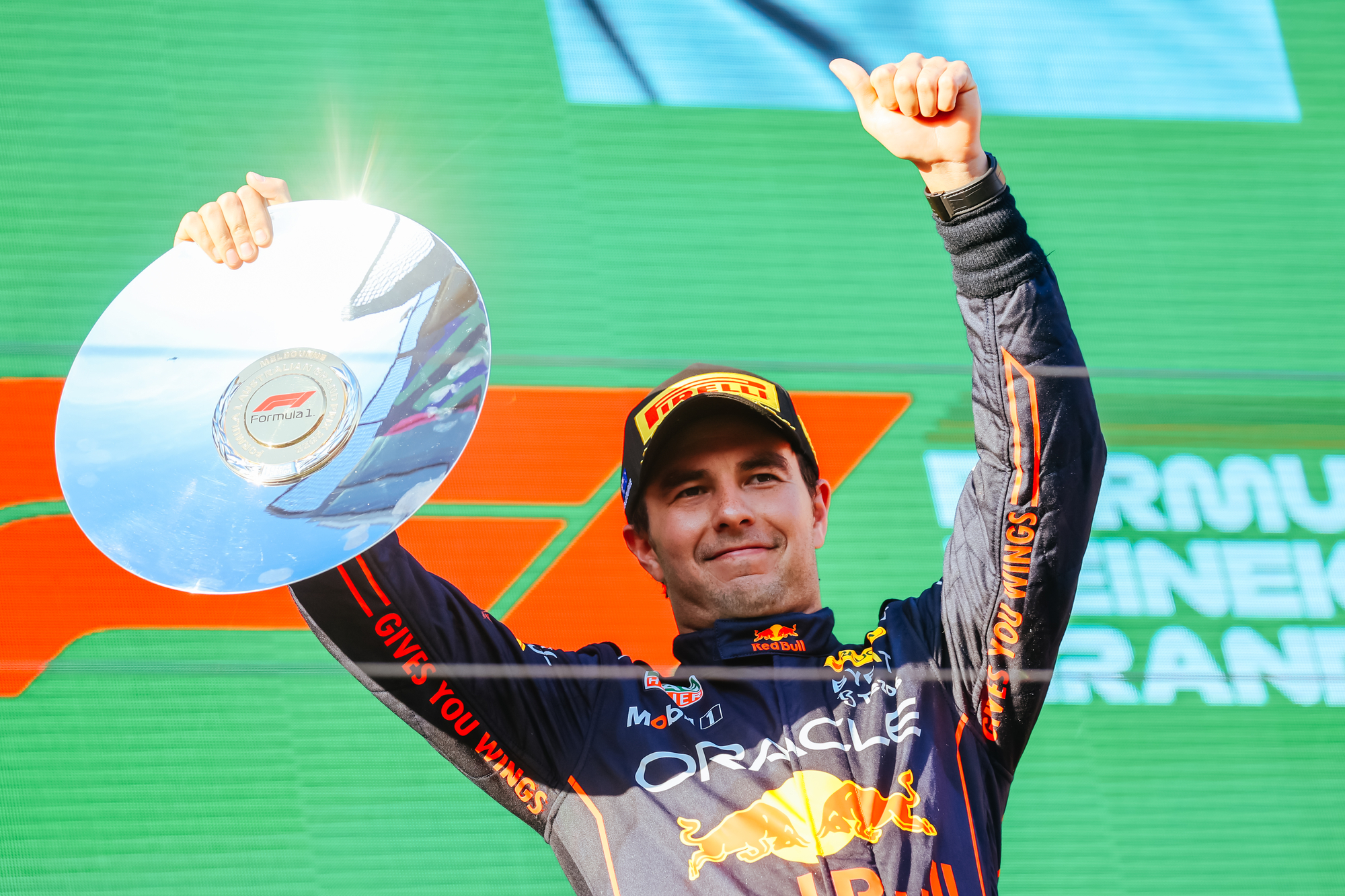 Sergio Perez rules the Day!
Formula 1's 2023 Saudi Arabian Grand Prix will have a big challenge to live up to last year's action-packed race at the Jeddah Corniche Circuit. Red Bull's Max Verstappen will be eager to repeat the success he enjoyed in Jeddah last season and is the overwhelming favorite to win the race for the second year in a row. Verstappen dominated in Bahrain in the season opener and will be looking to add his second win of the season. Aston Martin's Fernando Alonso will be hoping to improve on his third-place finish in Bahrain and had another solid practice session in Saudi Arabia, which bodes well for qualifying and the race. 
On the other hand, Ferrari has had a nightmare start to the season, with Charles Leclerc retiring from the last race due to engine problems and Carlos Sainz Jr finishing outside the podium. This Italian nightmare is not over yet, as both drivers were forced to change more engine components, resulting in Leclerc being penalized with a 10-place grid penalty after qualifying.
Mercedes, who are also dealing with their technical issues, announced that they are abandoning their side pod concept, which had many fans wondering if Lewis Hamilton would remain with the team. Hamilton has said all the right things for now and intends to stay with Mercedes. Once again, numerous questions must be answered, but the most pressing is: Who will stop Verstappen and Red Bull?
Qualifying
Could Alonso take Aston Martin to the top of the grid or at least split the Red Bulls at the front? Heading into qualifying, Red Bull continued to flex their muscles as the top team, with Verstappen topping the practice sessions, followed by his team-mate Sergio Perez in second place. During Q2 of qualifying, Red Bull lost their breath when Verstappen lost engine power during a lap, forcing him to pit. Red Bull in the pits scrambled to find a solution, but unfortunately for Verstappen, he could not return to qualifying, meaning he would start the race in 15th place.
With Verstappen out of contention for pole, Q3 became an open battleground that saw Ferrari, Aston Martin, and Mercedes all vying for the top spot, but they would have to do better than Perez and the mighty Red Bull. As Q3 ended, there could only be one pole sitter, and Sergio Perez took the second pole position of his career to give his team something to cheer about.
Ferrari's Leclerc was second, but his penalty forced him to start the race from 12th place. Alonso, who qualified third, will be pleased to have been bumped up to second on the grid, as will Mercedes and George Russell, who will start third after qualifying fourth.
Race Day
All eyes were on Saudi Arabia as the Grand Prix got underway under the starry skies of the Jeddah Corniche Circuit. Red Bull had an interesting challenge with Perez on pole, while Verstappen was forced to start fifteenth. Will Perez move up for his teammate if Verstappen can move up? Could Leclerc finish on the podium after serving his grid penalty? No one can or should discount Alonso, who from second on the grid will certainly challenge Perez in the opening laps, but can he pass the superior Red Bull, and will he be able to hold them off if he does? There is only one way to find out: the red lights came on, and off they went, and so did the 2023 Saudi Arabian Grand Prix.
Start of the race
Alonso roared ahead of Perez to take the lead out of Turn 1, followed by Russel and Sainz. Sainz had Stroll filling his mirrors and could not keep the young Canadian driver behind, losing him before the end of lap 1. There were no major accidents during the start, but Alonso was penalized with a five-second time penalty for lining up in the wrong position. Alonso already had the difficult task of holding off Perez's Red Bull, and with the penalty, his chances for a win may have been in jeopardy. On lap 4, Alonso's dream start ended as Perez quickly passed him to regain the lead of the race.
Charles Leclerc and Verstappen worked their way through the field, and by the end of ten laps, both drivers had made significant gains. Leclerc went from P12 to P7 and Verstappen from P15 to P9. Leclerc and Verstappen continued to move up the order, and the only question was when would they start challenging for podium positions. Sainz and Ferrari managed to overtake Stroll by choosing to pit after Stroll, and Ferrari can proudly say they made the right choice. Stroll's troubles continued on lap 18 when he was forced to retire on the track, bringing out the safety car.
The safety car triggered a mad rush to the pits as drivers tried to take advantage of the reduced time loss for their pit stops. Alonso agonized in the pits serving his penalty but managed to stay in P2 ahead of the Mercedes of Russell. On lap 20, the race order was P1 Perez P2 Alonso P3 Russel P4 Verstappen P5 Sainz P6 Hamilton P7 Leclerc P8 Tsunoda P9 Ocon P10 Gasly.
On lap 20, the Safety Car left the track, and the race was restarted without incident. Verstappen was on a mission to finish on the podium and immediately began to put pressure on Russell. In the meantime, Hamilton took advantage of Sainz taking P5 away from the Spaniard. On lap 23, Verstappen used his DRS to pass Russel, and just like that, Verstappen jumped 12 positions to sit in P3 and still needed more to be done. Two laps later, Verstappen easily passed Alonso and set his sights on the first position held by his teammate Perez.
On lap 37, Verstappen began complaining about feeling a vibration in his driveshaft, which he had already noticed during the race.
Perez takes his first win of the season.
Perez took his first win of the 2023 season and his first at the Saudi Grand Prix to move almost level with teammate Verstappen in the drivers' championship. Verstappen had an impressive day and had to settle for second place, followed by Alonso's second consecutive third place for Aston Martin and his 100th career podium. Alonso's podium was taken away after the race when the stewards handed him a ten-second penalty, meaning he finished fourth, while Mercedes saw Russel take third. This was not the end of the story as later that night, the decisions were overturned, and Alonso retained his 3rd place finish. Mercedes held Ferrari at bay, claiming P4 with Russel and Hamilton in P5. Ferrari has many wondering if the team has what it takes with Sainz in P6 and Leclerc in P7. Alpine rebounded from a mediocre experience in Bahrain with Ocon in P8 and his teammate Gasly in P9. After a hard-fought battle, HAAS' Kevin Magnussen scored the final point of the race in 10th place.
| | | | | |
| --- | --- | --- | --- | --- |
| RANK | DRIVER | COUNTRY | TEAM | FASTEST LAP |
| 1 | SERGIO PEREZ | MEXICO | RED BULL | |
| 2 | MAX VERSTAPPEN | NETHERLANDS | RED BULL | 1:31.906 |
| 3 | FERNANDO ALONSO | SPAIN | ASTON MARTIN | |
| 4 | GEORGE RUSSEL | BRITAIN | MERCEDES | |
| 5 | LEWIS HAMILTON | BRITAIN | MERCEDES | |
| 6 | CARLOS SAINZ JR | SPAIN | FERRARI | |
| 7 | CHARLES LECLERC | MONACO | FERRARI | |
| 8 | ESTEBAN OCON | FRANCE | ALPINE | |
| 9 | PIERRE GASLY | FRANCE | ALPINE | |
| 10 | KEVIN MAGNUSSEN | DENMARK | HAAS | |
| 11 | YUKI TSUNODA | JAPAN | ALPHA TAURI | |
| 12 | NIKO HULKENBERG | GERMANY | HAAS | |
| 13 | ZHOU GUANYU | CHINA | ALFA ROMEO | |
| 14 | NICK DE VRIES | NETHERLANDS | ALPHA TAURI | |
| 15 | OSCAR PIASTRI | AUSTRALIAN | MCLAREN | |
| 16 | LOGAN SARGEANT | UNITED STATES | WILLIAMS | |
| 17 | LANDO NORRIS | BRITAIN | MCLAREN | |
| 18 | VALTERRI BOTTAS | FINLAND | ALFA ROMEO | |
| RETIRED | ALEXANDER ALBON-LAP 27 | THAILAND | WILLIAMS | |
| RETIRED | LANCE STROLL-LAP 16 | CANADA | ASTON MARTIN | |