Formula 1's Azerbaijan Grand Prix 2023 Race Review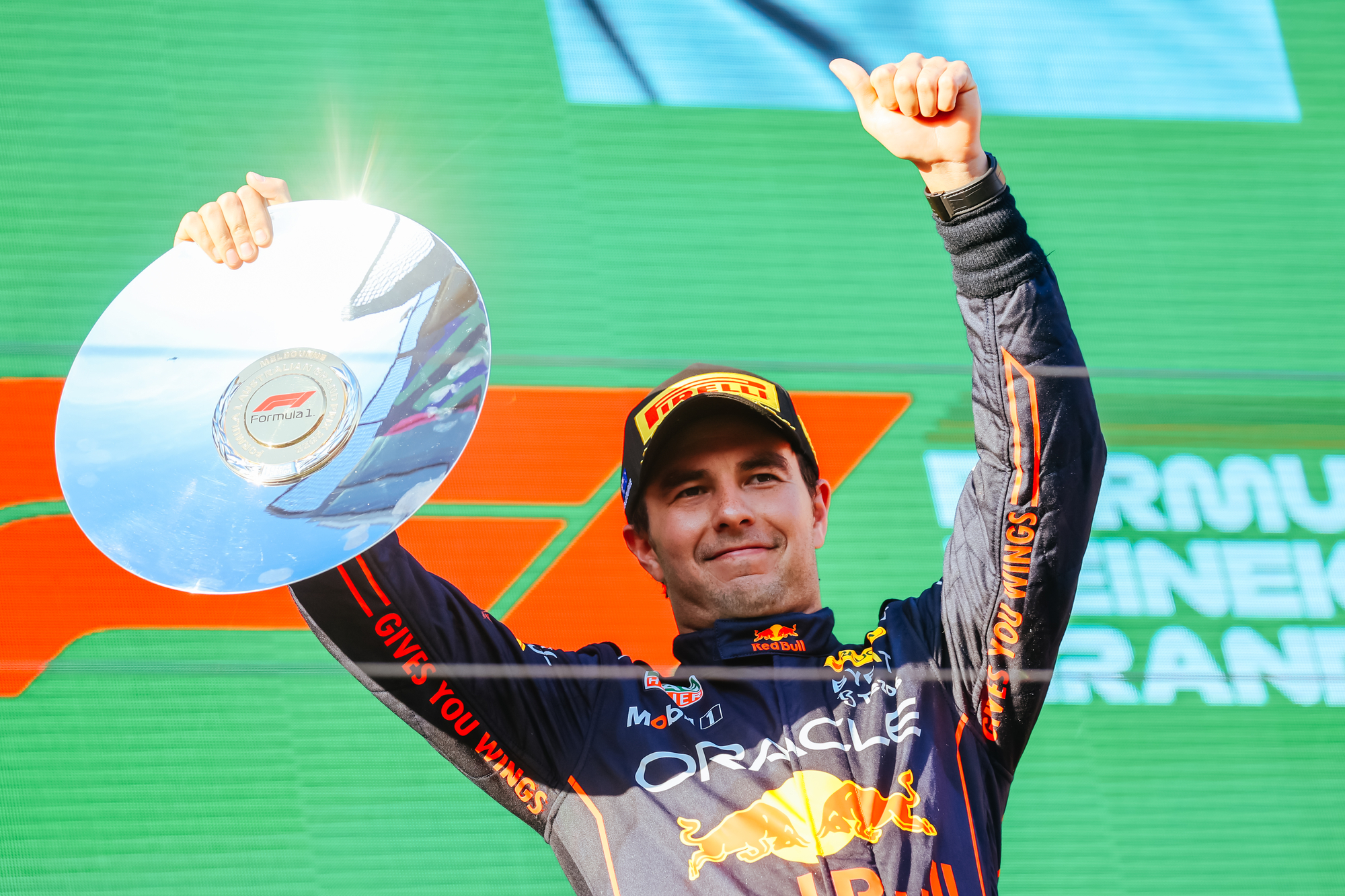 Perez shines once again on a street circuit.
Formula 1 resumed after a three-week spring break, with the Azerbaijan Grand Prix and the Baku Street Circuit taking center stage. Max Verstappen entered the race in first place in the driver's championship, and his closest threat, his teammate Sergio Perez sat in second place, hungry to show Red Bull he could be the best driver on the team. Aston Martin and Fernando Alonso hoped to continue their success, while Ferrari, who faced plenty of scrutiny, also had something to prove this weekend. The Baku Street circuit is notoriously unforgiving, and fans, we are hoping for an outstanding unpredictable weekend. Azerbaijan was the First Grand Prix weekend to host a Sprint race which also featured a new qualifying method for the sprint race. Friday had practice sessions and qualifying for Sunday's race, and to determine Saturday's grid formation for the sprint race, teams and drivers would have to run three more qualifying sessions where in Q1, Hard tires were mandatory, Q2 Mediums, and Q3, soft tires.
Qualifying
For the first time this season, Ferrari finally made their mark, with Charles Leclerc taking his first pole position, beating out Verstappen in P2 and Perez in P3. Ferrari needed this result to add more motivation to their weekend after starting the season abysmally by their standards. Ferrari's Carlos Sainz qualified in fourth, adding to Ferrari's success of the day. Lewis Hamilton and his Mercedes qualified in fifth, followed by Alonso, whose Aston Martin struggled with its DRS in P6. McLaren showed much improvement, with Lando Norris landing in P7 and his teammate Oscar Piastri in tenth. Yuki Tsunoda and his Alpha Tauri also broke the top ten in eight, followed by Lance Stroll, whose Aston Martin also struggled with DRS in the ninth. These final qualifying results would be applied on Sunday for the primary race only.
Sprint Race
On Saturday, for the first time, the Sprint Race's grid would be determined by a Sprint Shootout challenging drivers with different tire setups in each of the three qualifying sessions. Leclerc and Ferrari repeated their success from Friday, claiming the top spot of the grid once again; contrarily, it was Perez who sat in second ahead of Verstappen in third.
The Sprint Race began with Leclerc keeping his lead into turn 1, leaving the drama between Verstappen and Russel behind. Verstappen and Russel battled for position and ended with Russel making contact with Verstappen and taking third place from the Red Bull Driver. Verstappen was undeterred despite damage to his car and pushed ahead of his rage, taking back his third-place position a few laps later. Leclerc could not withstand the incredible straight-line speed of Perez and had to cede his position to the Mexican driver, who eventually won the first sprint race of the season. Leclerc finished in second place, followed by Verstappen in third place. Perez claimed crucial points in the driver's championship and set the stage for Sunday's race.
Race Day
The temperature was warm on Sunday, and the skies were mostly clear, with nearly no chance of rain on the horizon. The 2023 Azerbaijan was ready to start with the original qualifying order set on Friday. Leclerc was back on pole with two feisty Red Bulls to contend with in his mirrors. The red lights went out, and Leclerc once again held his lead into turn 1, but like on Saturday, he could withstand the Red Bull's incredible speed. Verstappen took over the race's lead, with Perez in second and Leclerc in third by the time lap 6 was completed. On Lap 10, Williams' Nick de Vries triggered a safety car onto the track after colliding with a wall. Verstappen made a crucial error pitting too soon, allowing Perez to take over the lead of the races. Little did Verstappen know that was the last time he would lead the race. The majority of the teams elected for a one-stop strategy which meant Verstappen could swap positions with his teammate at any other point. The vast majority of the race was inconsequential other than some highlight reel-worthy passes by Fernando Alonso.
Sergio Perez won his second race of the season and second victory at Baku (2021, 2023), creating an exciting battle for the championship at Red Bull. Verstappen, who was not at all pleased with his weekend, finished in second place, and for the first time this season, Ferrari and Leclerc reached the podium in third. Alonso, who kept the pressure on Leclerc, finished in fourth, followed by the Ferrari of Carlos Sain in fifth place. Hamilton chased Sainz but could pass the Spaniard, which resulted in him finishing in sixth. Aston Martin and Stroll landed in seventh, followed by George Russel and his Mercedes in eighth. Lando Norris in ninth and Yuki Tsunoda in tenth were taking the final two rankings with points.
The Grand Prix of Miami awaits Formula 1, and we shall see you in South Beach! After a not-so-thrilling race in Azerbaijan, fans hope next week's race in Miami could provide more action and drama on the circuit. One thing is sure Perez, a great driver on street circuits, will have a chance at surpassing his teammate and his rival in the championship.
| | | | | |
| --- | --- | --- | --- | --- |
| RANK | DRIVER | COUNTRY | TEAM | FASTEST LAP |
| 1 | SERGIO PEREZ | MEXICO | RED BULL | |
| 2 | MAX VERSTAPPEN | NETHERLANDS | RED BULL | |
| 3 | CHARLES LECLERC | MONACO | FERRARI | |
| 4 | FERNANDO ALONSO | SPAIN | ASTON MARTIN | |
| 5 | CARLOS SAINZ JR | SPAIN | FERRARI | |
| 6 | LEWIS HAMILTON | BRITAIN | MERCEDES | |
| 7 | LANCE STROLL | CANADA | ASTON MARTIN | |
| 8 | GEORGE RUSSEL | BRITAIN | MERCEDES | 1:43.370 |
| 9 | LANDO NORRIS | BRITAIN | MCLAREN | |
| 10 | YUKI TSUNODA | JAPAN | ALPHA TAURI | |
| 11 | OSCAR PIASTRI | AUSTRALIA | MCLAREN | |
| 12 | ALEXANDER ALBON | THAILAND | WILLIAMS | |
| 13 | KEVIN MAGNUSSEN | DENMARK | HAAS | |
| 14 | PIERRE GASLY | FRANCE | ALPINE | |
| 15 | ESTEBAN OCON | FRANCE | ALPINE | |
| 16 | LOGAN SARGEANT | UNITED STATES | WILLIAMS | |
| 17 | NIKO HULKENBERG | GERMANY | HAAS | |
| 18 | VALTERRI BOTTAS | FINLAND | ALFA ROMEO | |
| RETIRED | ZHOU GUANYU | CHINA | ALFA ROMEO | |
| RETIRED | NICK DE VRIES | NETHERLANDS | ALPHA TAURI | |