Bahrain's Formula 1 History of Race Tracks, Teams, and Drivers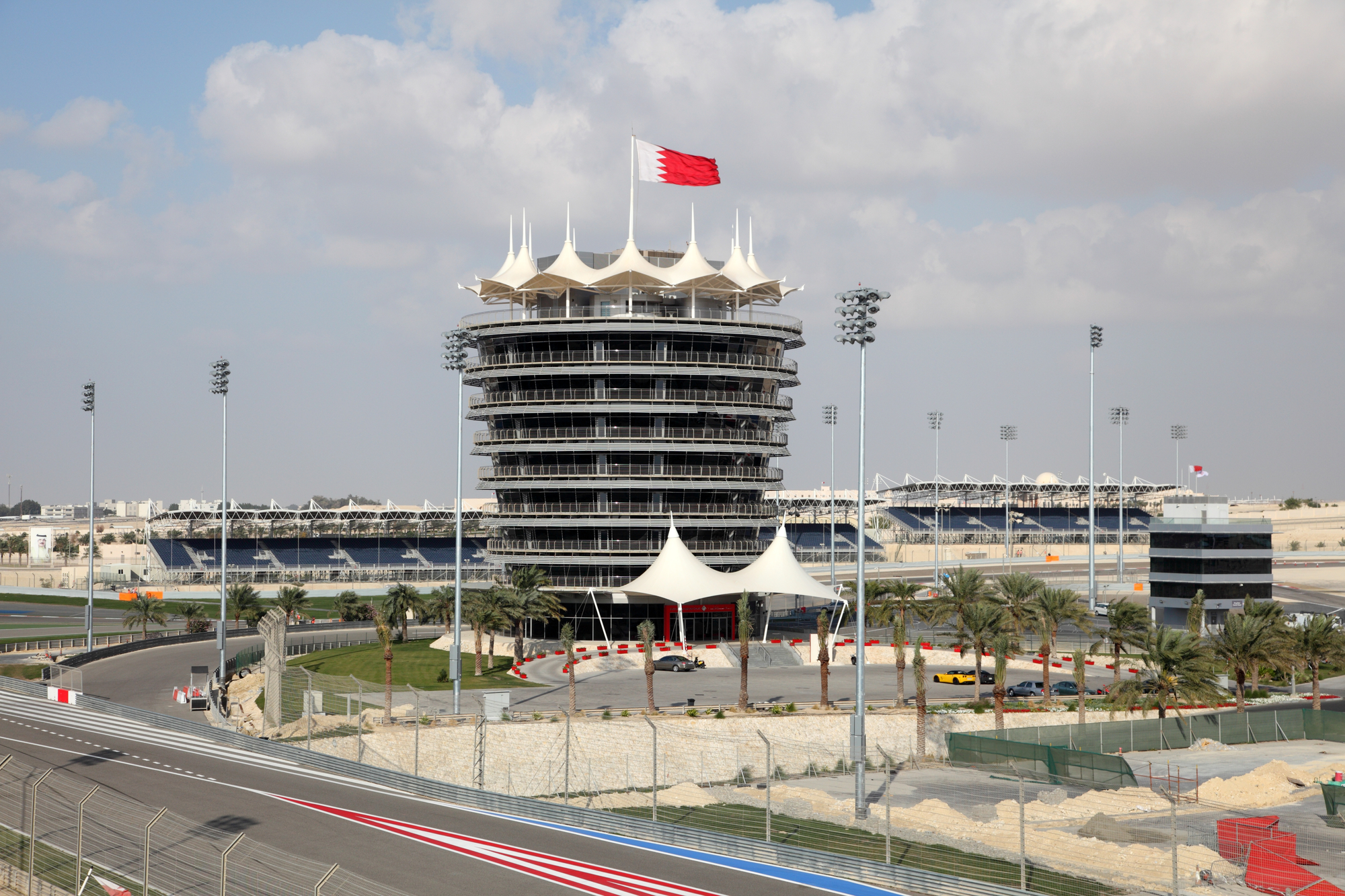 TABLE OF CONTENTS
The country of Bahrain may not always come to mind when thinking of Formula 1, but they have proven there is a passion for the sport ever since it made its entry into the F1 schedule in 2004. Bahrain can be found in the Persian Gulf and the country is situated over numerous small islands sitting off the coasts of Saudi Arabia and Qatar.
The GP has been threatened over the years with protests over Bahrain's alleged human rights violations against their own citizens. The Bahrain GP was canceled in 2011 over this issue and was nearly canceled again in 2012.
Despite the overarching issues, F1 continues to race in Bahrain. Throughout Formula 1 history, Bahrain has not produced any teams or drivers since the championship began in 1950. Nonetheless, Bahrain offers the award-winning Bahrain International Circuit to Formula 1, and here is a brief history of the track.
TRACKS
BAHRAIN INTERNATIONAL CIRCUIT
The Bahrain International Circuit was designed by German architect Herman Tilke adding to his long list of Formula 1 track designs. The track is situated in Sakhir which is found in the southwestern part of Zallaq on the main island called Bahrain Island. Building this track in the desert cost around 150 million dollars US dollars and features a circuit that can be altered into six different variations depending on the type of race being held there.
SANDS GETS INTO EVERYTHING
Engineers had to conceive ways of preventing sand from being blown onto the track which would spell disaster for any Formula 1 engine. You cannot move the desert or the endless sand, so the engineers have sprayed an adhesive around a large radius of the track, sticking the sand in its place and not on the track.
Money was no object for race organizers as they imported some of the highest quality track surface material from England, allowing the circuit to have one of the highest grip levels available in F1.
MULTI-TASKER
There are seven different track layouts available for motor racing and three of those have been used in F1. The Bahrain International Circuit has also hosted Formula 2, Formula 3, GP2, GP2 Asia, GP3, and other racing series on a yearly basis. Formula 1 has primarily remained on the layout dubbed "Grand Prix Circuit" since 2004.
INSIDE THE NUMBERS
The original track was 5.417km long and incorporated fifteen turns requiring fifty-seven laps to attain the race distance of 308.523km. Michael Schumacher won the inaugural race driving with Ferrari and holds the lap record for this variation of the track. Schumacher is honored at the circuit with turn one now named after him.
TURN CONFIGURATION
The "Grand Prix Circuit" has three long straights that take drivers that allow drivers to hit top speeds in three different sectors. The circuit included three DRS zones creating some opportunities for drivers to pass their competitors.
Turn one is extremely narrow and sharp, forcing drivers to slow down to first gear before being able to accelerate through turns two and three and putting the pedal to the floor for the first long straight of the race.
Turn four is very wide and provides drivers with an opportunity to pass their rivals before heading into another short straight that leads into the more twisting areas of the track. Turns nine and ten will keep drivers on their toes as they have to reduce their speed greatly and brake hard to be able to maneuver through the two nearly ninety-degree turns before flooring it once again.
Turns eleven, twelve, and thirteen are fairly easy and smooth for drivers to manage not having to brake much, and can simply shift their way through them. After Turn thirteen drivers enter sector three and another long straight that includes a DRS zone that ends with Turn fourteen slowing drivers down to handle yet another ninety-degree turn.
Drivers from thereon can go flat out through turn fifteen towards the start-finish line. In 2005, the circuit made some changes to Turn 4 shortening the track by five meters. Due to the change, a new lap record was recorded by Spain's Pedro de la Rosa driving for McLaren in 2005.
SAKHIR ENDURANCE CIRCUIT LAYOUT
In 2010 a different layout was used for the Bahrain Grand Prix and Formula 1 was introduced to the Sakhir Endurance Circuit for only one race. The endurance circuit layout was almost one kilometer longer than the grand prix circuit with a length of 6.299km. The turn counts also increased by eight, taking it from fifteen turns to twenty-three. This longer edition of the GP needed forty-nine laps to achieve the race distance of 308.405km.
  ADDING MORE TURNS
When compared to the original layout the track changes only after turn four where instead of heading west into a short straight continued north towards turn five now a short chicane. Turn six was a slight curve that led into turns seven and eight which combined were a chicane before heading into turns nine and ten that formed a small hairpin. Turn eleven was a sharp right-handed turn that led to turns twelve and thirteen which were yet another chicane leading into turn fourteen, another larger hairpin.
From then on drivers returned to the original layout of the track. Drivers complained at the end of the race because the new edition did not add any new passing opportunities. The fastest lap was set by another Spaniard by the name of Fernando Alonso driving for Ferrari.
OUTER CIRCUIT LAYOUT
This layout was also used for only one occasion in 2020 and was not considered to be the Bahrain GP but rather the Sakhir Grand Prix. Due to the covid-19 pandemic Formula 1 decided to host two races in Bahrain to provide more races on the shortened schedule. The Sakhir Grand Prix used the "Outer Circuit" layout which provided extremely quick lap times.
VERY SHORT CIRCUIT
The Outer Circuit track length was very short for F1 standards, measuring in at 3.543km included eleven turns. Drivers needed to clear eighty-seven laps to achieve the race distance of 307.995km in order to complete the race. Lap times were easily under one minute and the shortened distance did not please F1 drivers at the time.
The circuit's first eight turns mimic the Endurance Circuits path but rather than hairpin into the heart of the circuit the drivers continued into turn nine which required now slowing down into sector three's long straight away.
Turns ten and eleven were the same as turn fourteen and fifteen on the original layout leading to the start-finish line. The fastest lap was set by George Russell driving for Mercedes.
Listed below are the fastest lap times for all the layouts used at the Bahrain GP including the Sakhir GP.
| | | | |
| --- | --- | --- | --- |
| LAYOUT | DRIVER/ YEAR | TEAM | TIME |
| ORIGINAL GRAND PRIX CIRCUIT | MICHAEL SCHUMACHER/ 2004 | FERRARI | 1:30.252 |
| GRAND PRIX CIRCUIT | PEDRO DE LA ROSA/ 2005 | MCLAREN | 1:31.447 |
| ENDURANCE CIRCUIT | FERNANDO ALONSO/ 2010 | FERRARI | 1:58.287 |
| OUTER CIRCUIT (SAKHIR GP) | GEORGE RUSSELL/ 2020 | MERCEDES | 0:55.404 |
SAKHIR GRAND PRIX 2020
The Sakhir GP offered Formula 1 fans a very different story that they would have expected coming into this race weekend. Lewis Hamilton missed his first race in eight years due to his positive Covid-19 test, but despite his exclusion from the race his drivers' championship was already secured and celebrated some races earlier.
RUSSELL BORROWS A MERCEDES
Hamilton's absence opened the door for Britain's George Russell to be borrowed by Mercedes from Williams to drive for the silver arrows that weekend. For the young Brit, it was a golden opportunity to prove that with a powerful car he can achieve success. Romain Gros Jean was also absent from the race after surviving his horrific crash that nearly burned him alive at the Bahrain GP a week earlier.
DREAM START FOR THE BRIT
Valtteri Bottas set the tone for the race taking pole position with a time of 53.904seconds. Russell sat in second place on the grid with Max Verstappen and Red Bull in third. Russell on Sunday had the best start of his career as he passed his new teammate Bottas at turn one taking the lead.
PEREZ FALLS TO LAST
A safety car was triggered after a crash between Ferrari's Charles Leclerc and Red Bull's Sergio Perez at turn four. Leclerc was put out of the race while Perez was lucky to survive the incident, was forced to pit and had to continue the race in last place. Safety cars and virtual safety cars played key roles in this race as they helped Perez jump up through the standings.
MERCEDES MAKES A TECHNICAL ERROR
Mercedes, on the other hand, was cursed by the safety cars, especially during their pit driver's pit stops that had Russell leave the pits with Bottas' tires leaving Botta's stranded in the pit lane. Russell was forced to pit again, losing any hope of a podium finish.
PEREZ'S MIRACLE
Mercedes's blunder is Sakhir allowed Perez to complete the come from behind victory, giving Perez his and Racing Point's first victory in Formula 1 history. Perez was also the first Mexican to win an F1 race since 1970 when Pedro Rodriguez won the Belgian GP.
France's Esteban Ocon driving for Renault scored the first podium of his career finishing in second place. Canada's Lance Stroll driving for Racing Point finished in third place helping his team move into third for the constructor's championship for at least one more weekend.
The 2020 Sakhir GP was a dream race for Perez and a nightmare for Russell who did everything correctly and lost out on his first podium. This layout is not set to return in the near future to Formula 1 schedules.
TEAMS
There are currently no teams from Bahrain to have joined Formula 1.
DRIVERS
There have never been any drivers representing the country of Bahrain in Formula 1 history.
UP AND COMERS
There are no young prospective F1 drivers from Bahrain driving in Formula 2 or Formula 3.