2022 Abu Dhabi Grand Prix Race Review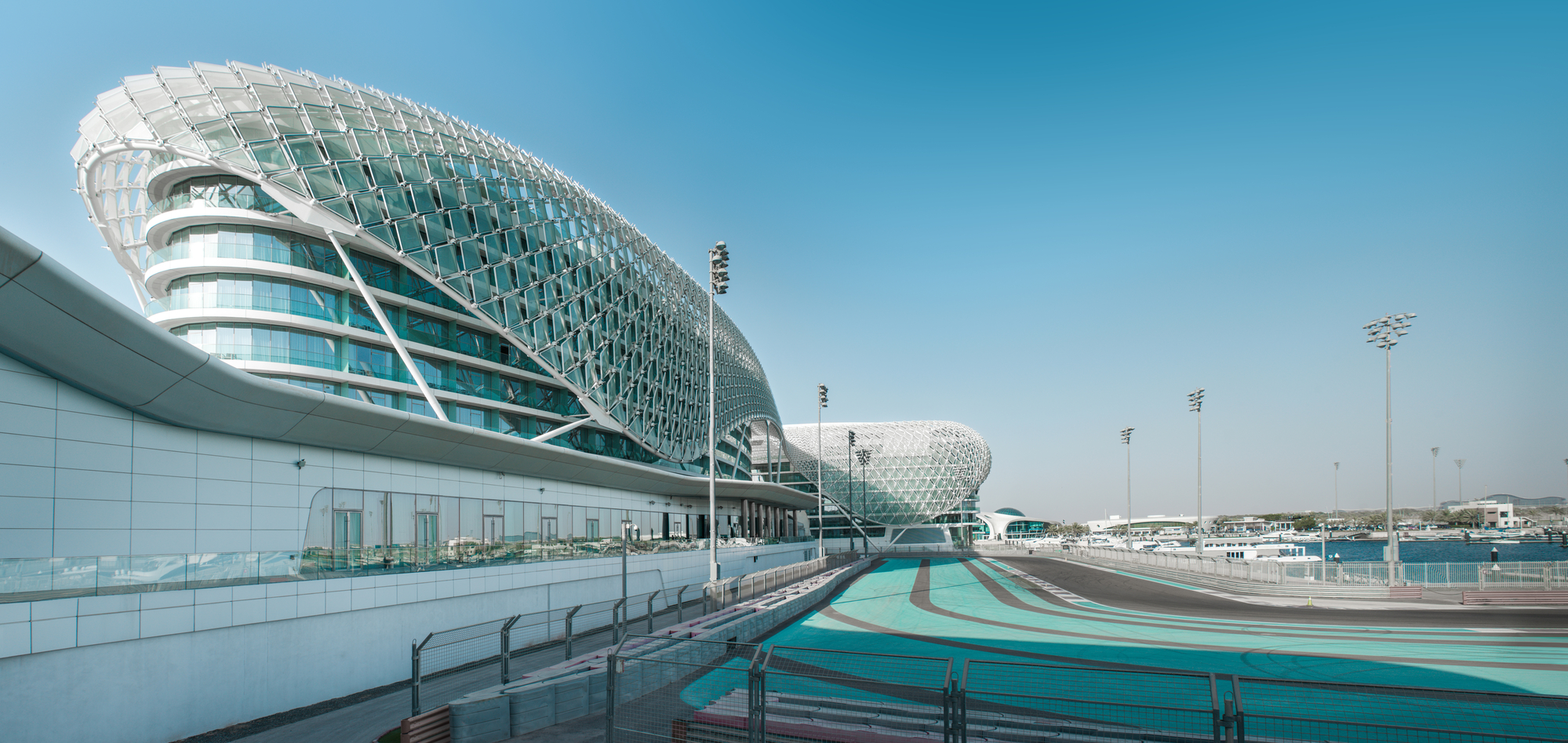 Formula 1's Final Race of the Season, Vettel Says Goodbye for Good
The 2022 Abu Dhabi Grand Prix at the beautiful Yas Marina Circuit was hosting the season's final race and had all eyes on Aston Martin's Sebastien Vettel. Vettel was a four-time world champion and beloved in the paddocks and the grandstands were having his last formula 1 race of his career retiring from the sport altogether.
Vettel's weekend was filled with nostalgia, tributes, and joy over his career which is one of the most prolific in F1 history. Vettel was not the only storyline of the day because there were still some scores to be settled on the track whether it was drivers or constructors vying to finish higher up in their respective standings. Red Bull's Sergio Perez and Ferrari's Charles Leclerc tied in points for second place in the driver's standings.
Mercedes was 19 points behind Ferrari and, after an impressive performance in Brazil, could most certainly challenge their Italian counterparts for second place in the constructor's standings. Alpine who also held a 19-point lead needed to fend off McLaren for 4th place in the constructors while Alfa Rome and Aston Martin battled for the sixth-best team. Finishing higher in the constructor's standings is crucial because of the cash bonuses awarded to the teams that can be used for development during the off-season.
Vettel was not the only driver bidding adieu to Formula 1 as Daniel Ricciardo of McLaren was moving on to be the third driver for Red Bull in 2023. HAAS' Mick Schumacher and Williams' Nicholas Latiffi are not returning in 2023 having lost their seats and not having their contracts renewed. Despite the championships being secured by Verstappen and Red Bull, plenty was on the line for the Abu Dhabi Grand Prix.
Qualifying
It was very fitting that Vettel stole the show in the opening qualifying session performing a masterful lap dodging traffic on the track and avoiding being bounced out. Red Bull worked as a team this week and after last week's debacle, it was clear they needed to salvage parts of their reputation.
Verstappen helped Perez during Q3 with a tow helping his teammate secure second place ahead of Leclerc who qualified in third. Verstappen claimed his seventh pole position easily and set the tone that no one would challenge him for the top spot on the podium come race day.
Race Day
The sun was slowly setting, and temperatures were at the Yas Marina Circuit encouraging teams to start with Medium Tires to avoid degradation too quickly if they were to go on soft tires. Vettel was the centerpiece of the pre-race ceremonies and justly so as his fellow drivers and those in attendance wished him in his final race.
The race started with no issues or accidents and at the front of the pack Verstappen pulled away easily from the rest of the field with the lead in hand. Perez held off Leclerc while Carlos Sainz who started in 4th got passed by Hamilton. Sainz came back at Hamilton with a bold move taking 4th place back while Hamilton went off track cutting the corner and staying ahead of Sainz. Eventually, Hamilton gave Sainz back the position he had gained because the stewards had deemed that Hamilton had gained an unfair advantage by cutting the corner. Hamilton's day got worse as he fell behind Sainz and now had to battle his teammate Russel who made short work of Hamilton taking fifth place away from him. Verstappen led comfortably at the front while Perez did his best to create a gap between him and Leclerc.
The first round of pits saw had most of the field opting for Hard Tires to prolong their second stint onto the track. Leclerc and Ferrari elected to stay out on the track to negate Perez's attempts at an undercut and eventually became clear Ferrari was going for a one-stop strategy. Eventually, Leclerc took his pit stops, slipped on some Hard Tires, and began his chase of Perez. Vettel was having an impressive day battling for points reminding everyone of what they will be missing in the future seasons of F1.
On Lap 34 Perez performed his second stop of the race opening the door for Leclerc to grab second place. Leclerc now in second pushed his Ferrari to create a gap large enough to withstand Perez's charge. Perez did not have it easy after his pit stops getting lost in a battle with Lewis Hamilton who was not about to do any favors for him.
They exchanged their positions in different corners, but Hamilton Mercedes could not hold back the superior Red Bull of Perez. At this point, Perez was eight seconds behind Leclerc and was on much fresher tires than his Monégasque rival.
With less than ten laps to go Leclerc tires had seen more than thirty laps while Perez had only been on for twenty and the gap between the two continued to shrink. On the final Lap Leclerc lead Perez by 1.9 seconds which Perez could no longer cut into. Leclerc held on to second place crossing the finishing line ahead of Perez and securing second place in the drivers ranking.
Verstappen who dominated the race and drove without any challenges claimed his 15th win of the season adding to his record of most wins in a season. Red Bull has won seventeen of the twenty-two races and also had five 1-2 finishes. Red Bull was by far the best and fastest team of the year.
Ferrari who had struggled for years to be a contender could be pleased with finishing in second place in both the drivers and constructor's championships and will have plenty of work to do in the off-season if they wish to break Red Bull's streak while dealing with a resurgent Mercedes team.
Lewis Hamilton's day ended early when his hydraulics failed him and for the first time in his career, he finished a season without having at least one victory. In honor of Vettel, drivers performed donuts on the track celebrating the storied career of a legend we will all miss. The opening race of the 2023 season will take place on March 5th in Bahrain. If you want tickets to the season opener or any other race in 2023, please click here and get ahead of the competition: https://grandprixexperience.com/
Rest of the Pack
Carlos Sainz capped off a season packed with ups- and downs finished in fourth place followed by Russel in fifth place who had a momentous year with Mercedes. Lando Norris and McLaren finished in sixth place followed by the Alpine of Esteban Ocon in 7th and the Aston Martin of Lance Stroll in 9th.
Daniel Ricciardo said goodbye to McLaren finishing in 9th and thankfully Vettel and his Aston Martin grabbed the final point of his career in 10th place. Aston Martin failed to score enough points to surpass Alfa Romeo in the constructor's standing slipping to 7th place and losing 12 million dollars too. Alfa Romeos Zhou Guanyu was given the rookie of the year award before the race too.
Overall, the 2022 season was very entertaining from second place onward due to Verstappen dominating nearly every race and simply managing his tires to cross the finish line. Nonetheless winning fifteen races in a season is no easy feat and Verstappen has already established himself as one of the greats and most certainly has a huge bullseye on his back. In 2023 there will be 24 races the most in F1 history for teams like Ferrari and Mercedes to challenge Red Bull. Thank you for following along with us at Grandprixexperience.com and look forward to next season.
2022 Abu Dhabi Grand Prix Final Standings
| | | | | |
| --- | --- | --- | --- | --- |
| RANK | DRIVER | COUNTRY | TEAM | FASTEST LAP |
| 1 | MAX VERSTAPPEN | NETHERLANDS | RED BULL | |
| 2 | CHARLES LECLERC | MONACO | FERRARI | |
| 3 | SERGIO PEREZ | MEXICO | RED BULL | |
| 4 | CARLOS SAINZ JR | SPAIN | FERRARI | |
| 5 | GEORGE RUSSEL | BRITAIN | MERCEDES | |
| 6 | LANDO NORRIS | BRITAIN | MCLAREN | 1:28.391 |
| 7 | ESTEBAN OCON | FRANCE | ALPINE | |
| 8 | LANCE STROLL | CANADA | ASTON MARTIN | |
| 9 | DANIEL RICCIARDO | AUSTRALIA | MCLAREN | |
| 10 | SEBASTIEN VETTEL | GERMANY | ASTON MARTIN | |
| 11 | YUKI TSUNODA | JAPAN | ALPHA TAURI | |
| 12 | ZHOU GUANYU | CHINA | ALFA ROMEO | |
| 13 | ALEXANDER ALBON | THAILAND | WILLIAMS | |
| 14 | PIERRE GASLY | FRANCE | ALPHA TAURI | |
| 15 | VALTERRI BOTTAS | FINLAND | ALFA ROMEO | |
| 16 | MICK SCHUMACHER | GERMANY | HAAS | |
| 17 | KEVIN MAGNUSSEN | DENMARK | HAAS | |
| RETIRED | LEWIS HAMILTON-LAP 55 | BRITAIN | MERCEDES | |
| RETIRED | NICHOLAS LATIFFI-LAP 55 | CANADA | WILLIAMS | |
| RETIRED | FERNANDO ALONSO-LAP 23 | SPAIN | ALPINE | |